In the Know: Week of July 15-19
The A/E/C industry is ever-changing because of technology, improved processes, strategies, project delivery methods, the workforce and much more. And we love content that is educational, historical, thought-provoking and inspiring.
So we thought we'd share. Here are five Insights that caught our eye this week to help keep you in the know.
---
50 YEARS AGO: 'ONE SMALL STEP … ONE GIANT LEAP'
One of the greatest engineering feats in history occurred 50 years ago this week, when Neil Armstrong and Buzz Aldrin became the first men to walk on the moon during the Apollo 11 lunar landing. Here is NASA's account of how the bold trip to the moon unfolded. The video below chronicles many of the sights, sounds and challenges from this week in 1969.
---
WHERE ASTRONAUTS WERE TURNED INTO LUNAR GEOLOGISTS
Speaking of the Apollo program, did you know NASA created the Cinder Lake Crater Field outside of Flagstaff, Arizona, in the 1960s to train astronauts how to pilot rovers on rough terrain and also spot valuable lunar fragments on the moon's surface to bring home? It's where astronauts learned the value of geology and other sciences.
---
WILL A PERMANENT LUNAR BASE EVER BE ESTABLISHED?
We might as well include one more article related to the moon, right? The topic: Why did moon cities never happen? CityLab chronicles the many obstacles to permanent or even temporary lunar settlements. And will it ever happen?
---
RAILROAD EARNS NATIONAL LANDMARK DESIGNATION
The American Society of Civil Engineers (ASCE) has recognized the Union Pacific Railroad as a National Historic Civil Engineering Landmark. The ceremony, held recently in Omaha, Nebraska, recognized the merging of the Central Pacific Railroad and Union Pacific Railroad, which could then take settlers west.
---
INFOGRAPHIC SHOWS ALLOCATION OF SPACE IN U.S. CITIES
Telematics firm Geotab has created an urban footprint infographic that shows how much real estate is devoted to green space, roads and buildings in 15 major U.S. cities. You can view, for instance, how much green space each Dallas resident would get if you divided the city.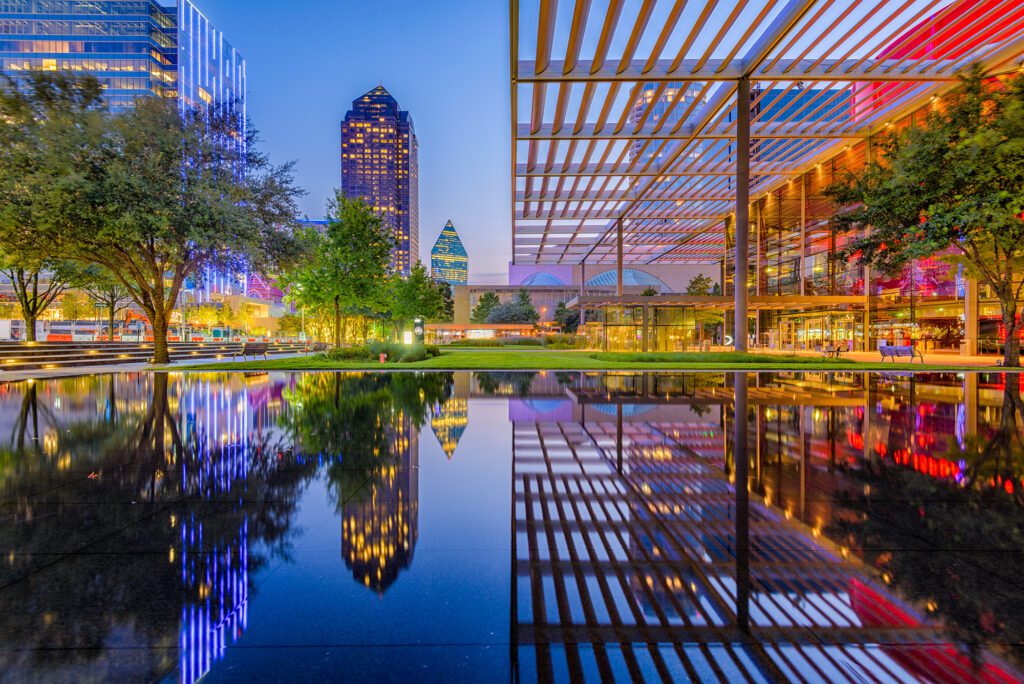 The downtown Dallas cityscape at twilight. (Shutterstock.com)