In the Know: Week of July 22-26
The A/E/C industry is ever-changing because of technology, improved processes, strategies, project delivery methods, the workforce and much more. And we love content that is educational, historical, thought-provoking and inspiring.
So we thought we'd share. Here are five Insights that caught our eye this week to help keep you in the know.
---
STUDY EXAMINES IMPACT OF NOT TAXING ELECTRIC VEHICLE DRIVERS
The nation's Highway Trust Fund, which pulls 18 cents per gallon of gas from U.S. motorists, is used to fund transportation maintenance projects. But fuel taxes don't provide the financial boost they did decades ago for many reasons. A new paper for the National Bureau of Economic Research studies the impact of electric vehicle owners not paying their way.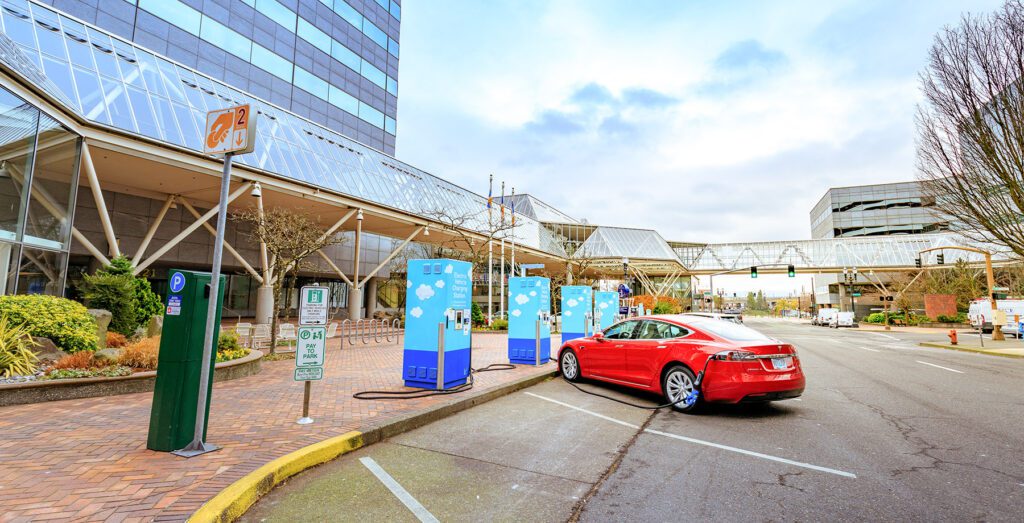 An electric vehicle is charged in downtown Portland. (Shutterstock.com)
---
PACIFIC OCEAN SKYSCRAPER PROPOSED FOR GARBAGE CRISIS
Can you envision a skyscraper in the middle of the Great Pacific Garbage Patch? Designer Honglin Li is proposing a prefabricated megastructure that would contain several material recovery facilities and water treatment plants to help address the pollution problem.
---
SMART CITY PROGRAMS IN THE U.S. ARE SLOW TO TAKE OFF
A recent report shows how the United States is falling behind in deploying smart city plans and infrastructure, including 5G networks—the connectivity required to run future smart city programs. Conversely, China is developing 500 smart cities, which is almost half the worldwide total.
---
SPORTING NEWS: POPULAR LA TEAMS PLAN FACILITY CHANGES
Baseball season is in full swing, and the NBA has been making headlines with its wild free agency period this off-season. So here is some sports venue news from Los Angeles. First, the NBA's Clippers have announced plans for a $1.1 billion complex to be constructed in Inglewood, California. Meanwhile, Major League Baseball's Dodgers are planning renovations to 57-year-old Dodger Stadium that will allow visitors to walk around the entire stadium for the first time.
---
DIFFERENCES IN PROFESSIONAL AND RECREATIONAL GPS
Global positioning system (GPS) technology is available to us anywhere in the world, 24 hours a day. But there is a difference in professional and recreational GPS receivers and functionality. Here is a primer.
(Shutterstock.com)