Transportation Project Manager Adam Kane Honored With HCI Outstanding Volunteer Award
Public Works/Transportation Team Leader Melanie Cleavelin presented the first HCI Outstanding Volunteer Award to Transportation Project Manager Adam Kane. This new award recognizes an individual who goes above and beyond to support Halff Community Initiative, Halff's non-profit organization.
Melanie Cleavelin introduced the award during Halff's State of the Company presentation on Dec. 7, 2022. The Outstanding Volunteer Award goes to an exemplary individual who not only supports HCI but embodies what HCI is all about. They are a leader who loves to serve others, representing the heart of HCI. Awardees are nominated by the steering committee and selected by the board.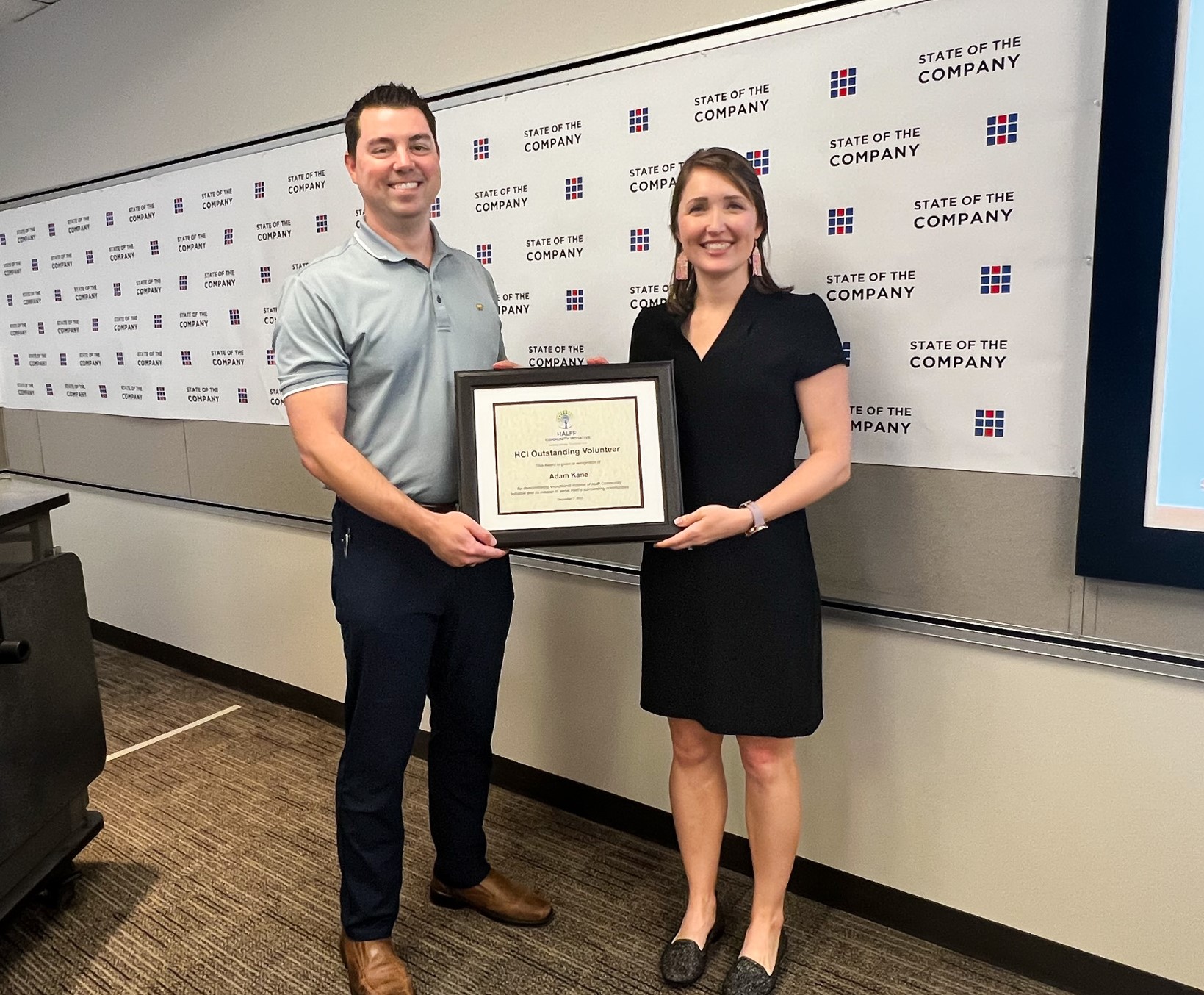 Melanie Cleavelin (right) presents the first HCI Outstanding Volunteer Award to Adam Kane.
Adam Kane leads all the HCI efforts in the Frisco office and participates in many of the volunteer events. Adam's enthusiasm and encouragement of HCI shines brightly to those around him.
"[Adam] has supported HCI from the beginning," said Melanie. "We are very appreciative of everything that Adam's done."
Watch the video below to see what HCI means to Adam:
The Halff Community Initiative (HCI) began in 2017 as a 501 (c)(3) nonprofit organization. Halff's employees run HCI, which is designed to give back to the communities where we live and work. Helping people and changing lives is the mission of HCI. In 2021, HCI donated to more than 100 organizations in communities throughout Halff's footprint.
---
Follow HCI on social media to stay connected with the community!
LinkedIn | Facebook | Instagram | Twitter