Dallas College Partnership Provides Wealth of Experience for Students in Spring 2023
Our employees are passionate about building up the next generation of industry leaders.
Thanks to Dallas College's mINiTERN Program, our people were able to mentor students by providing a wealth of real-world experience and knowledge throughout the spring semester.
Dallas College's mINiTERN Program is a 10-week externship that facilitates partnerships between local businesses and Dallas College's students. The students work in a team and collaborate weekly with subject matter experts to tackle a research project chosen by the partner firm. They then present their research, results, and analysis and recommendations to leadership at the host company.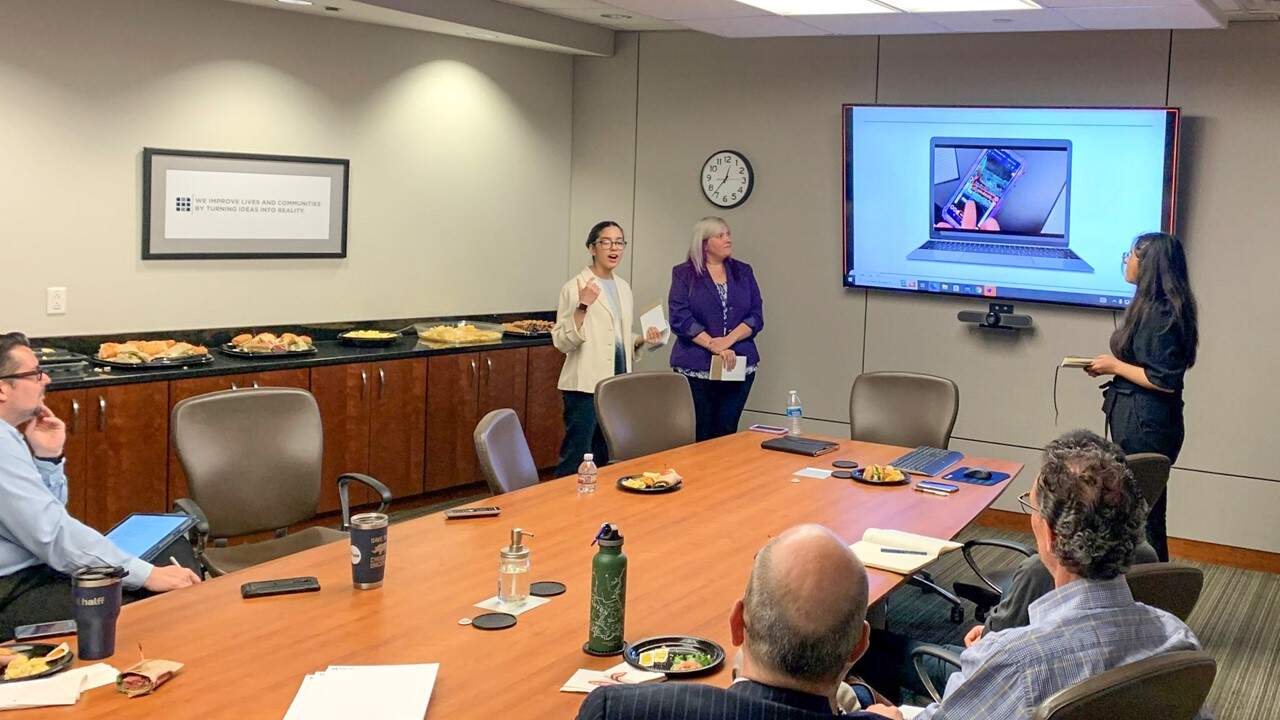 Dallas College interns present their findings to Halff's team about the potential for indoor mapping. 
For the spring 2023 semester, students researched and presented to Halff's team about the potential for indoor mapping. The group of three (pictured above) gave their final presentation and recommendations at the end of April, wrapping up the spring program. "It was a pleasure to be a part of the program, and their final presentation was insightful and creative," said Survey Business Development Manager Bill Swope. "Here's to their future success!"


Halff was represented by (left to right): Director of GIS Gini Connolly, Geospatial Team Leader Aaron St. Amant, CADD/BIM Technology Manager Eric DeLeon, Survey Business Development Manager Bill Swope and Campus Recruiter Sharita McNealy.
"I enjoyed the mINiTERN DCCD students and program. It was great to watch the students week after week come with great questions for the team," said Campus Recruiter Sharita McNealy. "Excellent teamwork and research from the students led to an overall great presentation and spring semester."
The mINiTERN Program allows Halff to engage with the college community and furnishes students with a path to network, gain hands-on experience and think creatively. Our team looks forward to participating in the program again during the fall 2023 semester.
APPLY TODAY!
Want to get a jump on your career? Visit our Internships page to take your first step and learn more.
Halff's internship program is a great opportunity for college students to prepare for their careers. Many of our interns receive offers from us for full-time employment upon graduation.