Editorial Manager Keith Courson Awarded Halff's Home Run Award
Chief Marketing Office (CMO) Jessica Baker Daily, on behalf of President/CEO Mark Edwards, awarded Editorial Manager Keith Courson with the Halff Home Run Award.
The Halff Home Run Award is presented to employees who embody the spirit of Halff through leadership, ownership, excellence and the growth of others.
"He truly deserves this award because he is so special and a unique individual; he cares deeply about his responsibilities and about all the people at Halff," said Jessica.
Keith is a pillar of the Communications team, leading others with excellence and integrity. He has raised the standard of Halff's written communications. He also has a huge heart for people in our communities as evidenced by his leadership and participation in volunteer efforts with the Halff Community Initiative (HCI).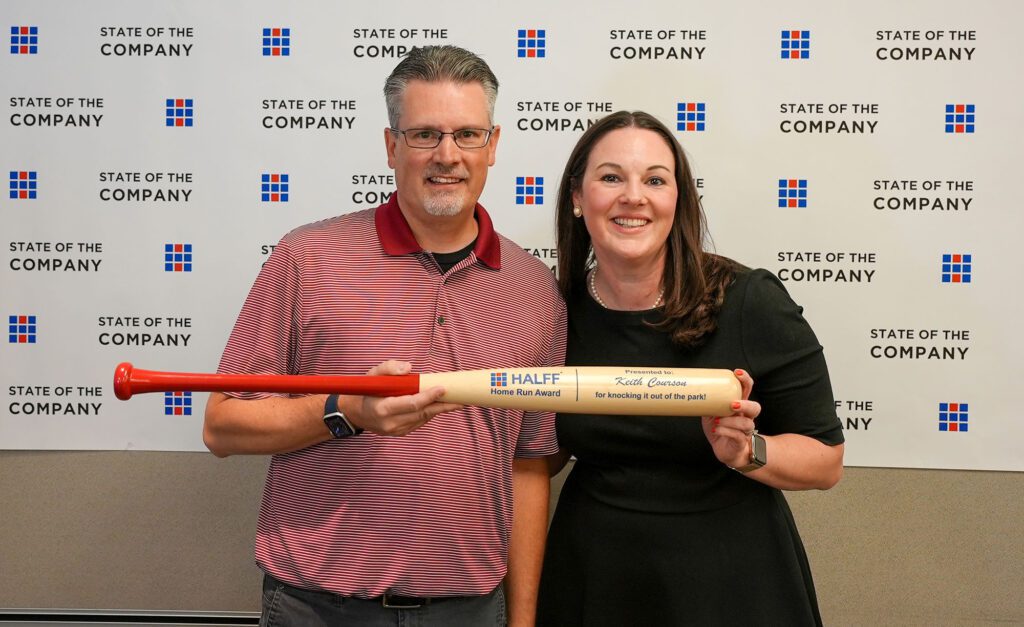 Halff CMO Jessica Baker Daily (right) presents the Home Run Award to Keith Courson.
Previous Home Run Award winners include: 
Vasileios Kalogirou, Survey Practice Leader
James Barr, Transportation Team Leader
Russell Killen, Executive Vice President
Leigh Hollis, Frisco Operations Manager
Erik Verduzco, Houston Production Manager
RJ Endsley, Public Works Team Leader
Jacob Hays, Public Works Team Leader
Nicole Roark, Director of Marketing Strategy
Jose Delgado, Director of MEP/ITS Engineering
Bryce Spalding, Survey Technician
---
Want to join our exceptional team of people-first professionals? Learn more about what it's like to work at Halff, and then head over to our career portal.