Employees Rally to Help After Harvey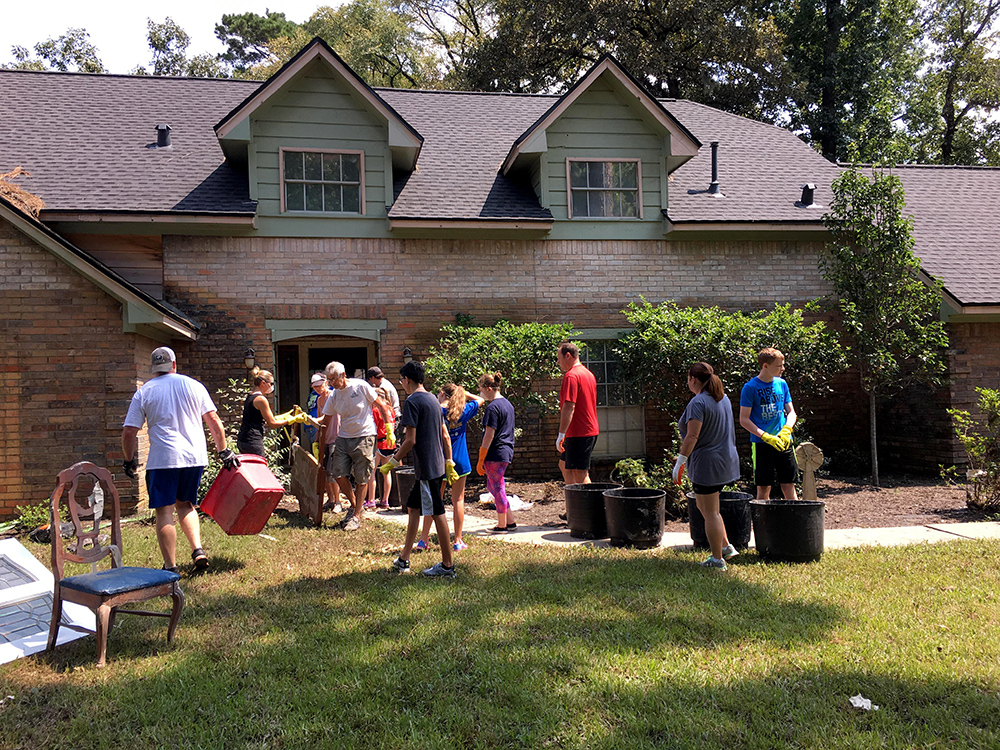 Little did Erik Verduzco know, he would become a first responder—pulling people from high water, shuttling them to a nearby shelter, providing comfort.
After all, he was just trying to make his eight-mile drive to Halff's Houston office to see what kind of shape the building was in while Hurricane Harvey was dumping more rain on parts of Southeast Texas than anyone had ever seen. He saw an immediate need to help.
"My brother and I just started shuttling people in his truck," said Verduzco, a production manager in Halff's Transportation practice. "We were helping them out of the high water before the actual first responders got into that area (around the office). There were certain areas where people had high water, but they had electricity, so they were staying. Once they lost power, they started coming out."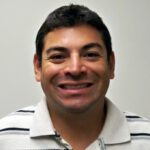 Erik Verduzco
Erik's story is just one of many among the Halff family. Over the last two and a half weeks, Halff employees have assisted with citizen and pet rescues, delivered sandbags, volunteered at shelters, hosted displaced Houstonians in their own homes, donated food and clothing, and begun to demo and clean up flood-ravaged homes where water has receded. They have assisted FEMA and the U.S. Army Corps of Engineers with critical data to analyze the storm's impact, and also planned emergency repairs.
Unfortunately, the initial high winds from the hurricane and the resulting flooding have greatly impacted some Halff employees who haven't been able to return to work. The Houston office was without power and closed for about two weeks.
"People are wanting to get back doing something," Houston Operations Manager James Baker said. "Most of our projects here are local, so (clients) are not pushing hard for us to get things out right now. There may be a couple of projects that change in scope, especially on the landscape architecture side, because of areas devastated by the flood.
"There has been a lot of help out of the Fort Worth office and other Halff offices to help us keep projects going and handle emergency questions that came up from Harris County Flood Control District (HCFCD) and other agencies."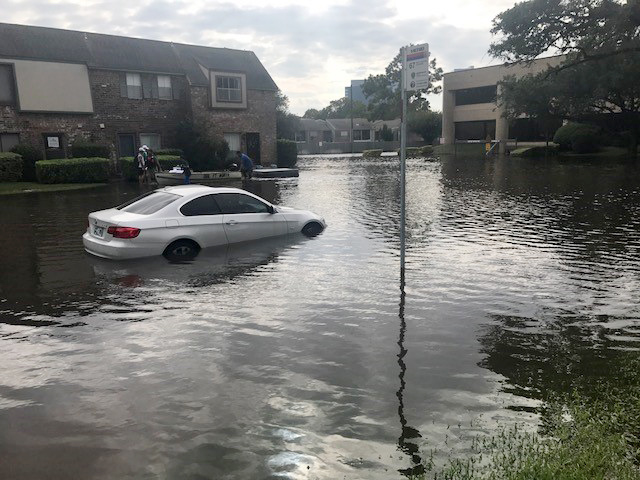 Erik Verduzco was among those helping to rescue stranded families and pets as water rose near Halff's Houston office location.
An Overwhelming Response
Verduzco, being familiar with the streets near the Houston office, said his initial efforts were focused in those neighborhoods. He connected with a buddy from Laredo, who was deployed to the area with his border patrol unit. They rounded up additional volunteers and patrolled West Houston, searching for people who needed rescue. He then spent the weekend immediately following the hurricane helping friends and family by pulling out carpet, cutting away damaged sheetrock, and cleaning homes.
"As devastating as Harvey has been to our city and surrounding areas, the outpouring of love and care among people within and from places all over the country has been amazing," he said. "I have witnessed some heartbreaking situations with families, children, and pets, but have also witnessed some of the most heartwarming human compassion and actions."
Verduzco and Mike Smith, a surveyor whose apartment complex was flooded, each had a hand in moving Halff SUE and survey vehicles from the parking lot to a parking garage about a quarter-mile away. Their efforts saved those trucks, which were back in use a week later.
SUE Manager Carl Sellars, through his church in the Cinco Ranch area of Katy, assisted flood victims in a three-phase approach. The rescue (ensuring everyone was safe), resource (providing necessary daily items), and restoration ("mud out" homes to aid in drying and prevent mold) program made a big impact in the area. The church family has provided more than 100 host homes for people displaced by the hurricane.
Many Houston and Conroe office employees volunteered their time at shelters or have helped others clean up their homes.
Ruined furniture and other belongings have littered Houston streets as cleanup continues following the devastating flooding caused by Hurricane Harvey.
Even During Storm, Duty Calls
Meanwhile, Halff's Water Resources practice has been assisting FEMA and USACE throughout the last few weeks. As part of the Compass PTS (Production and Technical Services) joint venture team, Halff provides on-call support to FEMA Region 6.
Before Harvey made landfall, Halff prepared a rapid response report with essential reference information of the areas impacted. As the hurricane evolved, Halff provided an array of mapping data that could be digested quickly. Halff has also assisted FEMA with nonstop media inquiries, helping provide accurate information.
Since August 27, Halff employees have collaborated with USACE and its flood inundation mapping efforts, specifically because of the firm's knowledge of the Brazos River through a contract with the Brazos River Authority. Halff possesses an updated model of the Brazos, so forecast inundations and now recession mapping has been done daily to support USACE and an interagency team making critical decisions from the State Emergency Operations Center.
"Everybody has stepped up," noted Vice President Jessica Baker. "People were working around the clock."
That included an emergency plan created for Greens Bayou in the Houston area. Terry Barr, Houston's director of Water Resources, was working on a project to replace an access road on top of a levee. It had a huge spillway in the middle of it—basically a concrete-lined low spot across two huge culverts. As James Baker described it, "a football field-size chunk of concrete washed away."
Barr was at the site with the client, HCFCD, on September 1 to walk the project and survey the damage. Repair alternatives were discussed with the client that afternoon. Then Structural Team Leader Paul Rielly, along with Cameron Vester and Steve Guerra of the Fort Worth office, sent out a draft repair plan by that evening.
The efforts by everyone have been inspiring, and we all know that Houston and the surrounding areas have a long way to go to recover.
Perhaps Verduzco, who had 14 people stay in his home the first weekend following Harvey, summarized it best: "It definitely has been a once-in-a-lifetime, life-changing experience to see this."