Ethics Are Deep-Rooted in Halff Culture
Ethics have been an integral part of Halff Associates since Dr. Albert H. Halff opened a one-room office in Dallas' Snider Plaza 67 years ago. For proof that ethics are still as important as ever within the firm, look no further than Halff's Torch Awards for Ethics honor received from the Better Business Bureau and Dallas Business Journal in September.
The award honored Halff and other North Texas firms who "demonstrate best practices in leadership character and high standards of organizational ethics that benefit their customers, employees, suppliers, shareholders, and communities."
The prestigious honor reinforced what President Pat Kunz stated in his personal letter to the Torch Awards judging committee, where he emphasized Halff's core values and staying true to what is important to the firm. Ethics are right at the forefront of our core values.
"We work very hard to build relationships and trust with our clients to assure them we really do care about their projects," Pat wrote. "We work just as hard to value the exceptional employees who drive our company and work together to solve problems and do great things."
The Value of Ethical Behavior
It is important to note that working and acting in an ethical manner apply at all levels—when we are interacting with clients, fellow coworkers, other teaming partners, vendors, and the communities we serve. Halff's culture and core values, which are projected on the firm's website, include people, autonomy, teamwork, integrity, and quality.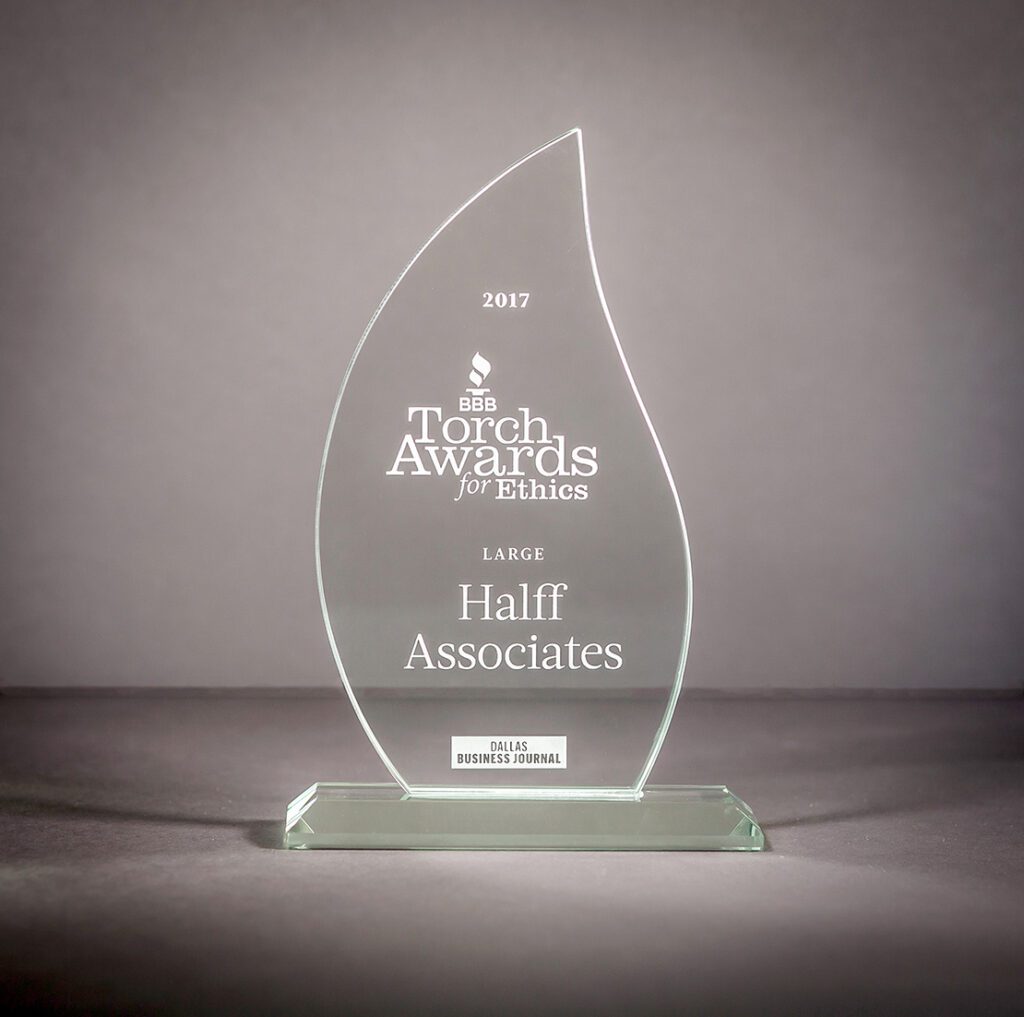 And that behavior starts with the members of Halff's leadership team, who scrutinize every decision they make to ensure it fits within the firm's core values.
"Everything you do or say, how you act, and the decisions that you make as a leader are seen by everybody. And if you are acting unethically, managing other people unethically, or handling any situation unethically, it's a reflection of you," Executive Vice President Mark Edwards noted. "That's your leadership purpose, style, or principle. I don't believe in doing it any other way. And I want every person who works for Halff Associates to believe that as well.
"That's why I think it really drives what we do because if we all do that—if we're all on the same page working toward that goal of serving our clients with an ethical purpose—then Halff Associates is a better firm."
Ethical challenges occur in the normal course of our business. What matters most is how they are resolved. When employees are faced with an ethical dilemma at Halff, whether it is related to a project or is personal in nature, there are plenty of places to turn for consultation.
"They can come to HR; they can come to their Team Leader; they can come to a member of the leadership team," Vice President and Director of Human Resources Joni Caldwell said. "Any one of these people will be happy to sit down with you and give you advice. The good news is nobody has to try to figure that out by themselves.
"There is not going to be any retaliation against them for raising their hand and saying, 'Hey, I don't feel right about this.' We encourage that."
Documentation and Training
Halff's Ethics Policy is arranged into six focus areas:
Halff People and the Workplace

The Public

Clients

Projects and Prospects

Project Team Partners and Vendors

Personal Commitments
"Ethics absolutely is a core value of Halff Associates. If you don't act ethically, if that's not a personal core value of yours, you're not going to fit here because our clients recognize that," Mark said. "It's a very high value for us when we deal with our clients as far as if there is any potential for a conflict or any other issue—we're going to bring it forward to the client."
Halff organizes ethics education at every level of training. It's included in the established Leadership Development Training and Project Management Training programs for emerging leaders and Project Managers. New training programs are being implemented around professional development for one- to three-year professionals at Halff, and for Team Leaders. Ethics, as well as the firm's culture and core values, are part of those new training classes.
Halff also is proud to have several leaders who teach ethics courses throughout the year during national and state conferences for professional organizations, local luncheons, and in webinars. Examples include "Ethics for Floodplain Managers and Engineers" and "Ethics and Integrity in Flooding and Drainage Litigation Cases."
A Legacy to Uphold
The foreword in the Employee Handbook states, "For more than 50 years, Halff Associates people have worked hard to build our company's reputation for excellence and ethical dealings. The success of the company today is due in large part to our longstanding good name and reputation in the industry."
Employee ownership has been a contributing factor to building that good reputation. Ownership is believing that if you are engaged in the work you do—if you care about the quality of work you do—the end result is a quality product and exceptional client service.
"Dr. Halff cared about people, and there was tangible proof of it in the way he treated people. I think, especially the people who ever worked with him, they got it and are helping to carry that on," Joni said. "But you know, a lot of our younger employees also have a very strong sense of community, doing something in a benevolent way, or helping others … and they never knew Dr. Halff."
"We have a longstanding reputation to uphold," Mark added.