Arkansas Governor Asa Hutchinson Unveils Mike Marlar's Painting as Official 2019 Arkansas Duck Stamp
Some people are predominantly "left-brained." Like many engineers, they're gifted with analytical and methodical thinking.
Others' brains are usually stronger on the right side—they tend to be more creative or artistic.
As for Vice President and North Little Rock Operations Manager Mike Marlar, he seems to wear the engineering and creative hats equally comfortably—so much so that Arkansas Governor Asa Hutchinson referred to the engineer simply as an "artist" during the unveiling and dedication of Mike's official 2019 Arkansas duck stamp artwork.
The painting was revealed during the Arkansas Legislative Sportsmen's Caucus luncheon in downtown Little Rock. The acrylic piece was commissioned by the Arkansas Game and Fish Commission.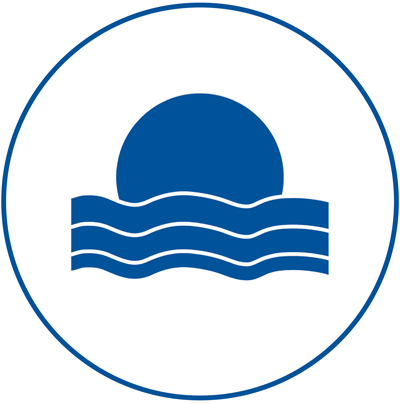 Mike's acrylic painting took roughly a month to complete.
For the city slickers, a duck stamp is an adhesive stamp issued by the federal government that must be purchased prior to hunting for migratory waterfowl such as ducks and geese. In other words, everyone who duck hunts in Arkansas must buy a state duck stamp as part of the license.
Mike's artwork will now reside in the governor's mansion. Art studios throughout Arkansas will also carry Mike's painting. Those who collect the state duck stamp print can order the prints through the Arkansas Game and Fish Foundation.
Taking Inspiration from the Wild
Mike often photographs scenes he uncovers in nature while duck hunting.
"If I see certain photographs that look interesting or a little bit unique that I think will make a nice scene, oftentimes I will develop that into a piece of art," said Mike.
This process involves hand sketching the background and landscape, followed by lightly sketching the ducks. He'll then paint the landscape and ducks, and finally, he'll detail the full painting.
Mike has had plenty of time to hone his process, as he first developed an interest in painting nearly 25 years ago. He initially took a few lessons from the Arkansas Art Center, and he's since worked with a couple of local artists.
"I got really interested in waterfowl art because I hunt, but also because of the history of wildlife art, and especially waterfowl."
Mike credits famous waterfowl artists Richard E. Bishop (who was also an engineer and a pioneer of the art form), Maynard Reece and David Maass for inspiration.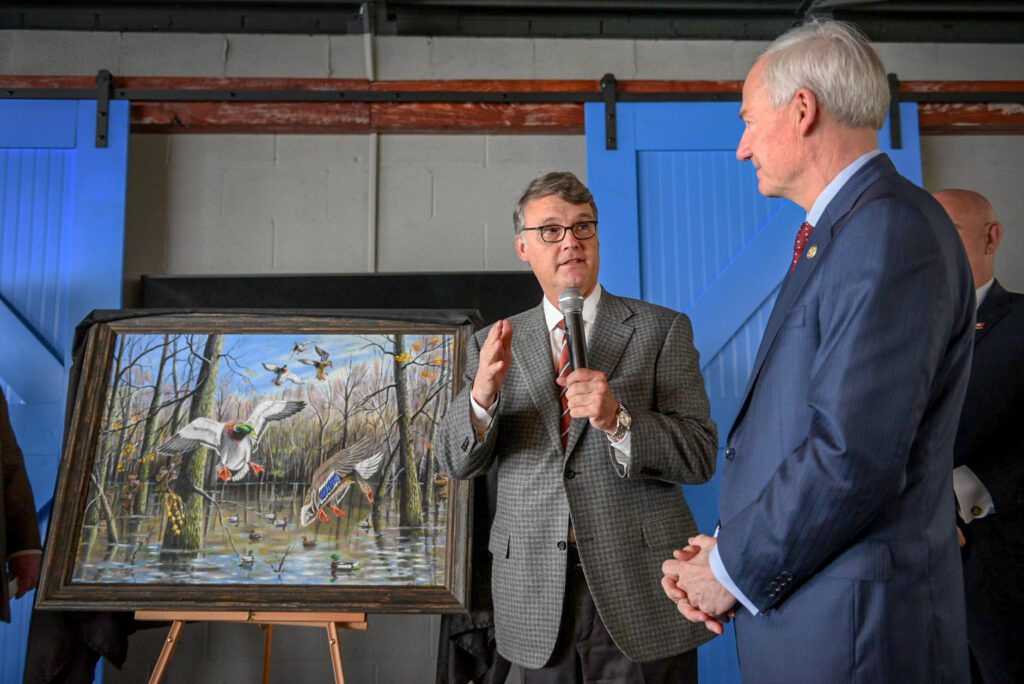 Mike (center) speaks after Arkansas Governor Asa Hutchinson (right) reveals Mike's painting.
Listed Among the Legends
Another big name Mike worked with specifically for the Arkansas stamp is Larry Grisham, longtime director of the Arkansas Duck Stamp program since 1982.
Larry previously commissioned, among others, those well-renowned waterfowl artists Maynard Reece and David Maass for the Arkansas stamp. Mike is humbled to now be in the same list.
"I've done paintings for a number of years, and I've tried for two or three years to get a painting to be the state stamp," he said. "It really is a great sense of fulfillment."
(Photos courtesy of the Arkansas governor's office.)