Halff Earns Zweig Group's Trifecta Award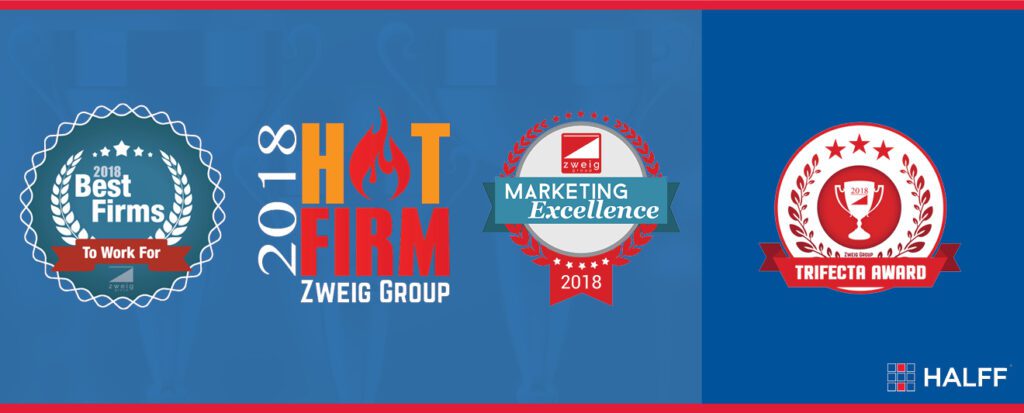 Halff has won several awards from the Zweig Group recognizing our achievements in the A/E industry.
First, Halff was named to the Zweig Group's 2018 "Best Firms to Work For" list based on a variety of factors, such as our workplace practices, employee benefits, retention rates and more. According to Zweig's website, the companies named to this list "have been recognized for their ability to inspire their teams to perform at the highest levels and create an environment where their people feel valued, can make a difference, and can clearly see their contribution to the overall mission and success of the firm."
The Zweig Group also announced we were named to the group's 2018 Hot Firm list, an annual ranking of the 100 fastest-growing firms in the architecture, engineering, planning and environmental consulting industry based on three-year growth in revenue. Finally, Halff earned the 2018 Marketing Excellence Award from Zweig in two categories: social media and internal communications. We received this award, which recognizes outstanding and effective marketing in the A/E industry, based on our company's social media content and other communications initiatives.
Winning the Marketing Excellence, Best Firm To Work For and Hot Firm awards in the same year is no small feat, and because Halff earned all three, we received the Zweig Group's preeminent Trifecta Award.
Halff will be recognized for these awards at the 2018 Zweig Group Hot Firm + A/E Industry Awards Conference in Dallas later this year.