Halff Employee Rallies Behind Hurricane Ida Victims
Electricity had been nonexistent for 16 days. Maybe 17.
Hurricane Ida was so menacing, so destructive that the locals (and those trying to help) were losing count.
One woman—a resident of St. John the Baptist Parish in southern Louisiana—drove up to where Halff Business Development Manager Josh Walker was standing. Josh, normally the guy who tries to put a smile on everyone's face right away, hesitated, noticing something different about her.
She was more reserved, sincere, crushed even.
"How are you?" he asked in a more serious tone.
"I just wish I could stop crying," she replied, wiping tears from her eyes.
Josh, beginning to get emotional himself, paused and said jokingly, "Well, ma'am, if I can be completely honest, you're doing a terrible job at it."
They both cracked a smile and broke into laughter, perhaps the best medicine for that very moment.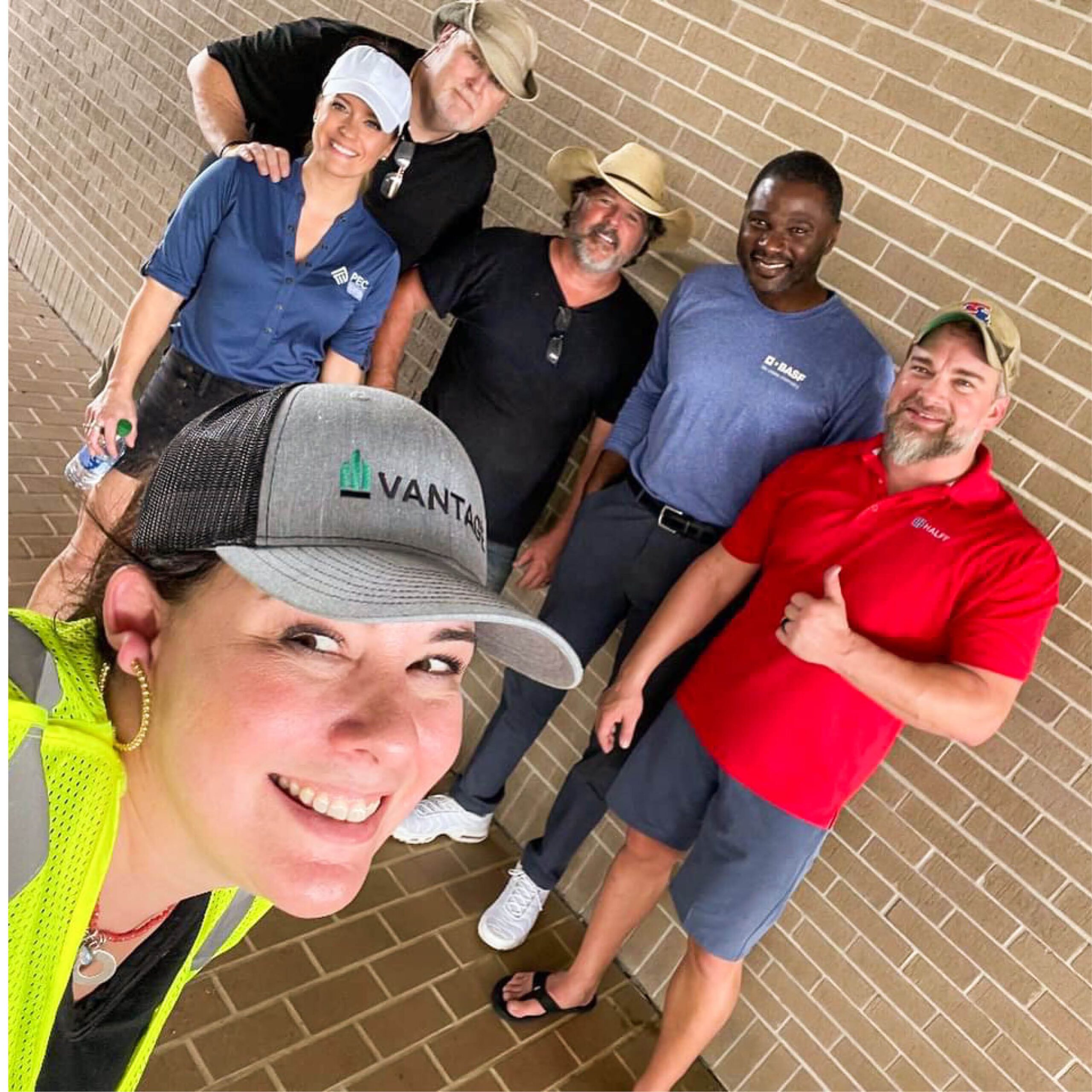 Halff Business Development Manager Josh Walker (right) helped organize a post-Hurricane Ida cooking trip to prepare food for people in need. Others on the team (clockwise from Josh) were Heather Kleinpeter (Vantage), Marissa Lingoni (PEC), Bo Bergeron (Tricon Wear Solutions), Jeff "JC" Chandler (SERCO) and State Rep. Ken Brass.
More than six weeks after the Category 4 hurricane made landfall in Louisiana, many residents who stayed behind are living in unsafe or unsanitary conditions if they have a home at all. Some are searching for hot meals. Some have been staying in hotels. Others are moving into temporary travel trailers for shelter. Students in many coastal towns haven't returned to class because of damaged school buildings.
"It will rock you," Josh said.​​​​​​​
Josh spent time near New Orleans about two weeks after Ida rolled through and devastated the region. He was part of a small group that cooked and served meals to people in need.
"Two weeks before the hurricane hit, I was in Baton Rouge at a birthday gathering," Josh said. "I met State Rep. Ken Brass, who was also one of the guests. I found out he was an electrical engineer, and we started talking. After the hurricane hit, I saw there was a lot of damage in his district. I started thinking about our Halff Community Initiative and wondered what we could do."
​​​​​​​HCI stepped in and made donations to food banks serving Baton Rouge and New Orleans, and Halff provided funds for the cooking trip. So Josh reached out to a friend, Jeff "JC" Chandler, who owns a large cook trailer and is skilled at making meals for large groups of people. They, in turn, connected with Rep. Brass about logistics, and his staff took care of communications to let residents, first responders and cleanup crews know the team would be stationed at a preparatory school in St. John the Baptist Parish.
"I just felt the tug in my heart to reach out, and everything else fell into place," Josh said.
The team served 400 plates of jambalaya the first day—a meal that included 30 pounds of chicken, 30 pounds of pork and 30 pounds of sausage, plus the rice and chopped vegetables. The next day they cooked breakfast for 300 and made pastalaya for 450 at lunchtime.
"We served as many as we could," he said. "This hurricane was such a devastating thing. I would ask them, 'Do you need some water?' They would say, 'I have that. Save it for someone else.' I would ask if I could get them a napkin, and it was the same thing. We made one woman's day just by handing her an ice-cold Coca-Cola.
"These storms are non-discriminatory. They also unite you."
Josh admitted that it's difficult to prepare yourself emotionally for what you're going to see when you engage in a relief effort for a catastrophic event such as Ida. But when it's over, you just wish you could stay another day.
"It was the epitome of improving lives," he said, referring to Halff's purpose statement. "You're seeing people firsthand who are struggling. A simple plate of food just lights them up."