7 Halff Summer Spots to See in 2023

There are plenty of ways to "Halff" fun this summer!
Immerse yourself in a handful of Halff's recent projects that are improving lives and communities across Texas, Arkansas and Florida.
Keep reading to learn more about seven Halff summer spots you need to see in 2023.
Chicken 'n Pickle | Grand Prairie, TX

Chicken 'n Pickle Grand Prairie has food and fun for everyone! Be sure to check out DFW's newest hotspot for pickleball aficionados and amateurs. Pickleball has become tremendously popular the past few years across the United States. This new 77,000-square-foot location in Grand Prairie, Texas, boasts:
Chicken 'n Pickle restaurant and sports bar
Various amenities
11 pickleball courts (six indoor and four outdoor)

L

ounge areas
Yard games (cornhole,

B

attleship, bocce,

J

enga and ping pong)
Halff provided surveying, onsite civil engineering construction plans and construction phase services for the Chicken 'n Pickle restaurant.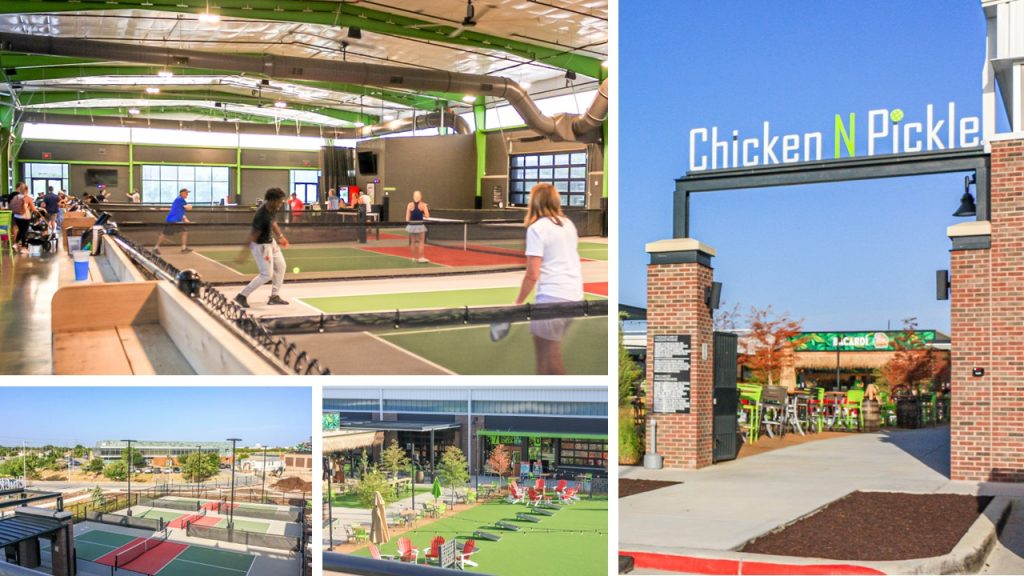 Pickleball is one of the fastest-growing sports in the United States, combining elements of tennis, badminton and ping pong. Many have come to love this sport for its fast-paced action that offers great exercise and social interaction. It is easy to learn, and accessible to people of all ages and skill levels. The smaller court size means less running compared to tennis, but still offers strategic challenges to keep players engaged and physically active.
Lake Okeechobee Scenic Trail | Okeechobee, FL

The Lake Okeechobee Scenic Trail contains approximately 110 miles of trail around the perimeter of Lake Okeechobee. It is part of the Florida National Scenic Trail, a long-distance trail that weaves through an impressive 1,500 miles of unique landscape across Florida.
This quiet, yet scenic lake is located in South Florida between Fort Myers and West Palm Beach. Many people enjoy paragliding, birding, setting up a tent, hiking and bicycling around Lake Okeechobee.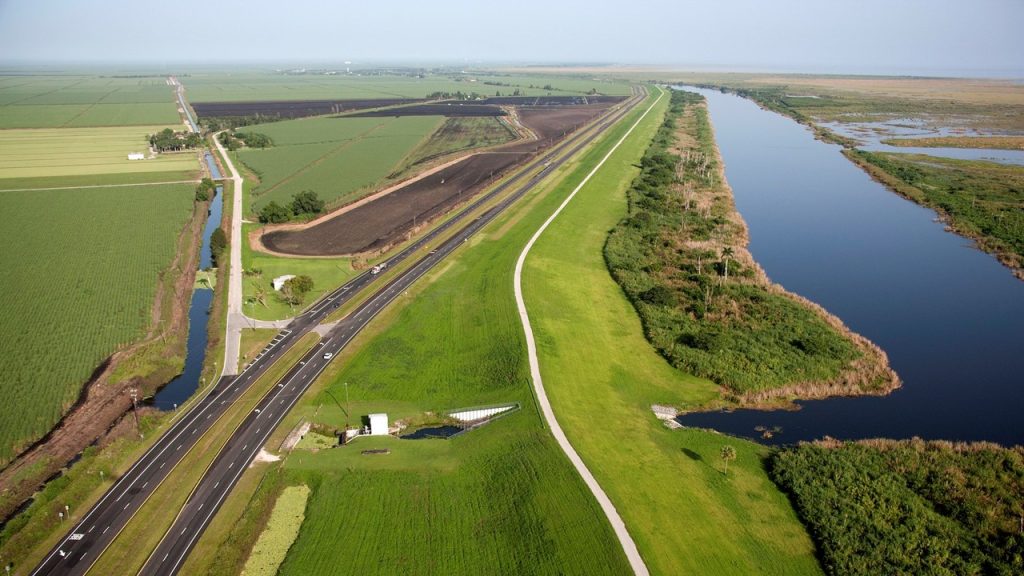 Aerial view of Lake Okeechobee Trail. Image source: Flickr/JaxStrong
Halff performed several tasks for Lake Okeechobee Trail, including:
Developing strategies to improve safety of state highway system for bicyclists and pedestrians

.

Increasing recreational opportunities around Lake Okeechobee

.

Establishing a greenway to the west of US 441

.

Supporting rural economic development activities of the lake communities

.


Lake view and lily pads at Lake Okeechobee, Florida. Image source(s): Shutterstock
Halff also prepared maps, trail alternatives within the network, GIS data and exhibits that were used to meet with stakeholders as they identified preferred trail routes. The surrounding community can now explore miles of luscious landscape and remarkable ecosystems at Lake Okeechobee.
FM 1382 Trail | Cedar Hill, TX

The stunning FM 1382 Trail in Cedar Hill, Texas, runs through several thousand acres of open space. This trail is approximately three miles long, serving as the most critical connection in the City, providing access to hundreds of miles of planned trails for the region.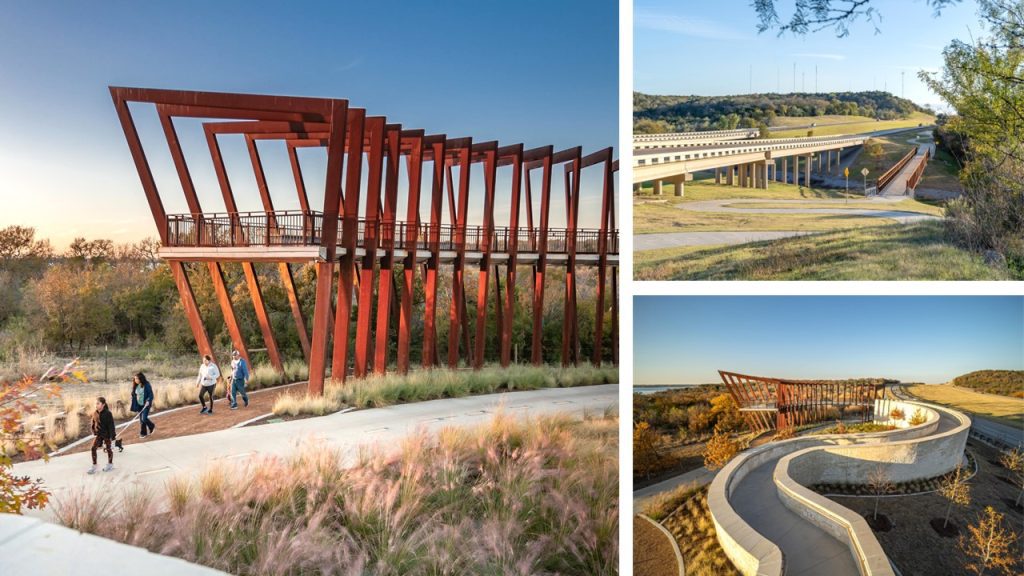 The City of Cedar Hill has an escarpment in this area, which is a geological formation that has created the highest altitude in Texas located between the Gulf coast and Red River.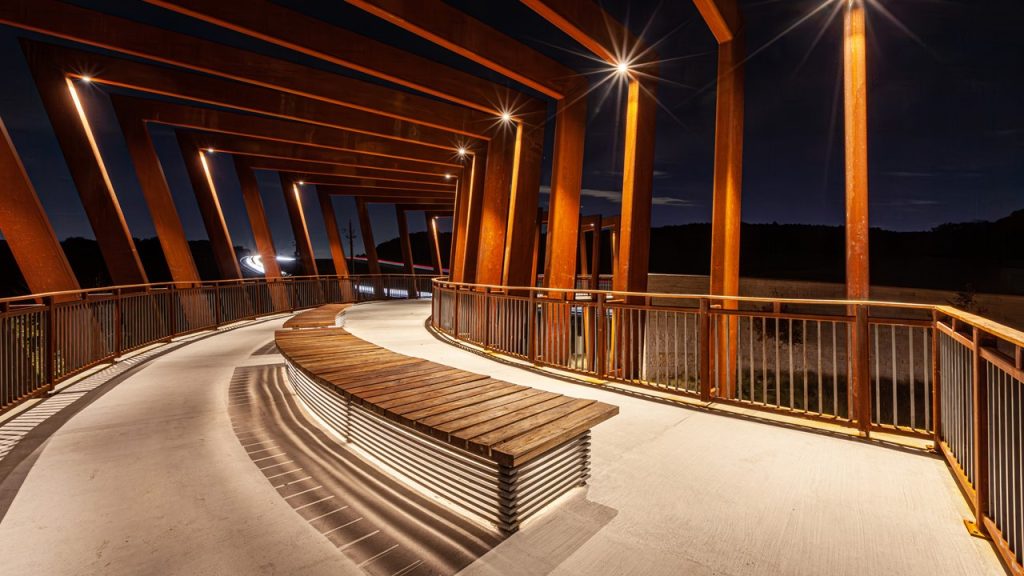 Halff prepared paving and grading improvements for the interior widening on FM 1382 near these open spaces. Halff also prepared paving, grading and drainage plans for the widening of Cedar Hill State Park Road. The FM 1382 Trail, which was also designed by Halff's team, plays off the City's natural aesthetic and character.  This access point is a wonderful way for visitors and the community to explore a plethora of scenic trails and parks.
Majestic Baseball Park | Hot Springs, AR

Hit a home run and chant your favorite song at Majestic Baseball Park in Hot Springs, Arkansas. This historically rich location served as the spring training facility for the Boston Red Sox, Cincinnati Reds, Brooklyn Dodgers and St. Louis Browns. The red brick, steel trusses and site furnishing details throughout the park create a facility like no other.
This award-winning park includes:
Four little league fields
One college

–

size field with grandstand, terraced seating areas
Custom shade structures
Plenty of amenities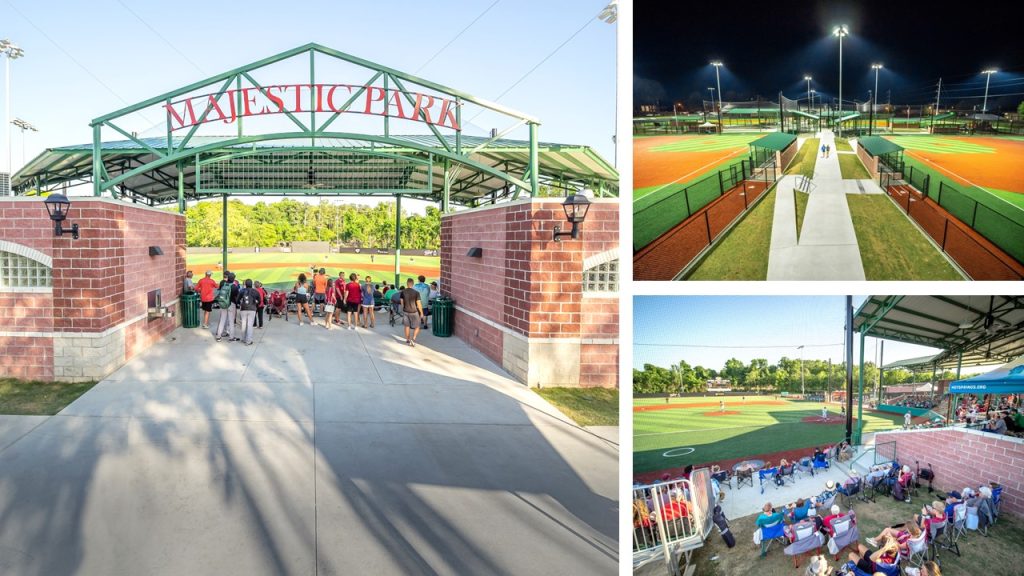 The famous baseball players Babe Ruth, Hank Aaron, Ty Cobb, Jackie Robinson and many more once played here.
Halff prepared a unique master plan and construction documents for the five-field baseball complex. Careful planning was needed for field elevations and placement of sports lighting poles. Majestic Park won the 2022 Don Zimmerman Award for the Trendsetter City Award and 2022 Arkansas Outdoor Facility of the Year.
Lakeline Park | Cedar Park, TX

Lakeline Park opened at the end of March 2023. This child and family-friendly park is a beautiful, clean area to enjoy the cool lake breeze, surrounding nature and outdoor fun. Phase one amenities include:
Three miles of trails (including a loop trail around the lake)
Multi-purpose pavilion
Playground
Luscious lawn
Kayak launch and fishing pier
Wildflower meadows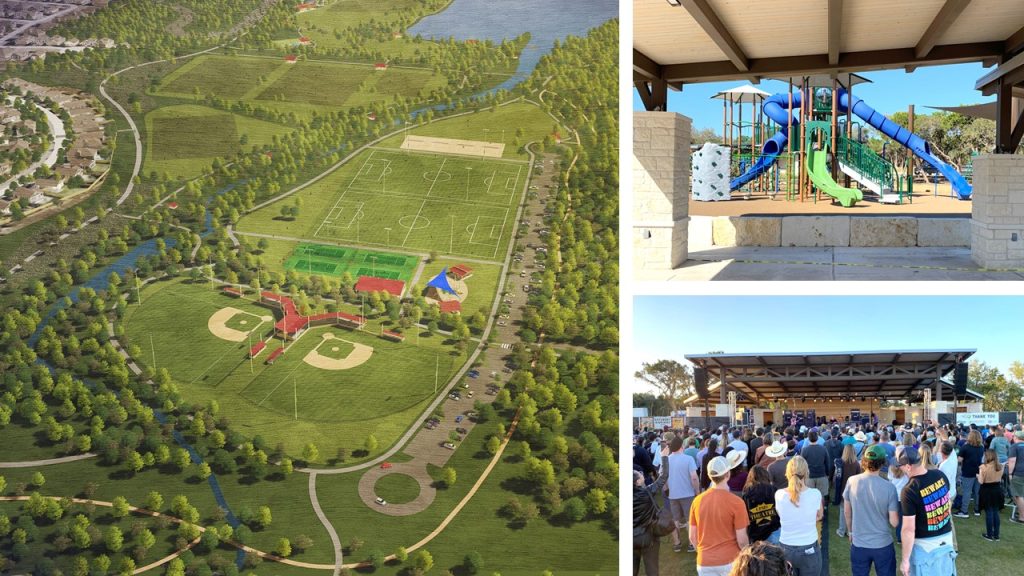 Halff provided planning services for the park, working closely with Cedar Park City staff, City Council and the local community. Phase one of the Lakeline Park Master Plan lays the framework for the largest regional park in Cedar Park, Texas, sitting on approximately 200 acres of undeveloped, City-owned property.
View the events calendar to plan ahead for the fun!
Navarre Beach Parks | Navarre Beach, FL

Whether you want to hunt for seashells, feel the saltwater breeze or enjoy a breathtaking beach sunset, Navarre Beach in Santa Rosa County, Florida, is a beach experience you won't want to miss! There are three different park locations in the heart of Navarre, overlooking Santa Rosa Sound and the Gulf of Mexico:
Navarre Beach Gulfside and Soundside Park
Navarre Beach State Park
Navarre Bayside Park


Navarre Beach Gulfside and Soundside Park.
The soundside complex included construction of two new beach access boardwalks from an existing pavilion area to the Santa Rosa Sound. It contains a new ADA kayak/canoe launch and boardwalk facilities. Approximately one acre of dune habitat was also restored. There are also restaurants, a boat ramp and phenomenal sunset views.
Halff provided master planning services for Navarre Beach State Park, working with the Office of Park Planning. Our work involved detailed design of new facilities that required surveying, environmental analysis of species, engineering, landscape architecture and architectural services.
This beach offers easy access to many amazing spots that were created and preserved for public use and enjoyment. It boasts soft white sand beaches, clean amenities, restrooms and wonderful views.
The existing Bayside Park is located on approximately seven acres overlooking the Santa Rosa Sound. It is being redeveloped in three phases.
Active recreation at the park includes an interactive waterplay feature and two tot lots. Extensive sidewalks, playgrounds, pavilions and a plaza with shade structure attract local visitors and vacationers to this beautiful beachside park.
Historic Water Station Park | Allen, TX

The City of Allen's Historic Water Station Park turned the once-neglected ruins of the 1874 Stone Dam into a unique historical site trail. It is connected by a pedestrian bridge and existing trail with interpretive signage highlighting the significance of the area. Every detail commemorates the railroad that once ran through the area.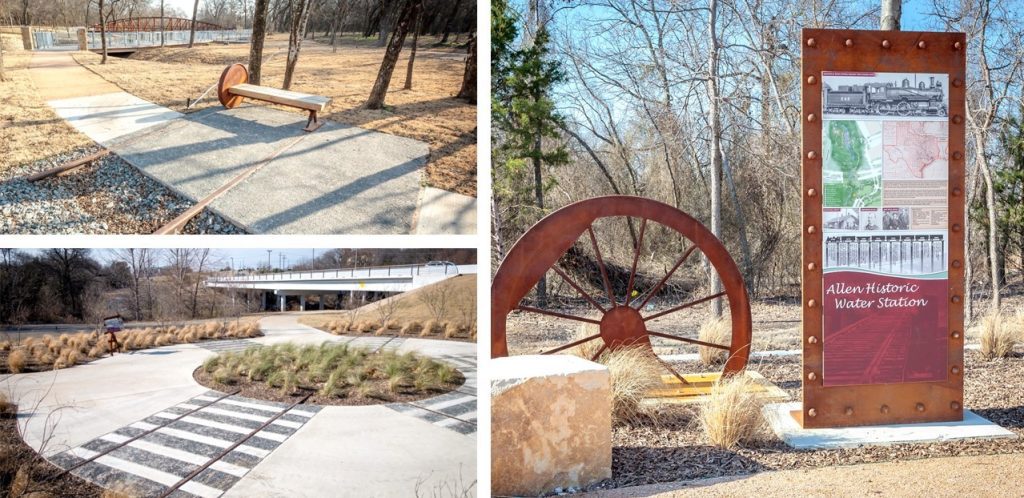 Park benches and signs were inspired by railroad architecture.
Halff was hired to bring life back to the historical landscape area through careful restoration of the dam. Since being decommissioned in the 1940s, the site was forgotten by the community and threatened by harsh Texas weather.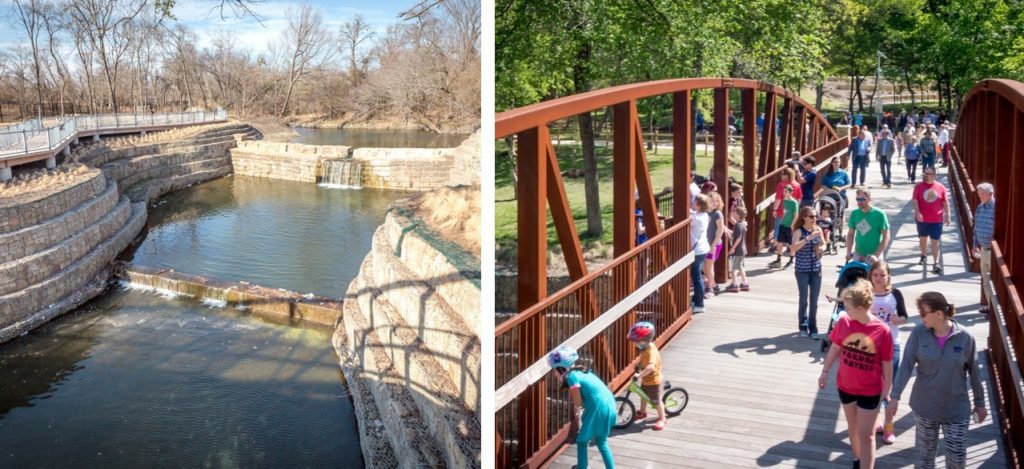 Since then, Halff's Planning and Landscape Architecture teams have created a space that the community loves, dedicated to the importance of the railroad that once existed in the area. Halff was presented a "Historical Honor Award" from Preservation Texas, a subcommittee of the Texas Historical Commission, for the work done on this park.
---
At Halff, we improve lives and communities by turning ideas into reality. A piece of that magic is contained in every project, allowing you to tangibly experience Halff's handiwork over the years.
Be sure to visit these must-see gems near you for an unforgettable summer adventure!