Inside Halff: A Look at October 2022
Halff was brewing with activities during October, which was full of chili cooking, HCI projects, team building and more. Get a taste of what's happened this month!
Chili Cook Off! | Halloween at Halff | HCI Updates | Teaming Together | Halff Bag Travels
Award-Winning Work
The $144 million San Antonio Federal Courthouse project won a Region Best Project Award in the Government/Public Building category from Engineering News-Record Texas & Louisiana. We are honored to be a part of the team! Halff provided civil engineering, MEP engineering, landscape architecture, surveying and Information Communication Technology (ICT) services for the courthouse.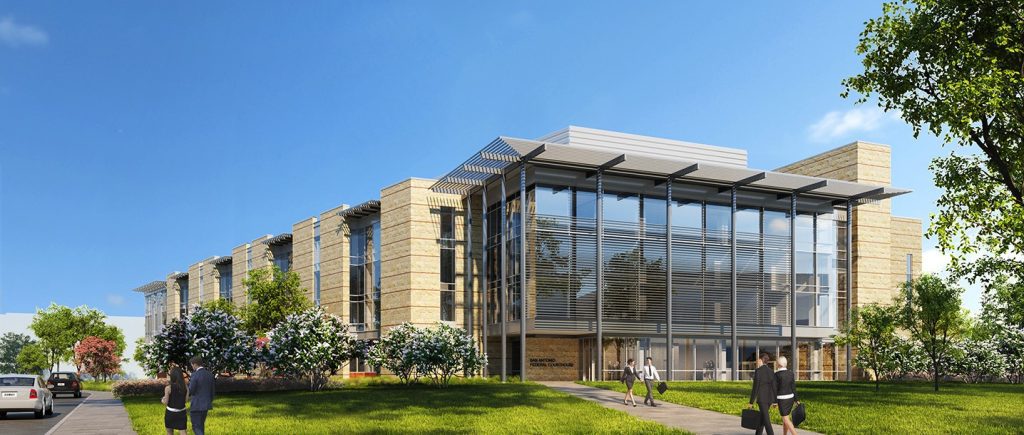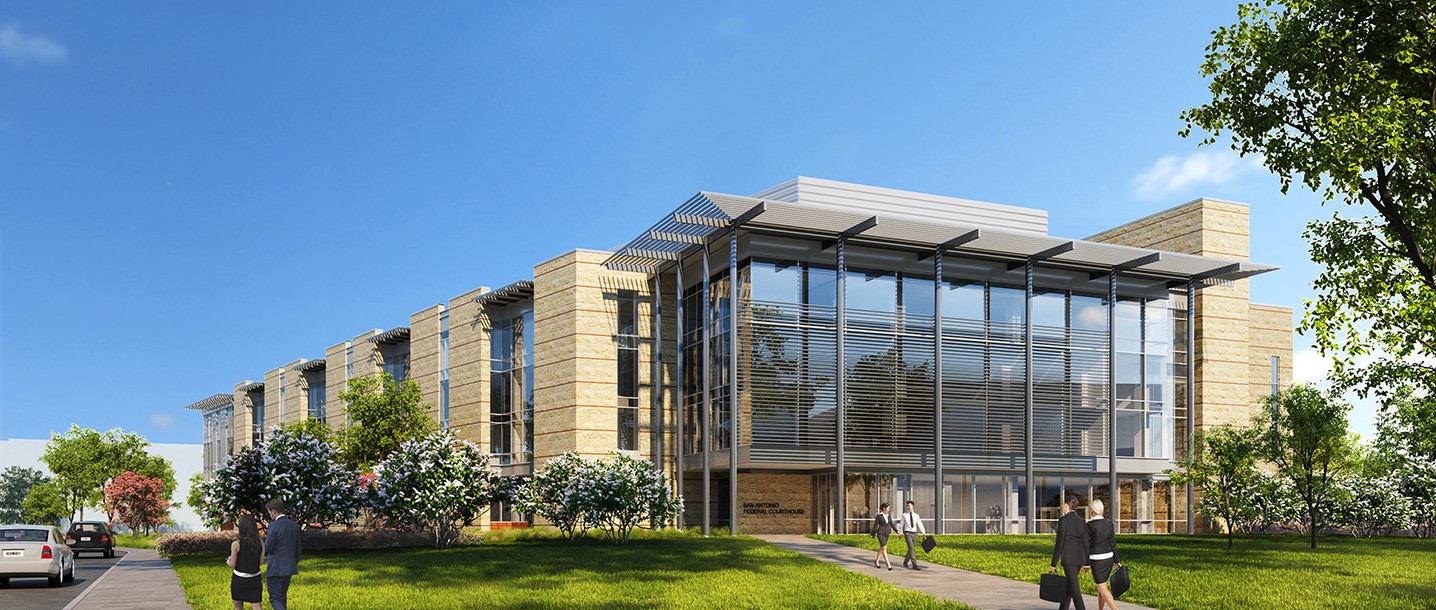 Chili Cook-Off!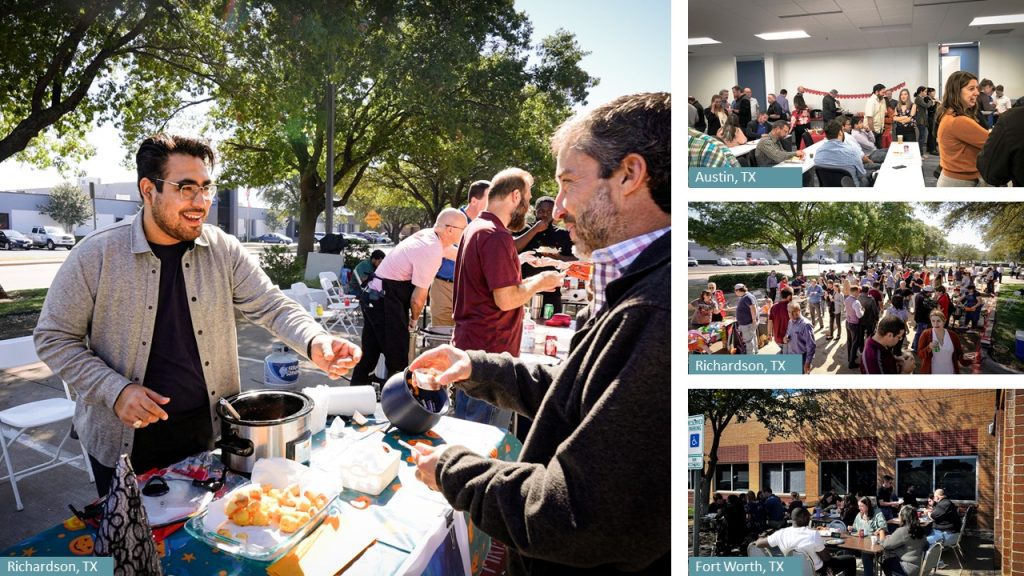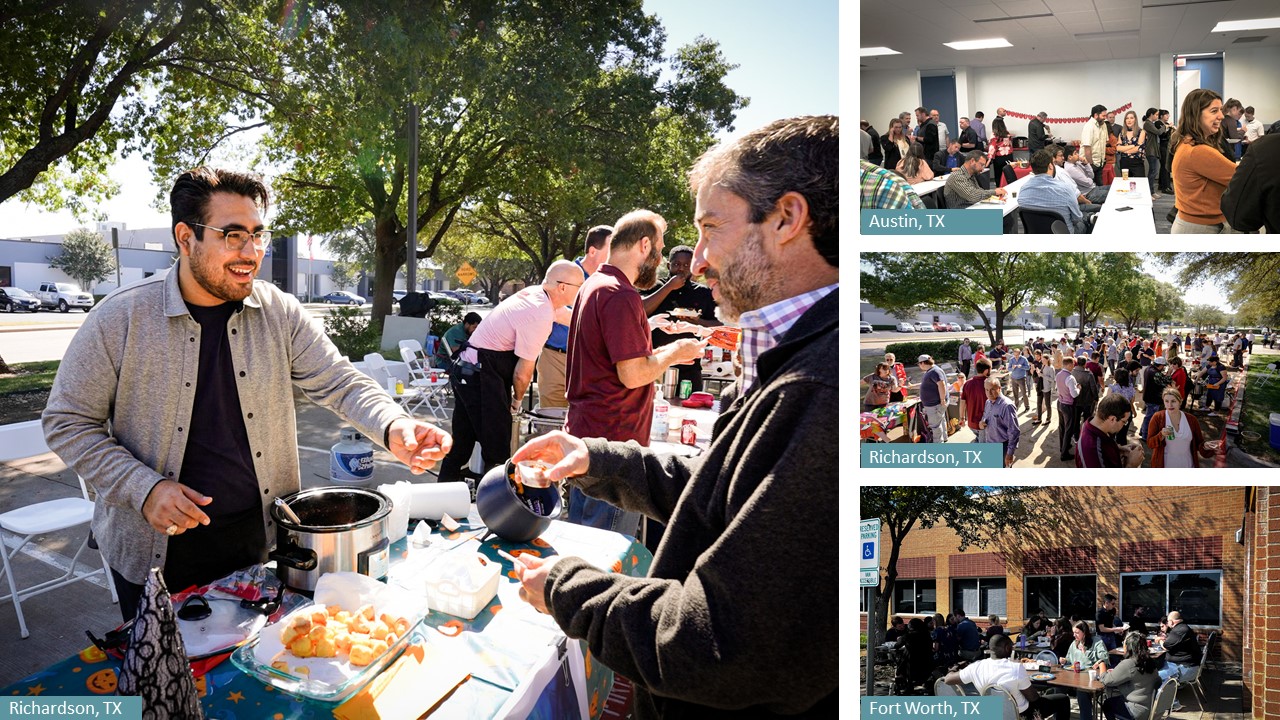 Halff's 26th annual Chili Cook-Off took place throughout October. Teams crafted booth signs and cooked their best chili recipes to compete in this Halff tradition. Everyone gave it their all! The winners are listed below.
Richardson
The Land Development team, Dumpster Fire, claimed the best-tasting chili award with the highest judge's score.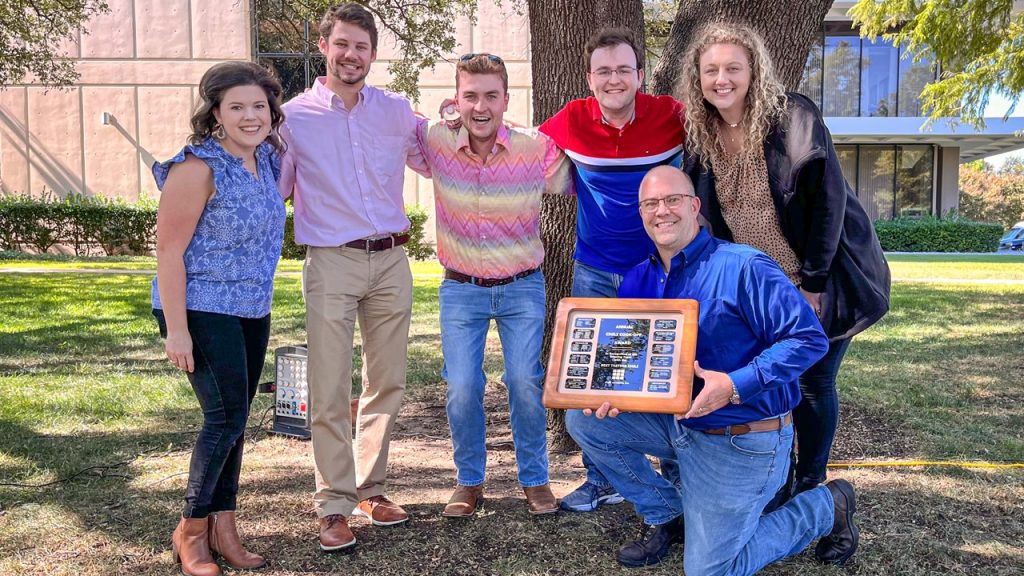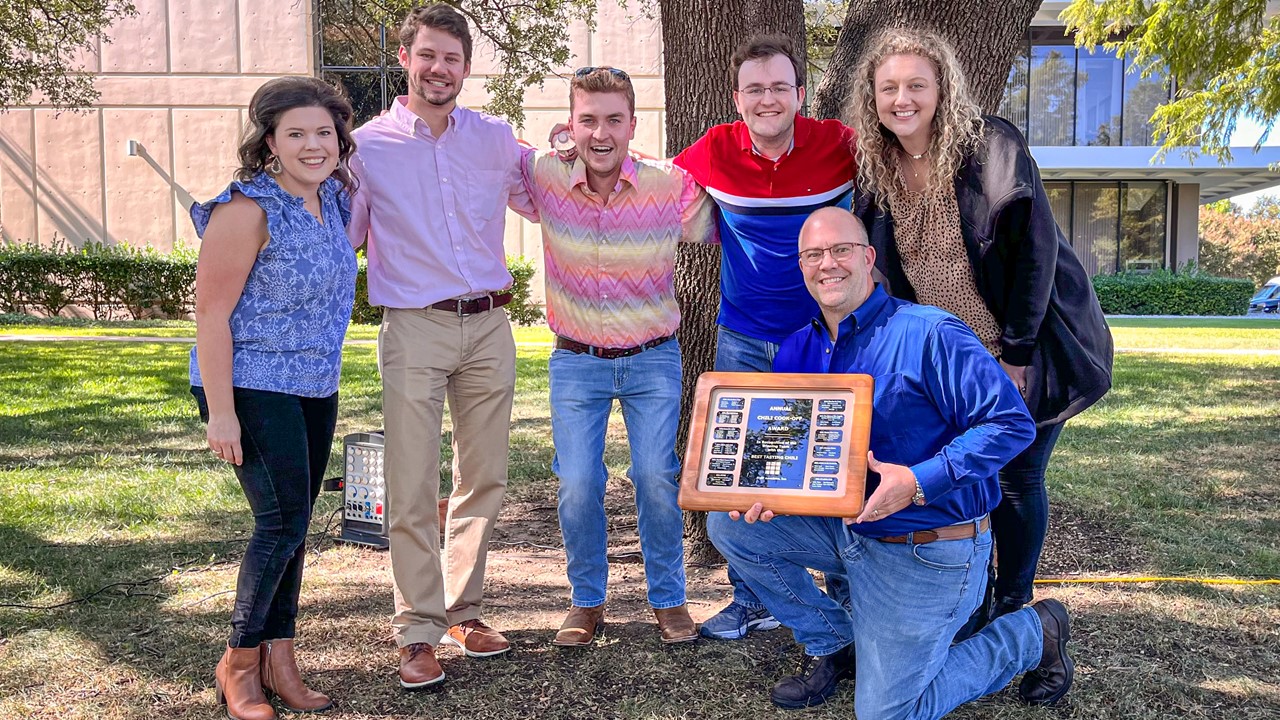 The Water/Wastewater team won the people's choice award for their chili.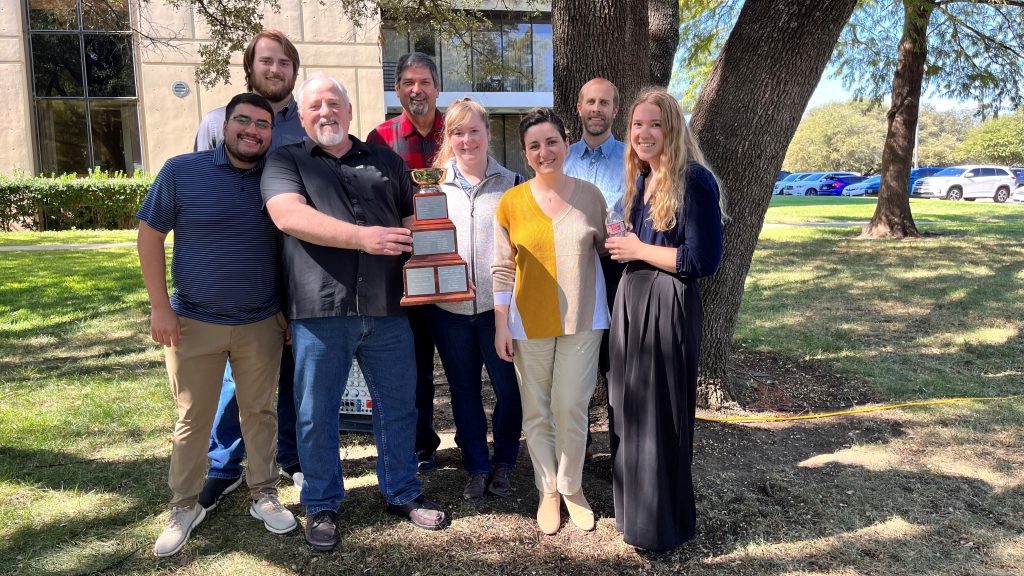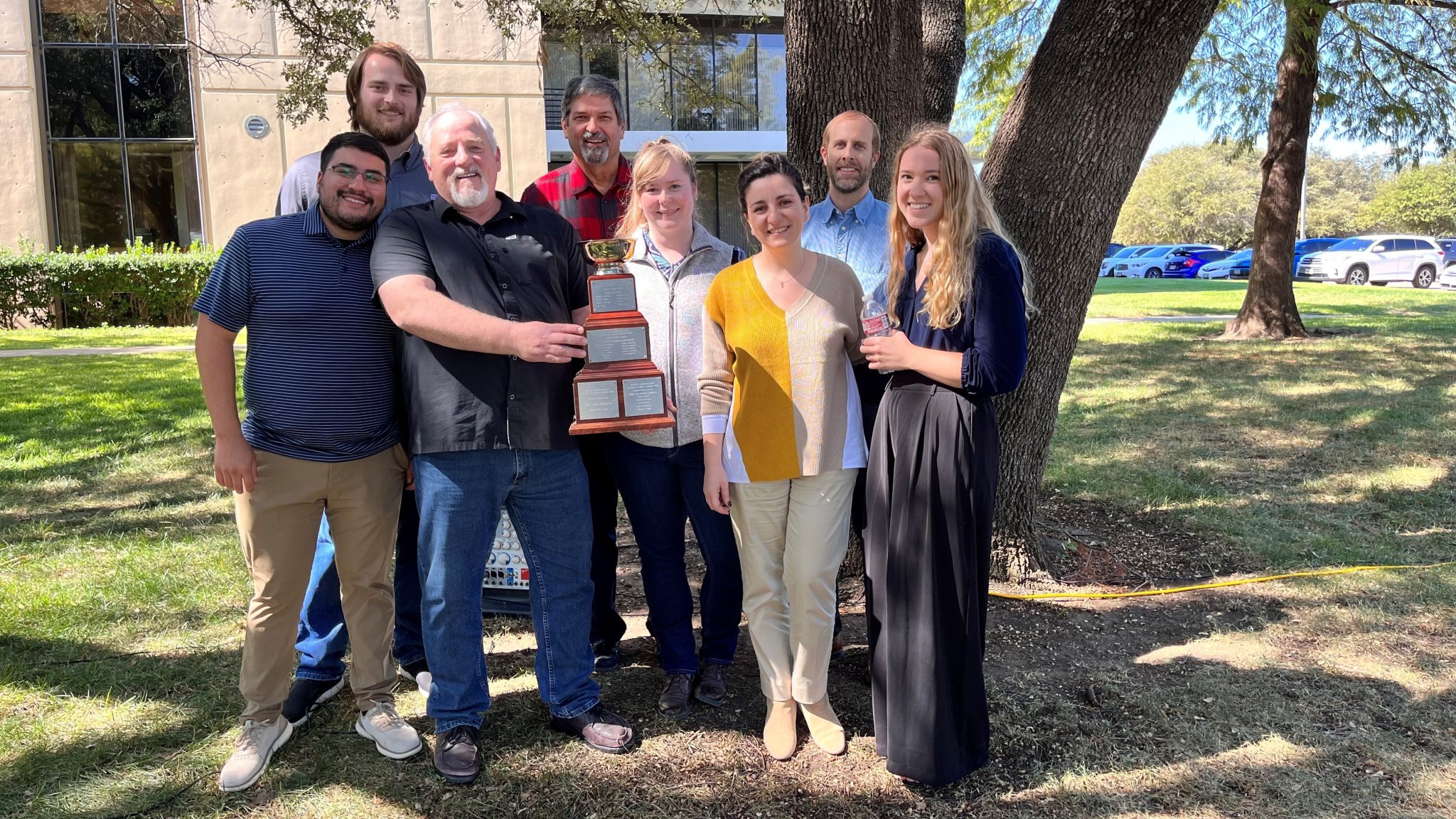 Halff's IT team, Slap Ya Silly Chili, won the best team name, giving everyone a good laugh!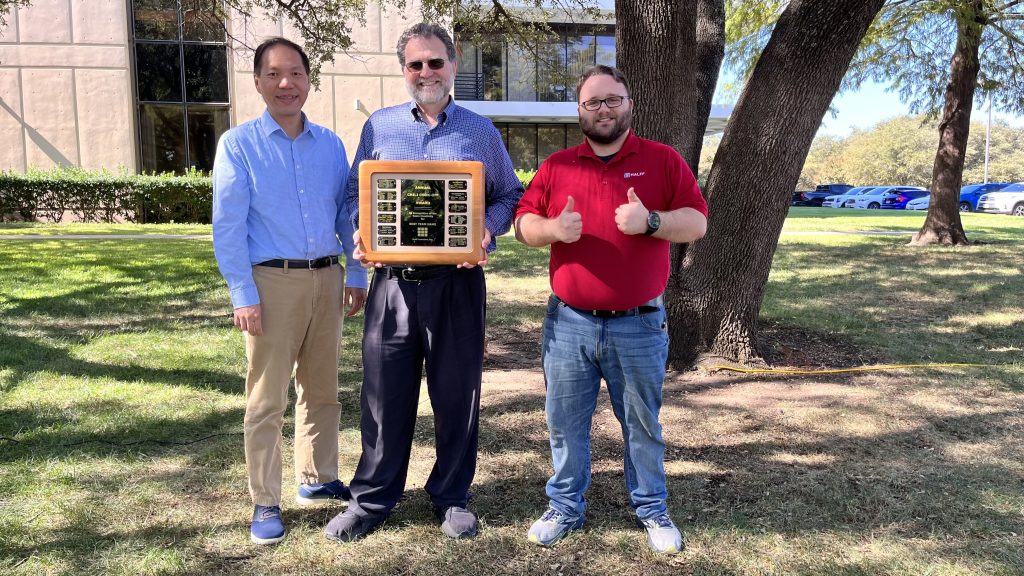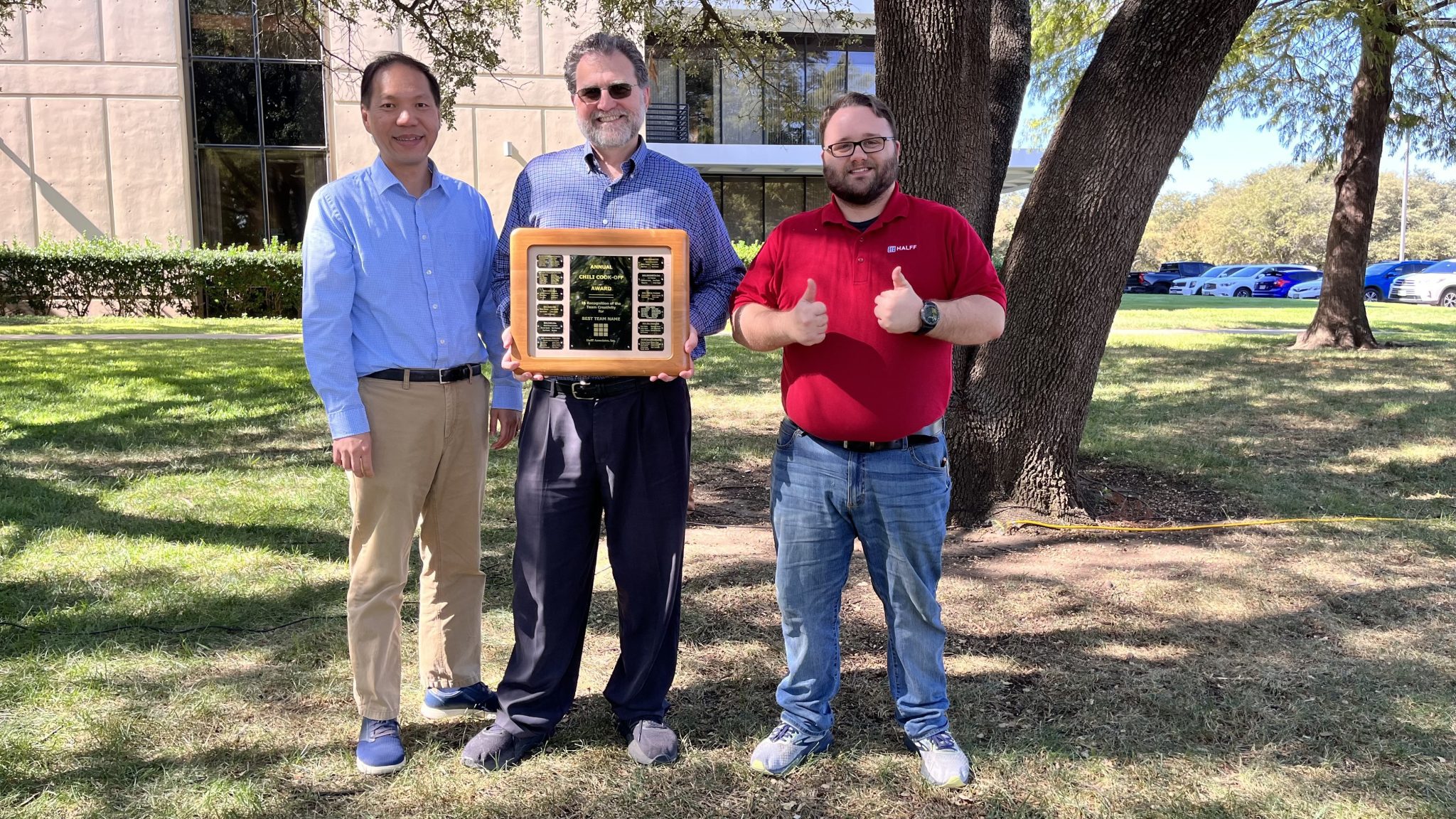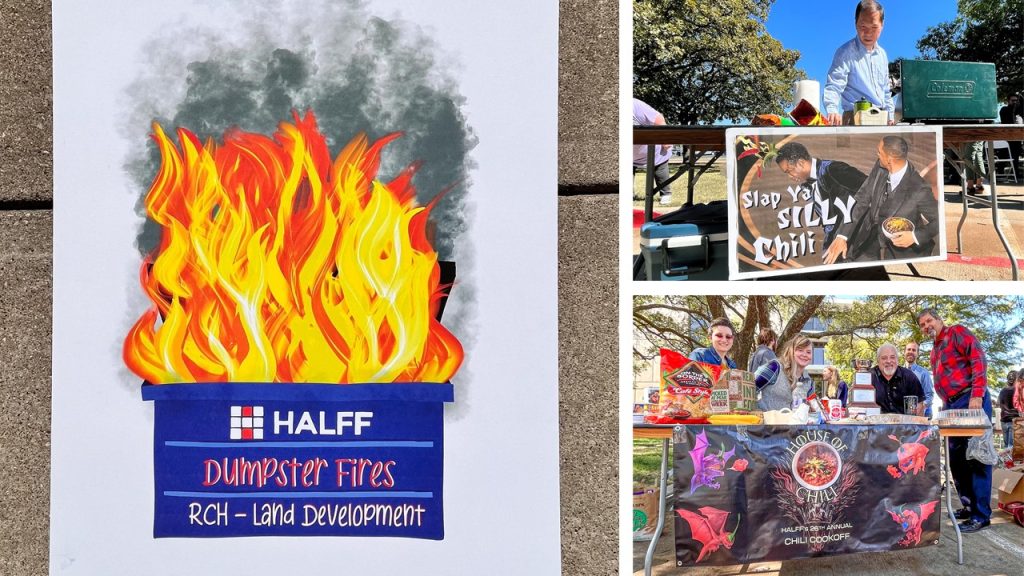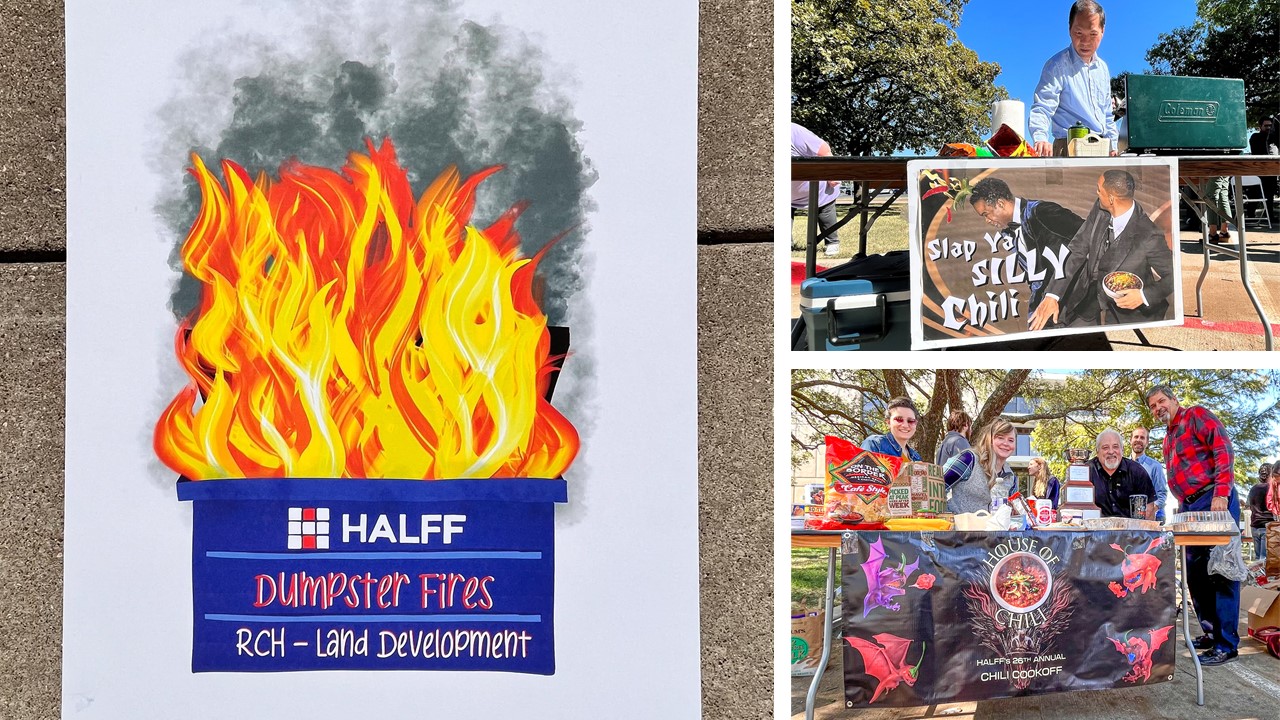 Fort Worth
The Devil's Spit team won the best in show award for their chili.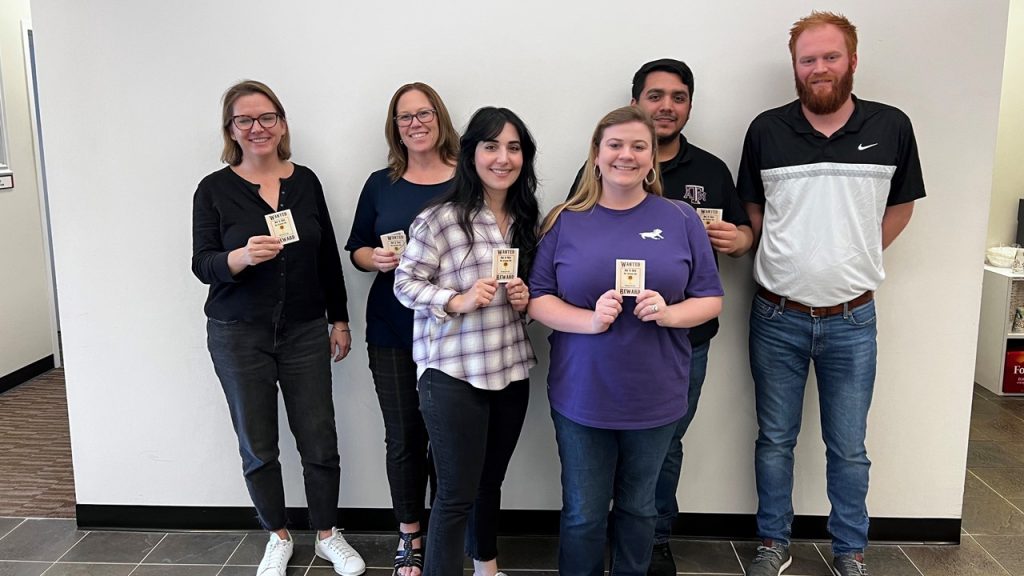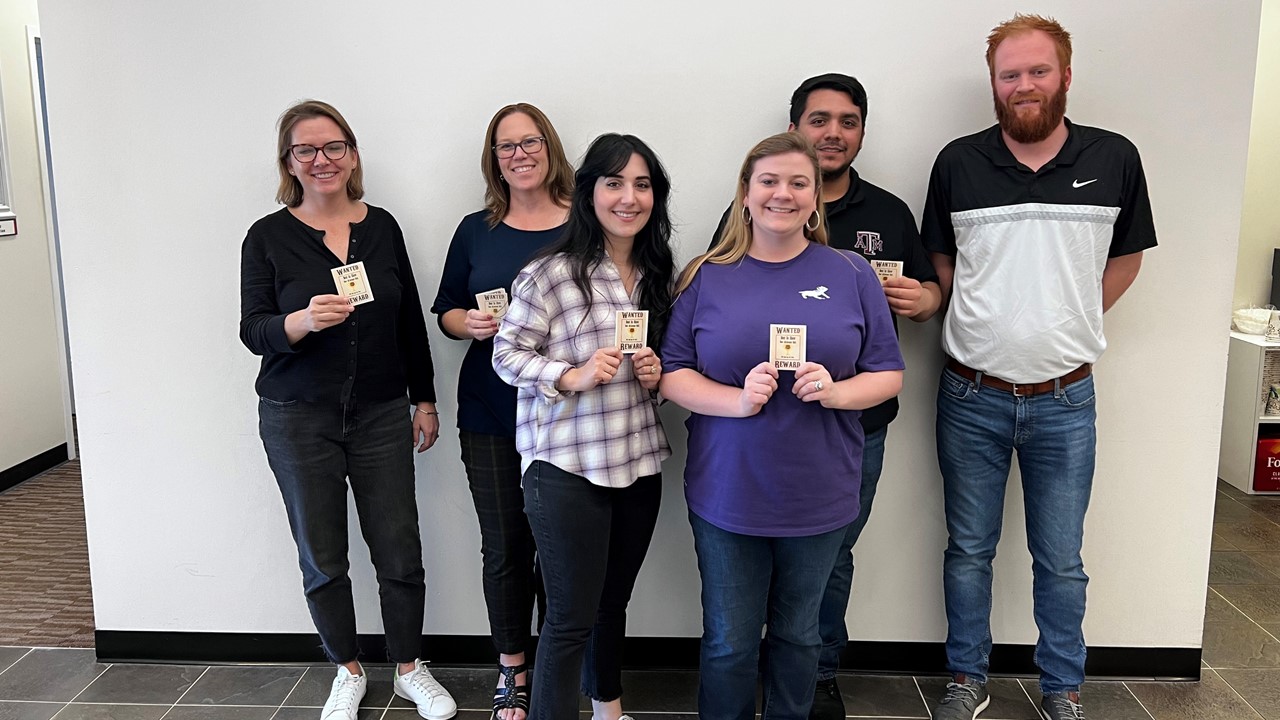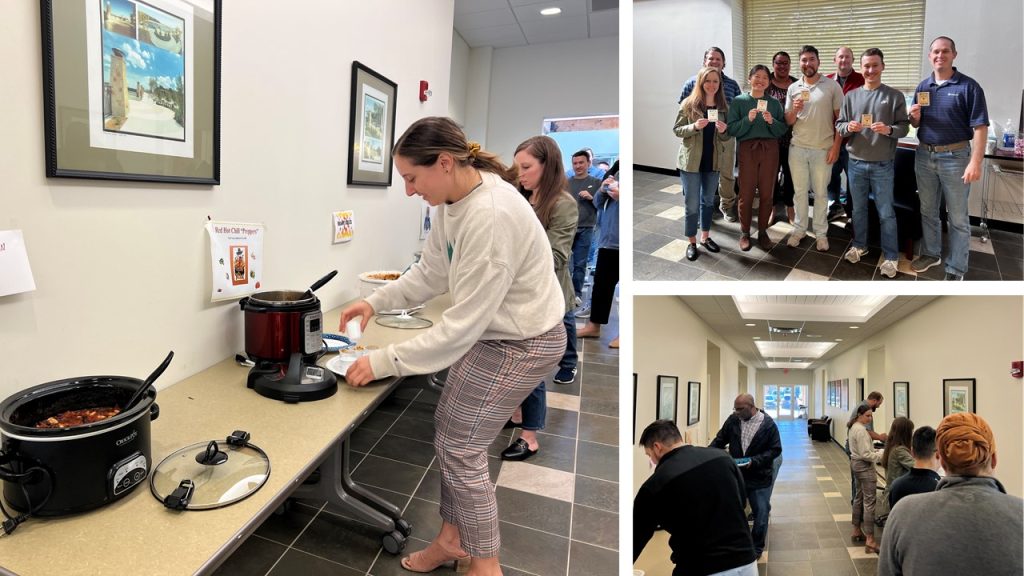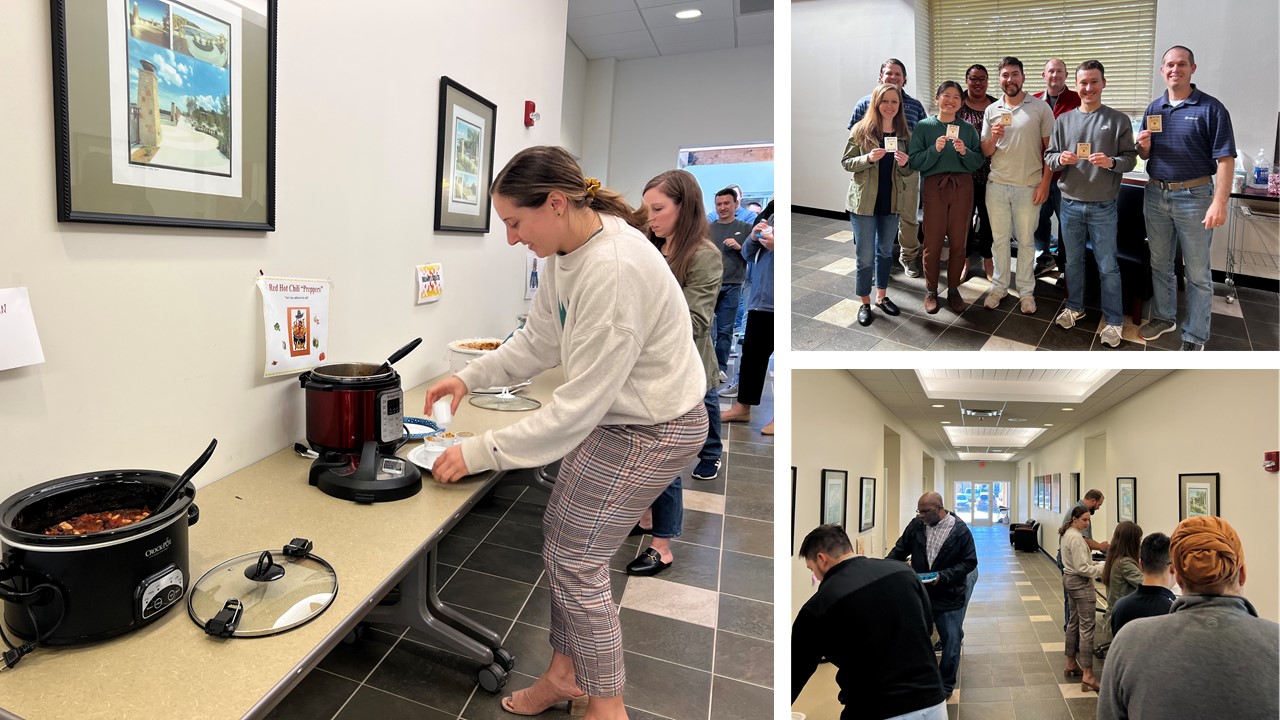 Austin
Simmer, Simmer, Stir and Slither's chili (pictured left) won first place in the judge's category. Chili Bandits (right) won the people's choice award for their scrumptious chili recipe.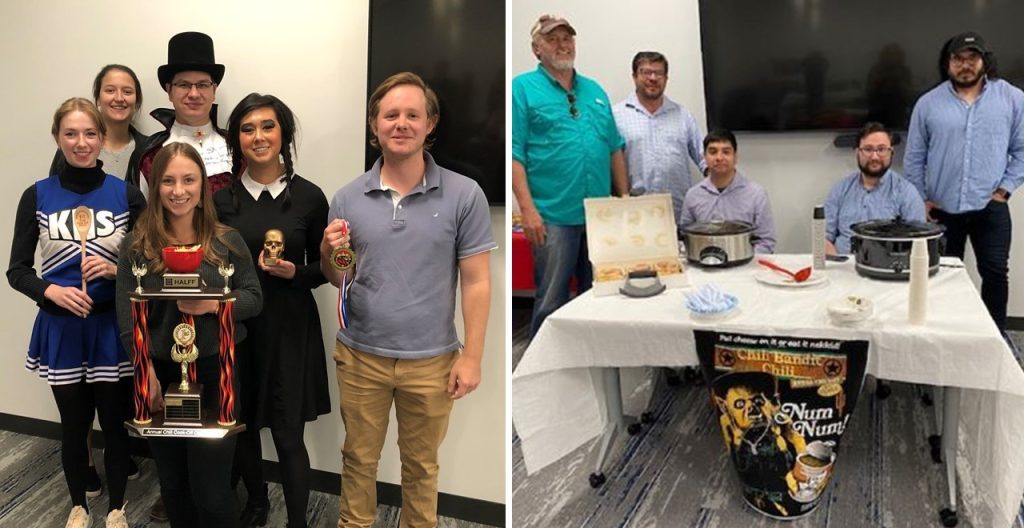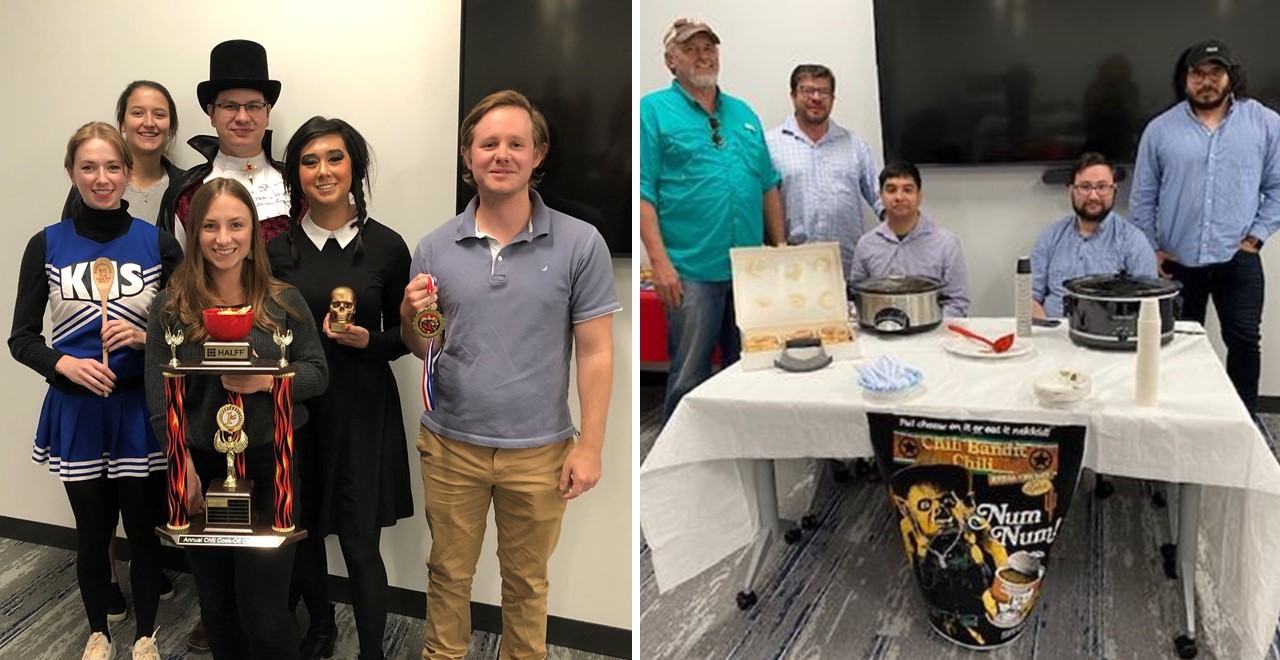 Halloween at Halff
Employees dressed to impress at the end of October. Check out the spooktacular costumes and decorations crafted by our people!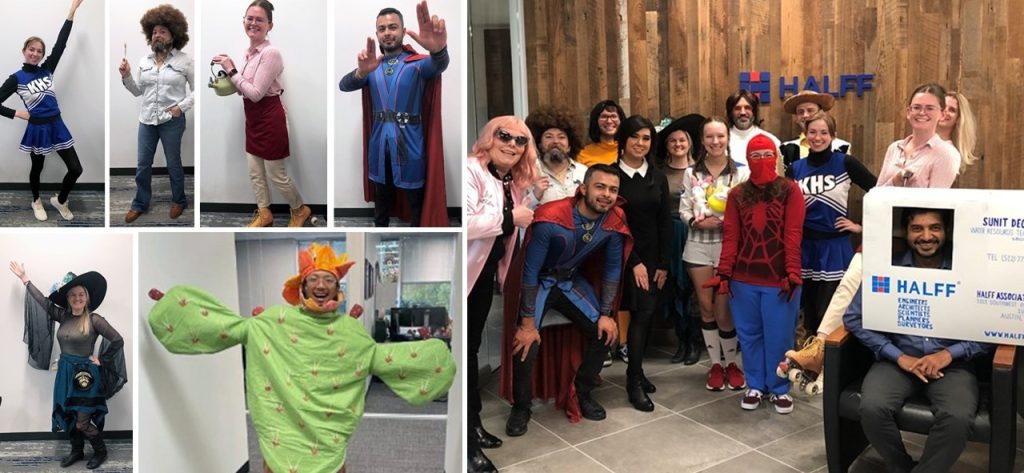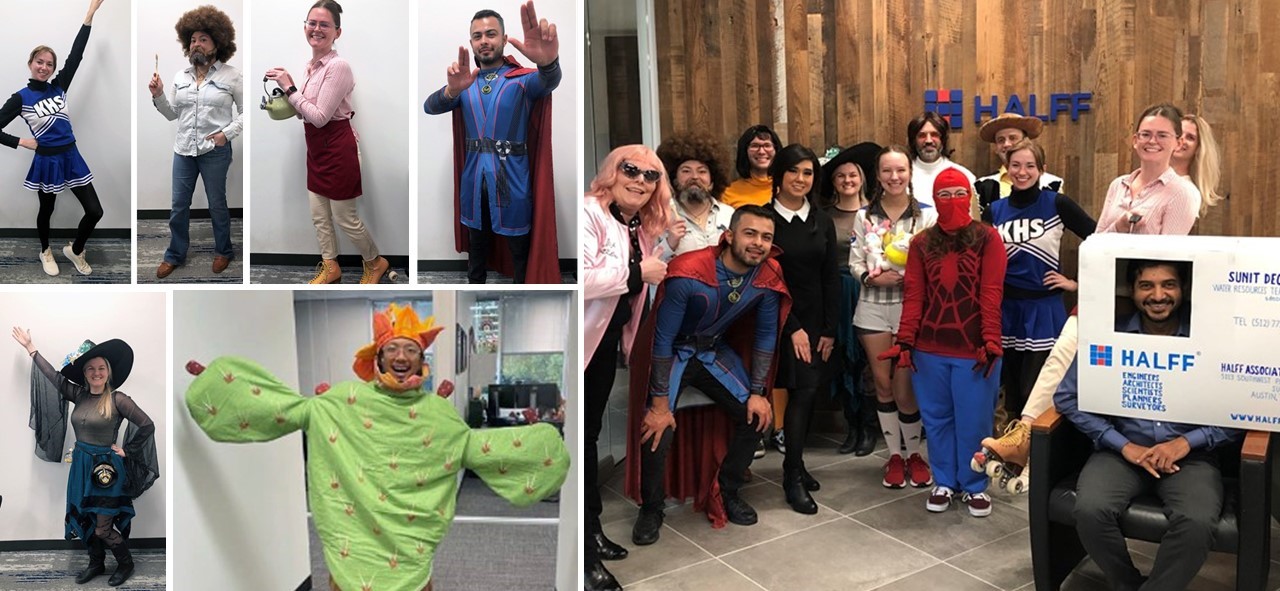 Austin, TX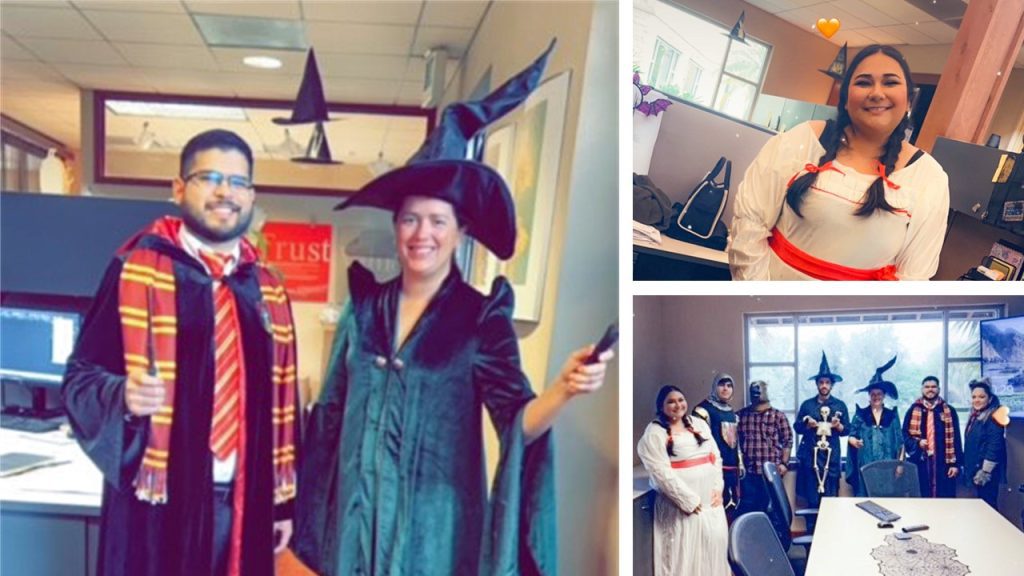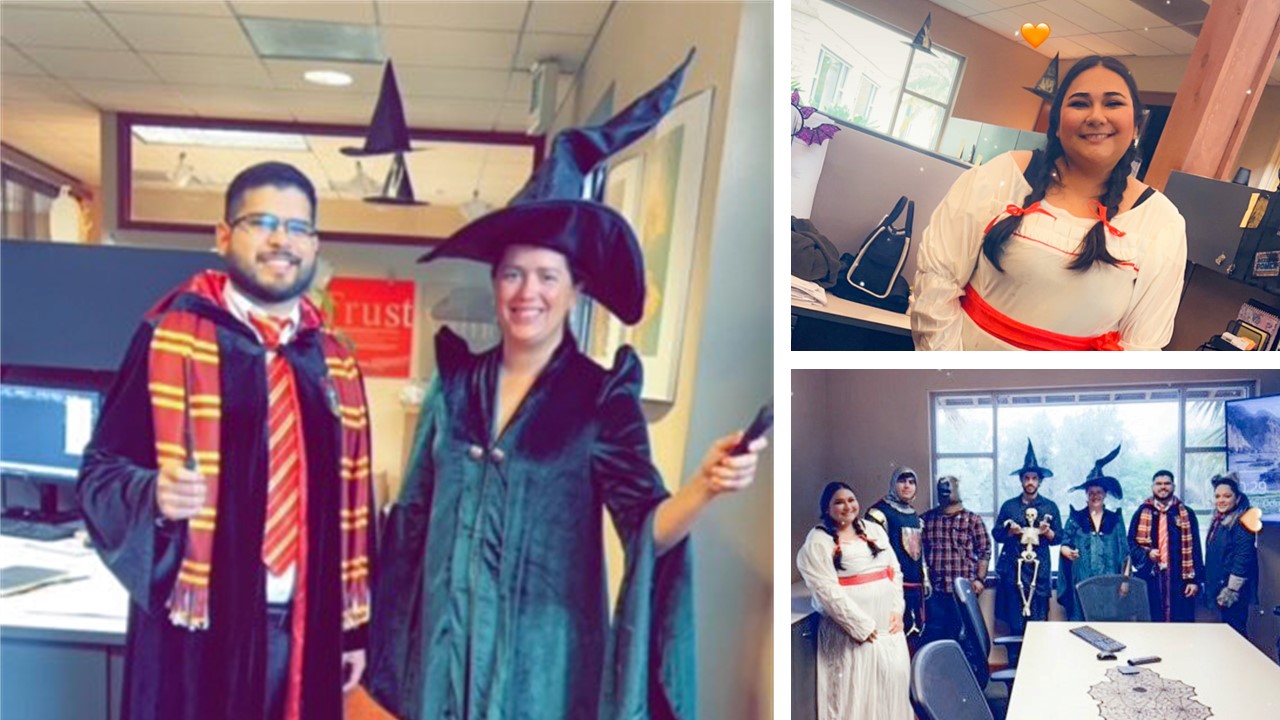 Brownsville, TX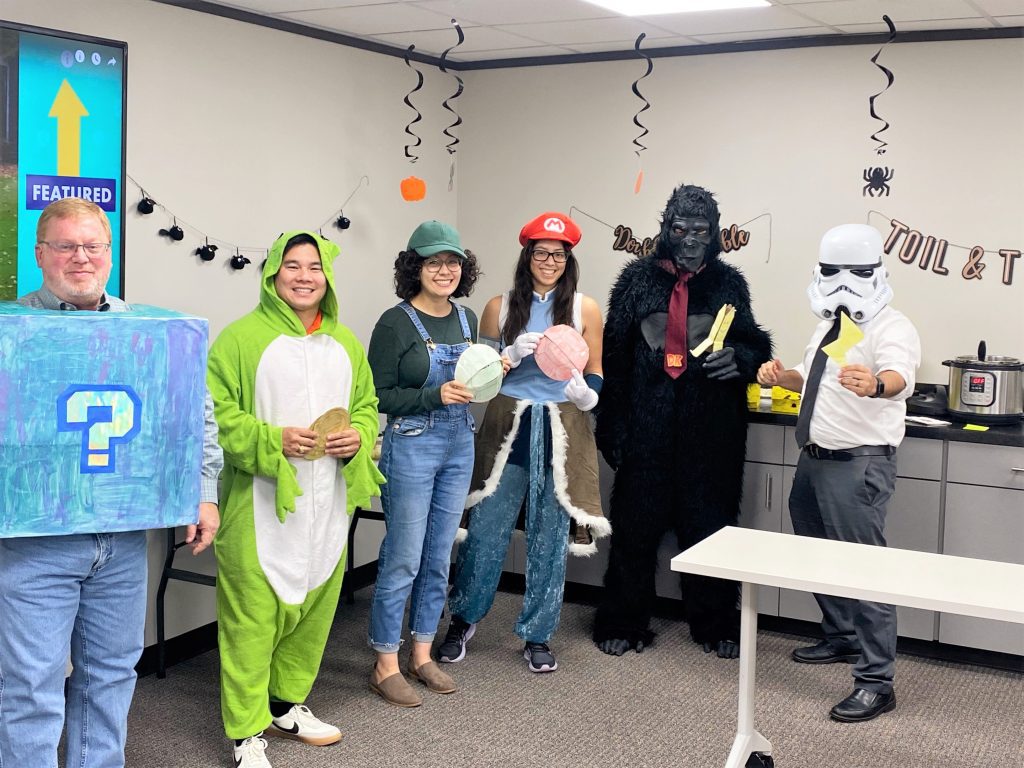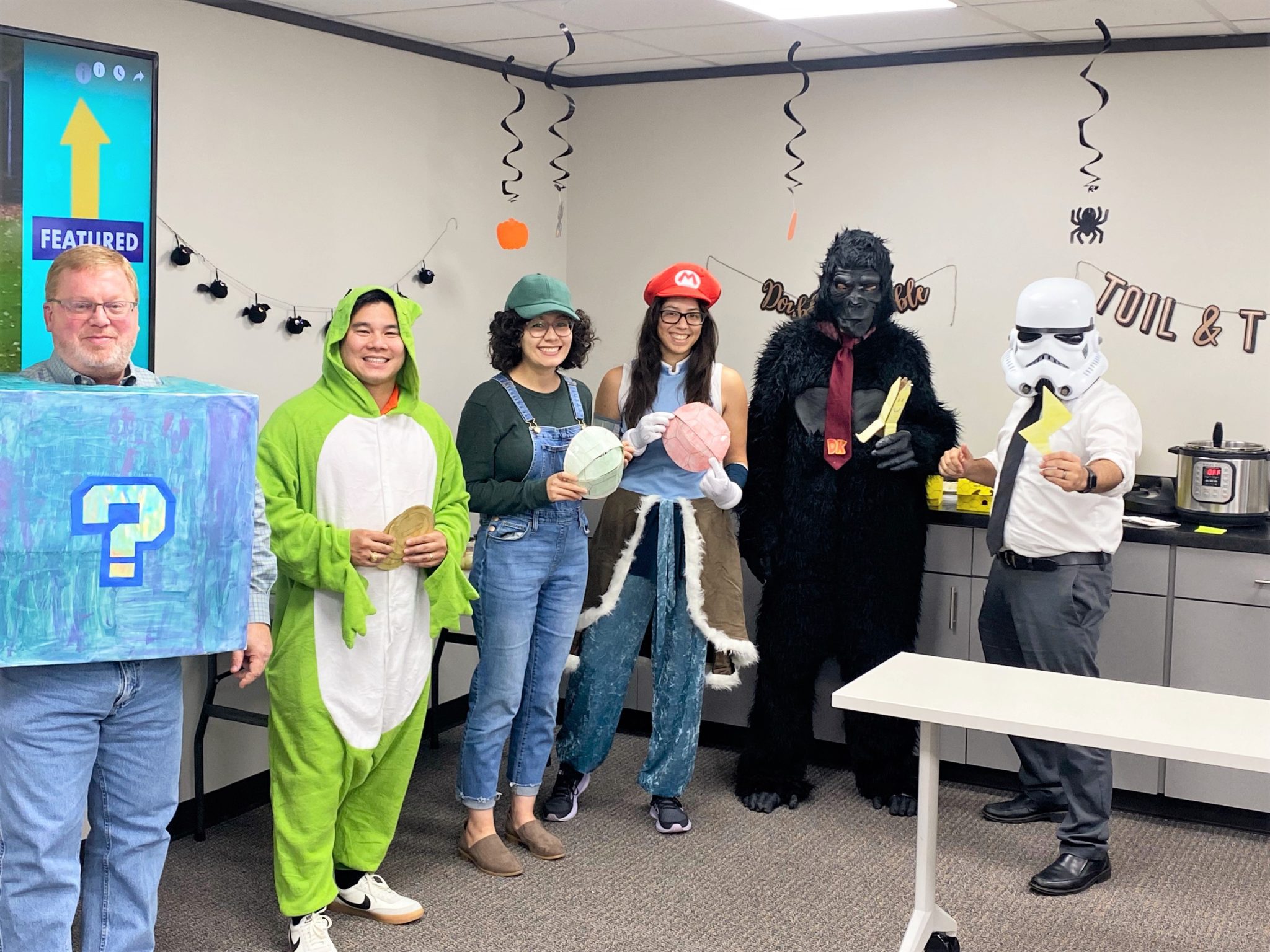 Conroe, TX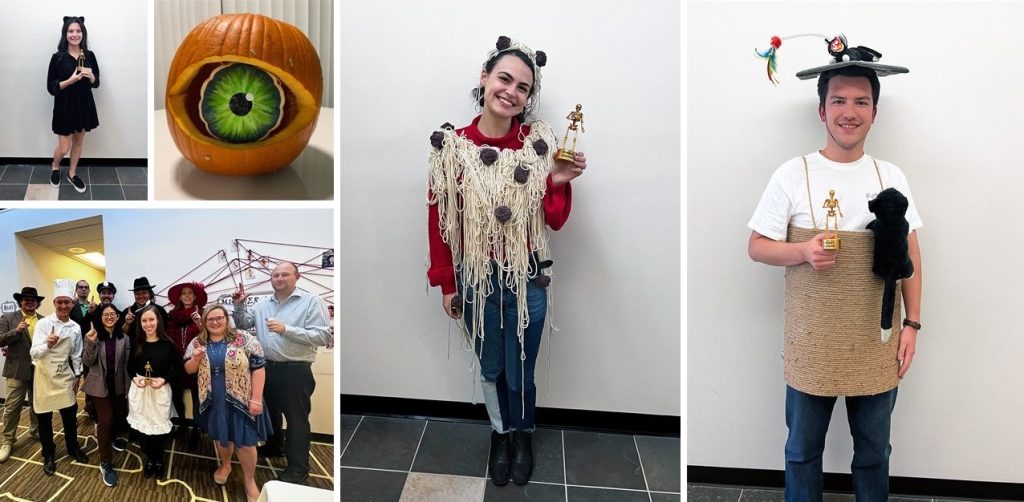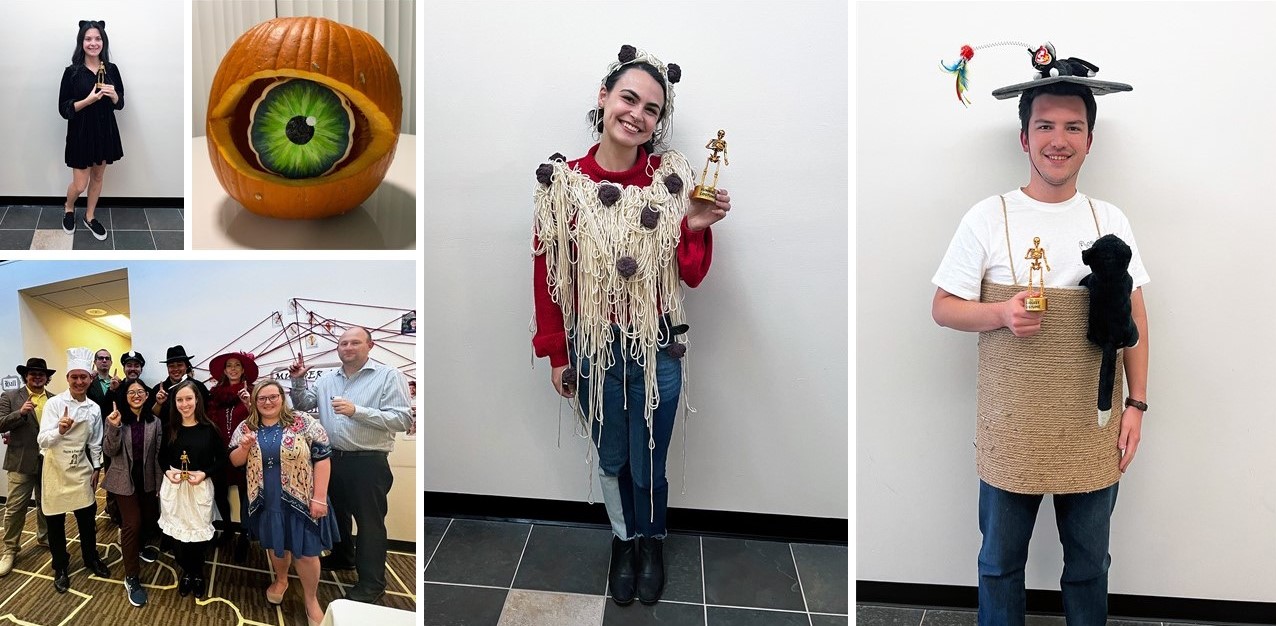 Fort Worth, TX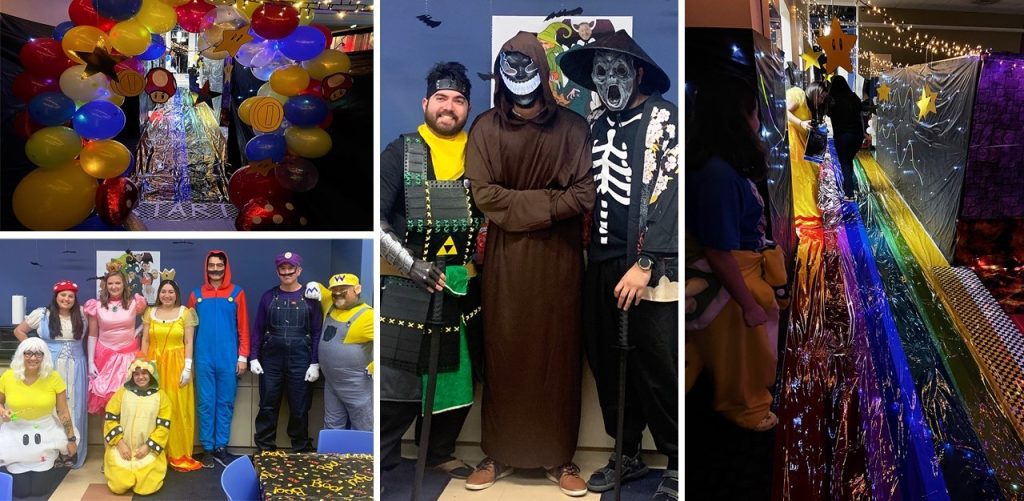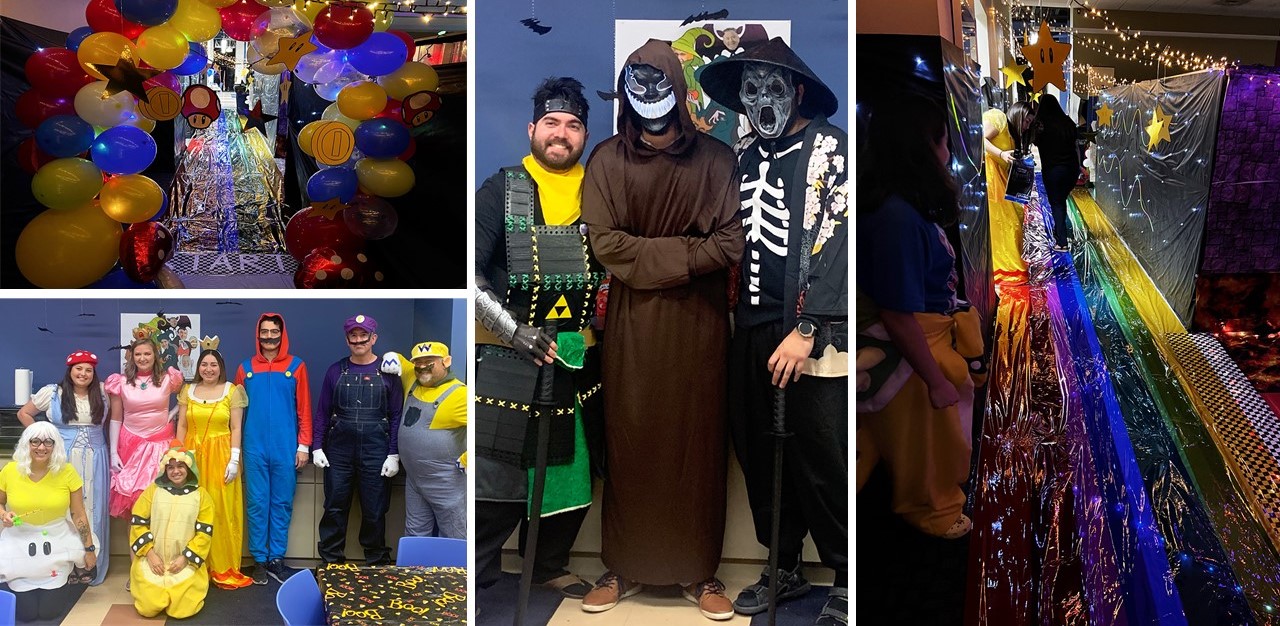 McAllen, TX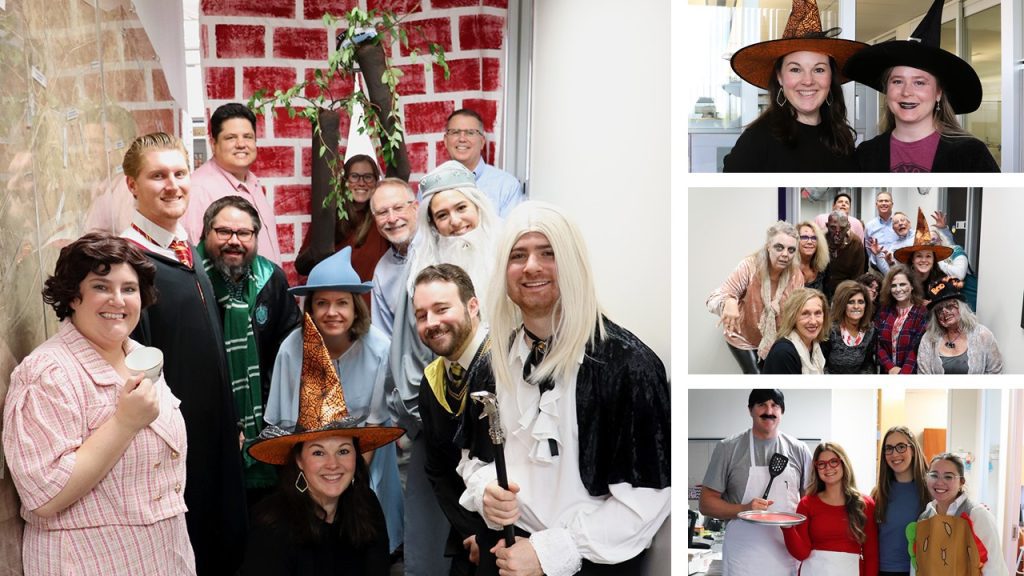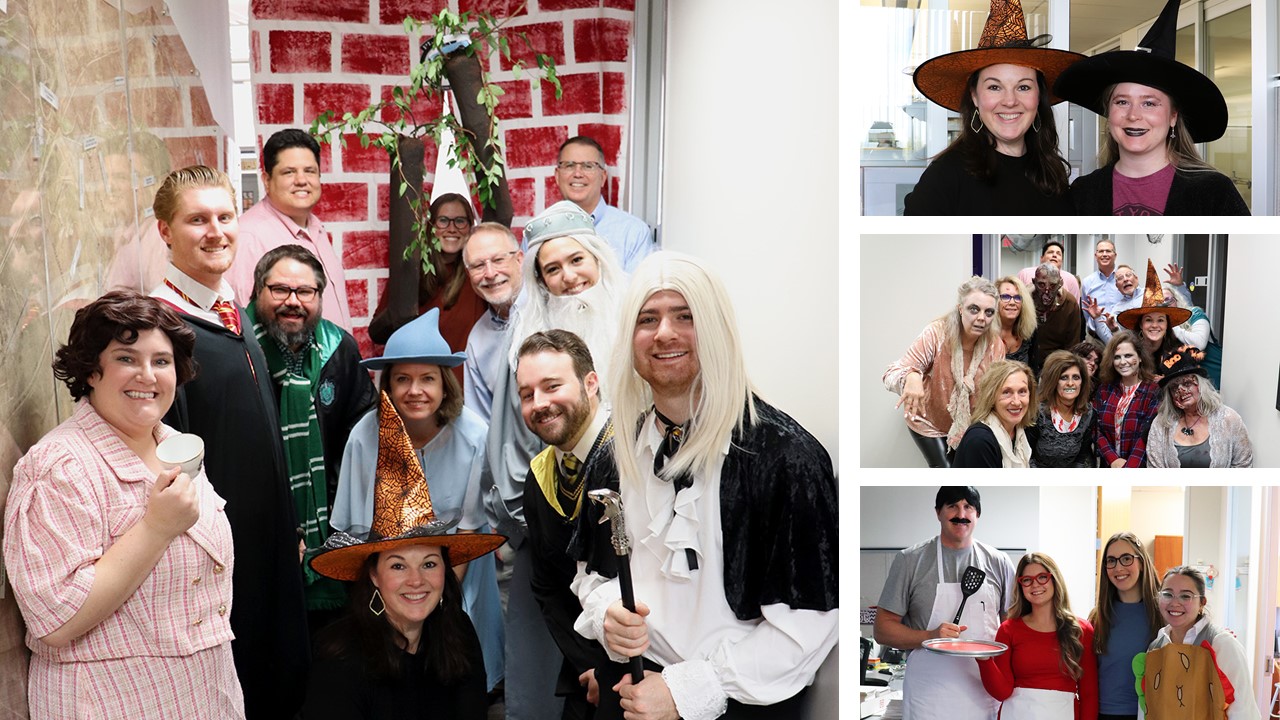 Richardson, TX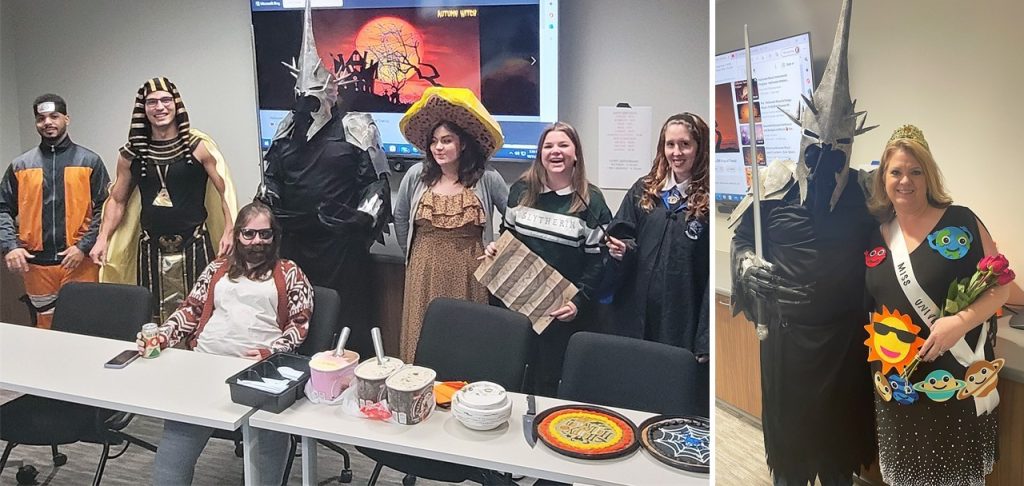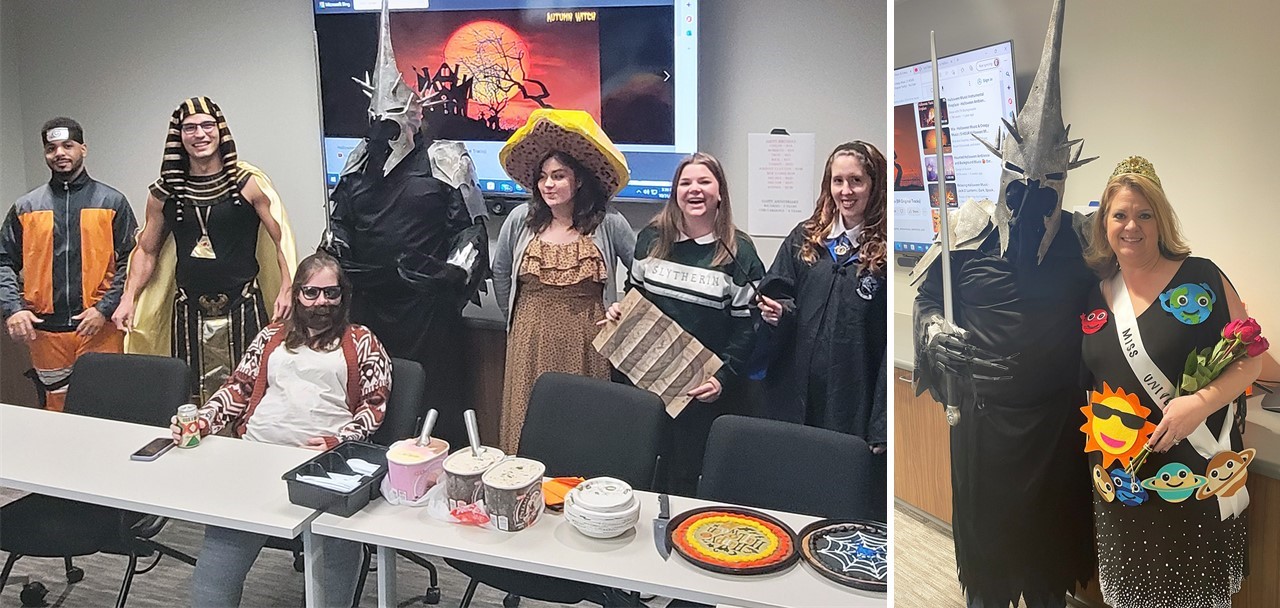 San Antonio, TX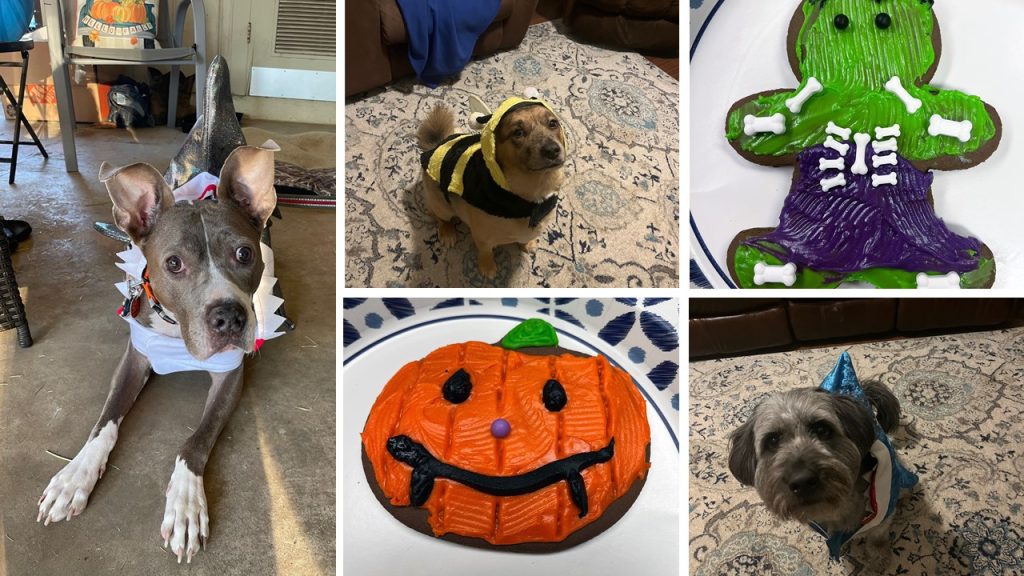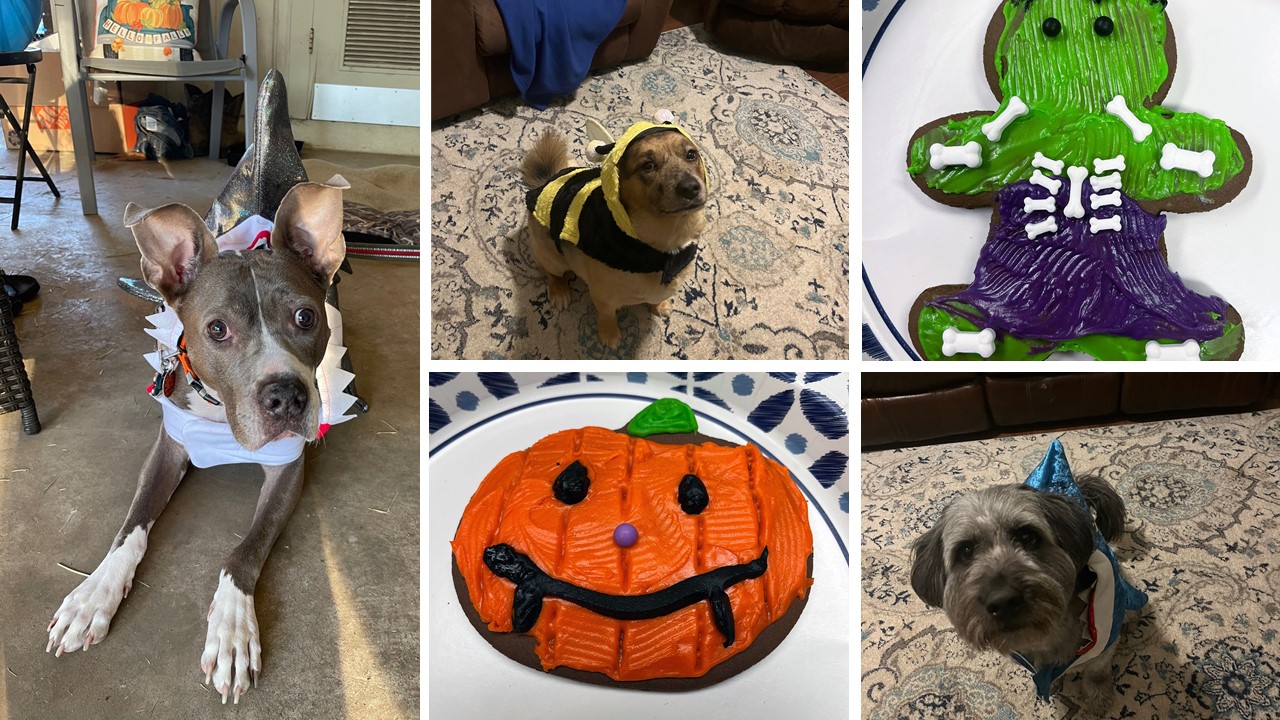 Shreveport, LA
HCI Updates
The Oklahoma City office held a food drive benefitting the Regional Food Bank of Oklahoma. Winners of the coveted "golden can" are pictured below, posing with the award for their team donations.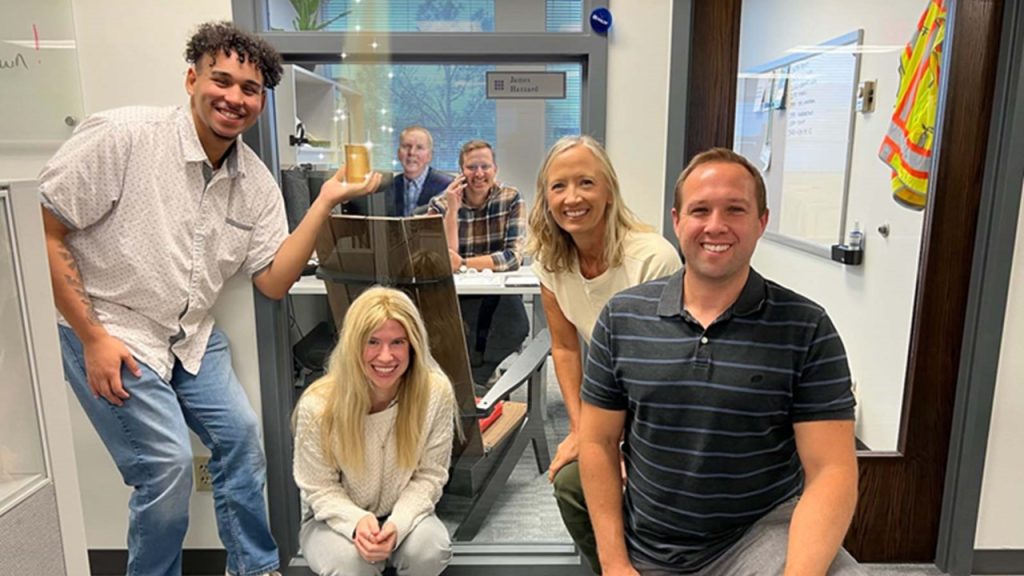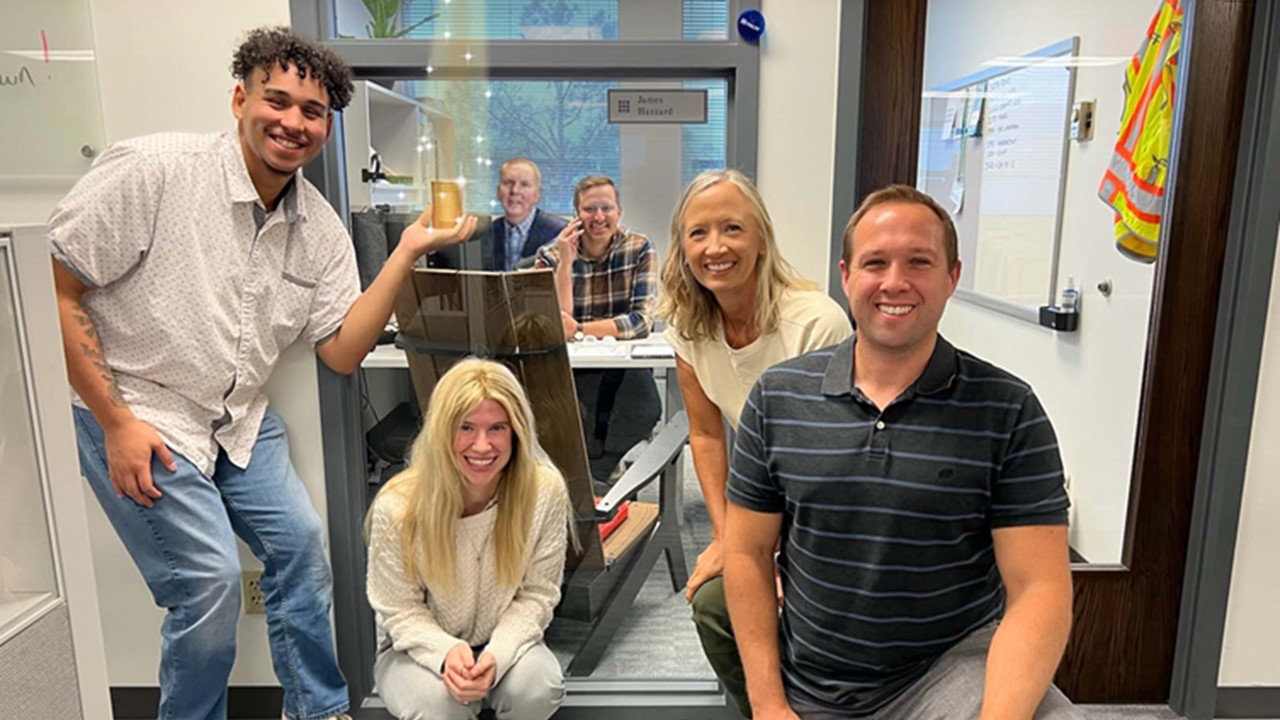 HCI made a donation to Feed Lake Highlands and helped program members shop for groceries. Richardson volunteers are pictured below presenting the donation to the Food Distribution Manager, Karis Pickens.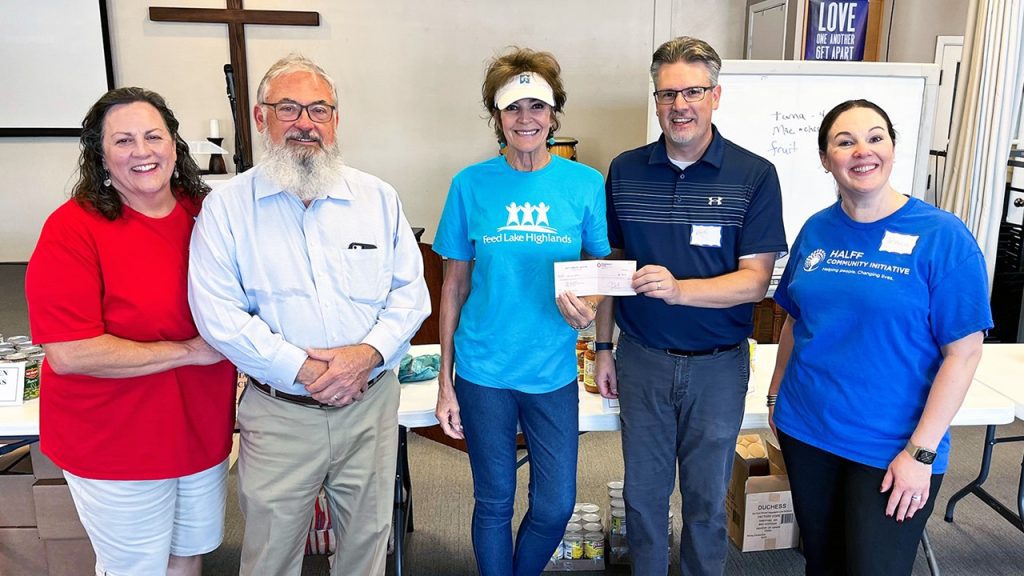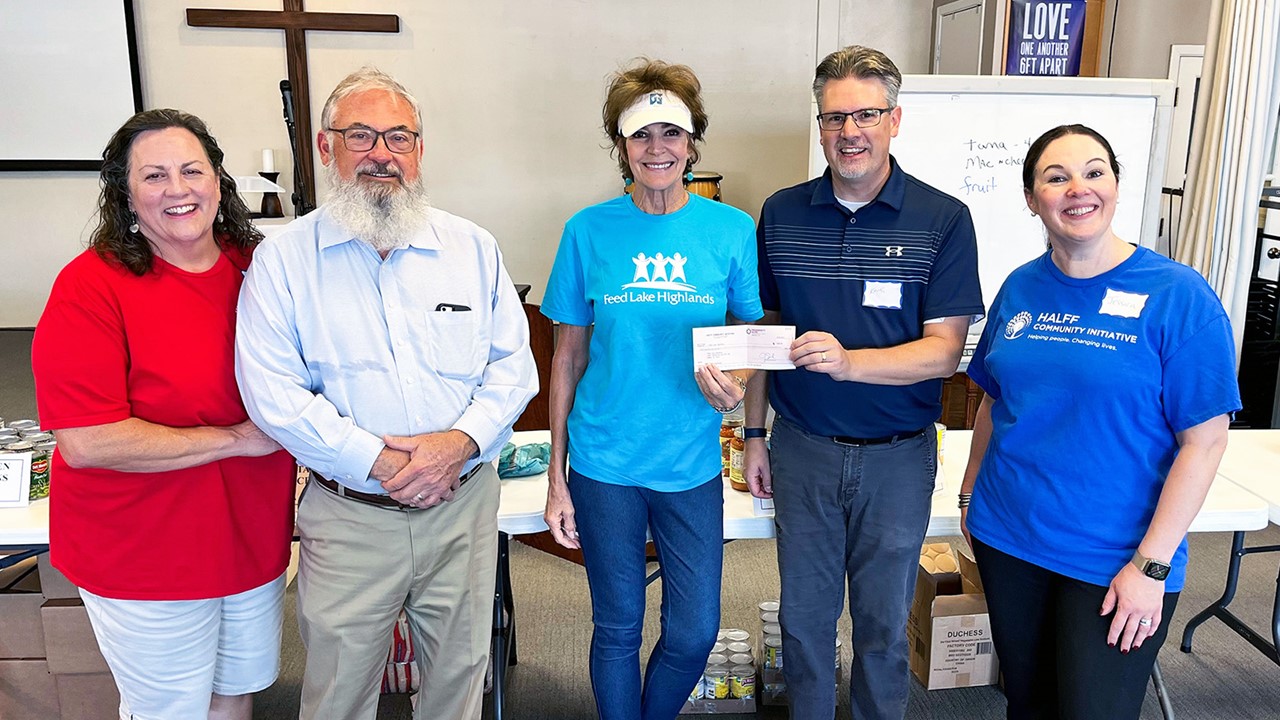 Halff's Austin volunteers packed 924 disaster relief boxes at Central Texas Food Bank for neighbors in need.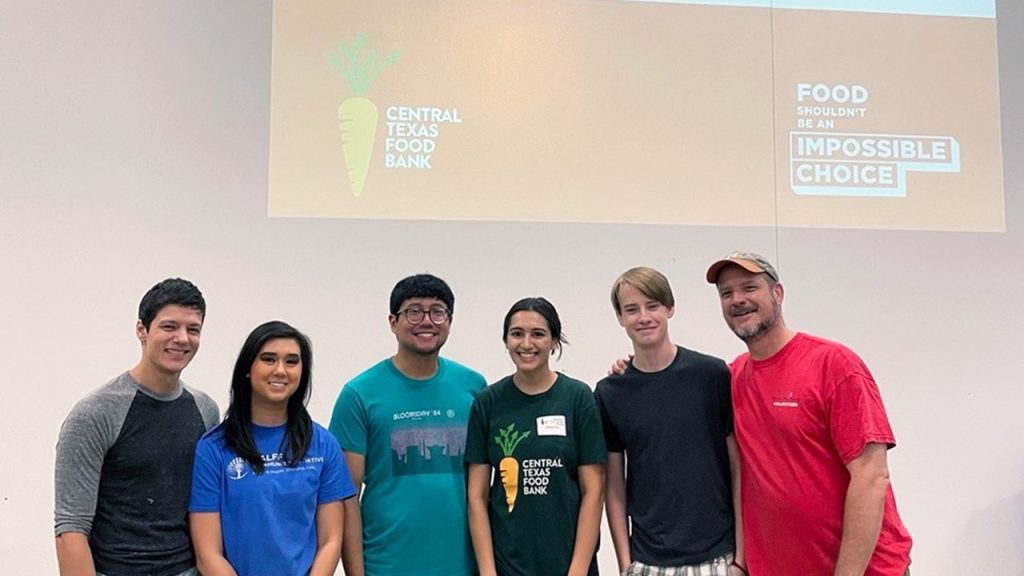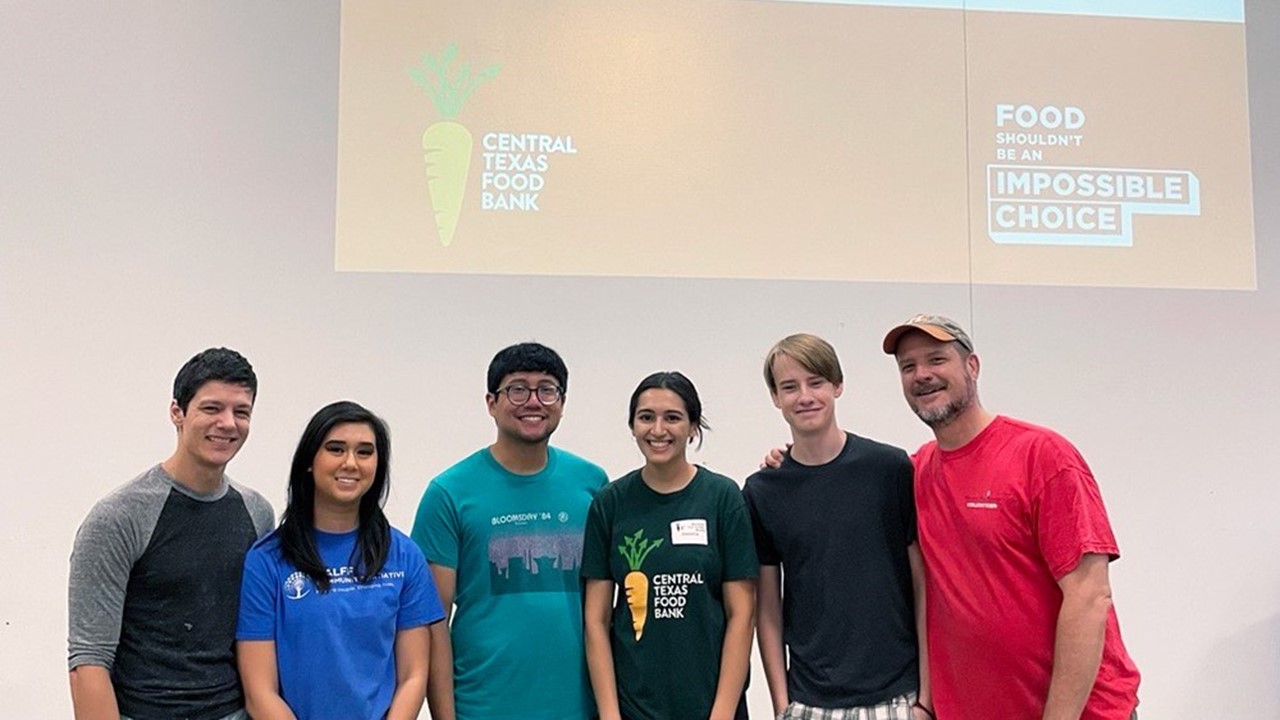 Teaming Together
McAllen employees donned shades of pink to show their support for Breast Cancer Awareness Month in October.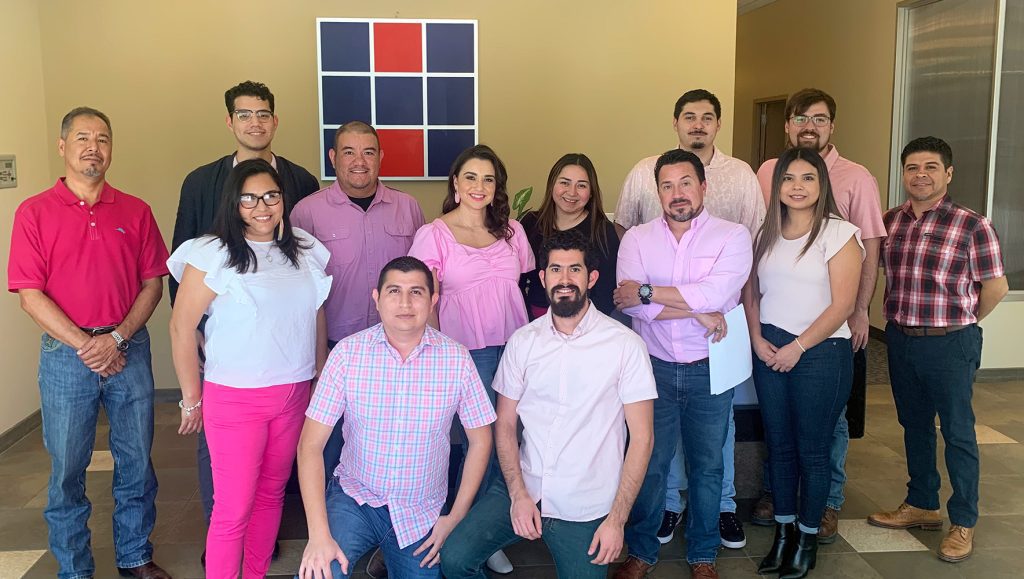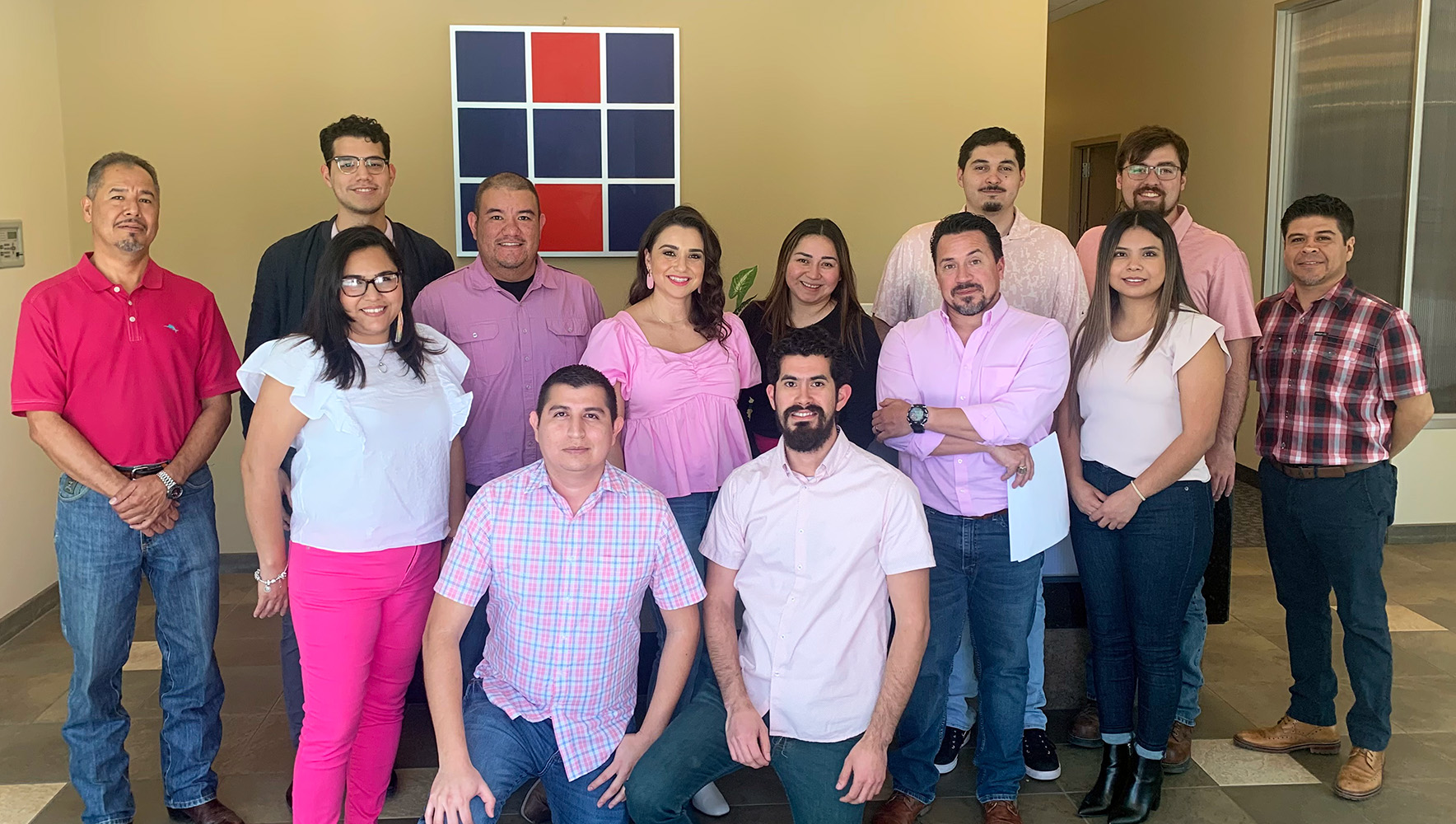 The Communications team took a swing at Top Golf for a team-building event.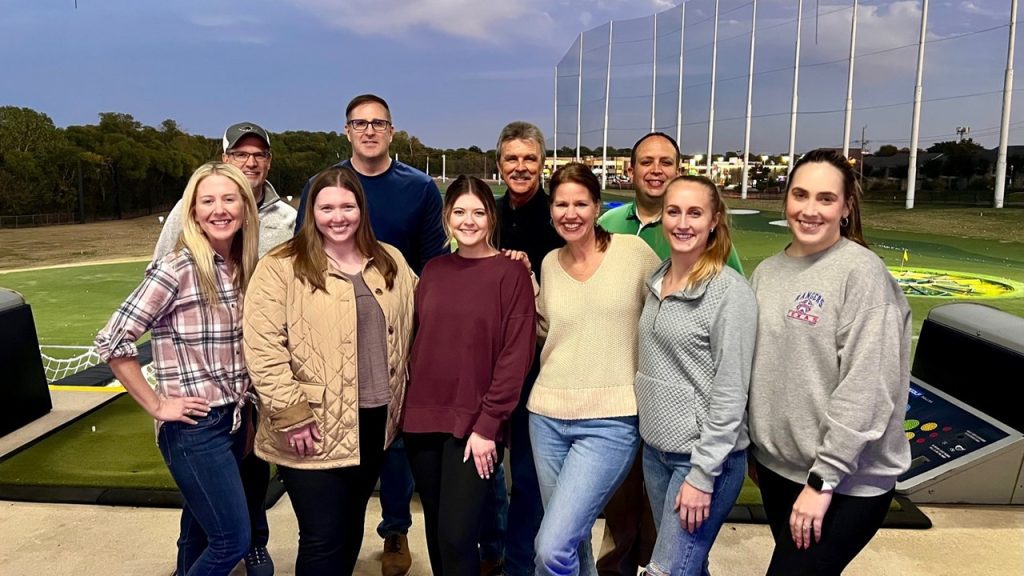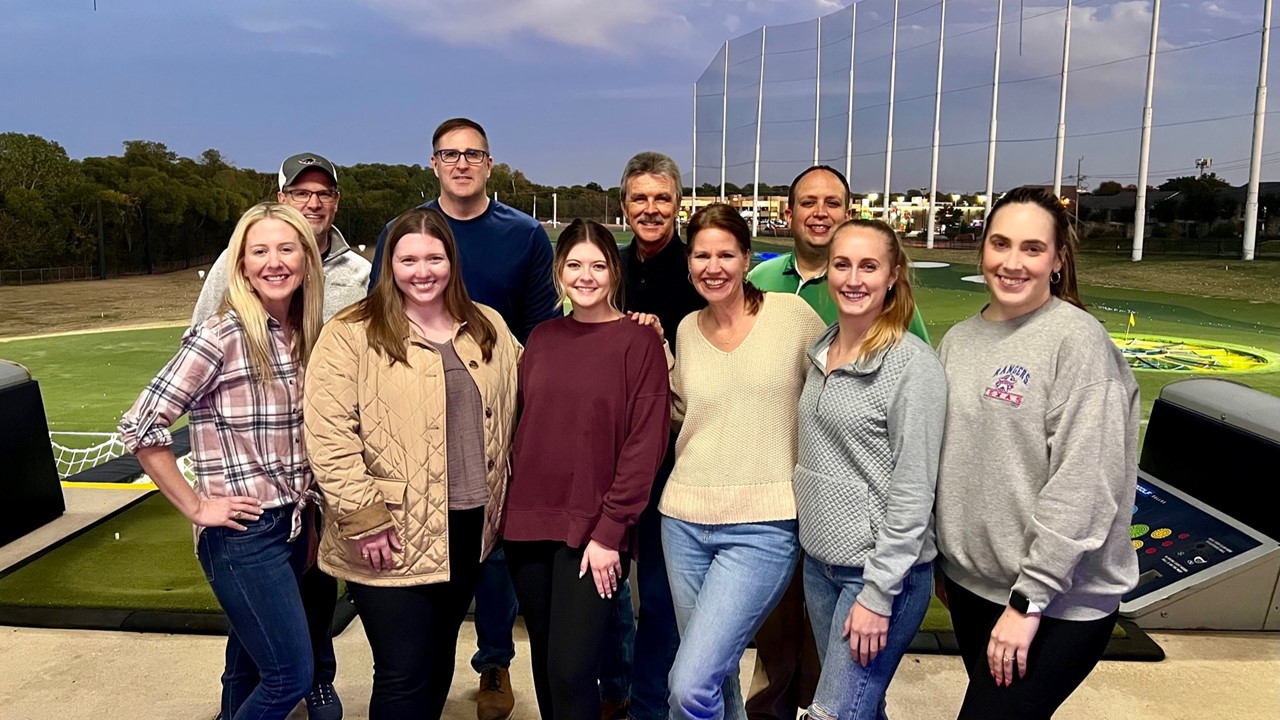 North Texas Water Resources employees joined together to play Whirlyball, a game that combines lacrosse, hockey, basketball and bumper cars!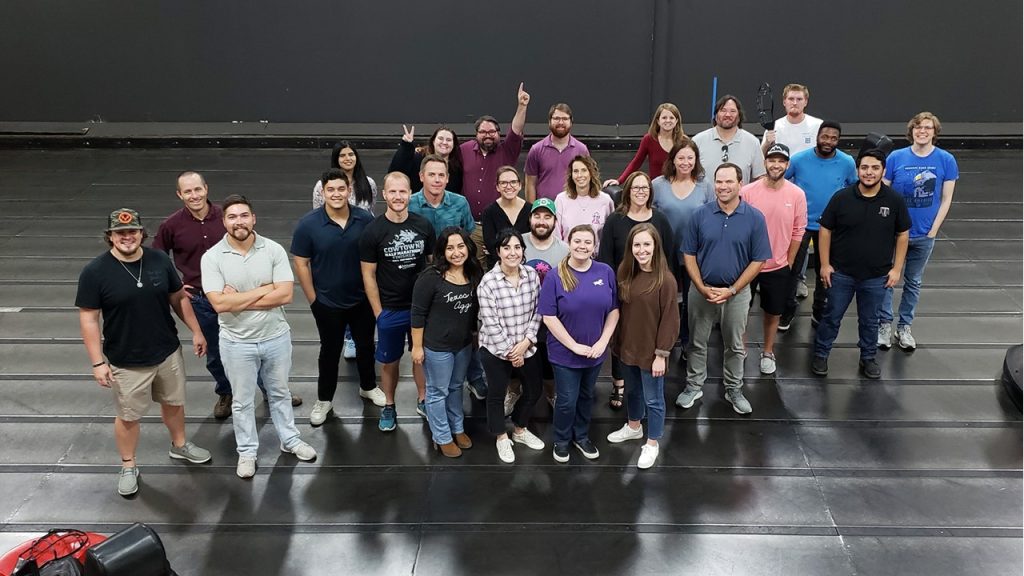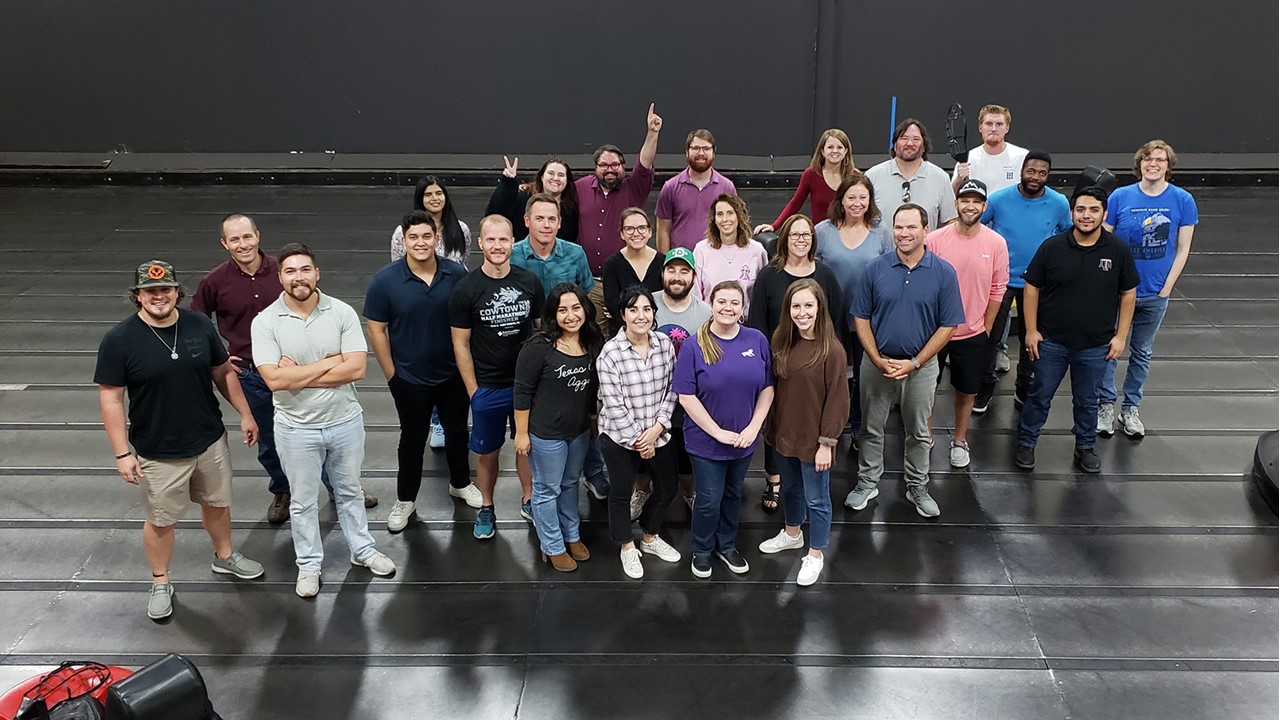 Halff Bag Travels
Many Halff employees traveled abroad during October, with some exploring historic villages in Greece and others relaxing in the tropical paradise of Hawaii!
Director of Water Resources Guillermo Simon (Jacksonville) traveled to Quebec and made a refreshing stop at the Montmorency Falls with his Halff bag.
Administrative Assistant Sandra Ratchford (North Little Rock) traveled to the beautiful island of Maui, Hawaii, also known as "The Valley Isle."
Two separate trips to Greece collided for Survey Practice Leader Vas Kalogirou (Richardson) and Survey Team Leader John Andricopoulos (Richardson), when they met near the coastal city of Volos in the historic village of Makrinitsa. The village is located at Mt. Pelion, which was the mountain of centaurs according to Greek mythology.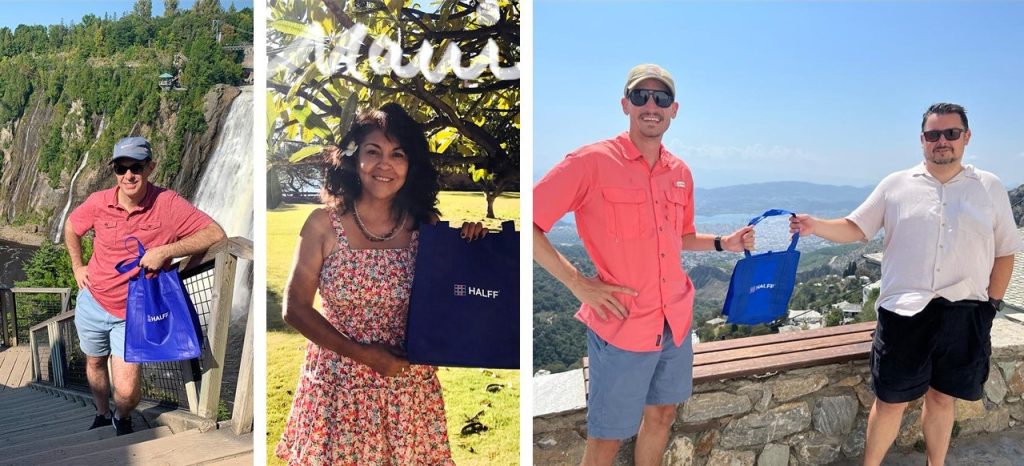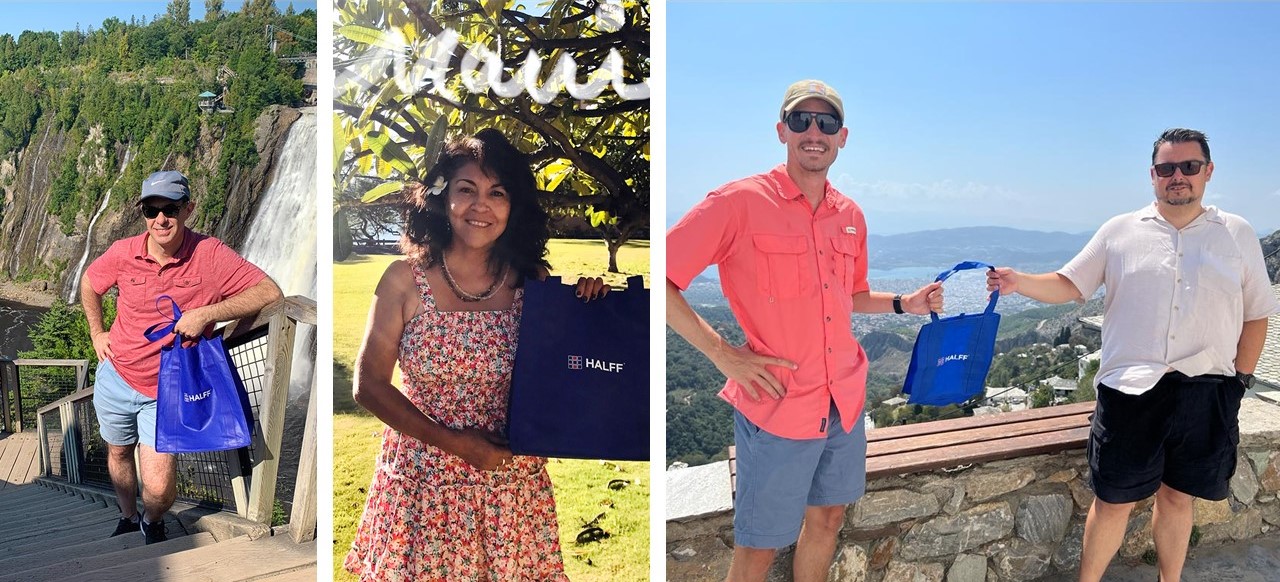 Civil Engineer Clint Smith (Austin) toured the Great Pyramid, Sphinx, Nile River and Aswan Dam in his trip to ancient Egypt.
Director of Energy Clay Scott (Oklahoma City) toured several wineries in the Sonoma Valley of Northern California. Clay and his wife took a tour of the Rhinefarm Estate Vineyard at the Gundlach Bundschu winery.
Corporate Recruiter Sharita McNealy (Richardson) cruised her way to Cozumel, Mexico, posing with her Halff bag at the Three Amigos.
Director of Finance Lee Morton (Richardson), visited Fort Myers, Florida, one of the areas most affected by Hurricane Ian in September 2022.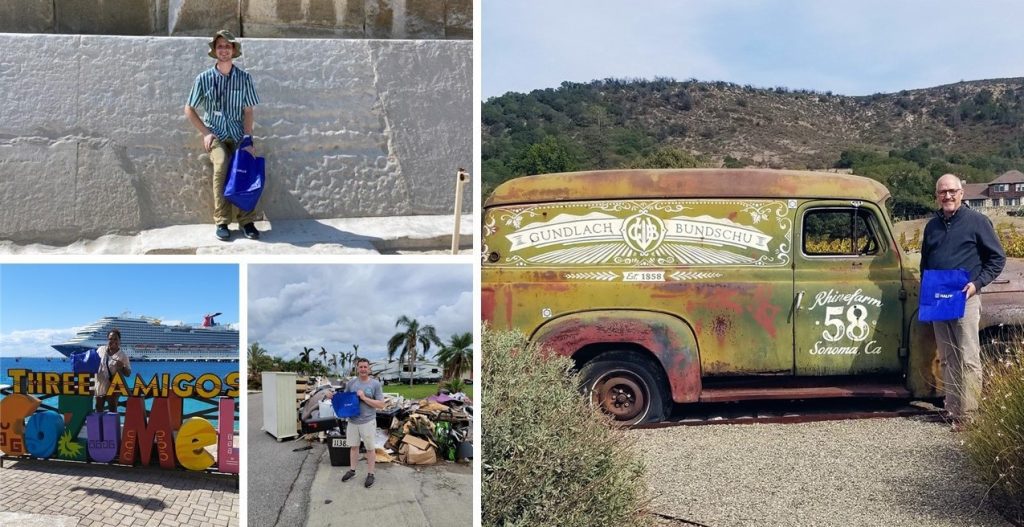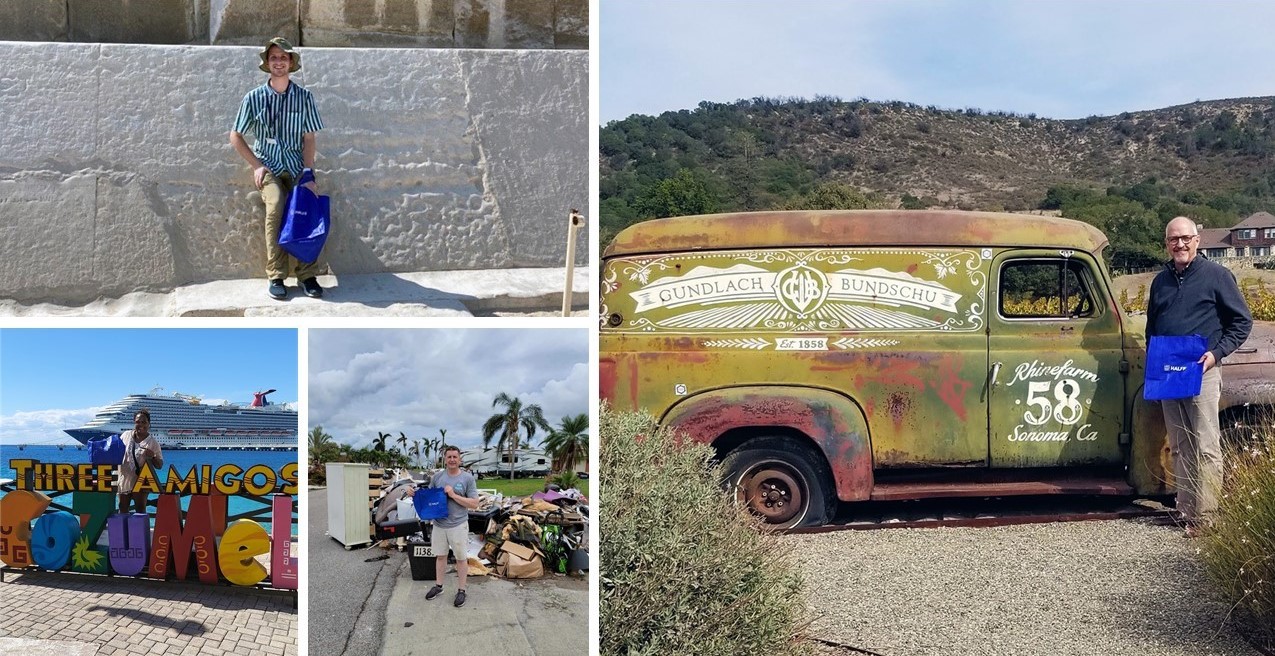 Read more about the History of the Halff bag here.
---
DID YOU KNOW?
Halff sits at No. 10 nationally in the companies with 1,000 to 2,499 employees in the 2022 Top Workplaces USA award rankings presented by Energage. In 2022, Halff was recognized as a Top Workplace in Austin, Dallas, Houston and San Antonio. We have also been recognized as a Top Workplace in Austin and Dallas eight times each since 2015, six times in Houston since 2016 and for the second consecutive year in San Antonio this year.
Cumulatively, Halff has been recognized as a Top Workplace 25 times.

APPLY TODAY!
Want to join our exceptional team of people-first professionals? Learn more about what it's like to work at Halff, and then head over to our career portal.