Inside Halff: A Look at December 2022
December was full of holiday cheer, giving back and reflecting on the busy year. Take a look at how Halff employees wrapped up 2022!
Holiday Celebrations | HCI Updates | Teaming Together | Halff Bag Travels
Award-Winning Work
Halff's French Creek Natural Channel Restoration and Flood Control project garnered a gold medal in the Water Resources category.
This project is one of three Engineering Excellence awards Halff won in 2022 from the Texas chapter of the American Council of Engineering Companies (ACEC). Halff's team addressed crucial flooding issues by creating resilient flood infrastructure while preserving the surrounding environment.

Holiday Celebrations
Halff employees gathered with team members, family and loved ones to throw festive dinners in celebration of the holiday season!
Many Texas offices enjoyed a variety of parties and dinners. The following offices are pictured below: San Antonio, Houston, Tyler, Midland, Conroe, Richardson and Corpus Christi.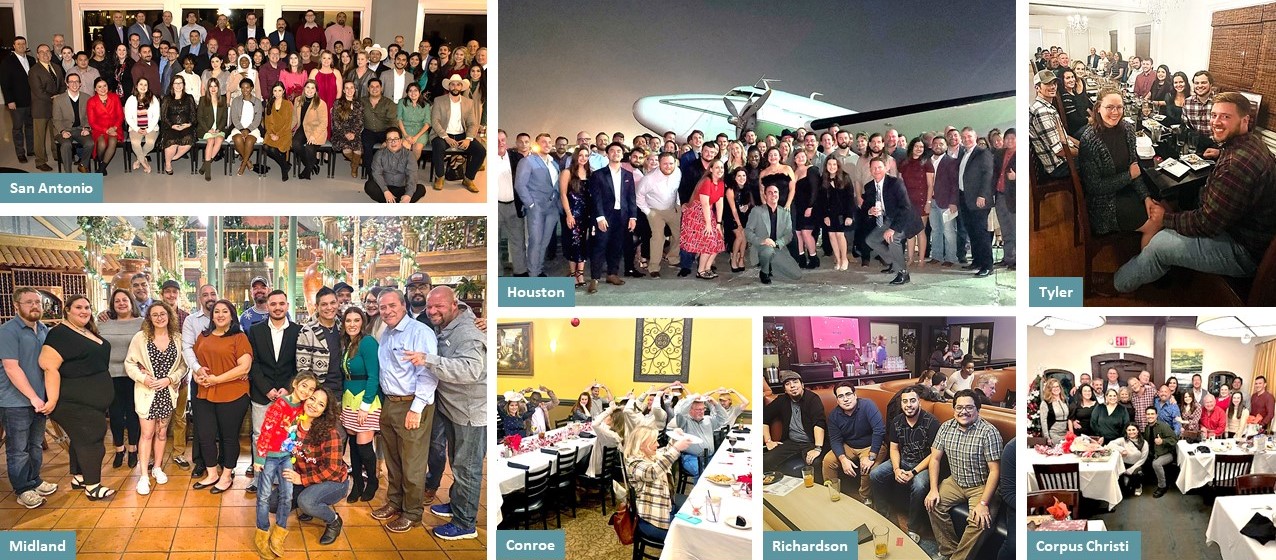 Halff's Florida employees in Tavares, Tallahassee and Panama City Beach cheerfully celebrated together, combining offices.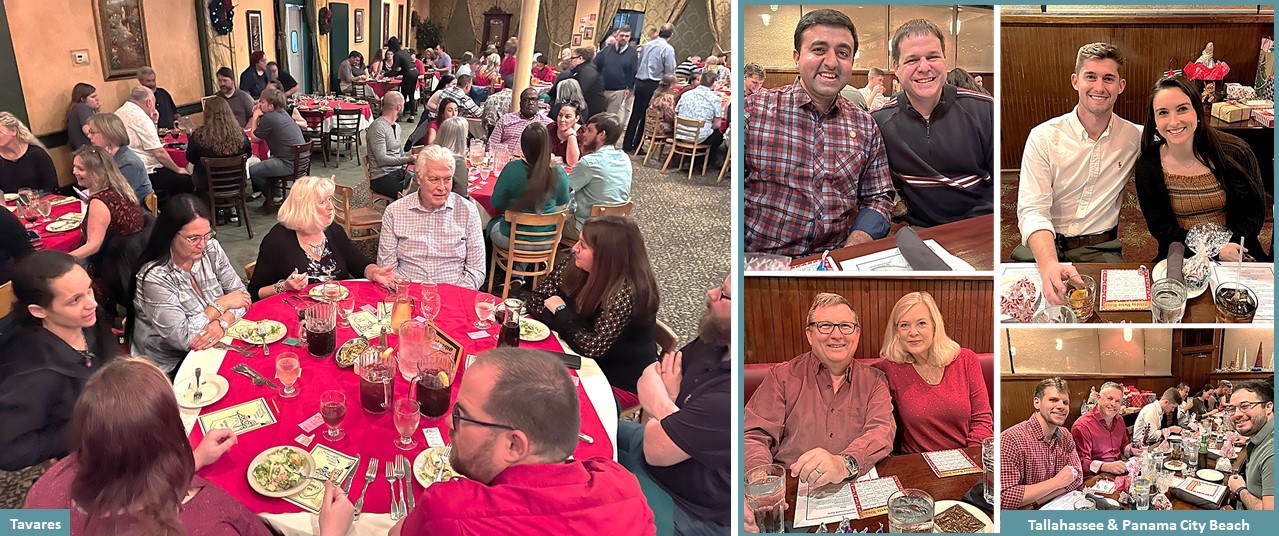 The Little Rock office in Arkansas also gathered as a team to celebrate the holiday season!
HCI Updates
The Frisco office helped Frisco Family Services set up their holiday store. This program enables individuals to shop for their own holiday gifts for each member of the family at no cost. Halff's team had fun spreading the holiday cheer!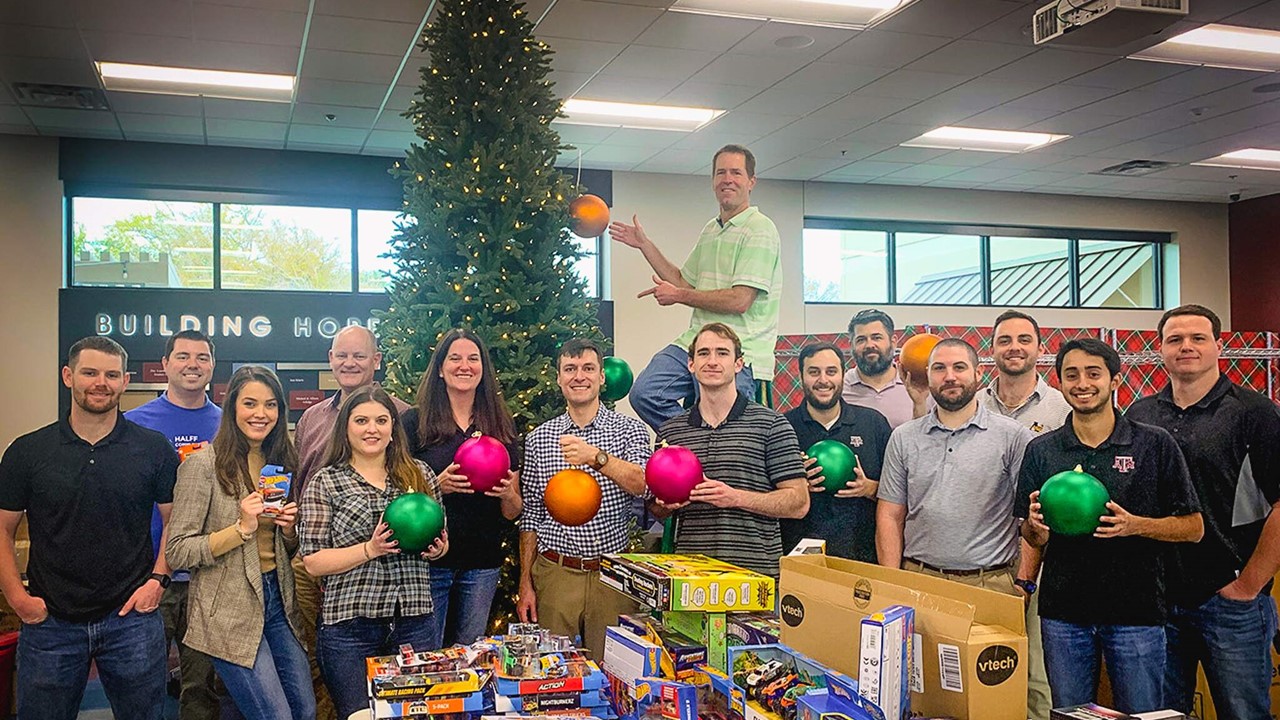 The Houston office broke its record for the most Angel Tree gift donations with 31 angels and three online adoptions this year!
Little Rock offices (pictured left) partnered to fulfill the wishes of nine Salvation Army angels, raising more than $1,300 in donations. The McAllen office also participated and helped sponsor 50 angels!
Employees from Halff's Midland office delivered a $500 HCI donation and served the local community at the Midland Soup Kitchen Ministry.
Halff's Austin South office delivered a donation to Casa Marianella, a place that welcomes displaced immigrants and promotes self-sufficiency by providing shelter, legal and medical resources, food, clothing, English classes and more.
Teaming Together
Everyone competed head-to-head for the best ugliest sweater in Richardson. The first-place winners (pictured in middle) wore a two-in-one sweater!
Shreveport also stayed busy holding an ugly sweater contest and Christmas party for their office.
The Jacksonville office was transformed into a holiday and Christmas wonderland during the office decorating contest!
Austin North employees channeled their inner artists by attending a Painting with a Twist class for a team-building activity.
The Richardson office played My Favorite Things, an activity where everyone brings three of their favorite items to exchange, leaving with three new ones.
Halff Bag Travels
A Halff employee braved winter storm Elliot to visit the snowy mountains in Mont Tremblant, Quebec, Canada, for an end-of-year ski trip.
Read more about the History of the Halff bag here.
---
DID YOU KNOW?
Halff sits at No. 10 nationally in the companies with 1,000 to 2,499 employees in the 2022 Top Workplaces USA award rankings presented by Energage. In 2022, Halff was recognized as a Top Workplace in Austin, Dallas, Houston and San Antonio. We have also been recognized as a Top Workplace in Austin and Dallas eight times each since 2015, six times in Houston since 2016 and for the second consecutive year in San Antonio this year.
Cumulatively, Halff has been recognized as a Top Workplace 25 times.
APPLY TODAY!
Want to join our exceptional team of people-first professionals? Learn more about what it's like to work at Halff, and then head over to our career portal.