Inside Halff: A Look at February 2023
This February, we celebrated a brand refresh with a modernized logo, new website and more. Scroll down to explore more exciting things that happened at Halff!
A New Look for Today's Halff | HCI Updates | Teaming Together | Halff Bag Travels
Featured Work
The Rio Grande Boulevard Bridge improves lives and communities by serving as the aesthetic primary entrance feature for the Glade Parks Development in Euless, TX. Halff performed the structural engineering for this bridge, also known as the Glade Parks Boulevard Bridge project.


A New Look for Today's Halff
Some of our leadership unveiled a new look for today's Halff with an updated logo, color palette and brand new website.
Our refreshed brand emphasizes our commitment to our common purpose: We improve lives and communities by turning ideas into reality. With a more modern and people-friendly look and feel, Halff will continue serving people and clients with excellence and creativity, and emphasize people before profit as the key to our success.

Halff employees across all 28 offices celebrated the rebrand on Feb. 15. with lunch and dessert after the launch presentation.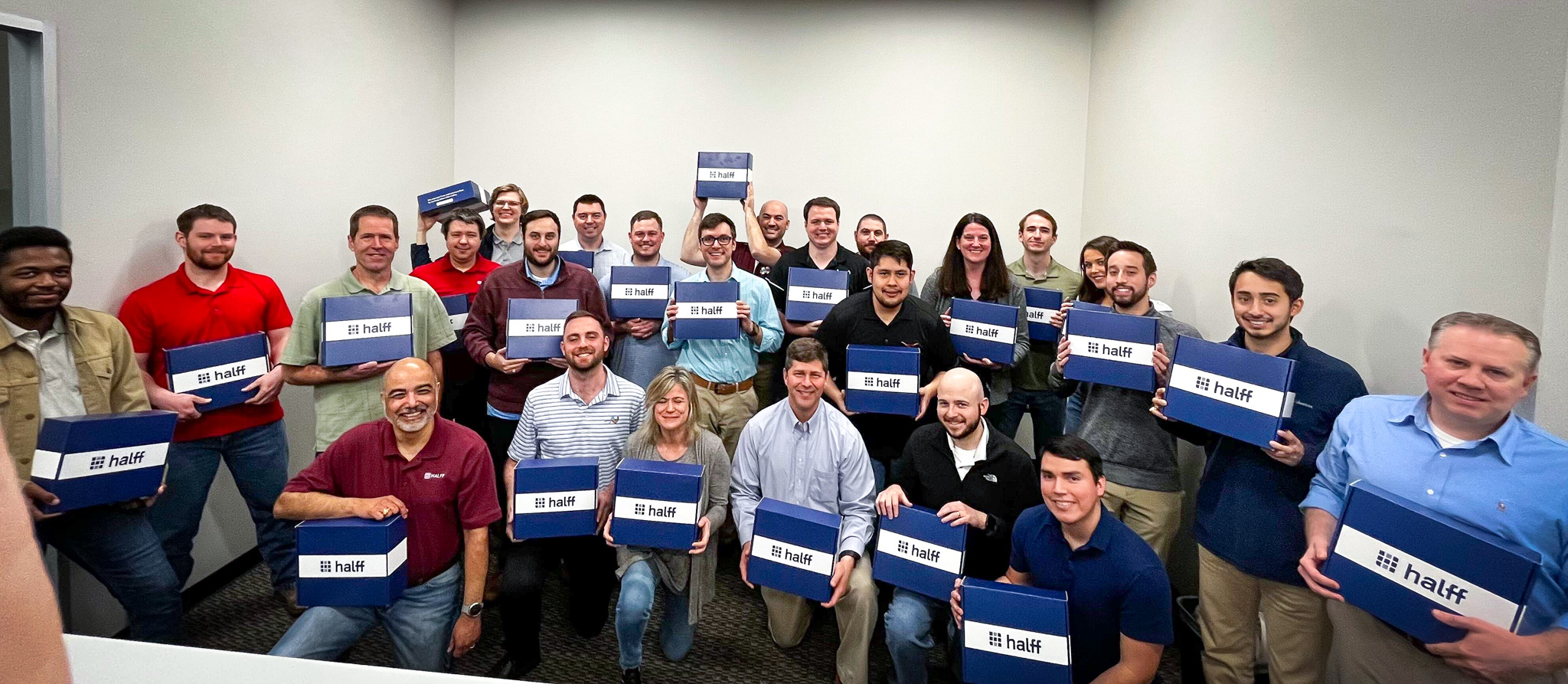 Halff's CPO Jessica Baker Daily, President/CEO Mark Edwards, and Director of PR and Communications Jodi Hausenfluke presented a modernized version of Halff's brand and updated culture values during the company-wide webinar.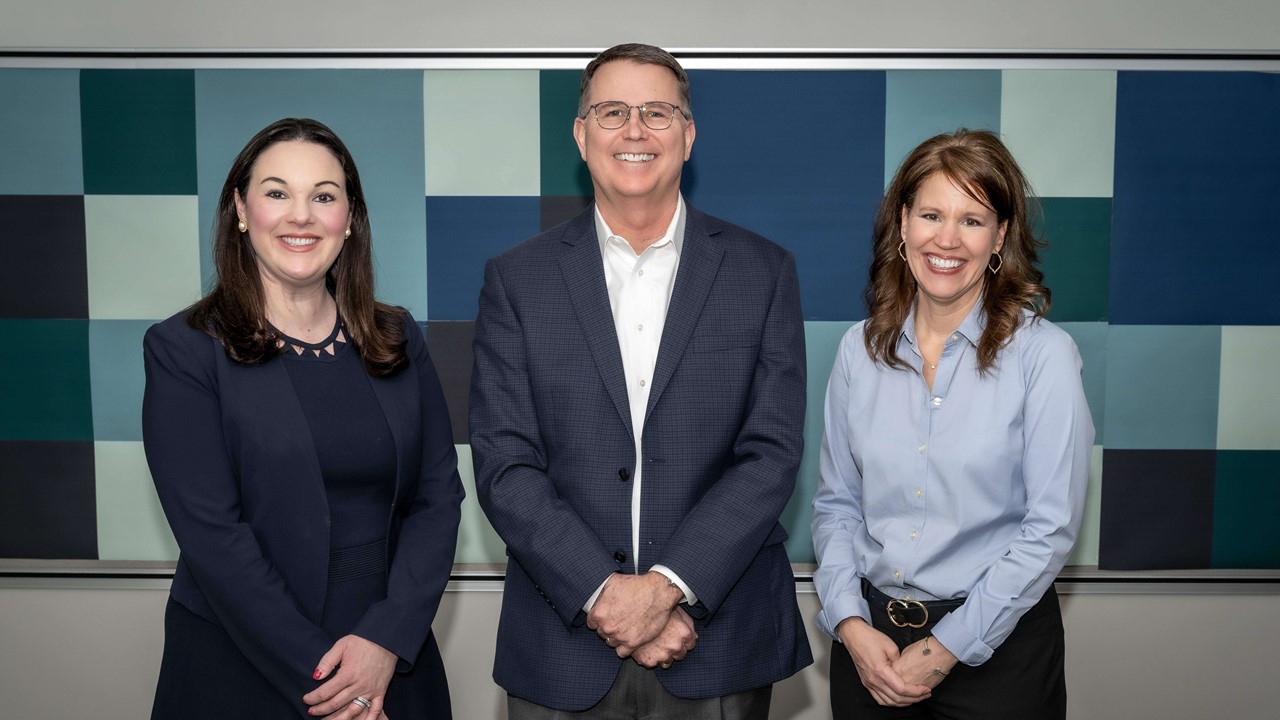 HCI Updates
Night to Shine is a prom-like event where people with special needs can walk the red carpet, have their photo taken, eat dinner and dance the night away. HCI donated $1,000 toward food and supplies for the Night to Shine event.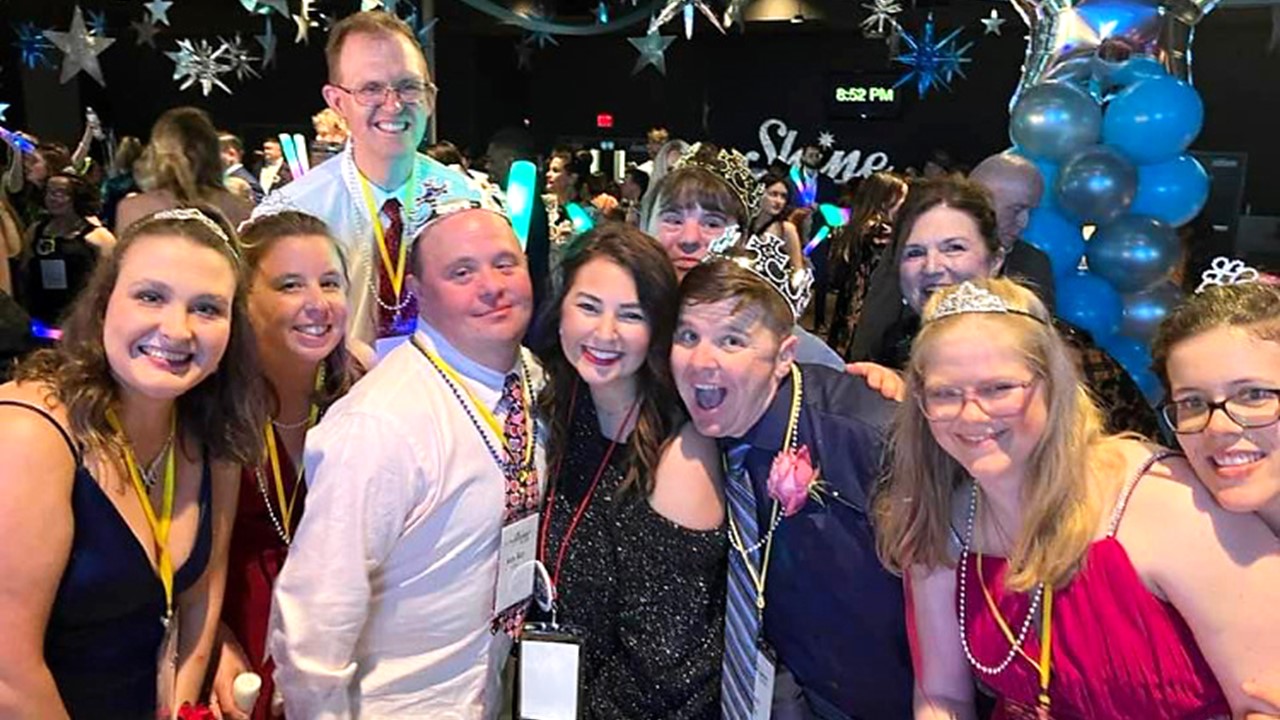 San Antonio employees participated in the annual Basura Bash to clean up Rodriquez Park.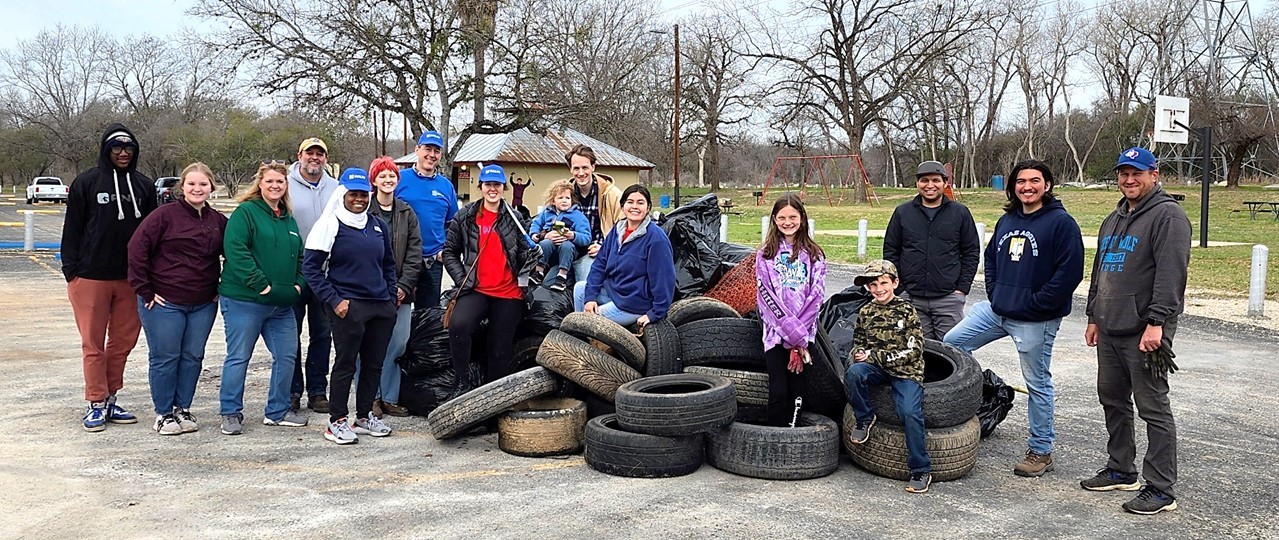 Richardson employees packed and delivered more than 100 brown snack bags during the lunch hour for SoupMobile in Dallas.

Teaming Together
Roses are red, violets are blue, Halff colleagues came together for a treat or two! The Houston office (pictured left) coordinated colors of red and pink, and the Frisco office set out decorations and a table full of sweets to celebrate.

Shreveport's Water Resources team cheered on the Shreveport Mudbugs during a recent hockey game outing.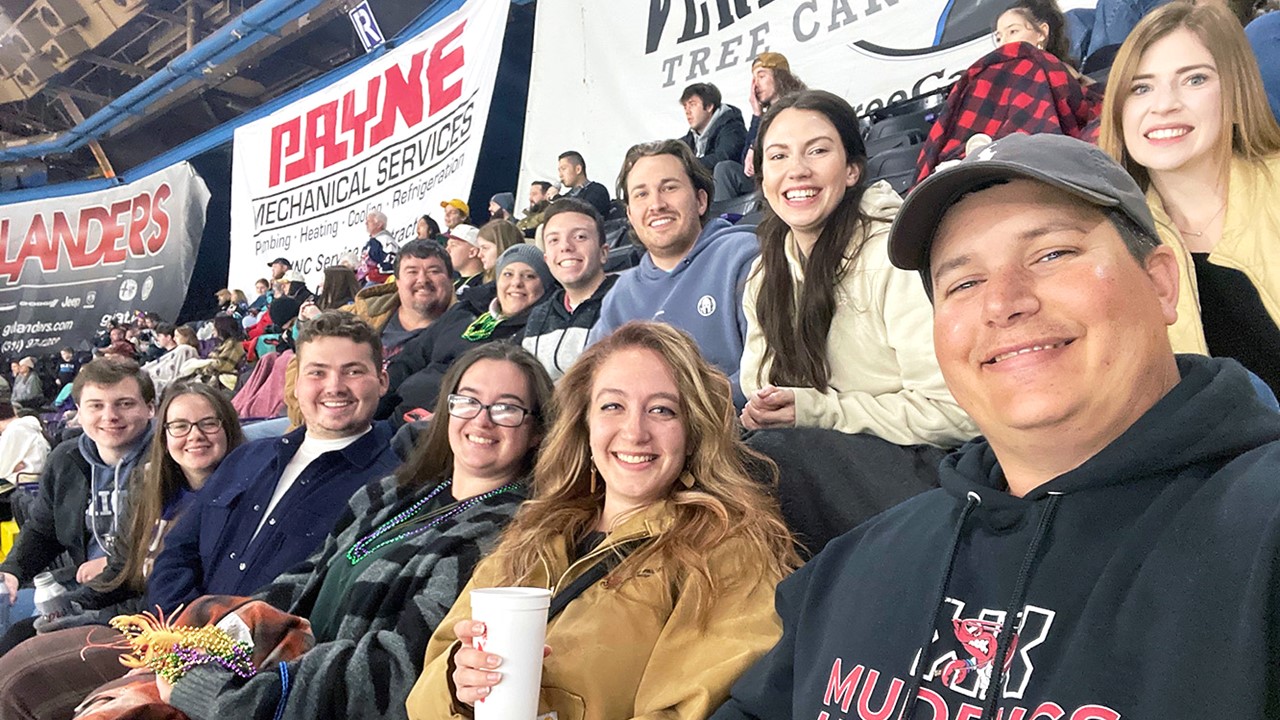 A group of Jacksonville employees took on a trivia night. Their combined knowledge landed them in third place!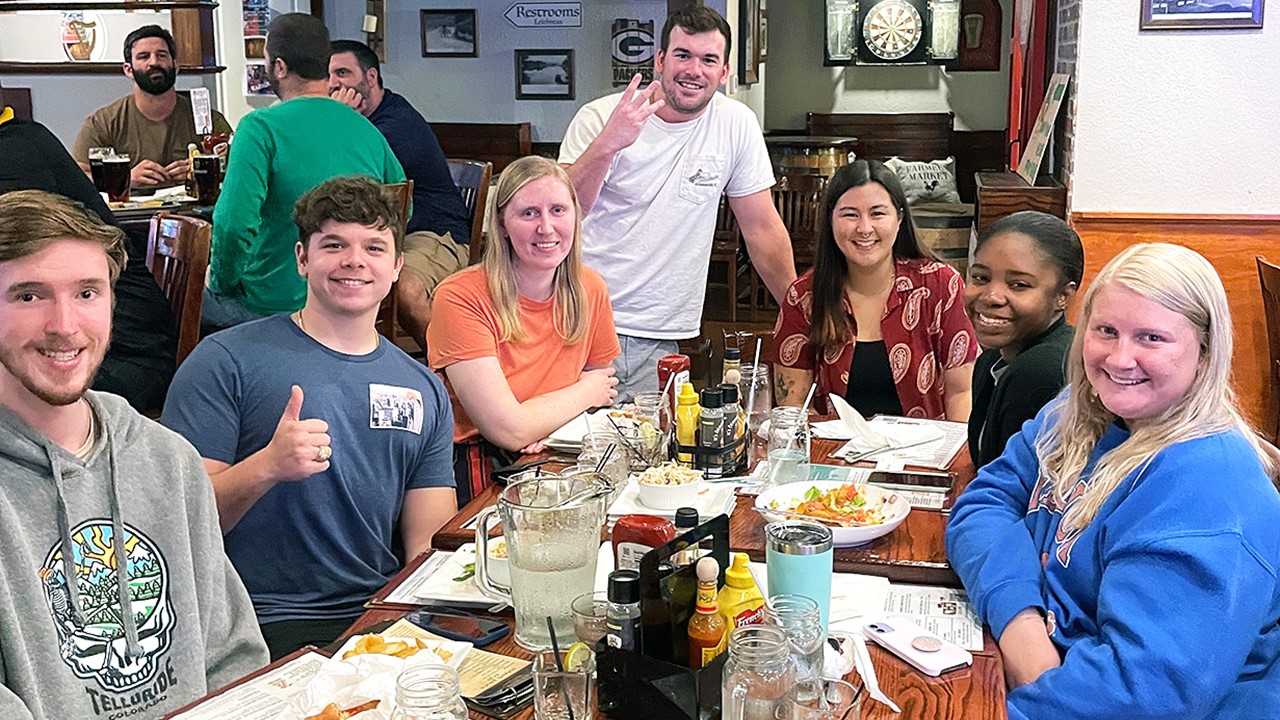 Halff Bag Travels
Business Development Manager Mike Watson (top left) traveled to Honduras and Valle de Angeles (Valley of Angels) on a mission trip to help build a house, paint a classroom and perform other jobs for the families there.
Senior Project Manager Bill Dorman (bottom left) experienced the thrill of the Daytona 500 with his Halff bag in hand at the Daytona International Speedway.
Multiple Halff employees enjoyed Mardi Gras parades throughout Louisiana. Graduate Civil Engineer Victor Bivens, Graduate Civil Engineer Ann Marie Pozniak and GIS Project Manager Tim Saksa (middle) celebrated in Shreveport.
Graduate Civil Engineer Liza Moriconi ventured with her Halff bag to the warm beaches of Nassau, Bahamas.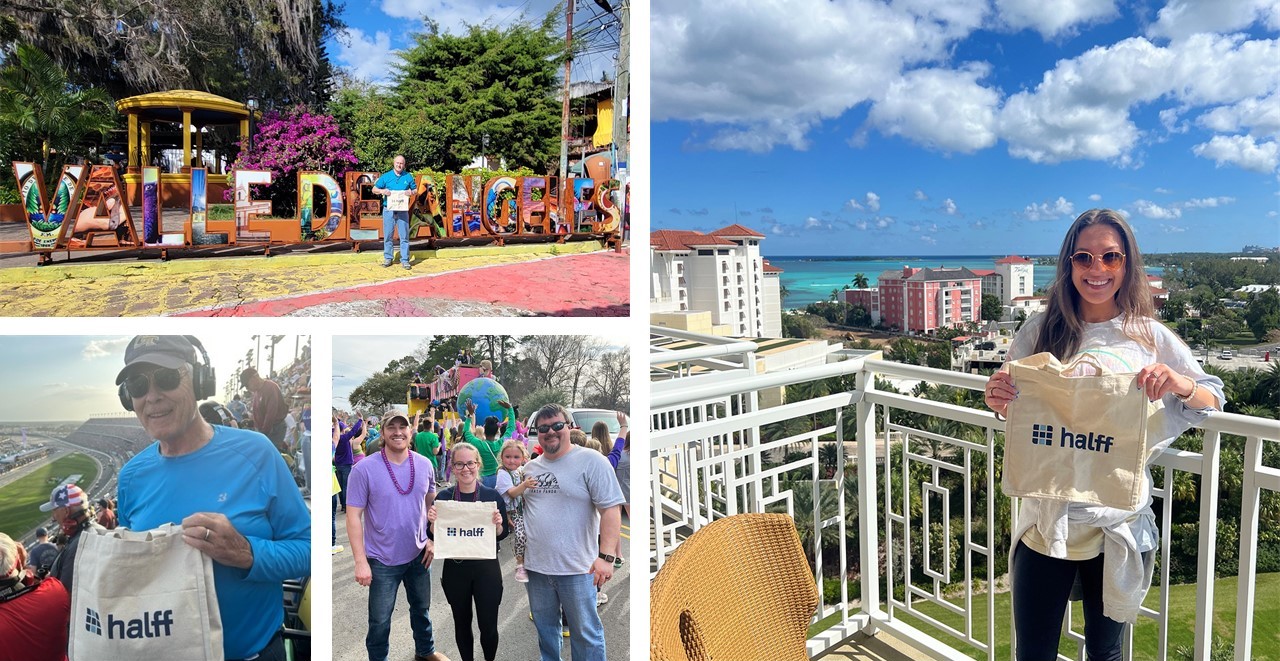 Read more about the History of the Halff bag here.
---
DID YOU KNOW?
Halff sits at No. 15 nationally in the companies with 1,000 to 2,499 employees in the 2023 Top Workplaces USA award rankings presented by Energage. In 2022, Halff was recognized as a Top Workplace in Austin, Dallas, Houston and San Antonio. We have also been recognized as a Top Workplace in Austin and Dallas eight times each since 2015, six times in Houston since 2016 and for the second consecutive year in San Antonio this year.
Cumulatively, Halff has been recognized as a Top Workplace 25 times.
APPLY TODAY!
Want to join our exceptional team of people-first professionals? Learn more about what it's like to work at Halff by heading to our Careers page.