Coming Home: Kilgore College Bridge Rooted in Childhood Memories

Vice President/Operations Manager Michael Medford served as project manager for the new pedestrian bridge at Kilgore College in Kilgore, Texas. Groundbreaking occurred on Jan. 12, 2023.
But to Michael, this project stands out more than others. This bridge has a special place in Michael's heart, rooted in his childhood.
"This project is a very personal project for me. Kilgore is my hometown and although I didn't attend Kilgore College, my family attended many sporting events and other activities hosted by the college while I was growing up," Michael said.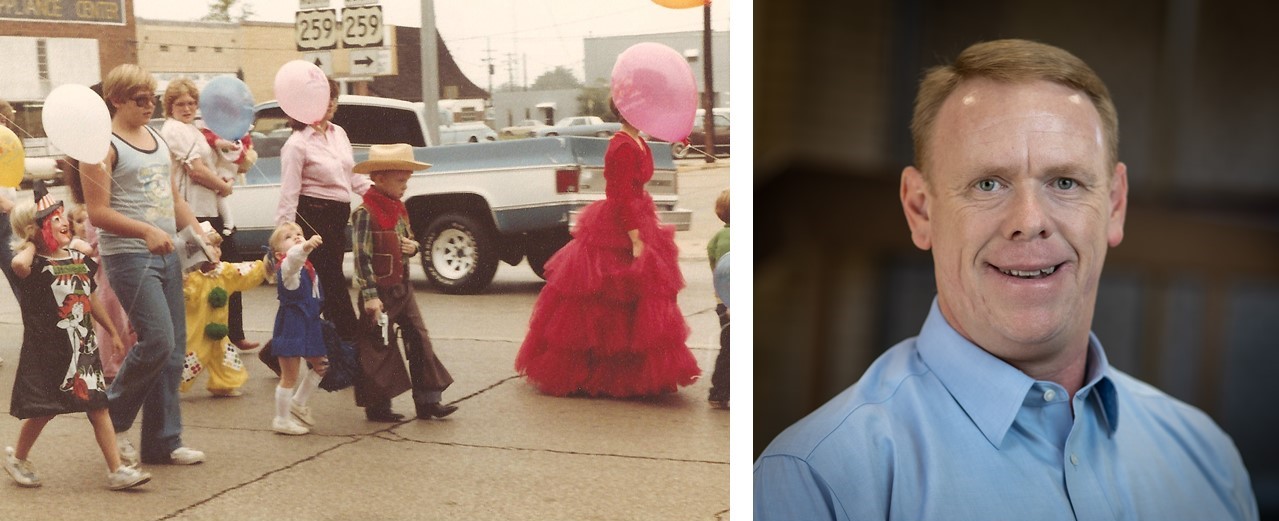 Michael (in cowboy costume) goes trick-or-treating on Halloween in 1980 in downtown Kilgore.
"I rode my bike up and down the old concrete spiral ramps and across the bridge countless times during my childhood. I'm a little sad to see those old spirals torn down because it was a pretty big thrill for me to see how fast I could ride down the curves without crashing.


The non-ADA compliant spiral ramps are being transformed to a safer, ADA compliant design.
"My family still lives in Kilgore, and they have provided a great deal of support as they follow the project closely. I'm very pleased and humbled to be working on a significant project in a place that holds memories from my childhood."
Halff's collaborative approach was another high point for Michael.
"Orchestrating design teams from five Halff practices has turned out to be one of the highlights of the project for me, since the composite team has done a great job of communicating and making sure the plan set is coherent and well-coordinated. I'm very proud of this team's ability to deliver a complex project through teamwork and effective work sharing."
---
DID YOU KNOW?
Halff sits at No. 10 nationally in the companies with 1,000 to 2,499 employees in the 2022 Top Workplaces USA award rankings presented by Energage. In 2022, Halff was recognized as a Top Workplace in Austin, Dallas, Houston and San Antonio. We have also been recognized as a Top Workplace in Austin and Dallas eight times each since 2015, six times in Houston since 2016 and for the second consecutive year in San Antonio this year.
Cumulatively, Halff has been recognized as a Top Workplace 25 times.