Pair of Halff Engineers Travel Unforeseen Paths to Success in Water Resources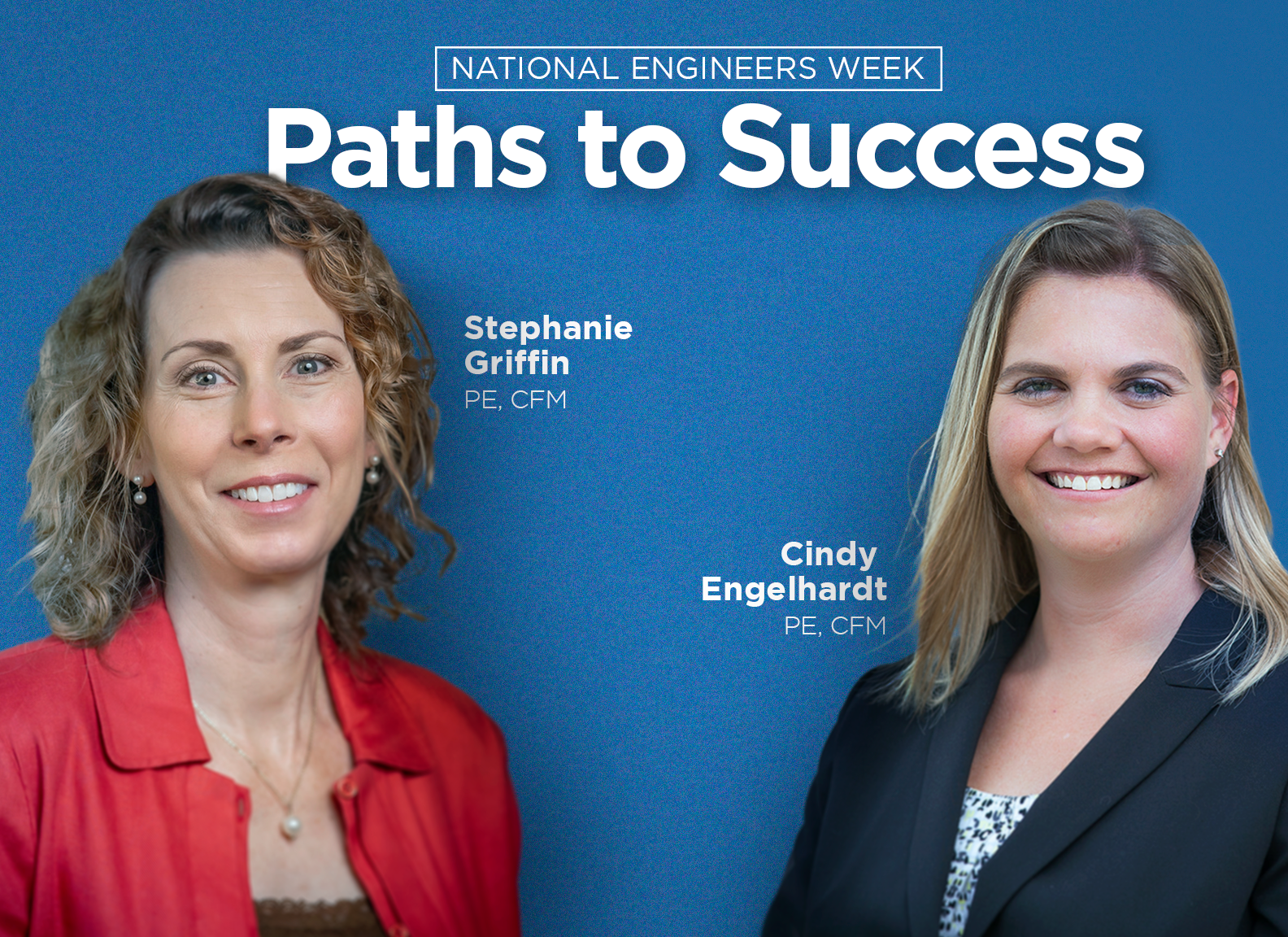 Happy Engineers Week 2022!
Founded by the National Society of Professional Engineers in 1951, EWeek is dedicated to raising awareness of engineers' positive contributions to our daily lives and inspiring the next generation of engineering enthusiasts.
Here's to reimagining the possible, which is this year's EWeek theme!
---
Cindy Engelhardt, PE, CFM, joined Halff in 2006 as a civil engineer with a focus on water resources engineering projects. She is experienced in the design and analysis of stormwater systems, hydrologic and hydraulic analyses, flood control design and planning, floodplain management and flood education.
Stephanie Griffin, PE, CFM, has more than 20 years of experience as a stormwater engineer, water resources engineer and project manager. Stephanie currently focuses on stormwater planning, flood planning, stormwater/drainage utilities, water supply planning and funding.
---
Unexpected divergence. That's how Halff engineers Cindy Englehardt and Stephanie Griffin landed in their respective roles in the firm's Water Resources practice.
Cindy knew she loved math and science and saw a path to becoming an engineer, but she wasn't sure exactly where she'd land.
"Honestly, I didn't know a lot about engineering," said Cindy. "My father placed me into civil engineering, which focused on a broad spectrum of engineering."
Stephanie had much "higher" aspirations.
"I became interested in engineering when Top Gun came out," Stephanie noted. "I decided at that time I wanted to be a pilot in the Navy. I thought the coolest thing ever was to fly planes, land them on carriers and take off."
Stephanie's mom had other ideas. She encouraged her daughter to pursue a more "grounded approach" by applying for the Air Force Academy. Ultimately, that didn't work out for Stephanie, and she attended Texas Tech University in Lubbock.
Still enamored with the possibility of becoming an engineer in the aerospace industry, Stephanie pursued a degree in electric engineering. And after a Circuits II class, Stephanie realized that "imaginary numbers" were not her friend. So now what?
"My dad was a banker and had no vested interest in me becoming an engineer, but he told me to visit other departments within the College of Engineering and see what they had to offer," said Stephanie.
Eventually, Cindy and Stephanie discovered a niche. An engineering career in water peaked their interests.
Water – An Emerging Topic
Water resources conversations have gained a foothold  in city and town hall meetings over the last few decades. Texas and other areas of the county have experienced more frequent and intense rainfall events in recent years that have flooded homes and impacted communities.
"We didn't even have flood insurance maps or any of those useful tools until the 1980s," explained Cindy, who also graduated from Texas Tech.
"People think that if a 100-year storm event happened last year, then they have another 99 years before it will happen again and they don't have to worry about it," said Stephanie, who notes that those within the industry are transitioning away from the term going forward. "This type of storm event has a 1 percent chance of  happening in any year. It could happen more than once in a year."
Flood events can have devastating impacts on individuals and communities for years. A flood event can change the course of one's life, whether it's the unfortunate loss of a loved one, significant financial loss or just mental scars that remain.
Finding Solutions
Cindy and Stephanie have made it their mission to find solutions in water resources planning to help alleviate those potential stressors before they happen.
Stephanie remembers this firsthand when she served as a floodplain administer/stormwater utility manager for a municipality in North Texas. A resident's property was experiencing heavy erosion due to a nearby creek eating away at the family's backyard.
"They only had 10 feet of their backyard left and then there was a huge dropoff to the creek below," said Stephanie.
There was no easy solution for the resident. They could not sell their house.. Thus, she worked with other city staff and city management to create a voluntary buyout program that would provide relief for the resident and ensure no future neighbors would be placed in harm's way as the property was returned to a natural area.
"Working with that resident, listening to his problem and coming up with a unique solution was rewarding," said Stephanie. "He was very appreciative of our efforts and came to the city council meeting to thank our staff. That's what we try to do day in and day out for our clients—come up with solutions."
Looking Ahead
Cindy echoes that measure. Engineers are not just people who solve complex problems through mathematical equations or science. They need to listen and learn from those impacted directly.
"As engineers, we tend to look at a computer screen and see at risk houses and infrastructre but we don't really think a lot beyond that until you're out there in the creek after a flood looking up and seeing how high the debris line is and how terrible that is for that homeowner and people who essentially lost everything," recalled Cindy after visiting a town in Williamson County, Texas, impacted by a rain bomb in 2007. "That's when it really hits home that what we're doing is so important. How we convey that message and how we help people is really important."
The path is much clearer now for Cindy and Stephanie. They are engineers who impact and change lives for many generations. Much of that work can be seen in their current project in developing Texas' regional flood plans, which will eventually become the state's first flood plan.
"Water and stormwater management need engineers more than ever," Stephanie added. "Our population continues to grow, and development grows along with it. We need reliable high-quality water supplies for not just for the population but for agricultural purposes as well."
"This is our first flood plan for Texas," said Cindy. "We are setting the stage for the first cycle to understand at a high level where the risk is for each community and how we plan ahead. If we don't start planning for these events now, we are never going to become more resilient."
About the Firm
Halff is an award-winning, employee-owned, diverse and multidiscipline professional engineering and architecture firm. For more than 70 years, Halff has provided innovative solutions for clients throughout the United States. Halff is committed to the purpose of improving lives and communities by turning ideas into reality by continuously investing in its employees and fostering a culture of collaboration.
Halff has 28 offices in Arkansas, Florida, Oklahoma, Louisiana and Texas. The firm is ranked No. 97 by Engineering News-Record. Halff is the No. 10 Top Workplace nationally in 2022 as ranked by Energage for businesses with 1,000 to 2,499 employees.