Production Manager Erik Verduzco Awarded Halff's Home Run Award
President/CEO Mark Edwards awarded the Home Run Award to Houston Production Manager Erik Verduzco. The Home Run Award is presented to an employee who embodies the spirit of Halff through leadership, ownership, excellence and the growth of others.
"Erik is the definition of 'will do whatever it takes to get the job done.' He has a love of Halff and a love of seeing the people of Halff grow," Mark said. "He is the single-most giving person I have ever met—from his involvement on the Halff Community Initiative (HCI) Steering Committee to serving as the executive director of Pour Into Houston (PIH)."
PIH is a nonprofit organization that is dedicated to helping underserved Houston-area residents with mental health challenges such as anxiety, depression and PTSD, and assists with suicide prevention and other special needs.
Erik represents the Houston and Conroe offices in his HCI role and presents numerous donations to organizations in need throughout the year.
"We're here to make a difference in the community, not only with the professional work that we do, but we can go outside of that," Houston Operations Manager Michael Barbier said. "Erik is all over the place. He's amazing. He does it in his personal life and loves giving back to his community. He is an inspiration to us."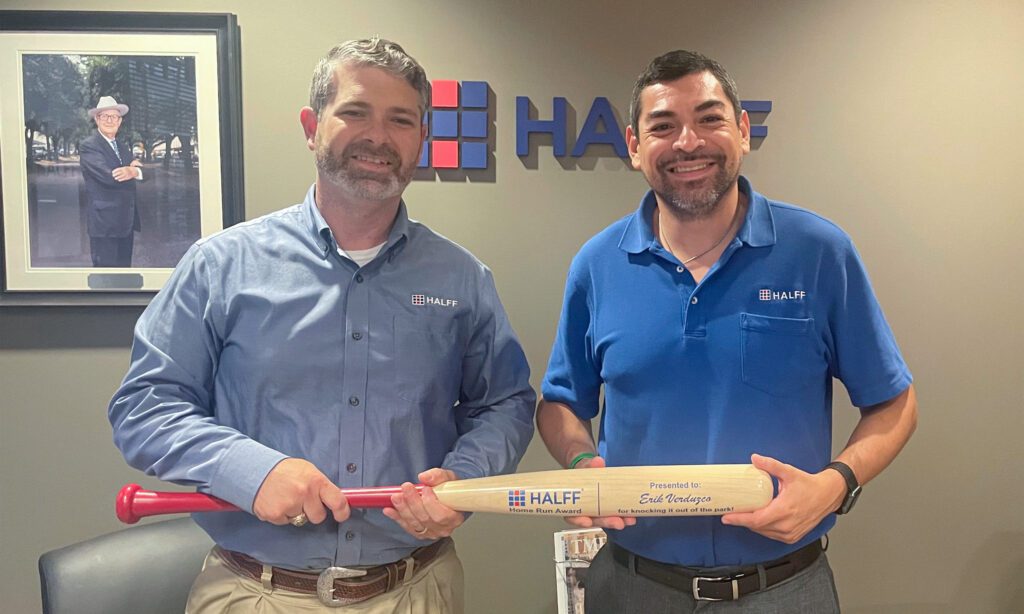 Houston Operations Manager Michael Barbier (left) presents the Home Run Award to Erik Verduzco.
Previous Home Run Award winners include: 
RJ Endsley, Public Works Team Leader
Jacob Hays, Public Works Team Leader
Nicole Roark, Director of Marketing Strategy
Jose Delgado, Director of MEP/ITS Engineering
Bryce Spalding, Survey Technician
Jared Young, SUE Field Manager