Q&A With Halff Project Manager Roxxie De La Cruz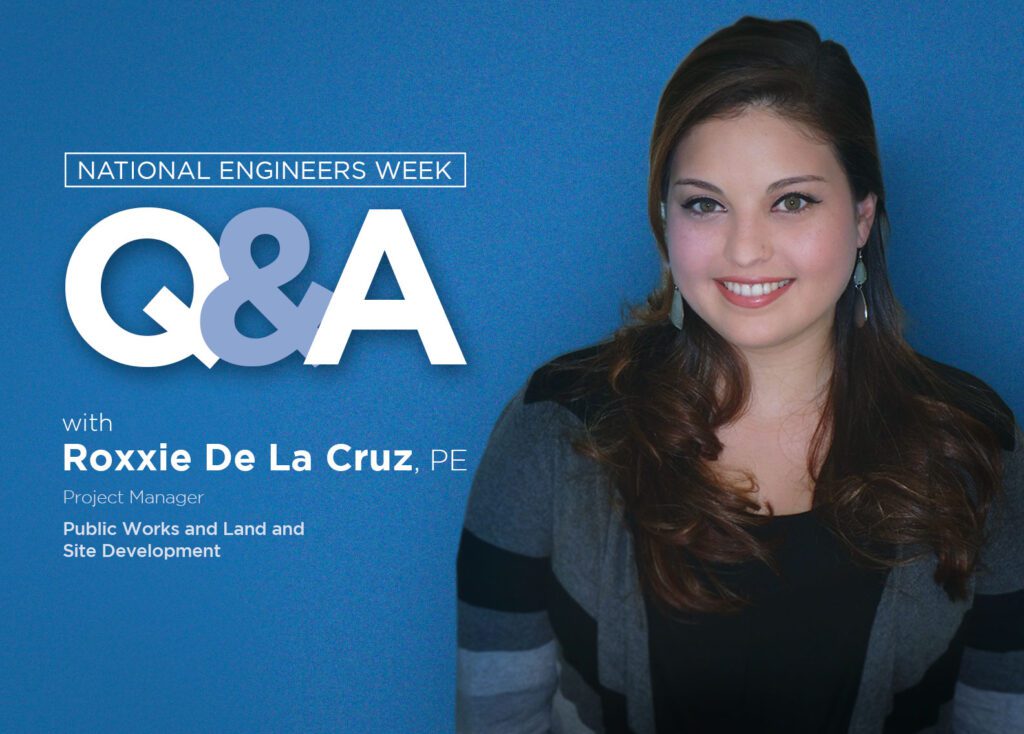 Happy Engineers Week 2022!
Founded by the National Society of Professional Engineers in 1951, EWeek is dedicated to raising awareness of engineers' positive contributions to our daily lives and inspiring the next generation of engineering enthusiasts.
Here's to reimagining the possible, which is this year's EWeek theme!
---
Roxxie De La Cruz, PE
Title: Project Manager
Practice: Public Works and Land and Site Development
Office: McAllen
Since joining Halff in 2015, Roxxie has engaged in the development of engineering Stormwater Pollution Prevention Plans (SWPPP), cost estimates, drainage reports and subdivision plats. She has also been engaged in the development of construction/design plans and specifications for civil projects involving the following: sanitary sewer and water, drainage, erosion control, paving and dimension and utility relocations. Roxxie shares why she enjoys her career and working as a Halff engineer.
---
What makes the Land and Site Development practice so interesting to work for?
It's interesting because each site is different. You can work on public improvements for a subdivision one week, site improvements for a commercial lot such as a warehouse or plaza center the next week and park improvements the following week. It's never the same thing or a dull moment. The different activities and projects always keep me intrigued, and the fact that it changes so often is what keeps me excited to come into work. For example, we completed five interesting park projects for the City of Pharr a few years back. Each park focused on a different amenity such as a water feature, large playground or bike trails. Although each site was a park, design between the parks was so different and fascinating.
What does being a Halff engineer mean to you?
To me, being an engineer in general means having integrity, thinking outside of the box, someone who enjoys being challenged and doesn't mind researching and figuring out difficult issues. The word Halff in front of engineer means so much more to me. It means an engineer being part of a welcoming community and work family versus a one-man show. Being called a Halff engineer is something I take great pride in.
What are the biggest challenges you see in the engineering field?
I've noticed one of the biggest challenges the industry is facing right now, whether it's because of the pandemic or constant natural events we're encountering, is competing for grants and money. It's such a competitive industry that you're always in competition.
What has been your biggest engineering accomplishment?
Becoming a Professional Engineer (PE) and getting exposed to so many different aspects of civil engineering. This is something I take pride in because it better prepares me to become a well-rounded civil engineer.
Why is it important for women to be in the engineering profession?
This is a strong question and something I love being asked. Because I was the first grandchild, and daughter, who attended college in my family, I was the first one exposed to math and science and developed a career in those fields. Growing up as a Hispanic, it's typically known that as a woman, you're main goal is becoming a mom and caring for your family. However, my mother and aunts and uncles wanted so much more for me. They provided me with every opportunity possible to thrive as a young, well-educated woman.
I decided to try architecture or teaching at first because I wasn't exposed to engineering. As I progressed in college, I learned that I was more suited for engineering because of my love for math and problem solving. I decided to reach out to those in the industry such as local professionals or graduates. Although I was able to receive guidance and mentorship from professionals, I soon realized that it was extremely hard to find a local woman engineer. Discovering this, I realized that once I became a PE, I would do as much as I could to reach out to our growing community to show the younger generation of women that it is possible to make your stride in a male-dominant industry.
About the Firm
Halff is an award-winning, employee-owned, diverse and multidiscipline professional engineering and architecture firm. For more than 70 years, Halff has provided innovative solutions for clients throughout the United States. Halff is committed to the purpose of improving lives and communities by turning ideas into reality by continuously investing in its employees and fostering a culture of collaboration.
Halff has 28 offices in Arkansas, Florida, Oklahoma, Louisiana and Texas. The firm is ranked No. 97 by Engineering News-Record. Halff is the No. 10 Top Workplace nationally in 2022 as ranked by Energage for businesses with 1,000 to 2,499 employees.