Q&A With Halff Vice President and Municipal Services Manager Emily Anderson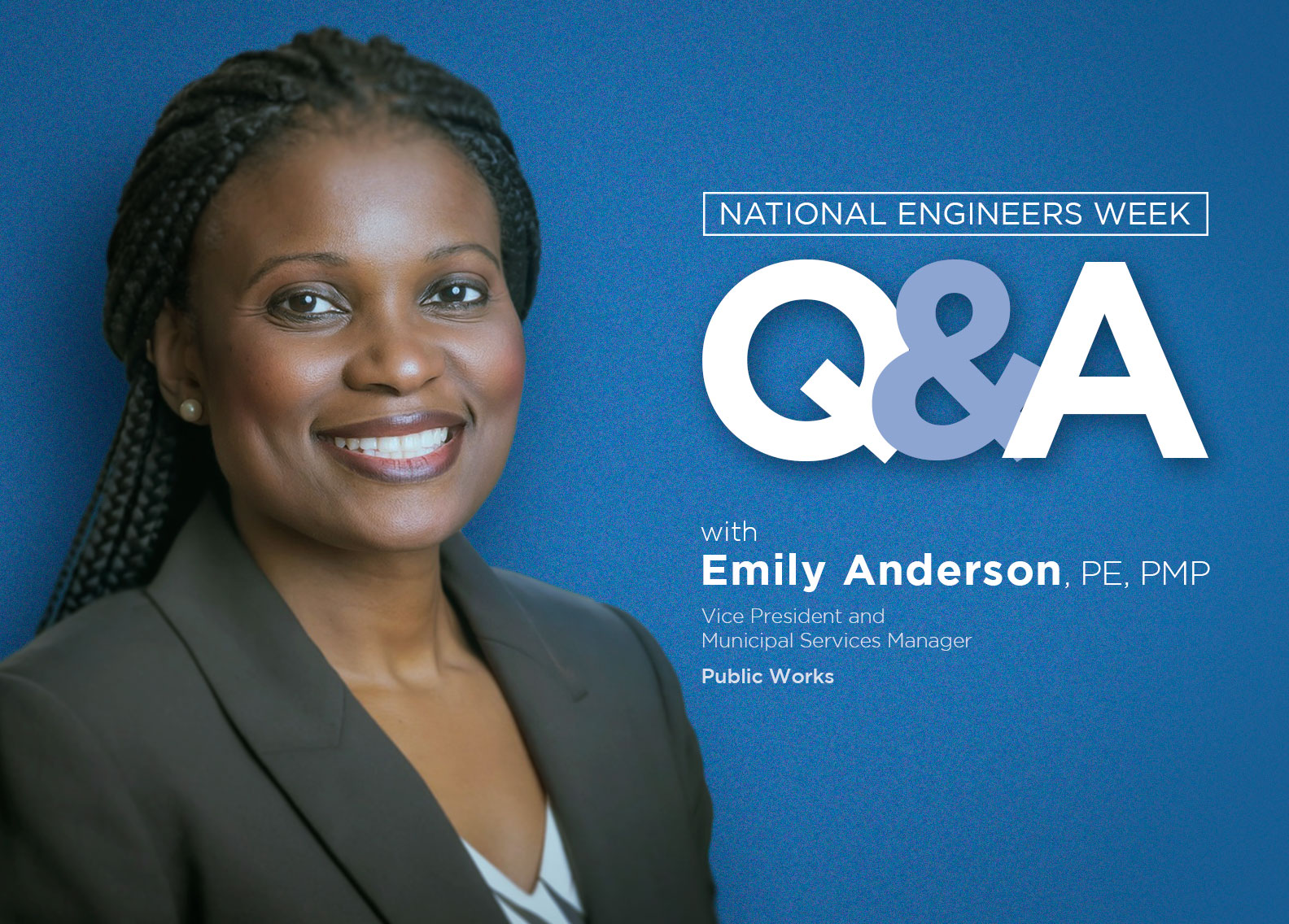 Happy Engineers Week 2022!
Founded by the National Society of Professional Engineers in 1951, EWeek is dedicated to raising awareness of engineers' positive contributions to our daily lives and inspiring the next generation of engineering enthusiasts.
Here's to reimagining the possible, which is this year's EWeek theme!
---
Emily Anderson, PE, PMP
Title: Vice President and Municipal Services Manager
Practice: Public Works
Office: Houston
Emily Anderson, who joined the Halff family in 2017, is a dedicated and dynamic project manager with more than 15 years of experience managing and designing water and wastewater infrastructure projects—and not just at home. She has successfully delivered infrastructure projects for municipalities in Iraq, Palestine, Libya, Australia and Canada.
Emily is a strong leader who generates innovative solutions, analyzes and resolves challenges, and advances organizational goals and objectives through her work.
---
What first piqued your interest in becoming an engineer?
As a high school debater, I learned about the global water and sanitation crisis and decided I wanted to be part of the solution. I originally intended to major in Chemistry and Environmental Science for a career in International Development, but I was persuaded by the assistant dean at Northwestern's School of Engineering to change my major to Environmental Engineering for better alignment with my career goals.
Who has been the biggest influence in your professional career, and why?
I have been blessed to have several great mentors throughout my career, but Mark Uguccioni, who was one of my earliest champions, really stands out. Mark loved the profession of engineering and always found ways to give back. He led and lived by example and was a true inspiration to everyone who knew him. Mark was responsible for many early opportunities that shaped the trajectory of my career and always encouraged me to achieve to my highest potential.
What steps should those who aspire to reach a leadership role, such as yours, take?
Learn to love what you are doing now and practice leading where you are now. Surround yourself with those who want to help you achieve your goals. I believe that just as "when the student is ready, the master will appear," when the leader is ready, the opportunity will appear.
What would you say to a youth who is interested in pursuing a career in engineering?
A wise man once told me that an engineering education is the best education you can have. It really does open a world of opportunities. To pursue a career in engineering, find out as much as you can about the types of engineering and available career paths as well as requirements. Get involved in activities such as STEM programs that build your math, science and communication skills. Ask adults you know to help you meet engineers who can answer your questions and provide guidance.
How do you feel engineers help Halff fulfill its purpose?
Engineers at Halff live our purpose in the quality work that we produce and in the care we show for the communities we work in—through engineering activities and non-engineering initiatives such as Halff Community Initiative.
About the Firm
Halff is an award-winning, employee-owned, diverse and multidiscipline professional engineering and architecture firm. For more than 70 years, Halff has provided innovative solutions for clients throughout the United States. Halff is committed to the purpose of improving lives and communities by turning ideas into reality by continuously investing in its employees and fostering a culture of collaboration.
Halff has 28 offices in Arkansas, Florida, Oklahoma, Louisiana and Texas. The firm is ranked No. 97 by Engineering News-Record. Halff is the No. 10 Top Workplace nationally in 2022 as ranked by Energage for businesses with 1,000 to 2,499 employees.