Q&A With Halff VP and Regional Practice Leader Bill Pembroke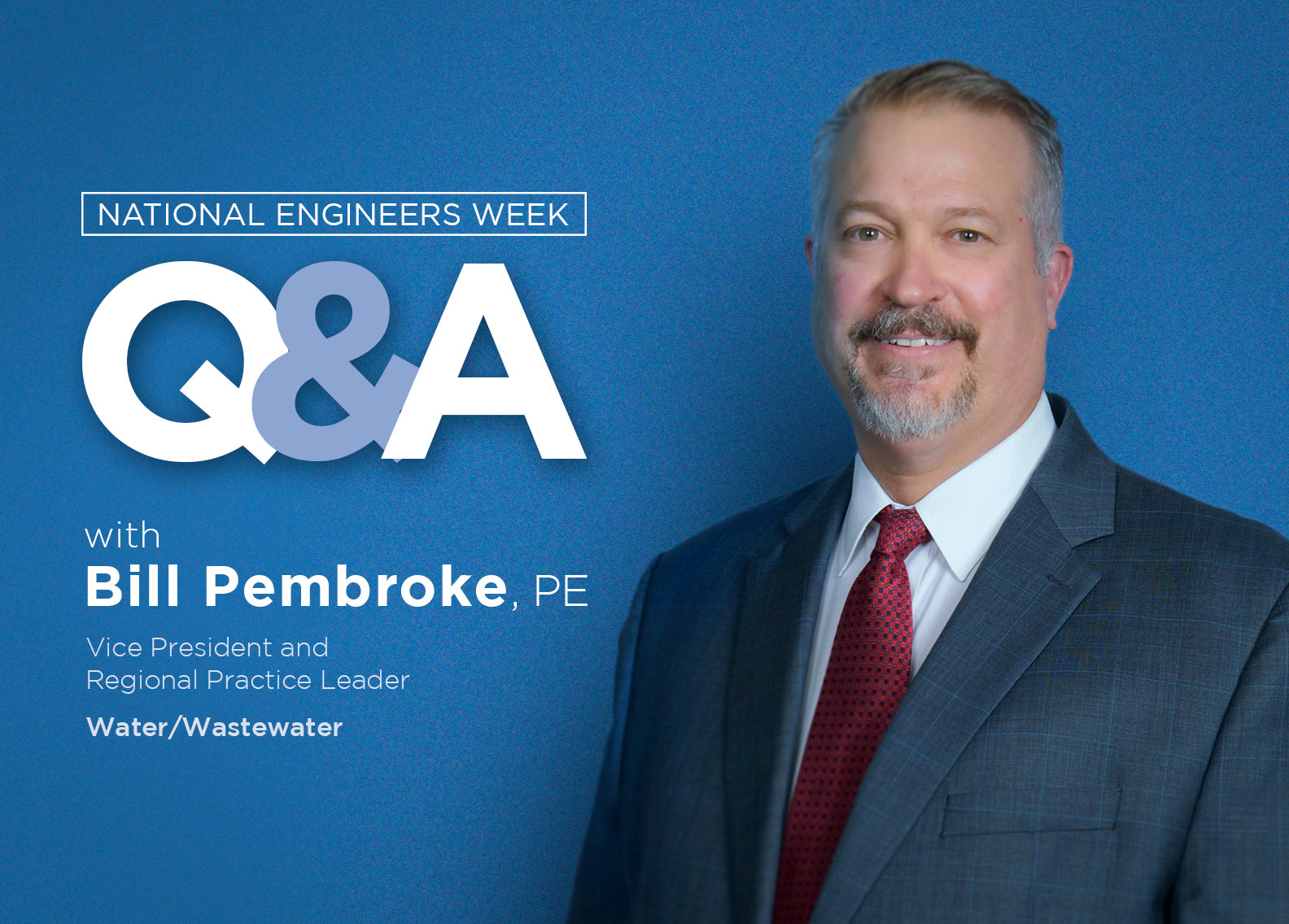 Happy Engineers Week 2022!
Founded by the National Society of Professional Engineers in 1951, EWeek is dedicated to raising awareness of engineers' positive contributions to our daily lives and inspiring the next generation of engineering enthusiasts.
Here's to reimagining the possible, which is this year's EWeek theme!
---
Bill Pembroke, PE
Title: Vice President and Regional Practice Leader
Practice: Water/Wastewater
Office: Richardson
Bill Pembroke serves as Halff's regional practice leader in Water/Wastewater. Bill, who has more than 37 years of experience, has been a key consultant for critical infrastructure projects throughout North Central Texas. His knowledge of complex technical problems across the project spectrum is a result of serving as a municipal engineer for several water utilities.
---
Why did engineering interest you?
I think I was born an engineer. From my earliest memories of building roads in a dirt pile with my little brother to spending my first two months as an engineer in training (EIT) atop a slipform paver observing concrete pours, I have always been interested in construction. During my youth, my father always mentioned the engineers who visited his construction sites. He admired them because they worked with their minds, not their backs, to solve complex problems.
You have worked in water/wastewater for the majority of your career. What makes this discipline so interesting and rewarding?
I was always drawn to the outside environment. For the entire history of mankind, we have been drawn to water. It is where we eat, where we live and where we play. Without proper management and protection, we cannot flourish. Growing up in an area with scarce water supplies, I appreciated the challenge of converting water from its raw state into a cherished commodity to be used and reused for generations.
You have been at Halff for almost two years. What does being a Professional Engineer mean to you?
It's pretty simple really. At Halff, I finally get to work at the greatest engineering firm in the world alongside the most genuine and caring people I have ever met. We embrace making a difference in the lives of people.
What are the biggest challenges facing the water/wastewater industry in the next five years?
Educating our culture to understand the true value of water and the effects that poor water quality and supply have on society. Our collective mindset undervalues water. We waste it. We pollute it. Then, we complain about its cost. Water utilities face further challenges of raising water and wastewater rates just to meet new regulatory demands while maintaining the same level of service to their customers.
Why is it important that we have more engineers in the workforce?
Societies have migrated from agrarian life to a much more urban existence since the Industrial Revolution. And when populations concentrate, the corresponding infrastructure challenges magnify exponentially. For the most part, engineers develop the solutions to these challenges. The more complex and bigger the problem, the more engineers will be needed.
About the Firm
Halff is an award-winning, employee-owned, diverse and multidiscipline professional engineering and architecture firm. For more than 70 years, Halff has provided innovative solutions for clients throughout the United States. Halff is committed to the purpose of improving lives and communities by turning ideas into reality by continuously investing in its employees and fostering a culture of collaboration.
Halff has 28 offices in Arkansas, Florida, Oklahoma, Louisiana and Texas. The firm is ranked No. 97 by Engineering News-Record. Halff is the No. 10 Top Workplace nationally in 2022 as ranked by Energage for businesses with 1,000 to 2,499 employees.
For more information about Halff, visit halff.com.