Q&A With Public Works Project Manager Allen Deaver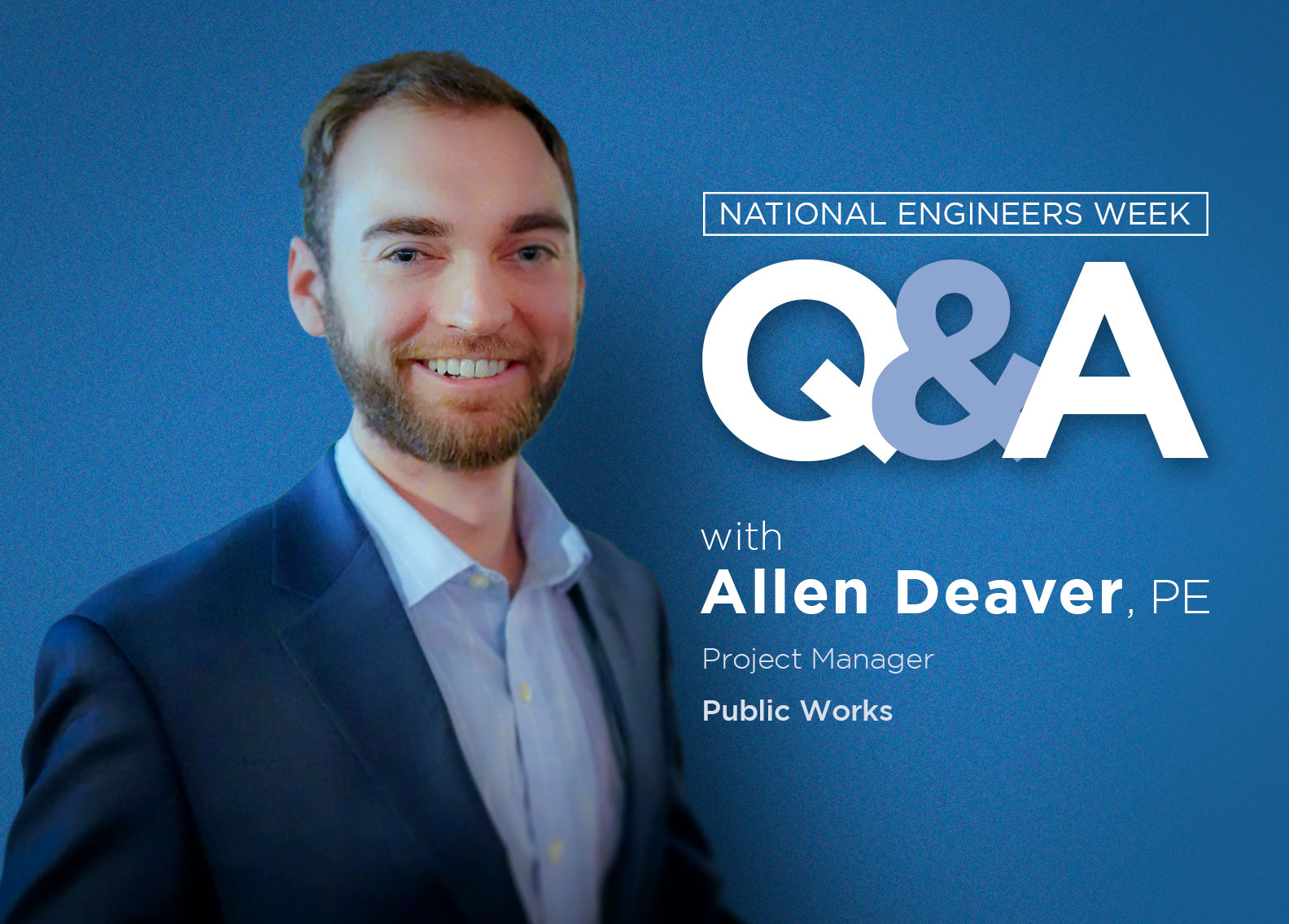 Happy Engineers Week 2022!
Founded by the National Society of Professional Engineers in 1951, EWeek is dedicated to raising awareness of engineers' positive contributions to our daily lives and inspiring the next generation of engineering enthusiasts.
Here's to reimagining the possible, which is this year's EWeek theme!
---
Allen Deaver, PE
Title: Project Manager
Practice: Public Works
Office: Fort Smith
Allen Deaver recently obtained his Professional Engineer license for the State of Arkansas. His time in public works and the people he has met along the way have all played key parts in Allen's career.
---
Was there one moment that you knew you'd want to be an engineer?
I had some role models in my life who were engineers themselves, which sparked my interest initially. I was always good at math and liked the idea of design and solving problems.
Who has been the biggest influence in your professional career?
The people I work with. I work with a lot of talented professionals, and I try to glean the best in ALL of them to make myself the best I can be. Special shoutout to (Director of Public Works) Brian Maurer and (Fort Smith Operations Manager) Travis Brisendine for putting up with me and showing me the ropes.
How long did it take you to get your PE license, and why was it worth it?
From college graduation, it took me four years, which is the required work experience to be licensed in Arkansas. As someone who was never an excellent test taker, passing the test took hard work. Two months away from the exam, I started doing some light studying and getting all my reference materials together. The month of the exam, I was studying a couple nights a week and dedicating most of every weekend to taking practice tests and reviewing. It is worth it to me because it is not only beneficial to me and my career long term, but it is something to be proud of.
What advice would you give to someone interested in pursuing a career in engineering?
Go find an internship opportunity while you're in school, so you can decide what discipline is right for you. I had a couple of internships leading up to my graduation from college. I worked a couple of summers with the state DOT as an intern. I got to see hands-on how roads/drainage structures were built in the field. (I highly recommend field experience for engineers.) The summer before graduation, I worked as an intern for Morrison-Shipley, which turned into a full-time offer at graduation.
What do you enjoy about the Public Works practice?
Client relations. I enjoy doing the work itself, but the relationships you build with clients are the most rewarding part. I enjoy solving people's problems.
About the Firm
Halff is an award-winning, employee-owned, diverse and multidiscipline professional engineering and architecture firm. For more than 70 years, Halff has provided innovative solutions for clients throughout the United States. Halff is committed to the purpose of improving lives and communities by turning ideas into reality by continuously investing in its employees and fostering a culture of collaboration.
Halff has 28 offices in Arkansas, Florida, Oklahoma, Louisiana and Texas. The firm is ranked No. 97 by Engineering News-Record. Halff is the No. 10 Top Workplace nationally in 2022 as ranked by Energage for businesses with 1,000 to 2,499 employees.
For more information about Halff, visit halff.com.