Survey Team Leader Juan Gonzalez Awarded Halff's Home Run Award
President/CEO Mark Edwards awarded Survey Team Leader Juan Gonzalez with the Halff Home Run Award.
The Halff Home Run Award is presented to employees who embody the spirit of Halff through leadership, ownership, excellence and the growth of others.
"I know Juan as a team player and a very high-level performer," Mark said during the award presentation in the Midland office. "His clients love him because he goes above and beyond."
Juan takes great pride in his work, colleagues and Halff. Anybody that works with Juan can attest to his work ethic. He is well-respected by many and inspires his team to grow through his positivity and proactive approach.
Juan not only cares about his colleagues but his clients as well, serving as a true trusted advisor. A Halff client, Laura Wallace of Pioneer Natural Resources, said "Juan deserves all the accolades he is being given. He ensures deadlines are met and is a great communicator when questions or concerns arise."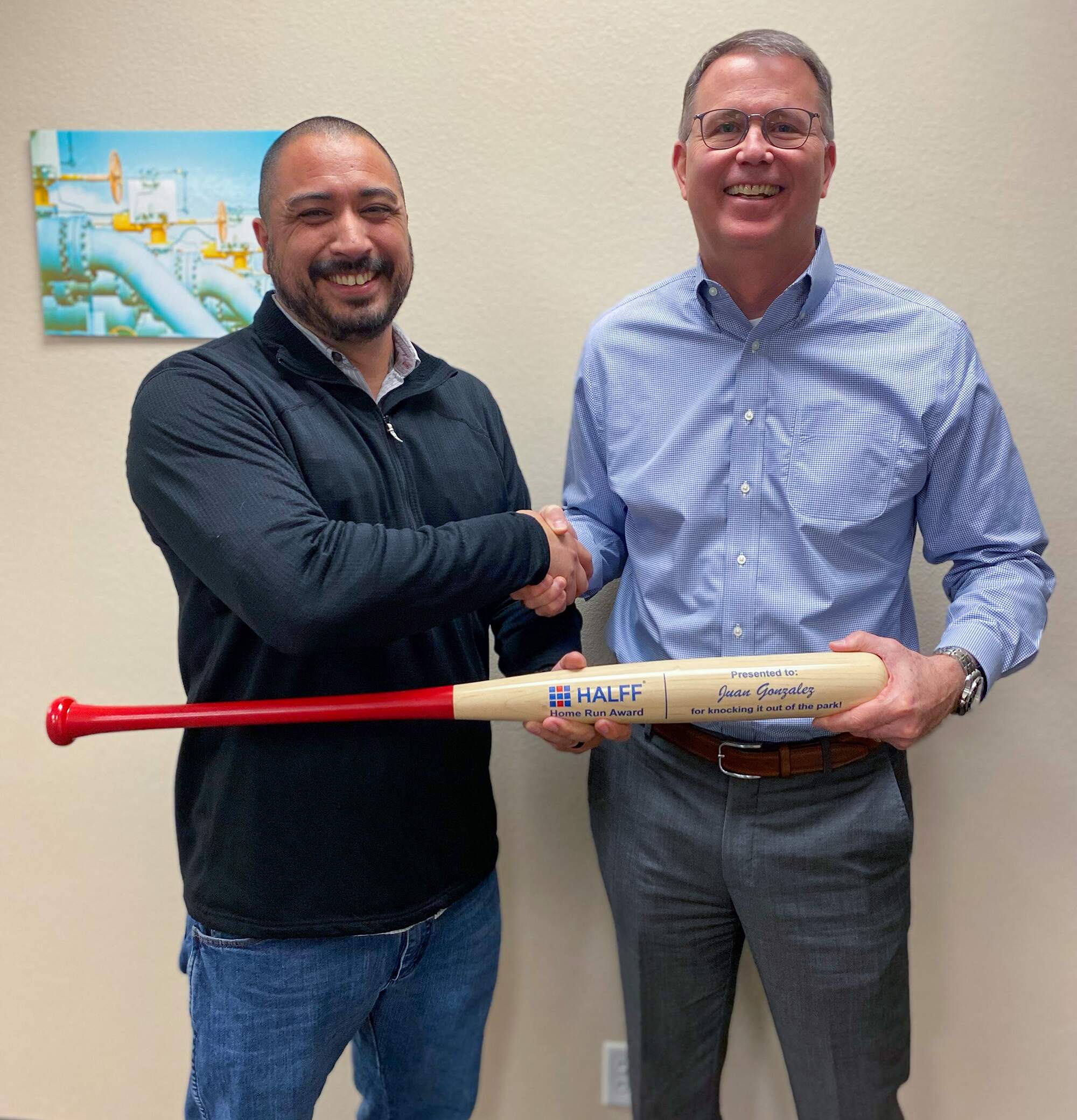 Halff President/CEO Mark Edwards (right) presents the Home Run Award to Juan Gonzalez.
Previous Home Run Award winners include: 
Kyle Thornton, Director of Land Development
Audrey Giesler, Graduate Civil Engineer
Keith Courson, Editorial Manager
Vasileios Kalogirou, Survey Practice Leader
James Barr, Transportation Team Leader
Russell Killen, Executive Vice President
Leigh Hollis, Frisco Operations Manager
Erik Verduzco, Houston Production Manager
RJ Endsley, Public Works Team Leader
Jacob Hays, Public Works Team Leader
Want to join our exceptional team of people-first professionals? Visit our Join Our Team page to learn more about what it's like to work at Halff and apply.