Jam-Packed With Flavor: The Story of Halff's Jelly Master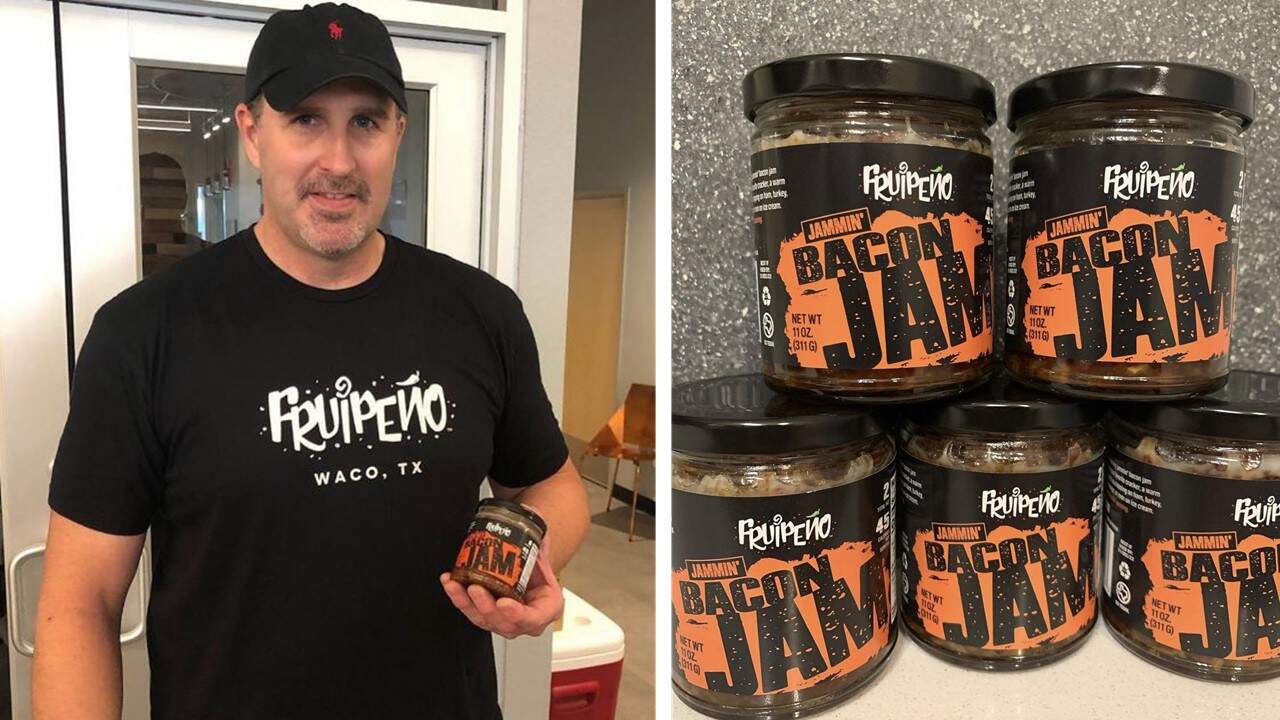 Tyson's bacon jam is a great addition to a cream cheese spread on a warm bagel or even a hearty burger!
Growing up in Texas, Senior Graphic Designer Tyson Charlson is no stranger to flavorful food. What started as a step away from his creative career led to a sticky, sweet and sometimes spicy hobby of making jellies and jams.
While working part-time at a local restaurant, Tyson learned how to prepare a spicy dipping sauce for the restaurant's jalapeño poppers. This tantalizingly sweet and spicy flavor blew him away and became the catalyst for what would become his own line of jams: Fruipeño.
Perfecting His Recipe
Tyson spent years perfecting his jam recipes until 2010, when he turned Fruipeño into a business.
"At first, I made my jams for friends and family to really get their feedback," Tyson said. "I started with strawberry, my personal favorite, and tweaked my recipe until I got it just right."
It wasn't long until he started experimenting with new flavor combinations. Tyson eventually got up to 17 different flavors before he reeled it back in to his top sellers.
"My bacon jam is my best seller, although strawberry will always be number one for me. It's sentimental," Tyson said.

Putting the Jams to the Test
Before Fruipeño got its LLC stamp, Tyson entered his jams and jellies into many fair competitions and shows.
From the local fairs in his hometown of Waco to the big stage at the State Fair of Texas in Dallas, Tyson's jams have won ribbons from all over! "Once I took it to a professional business level, I couldn't enter the shows," he explained. "Now that I've taken a step back from it as an official business, I'm back to competing."
In 2023, when the State Fair of Texas rolled into town, Tyson knew he wanted to submit his jars for the Creative Arts competition. Both of Tyson's creations placed, with his Kickin' Pineapple Jam taking second in the "Hot Fruit Jam" category and his Red Wine Jelly taking third in the "Wine Jelly" category.
"It's always a nice feeling when you take home a ribbon of any kind. Everyone has different tastes, so you really never know what people are going to like. I always get excited about it," Tyson said.


One of many ribbons that Tyson's bacon jam has received throughout the years.
Beyond the ribbons and accolades that his jams and jellies receive, Tyson enjoys the sentimental value that goes into making them. "I love to cook, and I love the science behind it, but it really brings back a lot of memories from my childhood cooking with my grandfather and my mother."
If you have a chance to visit the 2023 State Fair of Texas before it's over, be sure to check out Tyson's jams and jellies in the Creative Arts Building!