Virtual Reality Allows Viewers to See and Interact With Projects in Real Time
Imagine putting on a pair of goggles and being transported into a new world—a world so vivid and responsive it tricks your brain into believing you've left behind your physical reality. Envision yourself taking a virtual trip to the top deck of the Eiffel Tower—looking out over miles and miles of Paris, feeling your eyes squint as they catch stray rays of sunlight from overhead, watching as tourists slowly meander around the deck—from the comfort of your living room.
That's the experience of virtual reality (VR), an increasingly popular technology used today in industries like entertainment, gaming, psychology, and education. Virtual reality is essentially an immersive, computer-generated reality that allows you to interact with a simulated environment in real time.
The experience of virtual reality is similar to that of wearing noise-cancelling headphones, but instead of escaping from a noisy environment using earbuds, a pair of goggles whisks your visual senses away into an artificial realm. Virtual reality goggles generally come in one of two forms: a relatively inexpensive ($10 to $20) headset accessory that uses a smartphone for its screen and software engine, or a self-contained headset equipped with a gyroscope, an accelerometer, and two built-in screens, as well as circumferential sensors placed in the space surrounding you to track your head movements.
AN 'ACTIVE' VISUALIZATION EXPERIENCE AT HALFF
Halff's Visualization practice has been using virtual reality for projects since late 2016. Director of Visualization Jeff Christiansen says VR is a powerful and effective tool for his team because it extends the impact of their work into another dimension.
"It's certainly the best way to visualize a project before it's built," he said. "To be able to walk around a scene and explore it—and that's the key, you can interact with the scene. You are an active participant in it."
Jeff said virtual reality is a form of what he calls "active," or real-time, visualization. He plans to ramp up his team's work in active visualization and further explore the practice's capabilities.
"Right now, we're spending an additional effort to see how much geometry it can handle, and more importantly, trying to figure out what industries within the Halff ecosystem it can be used in."
One practice in the Halff ecosystem is Architecture. Senior Animator Michael Kahler recently created a VR scene for one of Ric Ruiz's projects, the Vista Community Church.
"I started with the SketchUp model provided by Ric," said Michael. "From there, I optimized and modified the 3D models as needed before importing them into the 3D software engine we use. I spent time creating high-resolution textures and materials for the scene since we would be able to walk right up to them."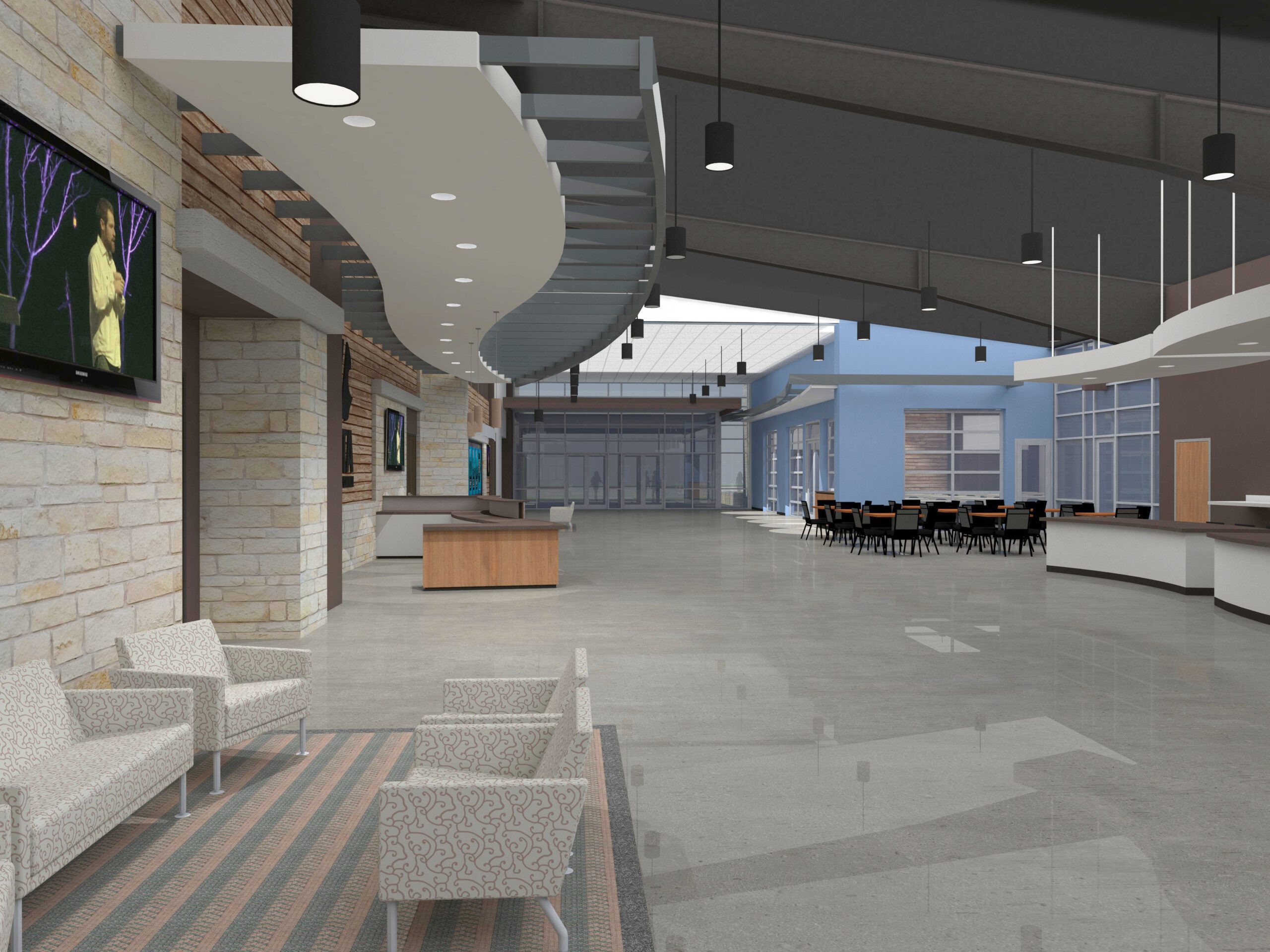 This model of the Vista Community Church foyer was created using SketchUp, the foundation for constructing the VR scene.
Michael said the VR aspect of his model allows the viewer to get a sense of the size and space of the design, which is valuable for interiors because a rendering alone can't always convey the feel of an interior space. He also said this VR scene allows Ric and the Visualization team to have a few different options for presenting the project.
"In some VR presentations, the viewer is confined to preset locations in the model, but with the VR setup we're using, you are free to walk around and explore. We can, of course, set up limits and boundaries to keep the viewer confined to certain areas, but you can move around in the model and look at it in VR from different vantage points. We could also set up a pre-defined path to take the user on a virtual tour of the model. As the user moves along the path, they'd be free to look around while moving through the scene."
Michael said he's using the HTC Vive, a self-contained VR headset, for this project. If desired, he can add the ability to cycle through different floor types, wall materials, paint colors, and furniture fabrics while presenting to the client.
PLANNING AND LANDSCAPE ARCHITECTURE TAKES VIRTUAL REALITY OUTDOORS
The Richardson office's Planning and Landscape Architecture (PLA) team began using the virtual reality feature of its rendering software, Lumion, at the beginning of this year. Team Leader David Buchanan says his team's VR experience is vastly different than the one created by Halff's Visualization practice because Lumion simply produces an elaborate JPEG image, giving the viewer the ability to take in a full 360-degree view of a scene while standing in one place, whereas the Visualization team creates an interactive scene that can be manipulated in real time. With this smartphone-based model, however, the interactive piece is the ability to take the headset out to the project site and allow the client to see a before and after of the project outdoors. David said this type of presentation can create a strong emotional impact for the client.
"What we like to do is, instead of meeting in a conference room, we like to go out to the site and allow them to see what it looks like today, and then what it would look like in five years, 10 years, or just one year—whatever that time frame is. You can raise the headset up and down and see what it is today, and we can line it up exactly so the client gets the same view of the before and after."
The team's first foray into VR was the Waxahachie Amphitheater project, a large, outdoor space just south of downtown Waxahachie. David said the technology was useful for selling the vision of the project to stakeholders.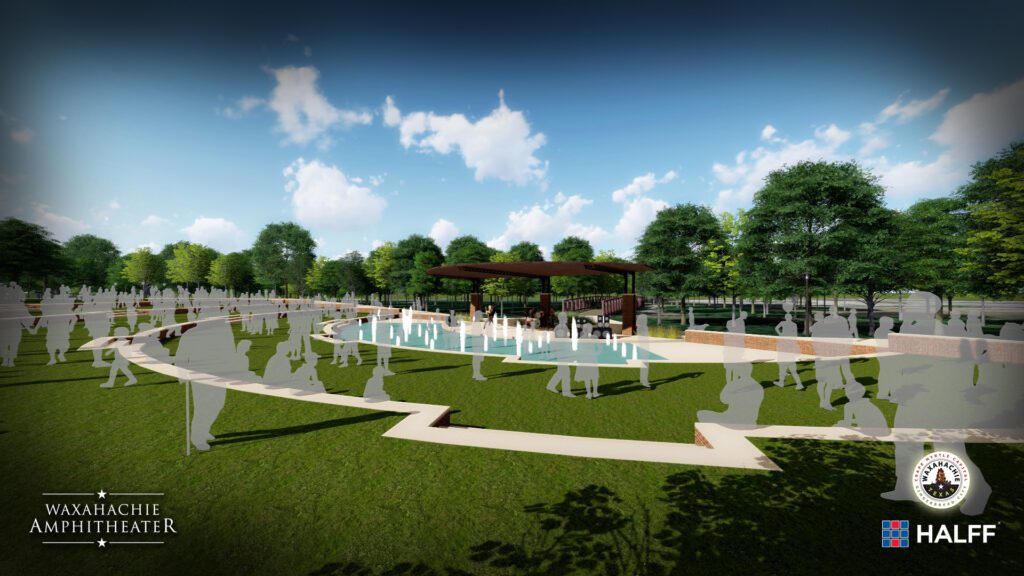 This Lumion rendering of the Waxahachie Amphitheater was shown via a portable virtual reality headset.
"Virtual reality works well for us, because a lot of what we do as landscape architects … we're sort of the middle ground between science and art," David said. "This allows us to sell that emotion a little easier because you're in the space and you feel it—it feels different when the wind is blowing, the birds are chirping when you're on site. It brings a different sensory to that experience.
"For us, it's all about experience. VR is a better tool to convey that experience."