From Corridor Safety to Connected Roadways, Vehicles and Buildings, Intelligent Transportation Systems Deliver Cutting-Edge Solutions
Intelligent Transportation Systems (ITS) save lives.
They enable us to advance traffic through our cities more efficiently.
They provide a level of connectivity that keeps people informed to make quicker, smarter decisions.
These invaluable technologies, which integrate advanced communications and infrastructure, improve transportation safety and mobility. They optimize incident response management, reduce travel times, disseminate safety and travel advisory information to the public, and most importantly, increase safety for drivers, cyclists and pedestrians.
One common example is the evolution of traffic signals. Gone are mechanical traffic controllers operating individual intersections. Today, computers at nearly every intersection, linked by fiber-optic networks or wireless devices, feed instantaneous data to state-of-the-art transportation management centers lined with live video feeds. Closed-circuit TV (CCTV) cameras give operators the lowdown on any traffic issues that arise in real time.
A thorough understanding of the intricacies of ITS design, materials, construction and system testing is critical to the success of each project.

Value of Fiber Optics
Before we examine a few real-world scenarios, let's ask a question: Have you ever wondered how you are able talk to someone across the country or even the world? The answer is fiber optics.
Fiber-optic cables consist of a glass fiber core thinner than a human hair and are used to transmit light between two ends of the fiber. The data from cell phones, computers and traffic signals is turned into binary code and sent as light down fiber optics. Fibers can be used to transmit data over long distances with a high bandwidth. Copper cables previously used for communication purposes are being replaced with fiber-optic cables because of their faster data transmission speed, higher bandwidth and reduced potential for external magnetic and electronic interference. Fiber optics also have better data security as there is no side entrance for data to be intercepted.
Fiber-optic networks are the backbone of connectivity, linking our most valuable infrastructure. They have enabled us to keep traffic and critical supply chains moving during the pandemic, enabled schools and businesses to communicate with students and employees remotely, and will be the cornerstone for the technology used with autonomous vehicles.
Now that we understand the importance of fiber optics, here are two examples of ITS technologies improving our cities today.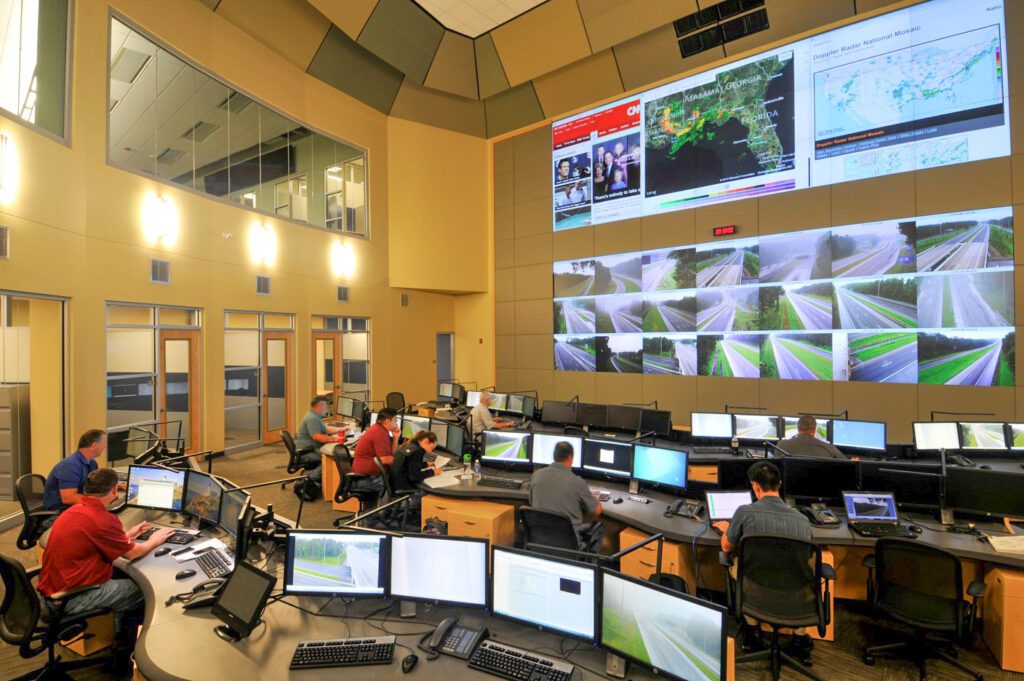 Halff designed this transportation management center in Tallahassee, Florida.
Transportation Management Centers
A transportation management center (TMC) acts as the hub for gathering data about existing roadway conditions and disseminating information to other agencies and the public. One TMC, typically managed by a municipality, has the capability of monitoring and controlling every intersection within the city.
Information from traffic signal operations, cameras and an assortment of other ITS devices travels back to the hub via fiber-optic cables or a wireless connection. The real-time data is relayed to municipalities and emergency services, enabling them to respond to incidents or stranded drivers along the roadway system.
Emissions, noise levels, fuel consumption and traffic accidents can be reduced by optimizing signal timing and coordinating traffic flow with advanced traffic controllers and other smart devices. As managed from the TMC, improved traffic management allows emergency vehicles, buses and commercial vehicles to save time. More importantly, the number of severe collisions on city streets can be reduced by producing smoother traffic flow and fewer stops.
ITS devices are also capable of detecting drivers traveling the wrong direction on a roadway, warning the TMC and emergency services. Wrong-way driver detection systems have been proven to reduce collisions and fatalities significantly by capturing the driver's attention with flashing LED signs and alerting the nearby public.
As connected vehicle technology continues to advance, drivers will receive much more than signal timing data from connected vehicle-equipped intersections. Connected vehicle drivers may be alerted by the car or a cellular device of nearby hazards such as pedestrians or cyclists in the lane or about wrong-way drivers in the vicinity caught by detection systems.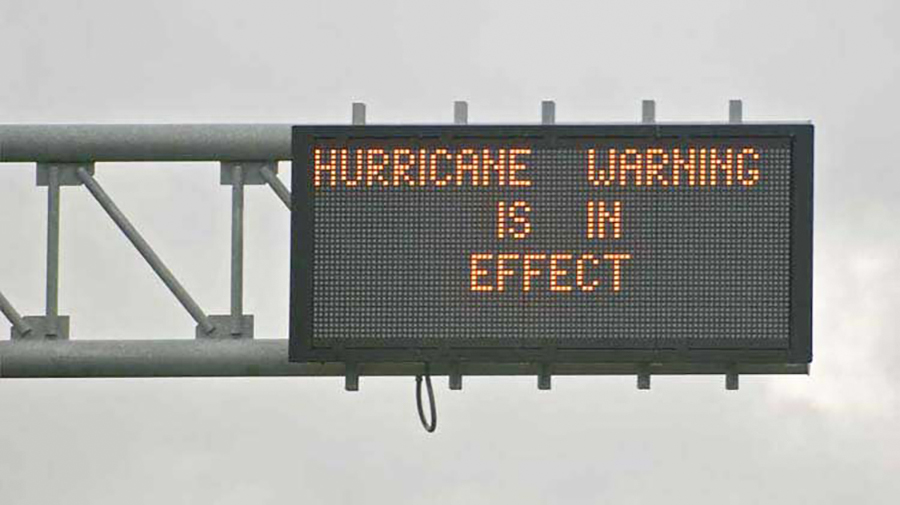 Dynamic message signs help get the word out about impending danger.
Flood Warning Systems
Texas, Louisiana and other areas of the south have endured tragic, costly and frequent flooding events in recent years. Hurricane Laura, one of the most powerful hurricanes to ever strike the Gulf Coast, is the most recent culprit. The hurricane shredded communities with its high winds and left dangerous, high-water levels in others just a few weeks ago.
Flood warning systems are one way ITS technologies are used to examine current conditions, steer residents clear of impending danger and help them get to their destination safely. They are based primarily on a system of gauges scattered throughout a wide area—a county or watershed—to collect rainfall data. Sensors, which can be accommodated by CCTV cameras for real-time monitoring, transmit immediate information to an entity such as a flood control district.
Some gauges also collect water surface elevations (how high the water is getting). They provide critical details about where water could potentially be flowing out of its banks and impacting nearby roadways.
Real-time data collection and management facilitate immediate action, such as activating alarms or informing travelers via large electronic signs, called dynamic message signs (DMS), that roads are impassable and closed. These LED signs above highways are also used to manage evacuation traffic routes when dangerous hurricanes are moving in.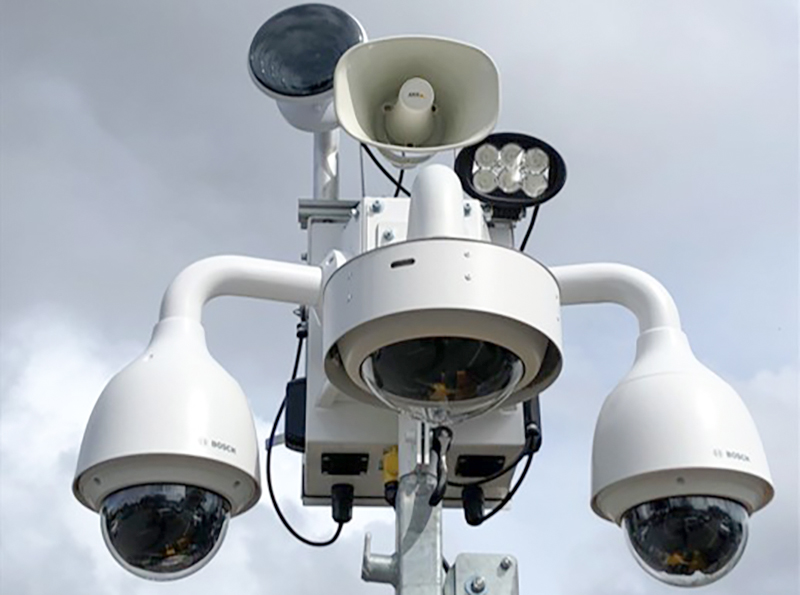 ITS devices include 360-degree closed-circuit TV cameras, radar vehicle sensing devices, Wi-Fi antennas, Bluetooth devices, highway advisory radio systems and much more.
ITS Summary
Camera systems, intricate sensors, fiber-optic networks, traffic control systems and traffic management centers truly complement one another.
They provide connectivity for valuable infrastructure that increases communication and safety.

They enable traffic to be monitored and problems to be identified.

They are important tools that help emergency response personnel and law enforcement engage when incidents occur.

They help highway personnel respond to stranded drivers or disabled vehicles.

They measure and record travel times throughout a corridor using Bluetooth devices, microwave detection systems and license plate readers.

Their functionality allows for reducing congestion.
While these are two specific examples of ITS implementation, Halff's expertise in fiber-optic network design and other high-tech services can benefit school districts, military, other government agencies, and municipality IT department and traffic engineering personnel, providing improved connectivity and long-term cost savings. Partnering together, these agencies can supplement budgets and reduce capital outlay for fiber-optic network construction or upgrades.
---
Tracy Forester, Halff's director of ITS, has more than 30 years of experience in traffic operations in the areas of fiber-optic and Intelligent Transportation System (ITS) design, construction, inspection, project management, maintenance and all aspects of advanced traffic signal equipment. He has extensive hands-on experience in the highly technical and specialized areas of ITS, transportation management center (TMC) design and advanced transportation management systems (ATMS). Our ITS team has experience in designing ITS systems for state agencies, local municipalities and school boards. Reach out to Info-Transportation@Halff.com.