Map It Out: Halff's New Mobile System Shows No Boundaries for Data Collection
Safety. Efficiency. Accuracy. Productivity. Cost.
All are valuable commodities in a project. Halff's investment in a Trimble MX9 mobile lidar unit—one of the most advanced mobile mapping solutions in the world today—will enhance geospatial data collection efforts markedly and allow for more versatile, large-scale solutions.
The rise in mobile mapping technology is generating new capabilities and supplementing traditional surveying methods dramatically. A simple drive down the street with an MX9 unit can produce valuable data collections from which a design can be created to meet an important need in the community.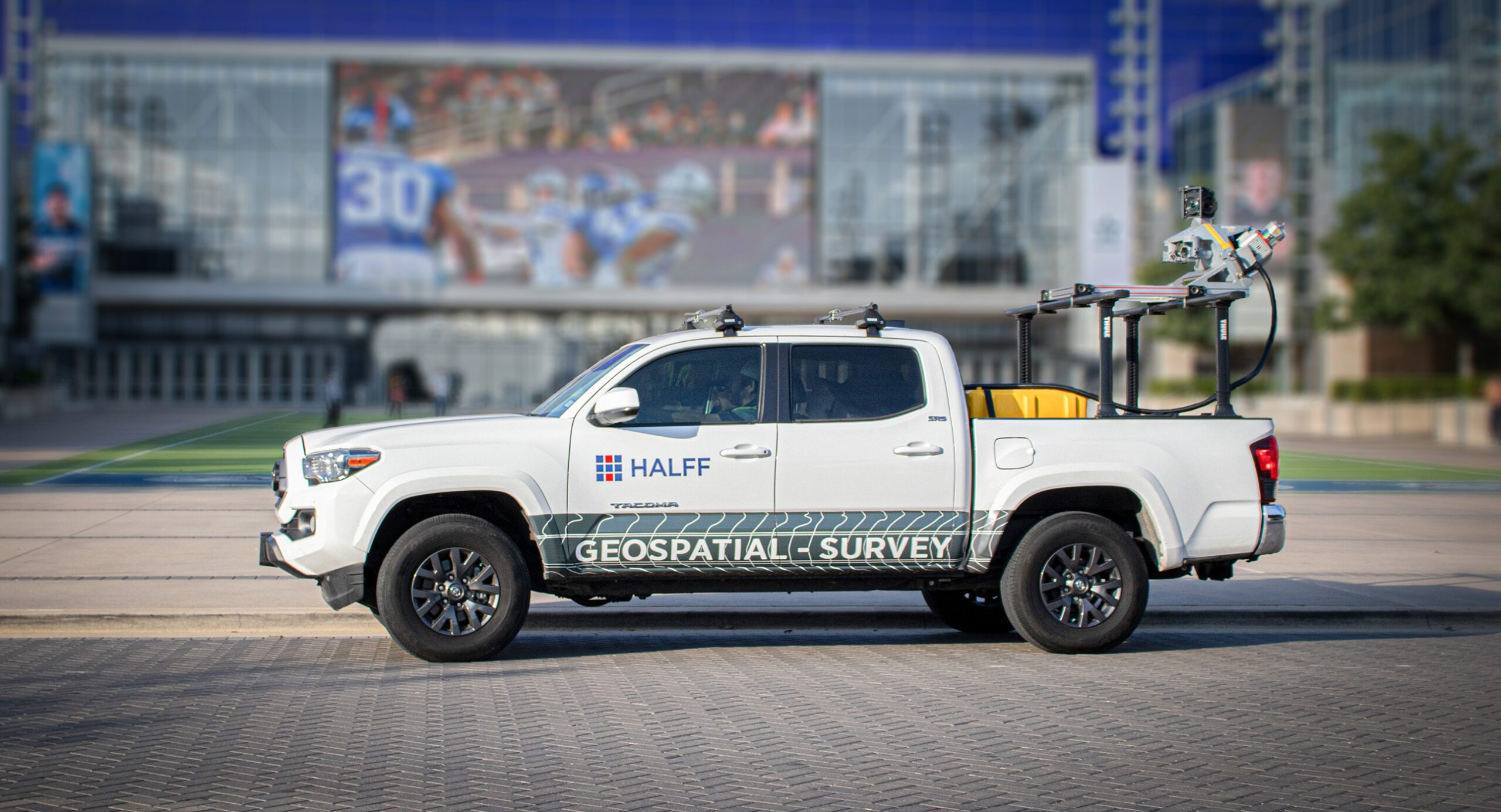 The Trimble MX9 mobile mapping system mounts on a vehicle and rapidly captures dense point clouds and images.
What Is It?
It's mobile lidar.
Lidar, or Light Detection and Ranging, is the remote sensing technology that uses light pulses to measure distances from a lidar sensor to a surface. The resulting dataset is a dense point cloud representing the measurement—typically converted to elevation values—of each light pulse from the unit. These points can be classified based on the type of surface they are reflected from, such as the ground, a building or vegetation.
The mobile mapping system (MMS) mounts to a vehicle. The unit includes Global Navigation Satellite System (GNSS) technology, a laser scanner, cameras and browser-based operation capability from any smart device.
Driven at up to highway speeds, the unit rapidly captures those dense point clouds and images (panoramic and from multiple angles), which can be used to measure and analyze the environment's existing conditions.
Terrestrial lidar units are generally mounted on tripods or something stationary. Aerial units are used with unmanned aircraft systems (drones). However, other mobile options include ATVs, boats, golf carts or even backpacks.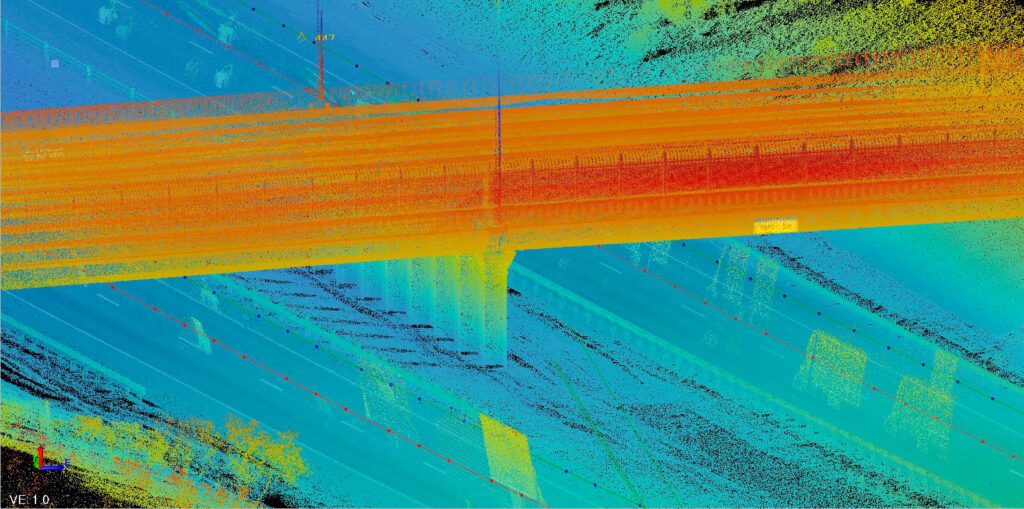 A LiDAR point cloud shows elevations of an I-10 overpass in El Paso, Texas.
How Will It Be Used?
Organizations such as state DOTs supplement their aerial mapping efforts with mobile mapping systems because not all measurements can be recorded accurately from the sky. Why? Not everything can be seen. Obstacles such as a bridge overpass or a dense tree canopy will block the area underneath, preventing a complete data collection from being captured.
A mobile unit allows those areas to be driven, and the data gathered is much more accurate. Better yet, the mobile data can be integrated with the aerial lidar previously captured to fill in what couldn't be viewed from the sky. This data-fusion provides a more complete picture. The MMS can also be used to scan area building footprints.
Deliverables include digital elevation models, 3D models for quantities and as-builts, roadway or pavement deformation analysis, asset and tree inventory management, bridge or power line clearances and more. The graphic below outlines additional mobile lidar applications.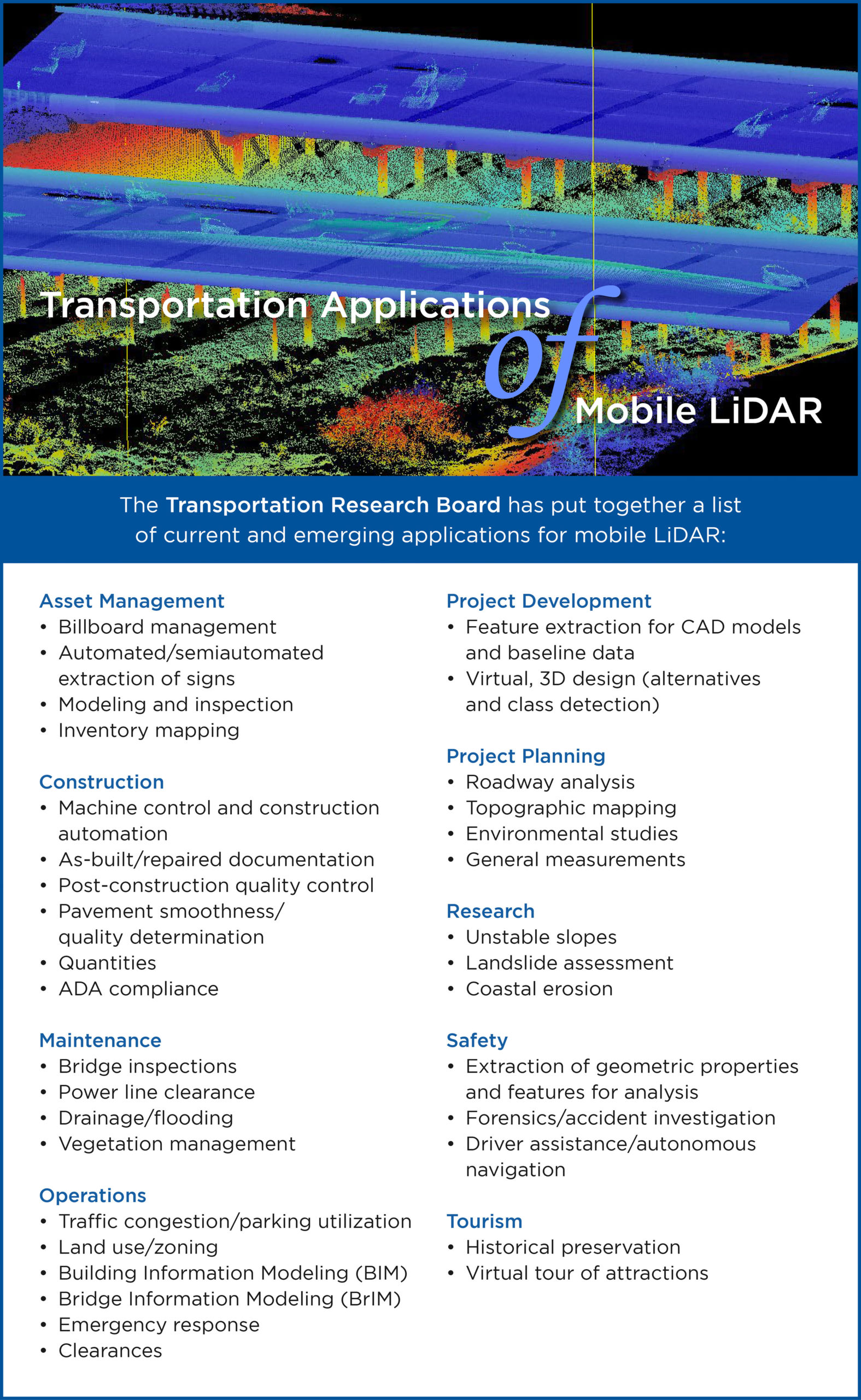 What Are the Benefits?
It's a state-of-the-art asset.The MX9 configuration includes the world's best sensors, surveying equipment and software for feature extraction workflows and data publishing.
It's fast.The MMS can collect data much quicker than sending a traditional surveying crew to a collection site or scanning an area with static, terrestrial lidar.
It improves safety.Surveying crews are often doing their work adjacent to busy roadways or highways. A mobile solution solves those potentially dangerous work environments. It also eliminates the need to stop or reroute traffic because of the work being conducted.
It's more functional.Conventional methods, and even aerial lidar with photogrammetry, can't produce the accuracies and detail a mobile unit can in most situations. They also cannot provide the point density over a vast area that a mobile mapping system delivers. This high density allows for applications such as pavement deformation or ADA-compliance analysis.
Halff's MMS brings 360-degree Google Earth-like georeferenced imagery. This alone can be a game-changer on a project, allowing all parties to drive through the project with current high-resolution imagery—and even measure everything from an internet browser!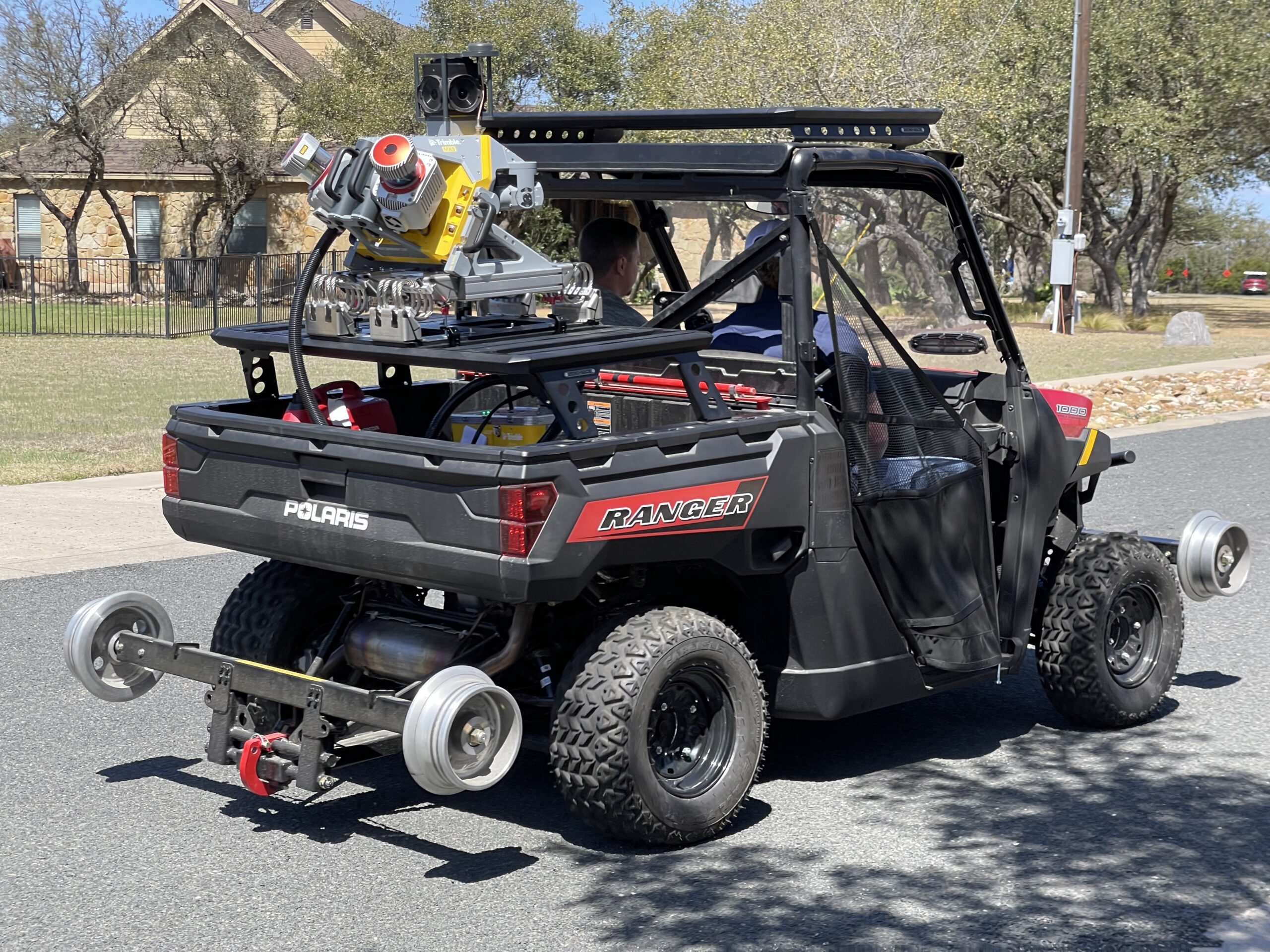 Halff can use the MX9 on SUVs, ATVs, boats and more to scan the surroundings.
It's versatile.The MX9 is one of the few systems that can be moved efficiently from one vehicle to another, giving Halff endless opportunities to use the unit on SUVs, ATVs, boats and more.
The data-mining possibilities are almost endless. Gathering information for the design of transportation projects is a crucial benefit, but mobile collections can benefit municipalities in other ways. For instance, sidewalk data can be collected to analyze whether ADA compliance is being met. Tree inventories can be performed. Street sign inventories can be collected. Mobile lidar can also be used for tunnels.
Thinking outside the box makes mobile mapping systems and solutions an incredibly valuable asset.
---
Learn how Halff's geospatial solutions can work for your project. Write to Info-Surveying@halff.com.