MLK Jr. Park Design Provides the Ideal Blueprint for Arkansas City
Nearly 54 years ago, Dr. Martin Luther King Jr. dropped in on a group of students at Barratt Junior High School in Philadelphia.
It was a brief visit by all accounts. But in true Dr. King fashion, he taught, challenged and inspired those students by asking a simple question, "What is your life's blueprint?"
He called on them to possess a deep belief in their own dignity and self-worth. He urged them to be determined in achieving excellence. Finally, he asked them to make their nation a better place to live.
Dr. King's famous speech is the inspiration behind a $2.5 million community park in Arkadelphia, Arkansas, which will honor his legacy. City officials unveiled plans—for which Halff is the park's designer—during an outdoor gathering in early August.
A PARK FOR UNITY AND HEALING
This important project has been more than a decade in the making, and the design reflects the City's commitment to providing a solid foundation, as Dr. King described to students that fall day in Philadelphia.
The park's central location to surrounding neighborhoods, schools, churches and businesses grants immediate access for citizens. And during a time of continued racial tension throughout our nation, the City also hopes the park serves as a place of healing. Arkadelphia has a history of segregation.
"This project has so much depth," said Halff Planning and Landscape Architecture Team Leader Sally Horsey, who is the project manager for Martin Luther King Jr. Park. "The vision of the community is to join in, pull together and build a park that celebrates the people of Arkadelphia. This park is needed on so many levels and has been a long time coming. The big picture for the City is this will be a site of healing and honor Dr. King."
The park design features a lighted quarter-mile walking path with educational kiosks that will tell the story of the civil rights movement and the life of Dr. King. Other features include an outdoor community amphitheater, youth empowerment zone, sports court, play area and walking paths. The amphitheater stage doubles as a splash pad that will provide interactive water play for children. A large open lawn adjacent to the amphitheater provides ample seating for small to large community events.
"I think the youth empowerment zone is a strong design element," Sally said. "It has the basketball and playground areas for the kids. And the interpretive elements tell the story not only of Dr. King, but also the local history of the people of Arkadelphia. It was important to capture that. The amphitheater is cool because of its dual purpose. This park also will provide an opportunity for local artists to paint murals and have ownership in how the end product looks."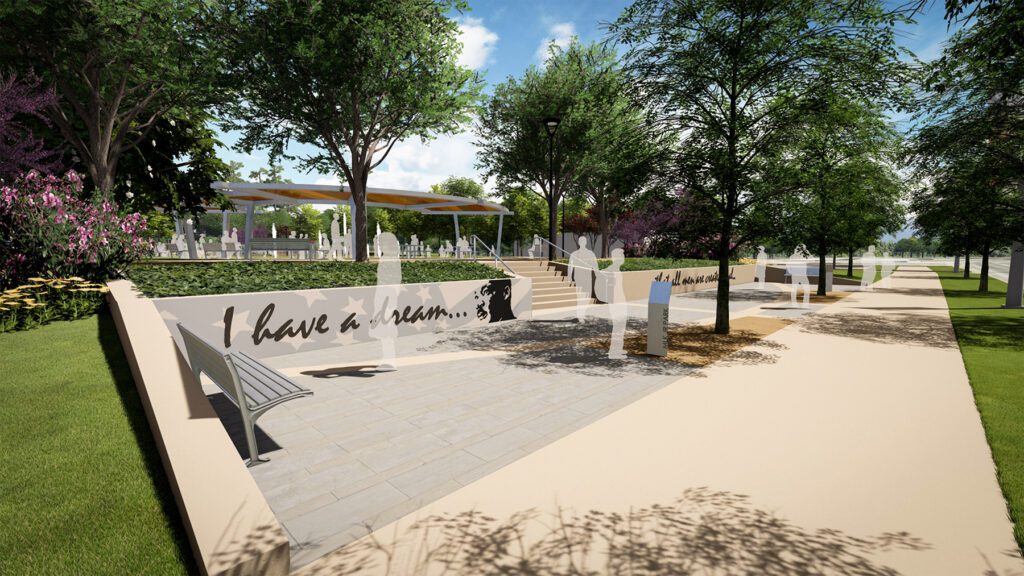 The park design's goals include providing a space for residents that will tell a story, bring people together, empower youth, provide accessibility and bring peace. The park features specific seating areas for quiet reflection.
---
Reach out to one of Halff's Planning and Landscape Architecture professionals today. Write to Info-Landscape@Halff.com.