Virtual Public Meeting Is a New Venture and Success for Bexar County
Virtual meetings are becoming more of a comfort zone for municipalities, design consultants and other entities needing to engage the public and keep projects moving forward. That line of communication remains vital to facilitate new information and gather feedback about capital improvement projects.
Bexar County Public Works played host to a virtual public meeting and tour Wednesday evening for the Crestway Road Phase III roadway improvement project. The virtual meeting for area residents and business owners was the very first for Bexar County and marked a milestone for public outreach and involvement. Halff, which is the prime consulting engineer, created all exhibits and stations for the meeting, and teaming partner Blanton & Associates developed the virtual meeting environment.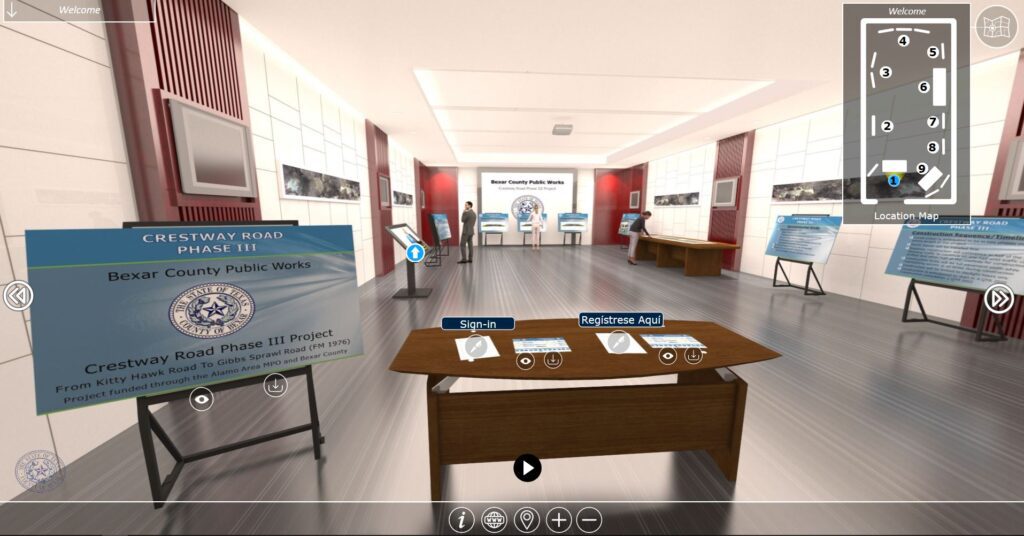 The nine-station virtual tour gave attendees a wealth of information about the roadway improvements, similar to what they would have received during an in-person meeting.
Following weeks of preparation meetings with Bexar County Commissioner Tommy Calvert and Bexar County Public Works Project Manager Larry Picasso, PE, and his staff, the project team developed a virtual platform that not only addressed all federal requirements of a public meeting—which is extremely important for project funding—but it also provided a user-friendly environment of nine stations for attendees to review schematics, look over aerial maps and read descriptions about the project.
Developing the right platform and virtual meeting environment to mimic a traditional public meeting was important to deliver a clear concept of the project improvements and ensure public buy-in. Halff is leading all design efforts for the complete reconstruction of this roadway project and implementing dedicated bicycle lanes and continuous sidewalk for needed pedestrian amenities.
"The meeting was a tremendous success and surpassed all expectations of our client," noted Halff Vice President and San Antonio Operations Manager Edward Herolt, PE, who answered design questions throughout the meeting. "In fact, we received a very positive response from an attendee, thanking us for providing a safe alternative to the traditional public meeting and complimenting our team on the detailed nature of the virtual public meeting environment."
During the post-meeting debrief, Commissioner Calvert, County Engineer Renee Green, PE, and Public Works Engineering Services Manager David Wegmann, PE, said they expect this platform will not only be used during this time of social distancing, but become an alternative to traditional in-person public meetings.
[wp1s id="6115″]
---
Keep your virtual meetings moving in a forward direction with the right tools and methods. Halff's two-part series, entitled "Keep Calm and Carry On … With Virtual Public Engagement," shares guidance from our professionals on virtual meeting tools and making the transition from face-to-face gatherings to a virtual environment.