Resolving Right-of-Way Issues
What is ROW & Why Is It Important?
Rights of way (ROW) are generally defined as the right of a person or entity to use the land of another in a particular project alignment. (Most agencies consider a right of way to be an easement.) Rights of way may be public or private. It is imperative to have the project's ROW set before any construction begins.
A Public Entity's Rights & Responsibilities
Eminent domain describes certain entities' legal authority to take private property only for a public use. Texas Senate Bill (SB) 18 protects private property owners by providing standards for determining an entity's authority to use eminent domain and for preparing a bona fide offer to purchase private property for public use. If you need to know whether an entity has eminent domain authority, contact Halff for help.
Important steps in the process include:
An entity must provide a written appraisal from a certified appraiser detailing compensation.
A bona fide offer includes a written initial offer and a written final offer 30 days after the property owner received the initial offer along with a copy of the draft deed or conveyance instrument and the Texas Landowner's Bill of Rights.
After meeting these requirements, entities must give a property owner 14 days to respond to the final offer before filing a petition for property condemnation.
If the matter is contested, a hearing may be scheduled 20 days after a county court judge appoints three special commissioners to determine the compensation owed.
Early Involvement Equals Happy Clients
Halff's ROW team includes specialists licensed in real estate, law, and engineering. Each also has certifications in their ROW areas of focus, including the Uniform Act, the law governing ROW-related acquisition and relocation activities.
To compress project schedules and maintain construction progress, Halff's ROW specialists work collaboratively with surveyors, environmental specialists, engineers and team appraisers. Using this collaborative approach, Halff's ROW team successfully acquired or obtained possession and use agreements for more than 180 parcels in less than 27 months for State Highway 183 as part of the North Tarrant Express project. That expedited time frame included surveying, appraisal, acquisition, possession and use agreements, condemnation support services and residential and commercial relocations.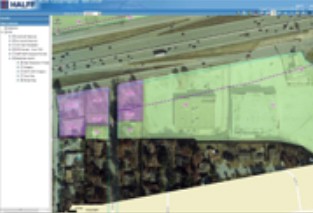 An image of Halff's ROW tracking software showing an aerial view of a portion of the North Tarrant Express project.
How to Successfully Navigate ROW Issues
The ROW acquisition process can vastly impact a project's construction schedule and budget if not addressed early and knowledgeably.
A ROW team must be able to coordinate as early as possible with the project's sponsor and design team to recommend alternatives to mitigate unavoidable impacts to properties and prioritize property acquisitions. Important considerations include (but are not limited to):
Key project parcels
Environmental testing or abatement issues
Politically sensitive areas
Utility adjustments
Damages to the parcel remainder
Outdoor advertising signs/billboards
Complex relocations
Identification of properties with title issues, such as those with HOA assessments, tax liens, bankruptcy, intestacy or probate matters
The Take-Away:
1. Complex title: Acquisition involving complex title can delay closings or acquisition by condemnation. Halff's ROW specialists' extensive title knowledge and experience with the Attorney General's Office and private condemnation attorneys often prove invaluable.
2. Aggressive project schedules can be maintained with proper planning, collaboration between the project sponsor and the ROW team, and strong project communication using automated tracking and reporting software – even for the most complex ROW issues.
3. SB 18 favors private land owners. It lengthened the ROW acquisition process, requires relocation advisory services to be provided, and made the process less forgiving for condemning authorities.
4. Are relocations part of your project? Don't panic. Halff has experienced relocation consultants who thoroughly understand the Uniform Act.
Halff can assist with any ROW issues or challenges on your project by providing the necessary support services. For further information, please call Mark Janicki, JD, PE, at 214-346-6316.
Halff Associates is an employee-owned, diverse multi-disciplined professional services firm founded in Dallas, Texas, more than 60 years ago. We serve water utilities, municipalities and other public entities throughout Texas.
To download a pdf of this article, click here »