What You Need to Know About Industrial Real Estate Architecture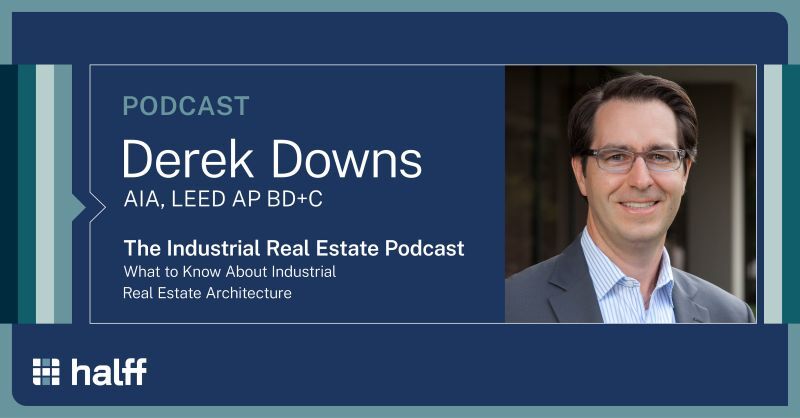 Chad Griffiths sat down on May 2, 2023, for a live interview with Halff's Vice President and Director of Architecture Derek Downs. The Q&A-style podcast "What to Know About Industrial Real Estate Architecture" allows listeners to tap into nearly 30 years of industry knowledge from Derek. The interview discusses:
Designing and managing industrial developments
Key features from an architectural standpoint
What elements stakeholders look for in industrial buildings
Derek Downs, AIA, joined Halff in 1995 and has led Halff's Architecture practice for more than 10 years. He has experience designing and managing more than 50 million sf of industrial buildings.
Podcast: Q&A With Director of Architecture Derek Downs
How have things evolved in the space over the last 30 years?
"The biggest thing is size," Derek Downs stated in the podcast. "Building heights, clear height and bay spacing, everything and overall volume has gone up."
With demand increasing and businesses flourishing, more space is needed to accommodate the growth.
What are some specs that drive value?
"Clear height is the best one. It increases the amount of volume and space you have available," Derek said. "Truck court and trailer storage adds good value too."
Trailer storage is usually added on to the truck court depth. In the state of Texas, the average size of the finished trailer storage would amount to a depth of approximately 190 feet.
Other specifications that can add value include amperage and eventually solar power. Derek pointed out that the base building typically does not have much load, so "we will design for a single transformer and put in extra conduits for more transformers." The buildings themselves are usually very efficient, so it is the add-ons in industrial warehouses that increase the load. For solar power, there are more studies being done on its uses. Currently there is not enough return on investment (ROI) from solar to warrant widespread use for industrial warehouses. However, that can change in the next few years.
How do you design a "net zero" building and what is the additional cost?
"We haven't seen any net zero buildings yet. It's a business owner decision because of costs," said Derek. While being off the grid would be ideal, there are currently more pressing considerations, such as concrete production.
Additionally, warehouse buildings are not limited to being built with only concrete.
The first cross laminated timber warehouse in the DFW metroplex was built in 2022. Wood can offer a low-impact alternative to the walls and structure of industrial warehouses, reducing the footprint.
"We do LEED buildings often," said Derek. There is a lot of low-hanging fruit when it comes to LEED-certified structures. Net zero is completely different, and while the industry may eventually get to that point, it is not quite there yet.
What are inexpensive and easily constructible design elements to make industrial buildings more interesting?
Keeping the perspective of the scale is important.
"We use a lot of glass, especially at the entrances," advised Derek. "We focus on the entrances and make them special. It can be a dealbreaker for success when bringing in a tenant if it isn't attractive." From stone, metal and panel, to brick accents, canopies and more, there are many unique ways to make the facade of these buildings stand out.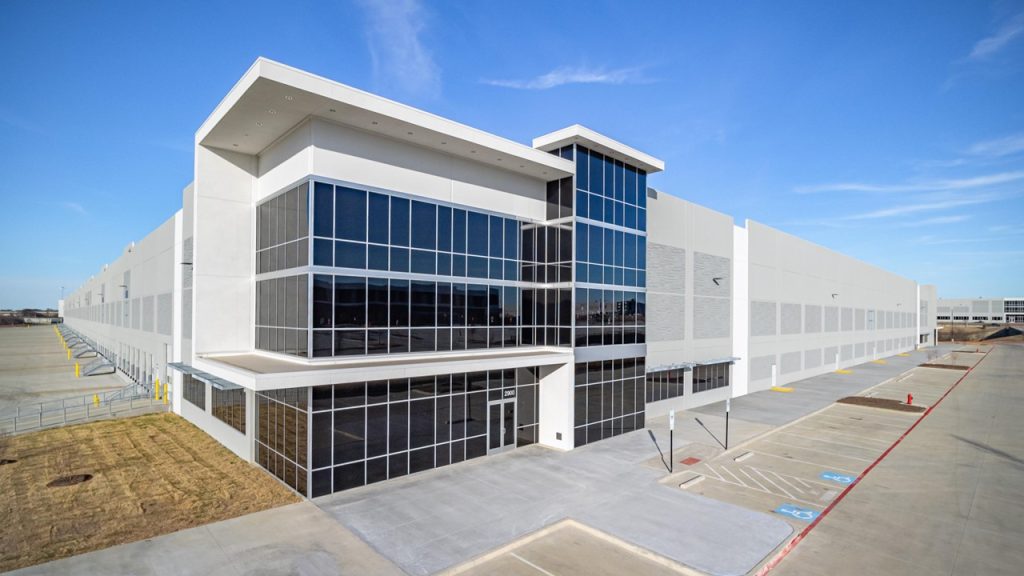 DFW Park 161 buildings feature monumental two-story glass entries, accented with folded plate form canopies to add human scale.
The Dallas area contains a lot of visually-appealing industrial building facades. One example is DFW Park 161, which features high-tech driven design. The facade boasts beautiful two-story glass entries with canopies. The effect creates shade and shadow on the glass elements. The buildings were also designed for durability and low maintenance, and include LEED principles in their design including water conservation principles.
Currently, there are approximately 70-75 million sf worth of industrial warehouse buildings under development in Dallas.
Is it more difficult today to start a career as an industrial architect?
"It's probably easier, because so many architects want to work on these projects now. Everyone is wanting to get into the industrial market now, since it was red hot a few years ago," Derek explained. "I love these projects and the challenges that come with them."
Industrial architecture is becoming more prominent and visible to people everywhere. These buildings continue to improve in quality, grow in capacity and increase in space to meet demand. As the industrial architecture market continues to gain popularity and growth, there will be a need for more industrial architects.
What are the "must, maybes and never" rules for projects?
"Understanding the market and what the client wants to achieve is a must," Derek replied. "Early on, we get with the end user to see what the needs are."
Another important consideration for projects is to understand the specific market and match the building type to that. By immersing yourself in the specific sector and studying other buildings, you can then use those designs as a starting point for the new building design.
---
Listen to the full podcast episode posted by The Industrial Real Estate Show on most major platforms.
Watch the podcast YouTube video of "What to Know About Industrial Real Estate Architecture" here.

Want expert help with your industrial real estate architecture? Don't hesitate to reach out to Halff's Director of Architecture Derek Downs (Derek.Downs@halff.com) to get in touch today. Visit our Architecture service page to view some of Halff's architectural projects.