Building a Resilient Florida to Strengthen Communities: What to Know About the Funding Program
Known for its beautiful beaches, diverse ecosystems and growing communities, Florida is no stranger to the challenges posed by natural disasters and a changing climate.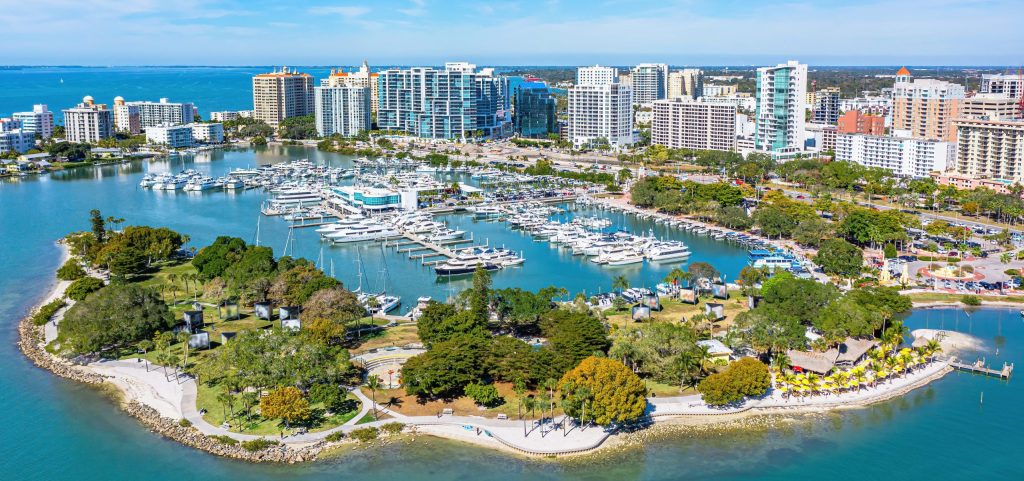 Image source: Shutterstock
The state has experienced devastating hurricanes, rising sea-levels and other climate-related events, in recent years, that have threatened its people and infrastructure. The Resilient Florida Grant Program responds to these challenges, establishing and enhancing the state's resilience to help secure a sustainable future for its residents.
Table of Contents
Overview of the Resilient Florida Grant Program
The Resilient Florida Grant Program was established in 2021 and is an innovative state-level effort. The program focuses on four primary areas of concern: sea-level rise, flooding, natural systems and resilient communities. The program aims to foster adaptive strategies, protect vital infrastructure, preserve natural resources and enhance the overall preparedness of the state.
Applications for 2023 grants opened July 1 and will be open until Sept. 1. There are three different types of grants to apply for:
1. Planning projects.
2. Regional resilience entity projects.
3. Implementation projects to be included in the statewide flooding and sea level rise resilience plan.
Understanding the Program's Key Objectives

Building Climate Resilience: The program strives to enhance the resilience of Florida's coastal regions and vulnerable communities against the impacts caused by sea-level rise, storm surges and extreme weather events. More resilient infrastructure can be developed in defense against climate variabilities by supporting projects that bolster critical infrastructure, strengthen coastal defenses and promote adaptive measures.
Preserving Natural Systems: The Resilient Florida Grant Program aims to safeguard the environment while improving resilience by investing in projects that conserve wetlands, enhance biodiversity, restore shorelines and promote sustainable land management practices. These funding efforts recognize the importance of the state's unique ecosystem and natural resources and seeks to protect and restore these invaluable assets.
Strengthening Communities: The resilient funding program places a strong emphasis on community engagement and supports initiatives that promote community involvement, enhance emergency response capabilities and foster sustainable development. These efforts empower residents and organizations to actively contribute to their own resilience.
Stimulating Economic Growth: Resilient infrastructure benefits the economy by attracting businesses, creating jobs and improving the overall quality of life for residents. Prioritizing projects that have a positive economic impact can ensure long-tern sustainability and security for the state.
Funding and Implementation
The program is supported by a combination of federal, state and local funding sources and covers a wide range of activities, including research, planning, design, construction and community outreach. The state has invested more than $1 billion to increase community resilience during Governor Ron DeSantis' administration.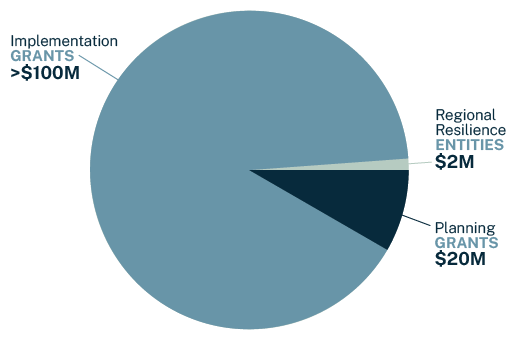 The Florida Department of Environmental Protection (DEP) oversees the implementation of the program and works closely with partner agencies, local governments and stakeholders to identify priority areas, evaluate project proposals and ensure effective allocation of resources.
Here is how grant funding has been allocated in the two fiscal years since the program was established: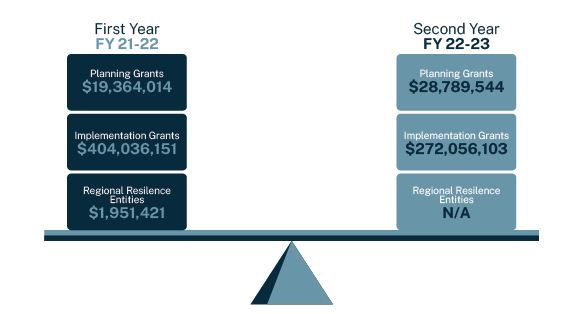 Governor DeSantis announced on July 13 that an additional $300 million in funding has been awarded to the state to help prepare coastal and inland communities for the adverse impacts of flooding and storm surge.
How Halff Can Help
Halff is committed to supporting local governments across Florida in applying for these funds and implementing the projects supported through individual grants. Technical questions associated with the Resilient Florida Program can be forwarded to Senior Resilience Planner Sean Lahav (sLahav@halff.com). Requests for information regarding grant writing assistance and the application process can be forwarded to Florida Funding Resources Manager Lisa King (lKing@halff.com).
Halff is currently managing vulnerability assessment projects funded by this program for numerous municipalities, counties and regional planning councils across the State of Florida. Halff supported the Apalachee Regional Planning Council (ARPC) in 2022 with developing a regional vulnerability assessment for 9 counties and 28 municipalities. The assessment evaluated the vulnerabilities of more than 17,000 critical and regionally significant assets to both current and future flood conditions.
Visit our Resilience service page to view more of our projects. Questions regarding Halff's overall resilience efforts can be forwarded to Senior Resilience Planner Sean Lahav (sLahav@halff.com).