Youth and Amateur Sports Tourism Brings Economic Benefits to Local Economies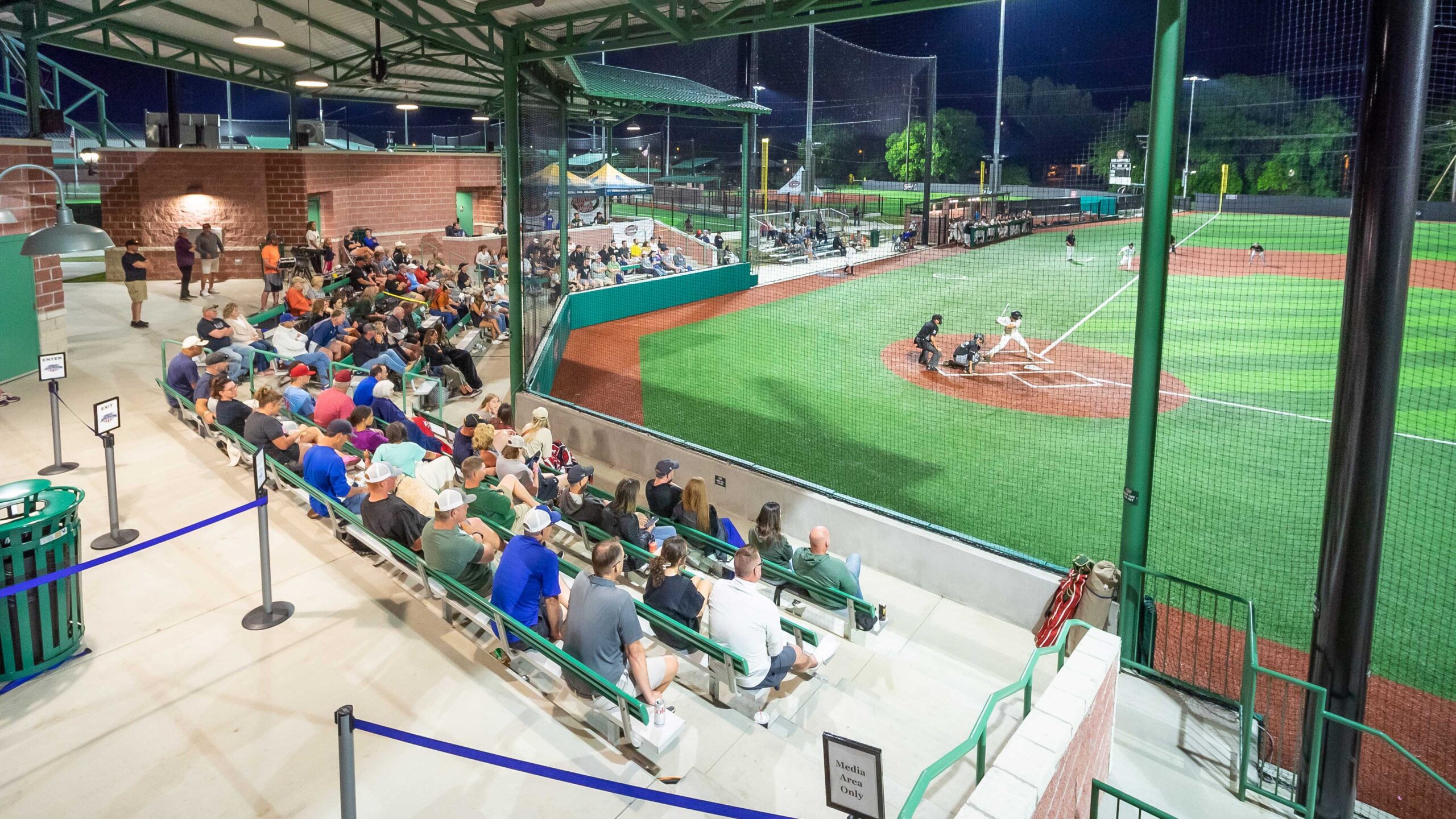 Fans enjoying baseball during a tournament held at Majestic Park in Hot Springs, Arkansas. (Image by Halff)
On any given weekend, thousands of young athletes across the nation utilize their talents in baseball, football, soccer, tennis, volleyball and pickleball, which is booming in popularity. Most of these events occur in complexes developed explicitly for amateur sports.
Since the 600-acre National Sports Center in Blaine, Minnesota, launched in 1990, sports tourism has become an integral part of local economies. More families are traveling to out-of-town venues across the country for sports tournaments, races and events.
If you have been in an airport or hotel recently, there is a good chance you witnessed many groups of young athletes with travel gear attending out-of-town sporting events. These revenue-generating events result in families staying in hotels, eating at nearby restaurants, shopping at regional retailers and visiting local attractions. On average, families spend $700 to $1,000 a month on youth sports.

A Multibillion-Dollar Industry
According to the Sports Business Journal, youth and amateur sport-specific venues have spurred more than $9 billion in spending since 2017. Local communities, private developers, visitors and convention bureaus and club sports teams are developing sporting venues that attract visitors to their communities. These projects generate a boost in the local economy. Enticing sports travelers to come to year-round multisport destinations has become a major source of competitions between communities.
The economic impact of amateur and youth sports tourism is staggering. According to the Sports Events and Tourism Association, $39.7 billion on the direct spending impact of amateur and youth sports tourism in 2021, generated a total economic impact of $91.8 billion, which resulted in the generation of 635,000 jobs and a total tax revenue of $12.9 billion for the local economies. In 2019, 179 million people traveled to out-of-town events. During the first COVID-19 year of 2020, travel decreased by 46 percent, but it quickly rebounded in 2021 by 53 percent to 175 million travelers.
Spending decreased in 2020 as travelers focused more on regional and local events. It rebounded quickly in 2021 but is still slightly below pre-COVID spending. In 2021, sports-related travel accounted for 66.5 million nights families spent in hotels. Travel is essential because hotel tax revenue finances many sporting venues across the country. Since 2005, the annual growth rate of amateur and youth sports tourism has been 5.9 percent. All these statistics point to accelerated growth within the industry.
The economic impact on local communities can be divided into three categories: direct, indirect and induced. Direct impact includes local spending at hotels, restaurants, attractions, retailers, transportation costs and entry fees. Indirect impact is defined as purchasing goods and services and the impact on the supply chain. Induced impact encompasses employee spending—either directly or indirectly associated with sports tourism.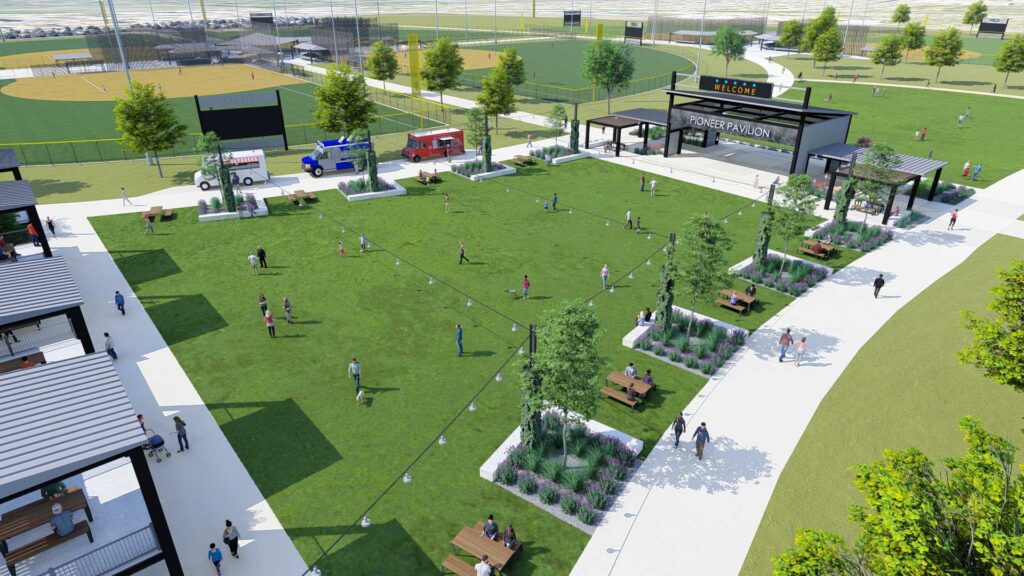 A rendering shows the Hogan Sports Complex in Midland, Texas, expected to be completed in 2024. (Image courtesy of Halff, City of Midland/Quality of Place Conservancy)
Making the Right Investment
Communities joining the youth and amateur sports tourism fray need methodical research, planning and design to build facilities that will attract athletes on a national scale to their local athletic facility.
Majestic Park in Hot Springs, Arkansas, is one example of how this planning can succeed. Once the original spring training home for Major League Baseball, the ballfields fell to shambles after years of decay. With systematic planning from the Sports, Entertainment and Tourism (SET) group at Halff, an innovative five-field baseball/softball complex was designed and built to attract all levels of sports.


The historically rich Majestic Park once served as the spring training home for the Boston Red Sox, Cincinnati Reds Brooklyn Dodgers and St. Louis Browns.
Many events have filled the calendar since Majestic Park's opening in February 2022, including an NCAA Division II Baseball Conference Championship hosted by the Great American Conference. An $8.5 million bond investment from the "Spa City" has resulted in multiple weekends of economic gain for Hot Springs, which before had been nonexistent. Meticulous details and planning resulted in a highly praised facility for locals and visitors.
Funding Opportunities
Funding for the development of amateur and youth sports facilities comes from various sources. Many communities are using Hotel Occupancy Tax funding for the development of sports facilities.
In Texas, the Texas Parks and Wildlife Department provides funding through its Local Park Grant Program. Another source of revenue for developing sports facilities is municipal or county bonds and capital improvement program (CIP) funding. In Midland, a private 501(c)(3) charitable organization is helping fund the development of the Hogan Sports Complex. Soccer teams such as FC Dallas and the Sting Soccer Club are investing in the development of sports facilities on municipal park sites.
Additionally, for-profit organizations such as Perfect Game and Big League Dreams are financially supporting the development of youth and amateur sports facilities.
Finding the Right Solution
SET experts at Halff can determine the best solution for your community. As municipalities across the Southeast continue to grow their youth and amateur sports facilities, we are helping them achieve these goals. Current projects include a 20-field soccer complex in Conway, Arkansas, the Primrose Park baseball complex in Fulshear, Texas, and the up to $55 million Hogan Sports Complex in Midland, Texas.
In addition to Majestic Park, other recently completed projects include the Softball World at Texas Star renovation in Euless, Texas, and the Blue Ridge Soccer Complex in Harris County, Texas.
By investing in youth and amateur sports, local communities  create tremendous economic opportunity and potentially boost local tourism. Reach out to the SET group to see what options it has to improve lives and communities by turning your ideas into reality.
---
Halff's SET team can help you navigate funding opportunities and building options for your next project. Reach out to Sports, Entertainment and Tourism Leader David McCaskill, dmccaskill@halff.com, or Senior Landscape Architect/Project Manager Brian Binkowski, bbinkowski@halff.com.