City of Tallahassee's FAMU Way, Halff Honored by ACEC Florida
The City of Tallahassee and Halff Associates, Inc. (Halff), one of the nation's leading engineering/architecture consulting firms, were recognized with a Grand Award in Transportation from the American Council of Engineering Companies (ACEC) Florida for the Florida A&M University (FAMU) Way project.
This premier Tallahassee and Blueprint Intergovernmental Agency project was unanimously approved by the City of Tallahassee Commission to enhance transportation and serve as a major community investment in the southern side of the City. The City of Tallahassee's goal was to develop a seamless connection between Florida State University and Florida A&M University by providing a safe and beautiful mobility corridor for all forms of transportation. Coined "the most beautiful road in Tallahassee," Halff commenced with FAMU Way corridor planning in 2007. Construction was completed on the third phase of the project in early 2021.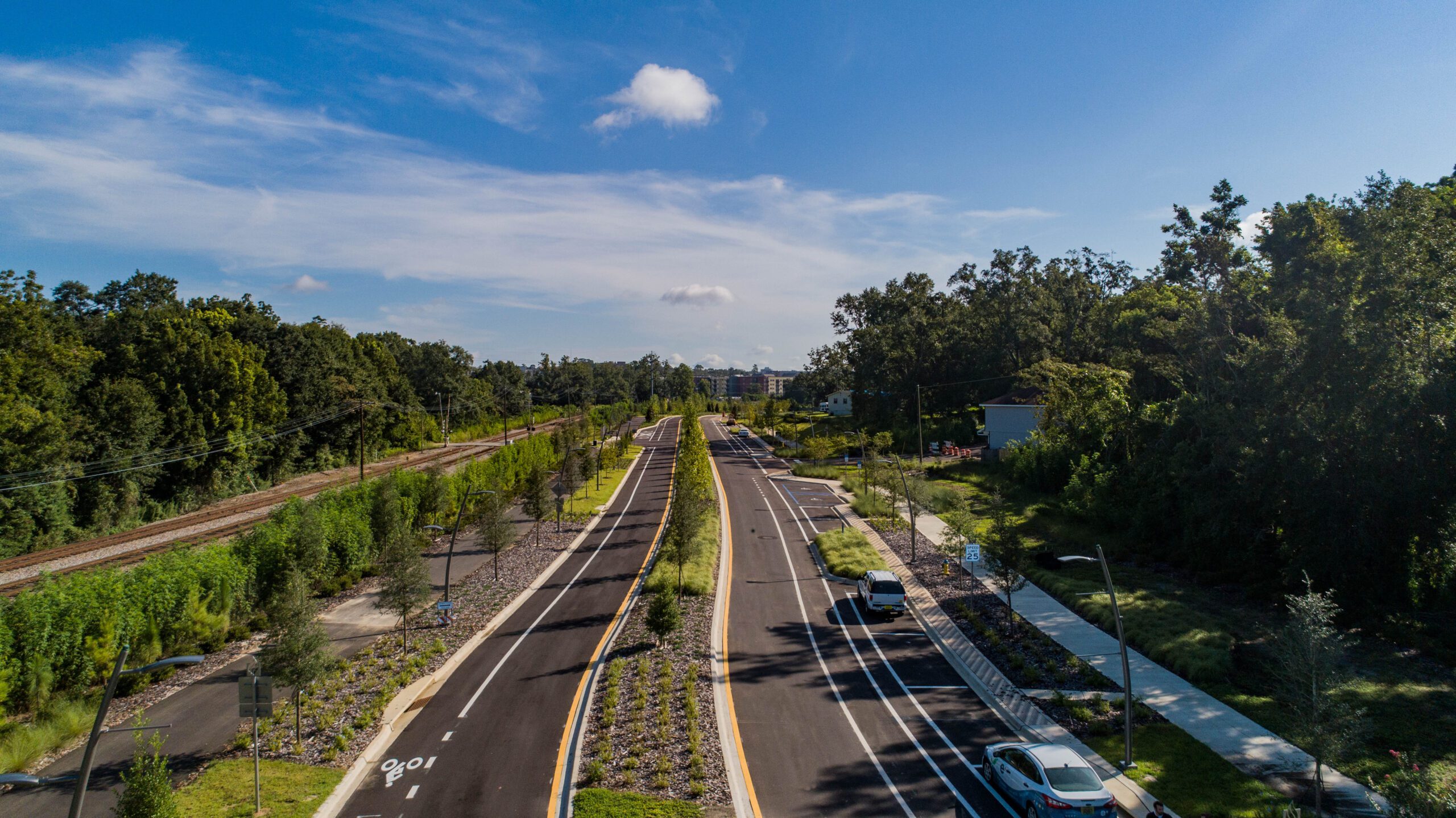 "Halff played a critical role in all phases of this project, ranging from corridor planning and preliminary engineering to roadway and roundabout design expertise, stormwater and pond design, signalization design and construction services," said Jack Beazley, a Civil Engineer III for the City of Tallahassee. "The consultant excelled in collaborating with various project managers, design consultants and local department staff involved, was willing to prioritize any unforeseen project needs and provided quick turnaround throughout the project lifetime. It is apparent that Halff not only met, but exceeded, the City of Tallahassee's needs during the duration of the FAMU Way project."
The project extends FAMU Way from South Martin Luther King Jr. Boulevard to North Lake Bradford Road, transforming a segment of existing roadway and constructing a new roadway to complete the desired connectivity. Four attractive and functional roundabouts, wide sidewalks, a multiuse trail connecting to the St. Marks Trail, a community gathering place at Lake Anita, a children's playground, landscaping and much more were included in the design this transportation corridor.
Halff has collected 14 project awards in 2021. For a complete list of awards, visit here.
About the Firm
Halff is an award-winning, employee-owned, diverse and multidiscipline professional engineering and architecture firm. For more than 70 years, Halff has provided innovative solutions for clients throughout the United States. Halff is committed to the purpose of improving lives and communities by turning ideas into reality by continuously investing in its employees and fostering a culture of collaboration.
Halff has 28 offices in Arkansas, Florida, Oklahoma, Louisiana and Texas. The firm is ranked No. 97 by Engineering News-Record. Halff is the No. 10 Top Workplace nationally in 2022 as ranked by Energage for businesses with 1,000 to 2,499 employees.
For more information about Halff, visit halff.com.