Halff Announces Leadership Transition
RICHARDSON, Texas — Halff, an award-winning, employee-owned, diverse and multidiscipline professional engineering firm, proudly announces the appointment of Jessica Baker Daily as its president/chief executive officer, effective Jan. 1, 2024. Baker Daily currently serves as chief people officer on the firm's leadership team. She succeeds retiring CEO Mark Edwards, who concludes a successful tenure on Dec. 31, 2023. Simultaneously, Ben Pylant, Water Resources practice leader, will transition into the role of chief people officer.
Baker Daily's historic appointment as the firm's first female president/CEO places Halff among a select few of Engineering News-Record's Top 100 firms with a woman at the helm. She follows a legacy of leaders at Halff, including Albert Halff (1969-1981), Joe Novoa (1981-1996), Martin Molloy (1996-2013), Pat Kunz (2013-2019) and Edwards (2020-2023).
In a statement, Halff's chairman of the Board, Michael Moya, remarked, "Jessica was the unanimous choice by the Board to lead Halff into the future. Her commitment to servant leadership, promoting the growth of others and embodying Halff's people-first culture is unparalleled. She has a keen awareness of the industry market today and into the future. Jessica's exceptional communication skills, coupled with unwavering mental fortitude, make her the perfect fit for the job at hand. She possesses the unique ability to propel our firm forward, and her optimism and unwavering positive attitude ensure she will do whatever it takes to succeed."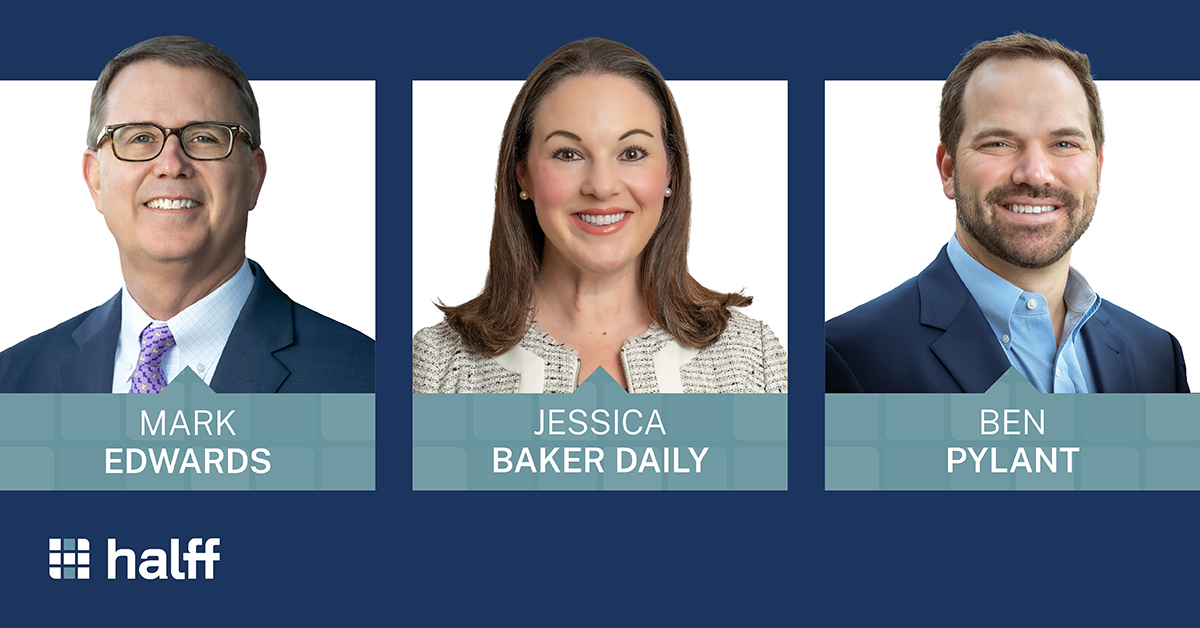 Halff's leadership transition will take place on Jan. 1, 2024. Current president/CEO Mark Edwards retires on Dec. 31, 2023, while Jessica Baker Daily will step into that role. Ben Pylant will serve as chief people officer. 
Baker Daily's journey has been exclusively at Halff since joining the firm as an intern in 2003. She holds a bachelor's degree in civil engineering from the University of Texas at Austin and ascended rapidly within Halff, culminating in her recent role as chief marketing officer before assuming the chief people officer position earlier in 2023. Baker Daily also served on the firm's Board of Directors.
Baker Daily's illustrious career highlights include serving as Halff's liaison on a joint venture contract with the Federal Emergency Management Agency (FEMA) worth nearly $600 million and leading a team of more than 100 professionals in delivering flood risk identification and disaster response services for FEMA's Region 6. She was named to ENR's national Top 20 Under 40 list in 2018 and received the Outstanding Young Alumna Award at The University of Texas at Austin's Cockrell School of Engineering in 2014.
Additionally, Baker Daily actively contributes to her community by serving on The University of Texas Civil, Architectural and Environmental Engineering department's External Advisory Committee (EAC), holding a director position on the board of the American Council of Engineering Companies (ACEC) Dallas chapter, and graduated from the Dallas Regional Chamber's Leadership Dallas program.
Edwards concludes an exemplary tenure as the firm's fifth president/CEO from 2020 to 2023.
Edwards, who joined the firm in 1990, played a pivotal role in establishing the Halff Community Initiative (HCI), the firm's nonprofit organization, and also contributed significantly to starting Halff's Energy practice. His influence was instrumental in the acquisition of TriTex Technologies, Inc., further bolstering Halff's presence in the oil and gas market. In 2022, Edwards was awarded Top Large Company Leader by the Dallas Morning News.
Pylant takes on the CPO role after serving as senior vice president and Water Resources practice leader for the past year and as a member of Halff's Board of Directors. Pylant has been with Halff his entire career, growing from civil engineer to team leader, director of Water Resources and practice leader. He has focused on managing complex hydrologic and hydraulic modeling and flood planning efforts. Additionally, Pylant led Halff's recruiting and retention task force to improve the firm's recruiting efforts during a historically challenging talent market. He serves as the executive sponsor for Halff's nine employee resource groups (ERGs). Pylant is leading Halff's employee engagement initiative to develop more opportunities for employees to feel connected within the firm.
Halff's 2024 Leadership Team will consist of Jessica Baker Daily as president/chief executive officer, Todd Jackson as chief operating officer, Joseph Sagel as chief financial officer, Steven Miller as chief strategy officer and Ben Pylant as chief people officer.
About the Firm
Halff is an award-winning, employee-owned, diverse and multidiscipline professional engineering firm that improves lives and communities by turning ideas into reality. For more than 70 years, Halff has provided smart solutions for clients throughout the United States. The people-first firm is committed to continuously investing in its employees and fostering a culture of collaboration.
Halff has 32 offices in Arkansas, Florida, Louisiana, Oklahoma and Texas. The firm was recognized as the Texas & Louisiana Design Firm of the Year by the Engineering News-Record. Halff is ranked No. 85 in the latest Top 500 Design Firms rankings by ENR. Halff is the No. 15 Top Workplace nationally in 2023 as ranked by Energage for businesses with 1,000 to 2,499 employees.
For more information about Halff, visit halff.com.