Halff Announces Steven Miller as Chief Strategy Officer
RICHARDSON, Texas — Steven J. Miller, PE, has been named chief strategy officer for Halff, an award-winning, employee-owned, diverse and multidiscipline professional engineering and architecture firm. Miller, who previously served as the Mobility solutions leader for the firm, replaces retiring CSO Russell Zapalac.
"Steve is one of the most thoughtful and insightful people I know," said Halff President/CEO Mark Edwards. "He brings a very unique perspective with everything he does."
Miller will lead all strategic initiatives for the firm, integrating Halff's Solutions, Marketing and Client Advocacy teams to deliver cross-collaboration across practices and geography, partner more effectively with clients and enhance growth opportunities for Halff's employees.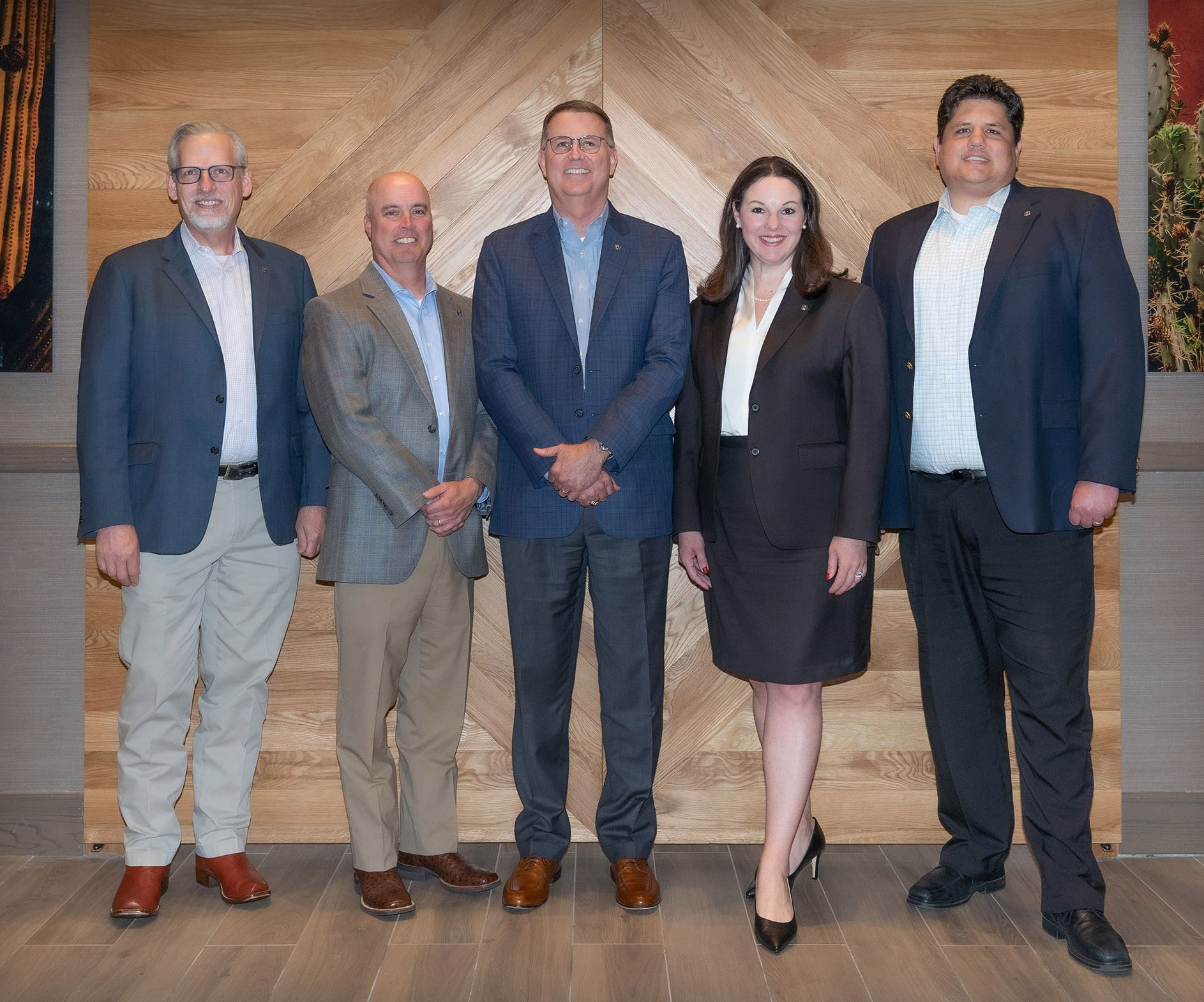 Steven J. Miller, PE (far left) joins Halff's Leadership Team as the Chief Strategy Officer.
"With strategic growth, we can continue taking care of our clients and communities while providing opportunities for our people," said Miller. "I am excited to step into this role and continue Halff's purpose of improving lives and communities with our service of excellence to clients and our people and the places they live."
Miller joined the firm in 2017 as senior vice president and Transportation practice leader before ascending to Mobility solutions leader in July 2022. Additionally, Miller served on Halff's Board of Directors for four years. In these roles, Miller developed and implemented growth initiatives across office locations, clients and practices. Miller's more than 30 years of expertise includes project management, planning, data collection, engineering design and construction administration for various types of transportation projects from local collectors to urban freeway corridors for cities, counties, DOTs, federal and private clients. Prior to joining Halff, he served in a regional office leadership and a division management role with national consulting firms.
Miller obtained his bachelor's degree in civil engineering from Oklahoma State University and earned a master's degree in construction engineering and project management from the University of Texas at Austin. Miller holds PE licenses in 11 states including Arkansas, Arizona, Florida, Georgia, Kentucky, Louisiana, Missouri, Mississippi, New Mexico, Oklahoma and Texas.
About the Firm
Halff is an award-winning, employee-owned, diverse and multidiscipline professional engineering and architecture firm that improves lives and communities by turning ideas into reality. For more than 70 years, Halff has provided smart solutions for clients throughout the United States. The people-first firm is committed to continuously investing in its employees and fostering a culture of collaboration.
Halff has 31 offices in Arkansas, Florida, Louisiana, Oklahoma and Texas. The firm was recognized as the Texas & Louisiana Design Firm of the Year by the Engineering News-Record. Halff is ranked No. 85 in the latest Top 500 Design Firms rankings by ENR. Halff is the No. 15 Top Workplace nationally in 2023 as ranked by Energage for businesses with 1,000 to 2,499 employees.
For more information about Halff, visit halff.com.