Halff Opens Second Oklahoma Office in Norman
NORMAN, Okla. — Halff, an award-winning, employee-owned, diverse and multidiscipline professional engineering and architecture firm, has opened its second Oklahoma office with a location in Norman.
"Halff has been serving clients from our Oklahoma City office for nearly a decade," said Halff President and CEO Mark Edwards. "The Norman office will allow Halff to continue to grow and give our clients the level of excellence they have come to expect as we work daily to improve lives and communities."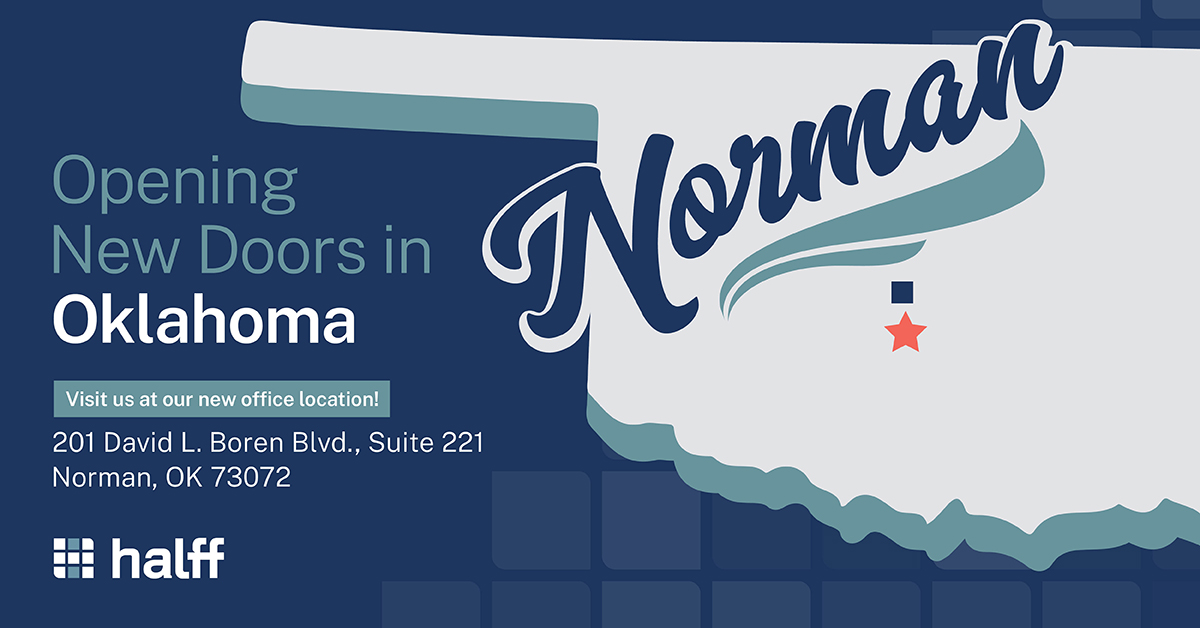 The Norman office will serve as Halff's second location in Oklahoma.
The Norman location will offer services in transportation, public works and site development. Design expertise areas will include transportation, bridges, roadways, drainage and flood control, utilities, GIS, site development, retaining walls, and hydraulic and hydrology studies.
Kevan Parker, PE, and Cortney Parker are joining the Halff team in Norman. Kevan boasts 17 years of bridge design expertise with past projects for clients at the county, federal, municipal and state levels. An active member of the community, Kevan is the vice chair of the City of Norman Planning Commission, a member of the Leadership Norman 2023 class and a member of the Norman Chamber of Commerce.
Cortney has seven years of transportation project management experience including various bridge projects throughout Oklahoma. A 2020 Leadership Norman graduate, Cortney serves on the board of directors for the Norman Chamber of Commerce and the Eastside Business Association.
About the Firm
Halff is an award-winning, employee-owned, diverse and multidiscipline professional engineering and architecture firm that improves lives and communities by turning ideas into reality. For more than 70 years, Halff has provided smart solutions for clients throughout the United States. The people-first firm is committed to continuously investing in its employees and fostering a culture of collaboration.
Halff has 32 offices in Arkansas, Florida, Louisiana, Oklahoma and Texas. The firm was recognized as the Texas & Louisiana Design Firm of the Year by the Engineering News-Record. Halff is ranked No. 85 in the latest Top 500 Design Firms rankings by ENR. Halff is the No. 15 Top Workplace nationally in 2023 as ranked by Energage for businesses with 1,000 to 2,499 employees.
For more information about Halff, visit halff.com.