Melton, Railyard Park Recognized in GDPC's Urban Design Awards
Halff Associates, Inc.'s (Halff) W.J. "Bud" Melton and the Railyard Park project were recognized by the Greater Dallas Planning Council (GDPC) in its annual Urban Design Awards.
Melton was bestowed with the Kessler Lifetime Achievement Award, while Railyard Park was given honorable mention in the Built Project Award.
Following more than 20 years as a subconsultant to Halff, Melton continues his focus on active-transportation infrastructure, urban planning and urban design in Halff's Planning and Landscape Architecture practice. As a lifelong advocate for active transportation, Melton spearheaded funding to convert the MKT Rail right of way to what's become one of the Dallas park department's foremost civic spaces. Soon after, he reinvented himself as a bicycle and pedestrian planning specialist and joined his wife Annie's transportation consulting firm, Bowman-Melton Associates.
In that role from 1995 to 2016, he managed scores of large-scale bikeway, trail and transit-oriented development planning and design projects. He helped dozens of Texas cities, plus several counties, with concept development, master planning, funding partnerships and design assistance for micro-mobility infrastructure.
Melton is an expert at finding innovative, creative solutions to complex problems and has achieved unprecedented success with stakeholder buy-in. He was instrumental in shaping North Central Texas' Veloweb, an interconnected network of greenway trails and bikeways defined in the region's long-range mobility plans.
Teamed with Halff, he helped create the Dallas County Trail Plan: Trails for the 21st Century, a master plan that continues its implementation by Dallas County and its partner cities. Halff produced a similar plan for Collin County, which quantified connections between Dallas, Collin, Tarrant and Denton counties. Melton helped the City of Dallas with its nationally acclaimed Renaissance Plan in 2000–01, which undertook comprehensive inventories of every park in the Dallas system.
Earlier this year, Melton and his wife Annie were recognized with the 2021 Lifetime Achievement Award at the BikeDFW UPSHIFT Awards.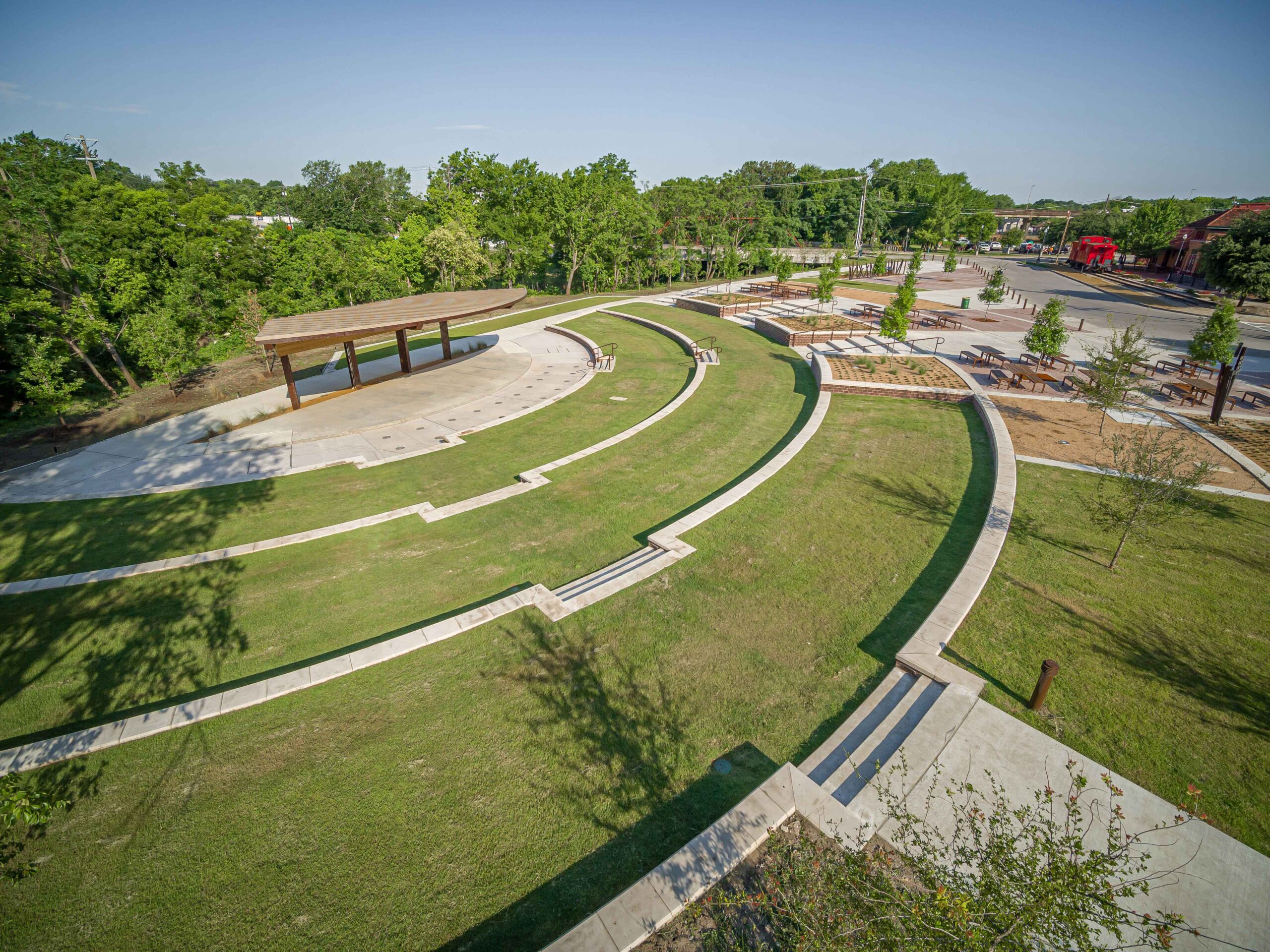 Railyard Park is a 1.2-acre multi-feature park and amphitheater located steps away from Waxahachie's prominent, well-preserved downtown. This new city park, which has stimulated downtown revitalization, is at the convergence of the old Missouri-Kansas-Texas (MKT) Railroad, the former Texas Electric Railway interurban passenger line from the heart of Dallas. This setting along the scenic Waxahachie Creek greenway draws people for its variety of activities, including symphonies, yoga and readings.
The resilient park has already served its dual purpose successfully by withstanding a torrential 7-inch rainstorm in April 2021 that caused Waxahachie Creek to rise well above its banks. All facilities withstood the flood, escaping damage with minimal cleanup. The park was up and running again for community events within a few days.
Halff Associates has collected 13 project awards in 2021. For a complete list of awards, visit here.
About the Firm
Halff is an award-winning, employee-owned, diverse and multidiscipline professional engineering and architecture firm. For more than 70 years, Halff has provided innovative solutions for clients throughout the United States. Halff is committed to the purpose of improving lives and communities by turning ideas into reality by continuously investing in its employees and fostering a culture of collaboration.
Halff has 28 offices in Arkansas, Florida, Oklahoma, Louisiana and Texas. The firm is ranked No. 97 by Engineering News-Record. Halff is the No. 10 Top Workplace nationally in 2022 as ranked by Energage for businesses with 1,000 to 2,499 employees.
For more information about Halff, visit halff.com.