Texas A&M Schools Recognize Halff's Ballí and Carrillo as Accomplished Alums
RICHARDSON, Texas — Two Halff employees were honored by their respective schools at Texas A&M University earlier this month. Lamberto "Bobby" Ballí was named a Distinguished Graduate of the Zachry Department of Civil and Environmental Engineering, while Jim Carrillo received an Outstanding Alumni designation from the School of Architecture.
The Zachry Department of Civil and Environmental Engineering Distinguished Graduate Award was established to recognize and honor former students' excellence in professional leadership and their significant contributions to society.
The 2023 Outstanding Alumni were nominated by former students from the School of Architecture and selected for their outstanding achievements by a school committee. Recipients of this award have garnished outstanding accomplishments, leadership and good works in their professional lives. Fewer than 1% of former students are selected for the Outstanding Alumni Award, cementing it as the highest honor the school bestows on alumni.
Ballí serves as vice president and director of public works for Halff's South Texas region. With more than 35 years of multidiscipline experience in designing and constructing infrastructure for both the public and private sectors, the 1987 Texas A&M graduate has held upper management-level positions such as director of public works and/or city engineer for the Texas cities of McAllen, South Padre Island and Brownsville, as well as stormwater utility manager for the City of San Antonio.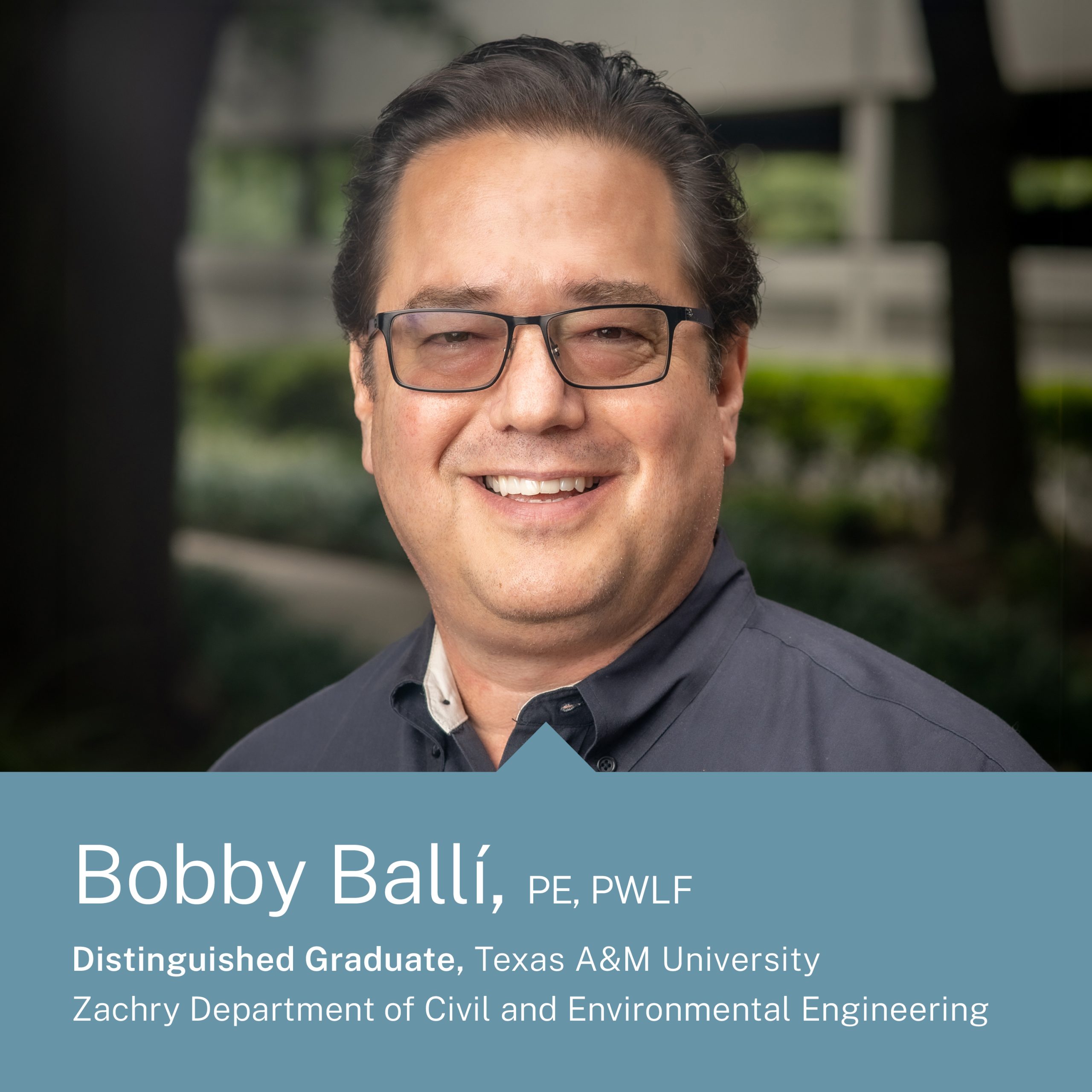 Bobby Ballí was named a Distinguished Graduate of the Texas A&M Zachry Department of Civil and
Environmental Engineering.
He served as a practice director/program manager for more than 15 years for large public works infrastructure projects on the private consulting side. Ballí's leadership tenure in the public sector gives him the ability to provide valuable insight into building public works infrastructure that is sustainable through maintenance and operation.
Appointed by Texas governors Rick Perry and Greg Abbott to the Texas Board of Professional Engineers and Land Surveyors, he served his industry for 12 years and was elected to several Southern Zone Board positions in the National Council of Examiners for Engineering and Surveying. His volunteerism included numerous leadership roles with the Texas Chapter of the American Public Works Association culminating with state chapter president in 2012.
Carrillo, client advisor and vice president for Halff's Planning and Landscape Architecture practice, has led city and regional planning and placemaking efforts for numerous cities in Texas and neighboring states, benefitting countless residents, communities and regions with his visionary perspective honed over four decades of practice.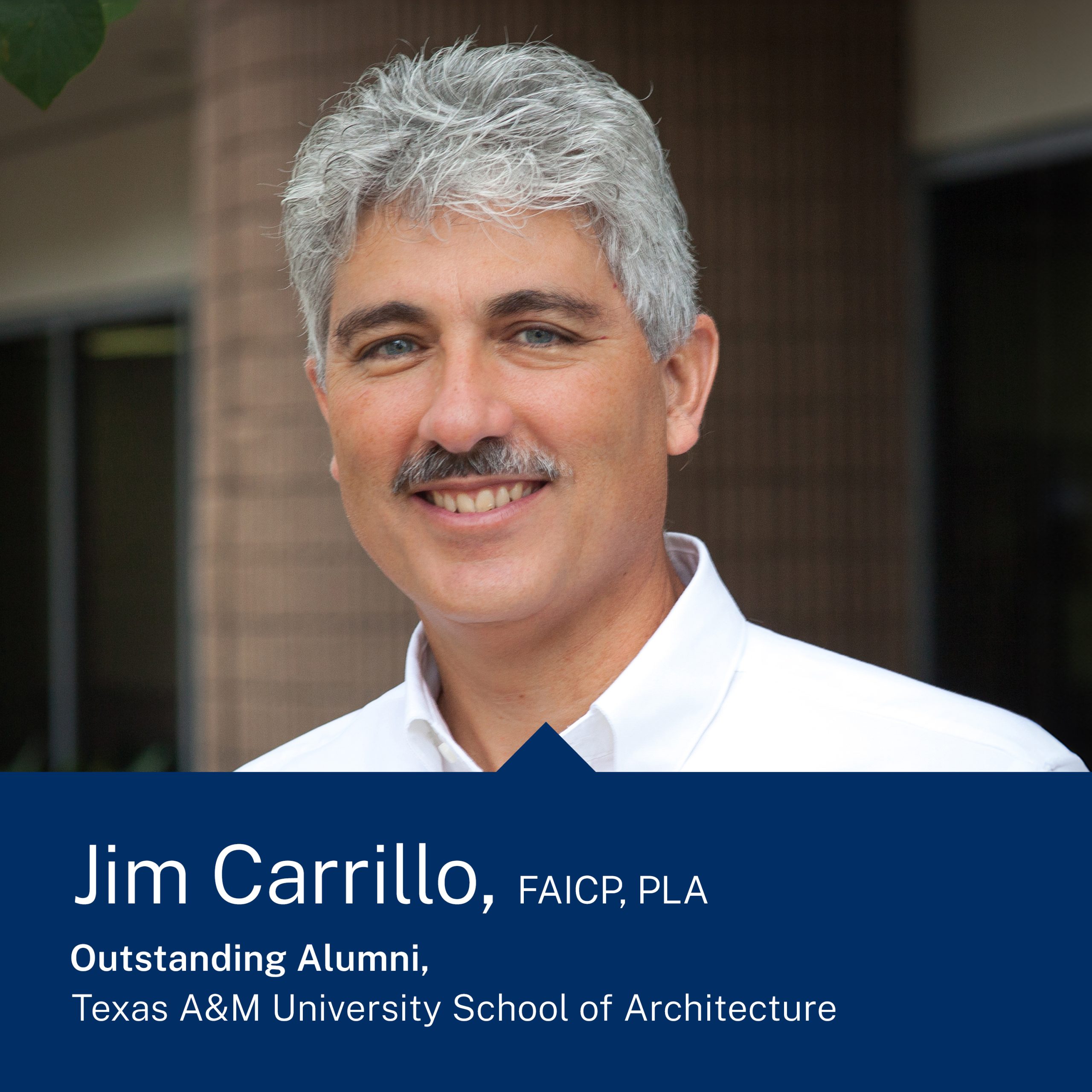 Jim Carrillo earned the Outstanding Alumni distinction from Texas A&M's School of
Architecture.
Throughout his tenure, the 1985 alum introduced a broad "designer's" perspective to park and open space planning, special area planning and active transportation planning. His master plans often set new standards for detail and comprehensiveness, and his ideas for urban trail systems across entire communities have paved the way for trail corridors and bicycle infrastructure that are now commonplace.
His planning and design efforts have been recognized more than 45 times by multiple professional organizations, and he was inducted as a Fellow of the American Institute of Certified Planners in 2012, the highest honor bestowed on planners across the United States.
About the Firm
Halff is an award-winning, employee-owned, diverse and multidiscipline professional engineering firm that improves lives and communities by turning ideas into reality. For more than 70 years, Halff has provided smart solutions for clients throughout the United States. The people-first firm is committed to continuously investing in its employees and fostering a culture of collaboration.
Halff has 32 offices in Arkansas, Florida, Louisiana, Oklahoma and Texas. The firm was recognized as the Texas & Louisiana Design Firm of the Year by the Engineering News-Record. Halff is ranked No. 85 in the latest Top 500 Design Firms rankings by ENR. Halff is the No. 15 Top Workplace nationally in 2023 as ranked by Energage for businesses with 1,000 to 2,499 employees.
For more information about Halff, visit halff.com.