Three Halff Projects Earn CLIDE Awards
RICHARDSON, Texas — Three Halff projects were honored with CLIDE Awards from the North Central Texas Council of Governments (NCTCOG). The three projects recognized were: the Lewisville Healthy Infrastructure Plan, the Richardson Active Transportation Plan and Waxahachie's Railyard Park.
The Celebrating Leadership in Development Excellence (CLIDE) Awards Program, created in 2003, encourages innovative development projects and practices that will help accommodate expected growth and ensure a sustainable North Texas for generations to come. The awards program recognizes private and public development programs and projects that exemplify the NCTCOG's Principles of Development Excellence.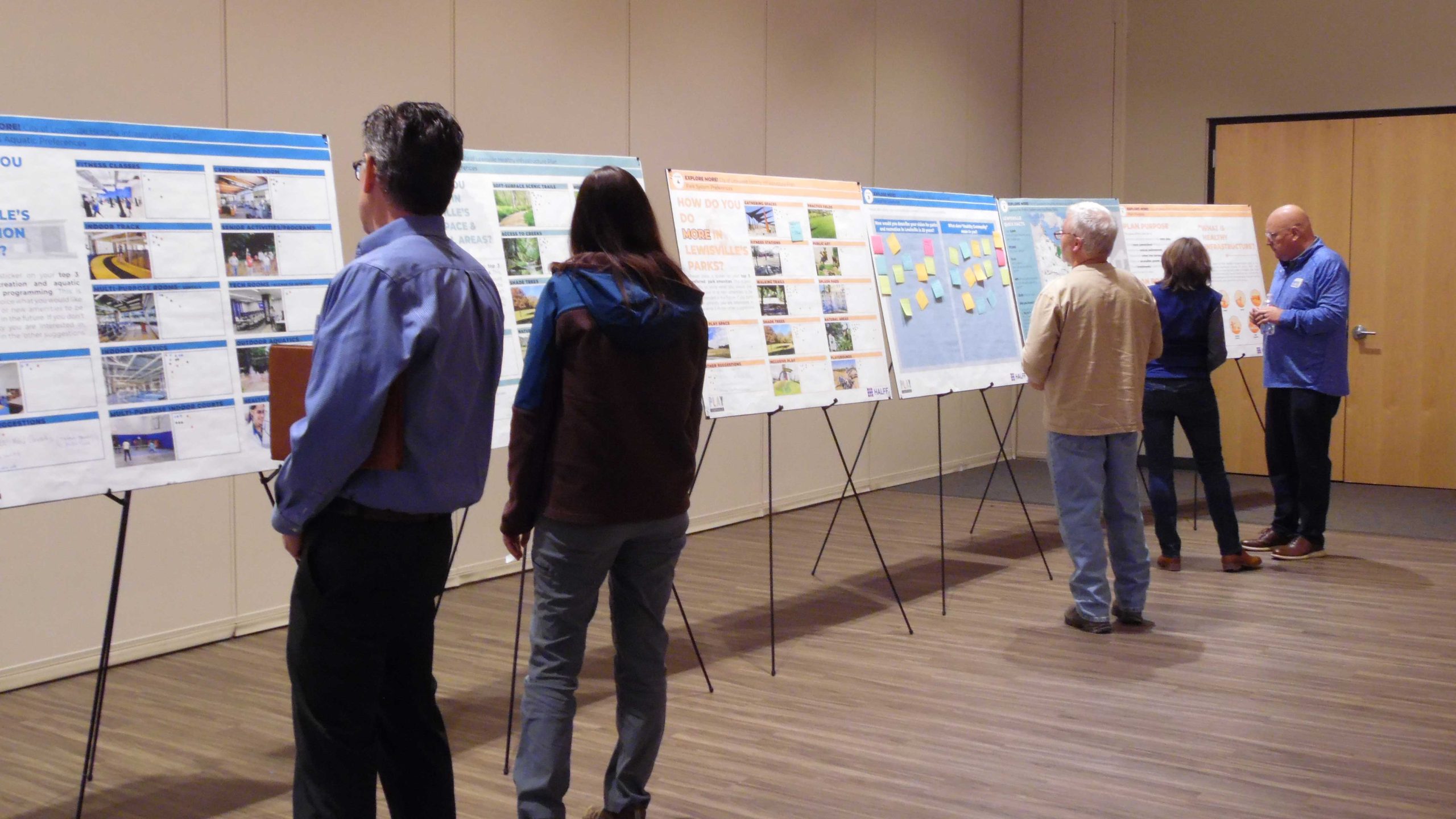 Residents and stakeholders attend a visioning session for the Lewisville Healthy Infrastructure Plan. (Image by Halff)
The Lewisville Healthy Infrastructure Plan, also called Explore More Lewisville, won the honor in the Public Policy and Planning category. The plan, adopted by the City in February 2023, will provide residents with healthy opportunities to play, explore and connect. Explore More Lewisville promotes healthy infrastructure that will be administered equitably to provide all residents with a high-quality environment. The vision and direction will guide the development of parks, recreation, trails, open space and urban tree canopy in Lewisville over the next 10 to 20 years. These components impact the physical, mental and environmental health of the community. The plan featured a unique partnership between the City, Halff and the University of North Texas Applied Environmental Research Institute.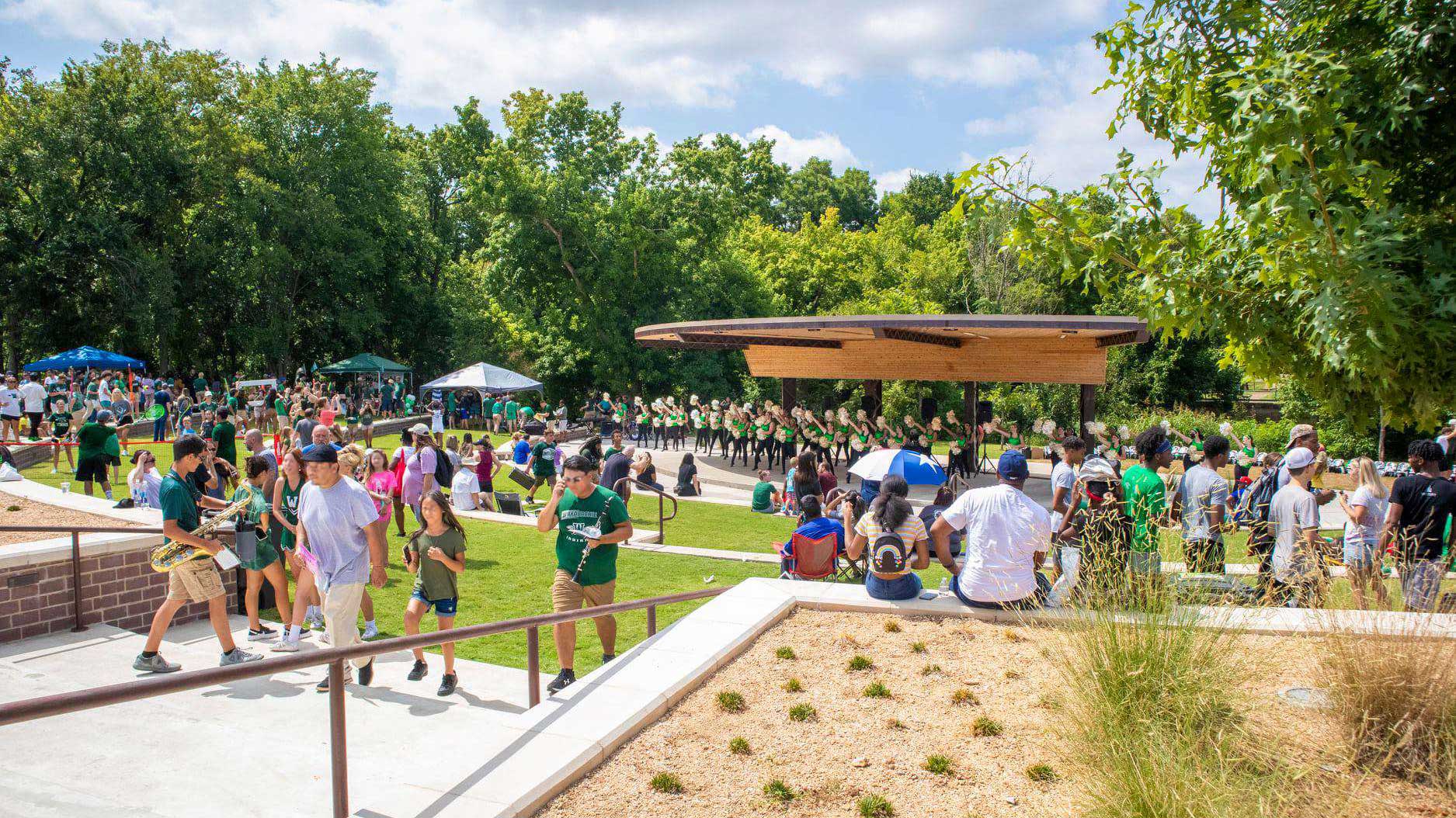 Railyard Park has been a vital downtown meeting place for residents and visitors in Waxahachie. (Image by the City of Waxahachie)
Railyard Park, awarded an honor in Special Development, is a 1.2-acre multi-feature park and amphitheater located steps away from Waxahachie's prominent, well-preserved downtown. This is at the convergence of the old Missouri-Kansas-Texas (MKT) Railroad, the former Texas Electric Railway interurban passenger line from the heart of Dallas. This setting along the scenic Waxahachie Creek greenway draws people for its variety of activities, including symphonies, yoga and readings. The resilient park has already served its dual purpose successfully by withstanding a torrential 7-inch rainstorm in April 2021 that caused Waxahachie Creek to rise well above its banks. All facilities withstood the flood, escaping damage with minimal cleanup. The park was up and running again for community events within a few days. Railyard Park has previously won a Texas Downtown President's Award and earned honorable mention for Best Project from the Greater Dallas Planning Council.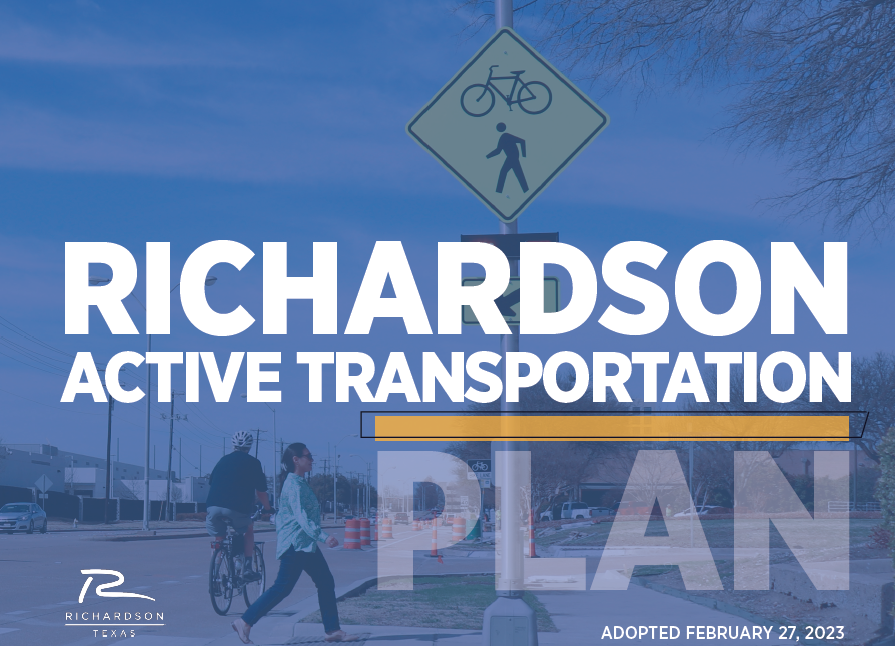 The Richardson Active Transportation Plan expands opportunities for walking and biking within the city. (Graphic designed by Halff)
In creating its first active transportation plan, Richardson's need was to identify where to effectively add to its already robust sidewalk, bicycle lane and trail/sidepath system. Also recognized in the Public Policy and Planning category, the Richardson Active Transportation Plan focuses on safety and user comfort. The plan incorporated a data-driven approach to evaluate the comfort of existing facilities and identify critical gaps to guide where improvements are most needed. Ultimately, Richardson's Active Transportation Plan enhances the balance between all modes of travel, greatly expanding opportunities for walking and biking throughout Richardson.
Halff has won a total of 51 project awards since 2021 and has accumulated five CLIDE honors since 2007.
About the Firm
Halff is an award-winning, employee-owned, diverse and multidiscipline professional engineering and architecture firm that improves lives and communities by turning ideas into reality. For more than 70 years, Halff has provided smart solutions for clients throughout the United States. The people-first firm is committed to continuously investing in its employees and fostering a culture of collaboration.
Halff has 31 offices in Arkansas, Florida, Louisiana, Oklahoma and Texas. The firm was recognized as the Texas & Louisiana Design Firm of the Year by the Engineering News-Record. Halff is ranked No. 85 in the latest Top 500 Design Firms rankings by ENR. Halff is the No. 15 Top Workplace nationally in 2023 as ranked by Energage for businesses with 1,000 to 2,499 employees.
For more information about Halff, visit halff.com.