HCI Annual Report: 2022 Recap

Contributions to the Halff Community Initiative (HCI) have topped $100,000 annually over the last three years! As HCI continues to grow in size and impact, here's a recap of what everyone accomplished in 2022.
Message From the Steering Committee Chair

"I'm always amazed to look back at the year and see the impact HCI has made in our communities. I'm proud of the growth we've seen in HCI since its start in 2017. We've had contributions over $100,000 for the past three years, making our outreach to charities grow greater each year. I'm excited to see where the next year takes us.

-Melanie Cleavelin
2022 Giving by the Numbers
HCI contributed more than $119,000 in donations, which supported 118 charities in 2022. Halff employees volunteered a grand total of 2,327 hours during 98 events. These volunteering events directly supported 74 charities.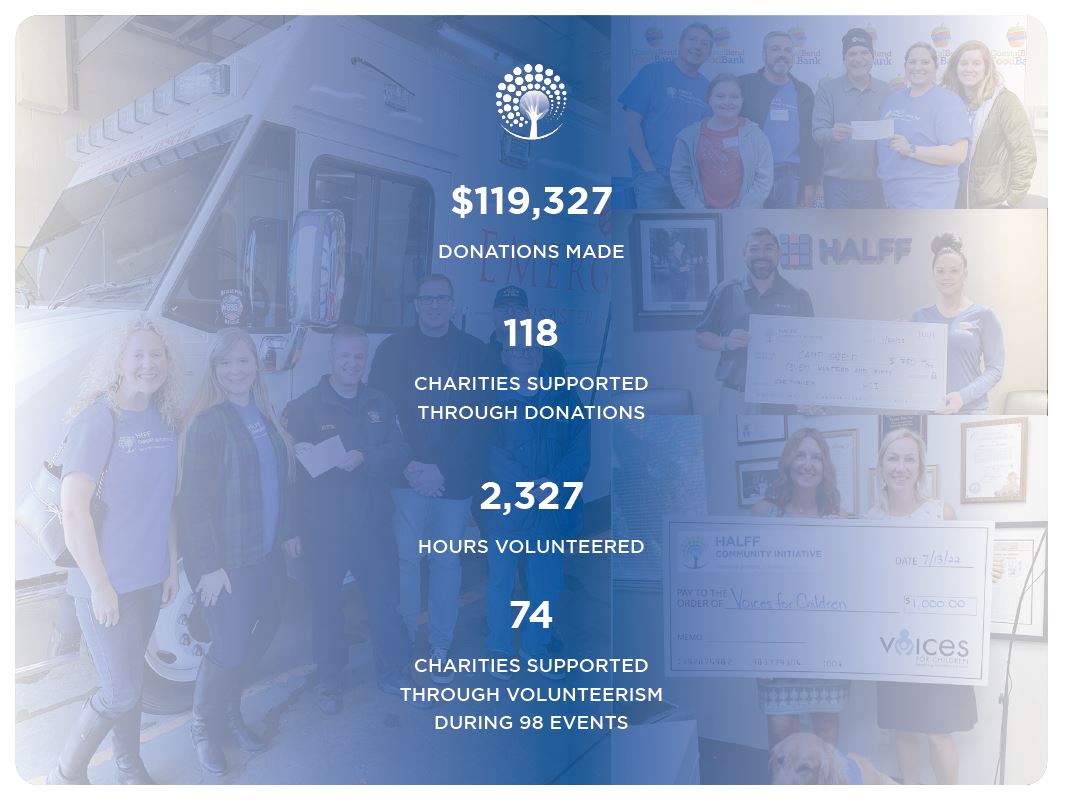 HCI Giving Week
Our annual HCI Giving Week took place Sept. 26-30, 2022. This event was born to raise awareness for causes Halff employees value, encourage everyone to give and share our passion for giving back.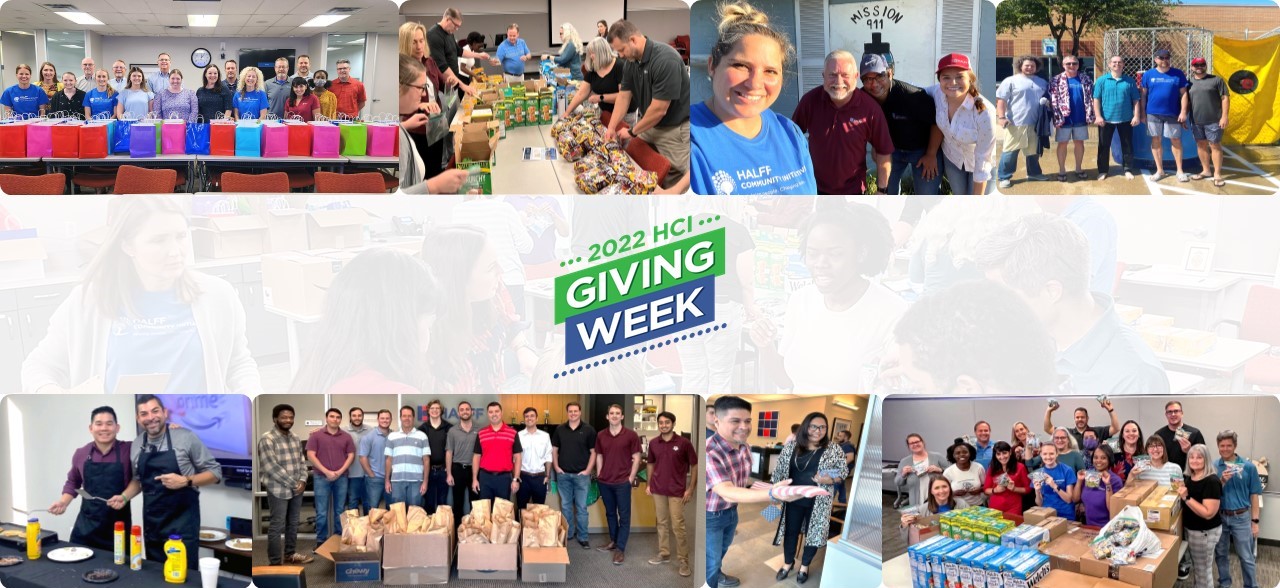 Offices pulled out all the stops for 2022 HCI Giving Week, holding pancake breakfasts, trivia nights, dunk tanks and more to bring in donations and spread the awareness about HCI.
Read more about HCI Giving Week festivities in the Inside Halff September 2022 article.
About HCI
The Halff Community Initiative (HCI) began in 2017 as a 501 (c)(3) nonprofit organization. Halff's employees run HCI, which is designed to give back to the communities where we live and work. Helping people and changing lives is the mission of HCI.
Following in the footsteps of Dr. Halff and inspired by his charitable nature, HCI was formed with the purpose of giving back directly to the communities we serve, focusing on engagement through personal time and monetary commitments to important causes while giving employees the freedom of choice.
HCI is funded by employee contributions and company donations. The HCI Steering Committee, comprising nine employees, evaluates and determines potential volunteer and donation opportunities
Halff employees have been generous and supportive of community initiatives throughout the years by giving monetary donations and personal time to volunteer. Through these donations, we've built a strong, connected community where each investment makes a huge difference.
We're all better together. Follow us to stay connected with the HCI community!
LinkedIn | Facebook | Instagram | Twitter
---
DID YOU KNOW?
Halff sits at No. 15 nationally in the companies with 1,000 to 2,499 employees in the 2023 Top Workplaces USA award rankings presented by Energage. In 2022, Halff was recognized as a Top Workplace in Austin, Dallas, Houston and San Antonio. We have also been recognized as a Top Workplace in Austin and Dallas eight times each since 2015, six times in Houston since 2016 and for the second consecutive year in San Antonio this year.
Cumulatively, Halff has been recognized as a Top Workplace 25 times.
APPLY TODAY!
Want to join our exceptional team of people-first professionals? Learn more about what it's like to work at Halff by heading to our Careers page.