Benefits Analyst Cristi Evans Awarded Halff's Home Run Award
President/CEO Mark Edwards awarded Benefits Analyst Cristi Evans with the Halff Home Run Award.
The Halff Home Run Award is presented to employees who embody the spirit of Halff through leadership, ownership, excellence and the growth of others.
"I cannot think of another person who fits more seamlessly into the Halff family," Mark said. "The day Cristi started was the day Halff became more caring, more loving and more fun."
Everyone who knows Cristi can see her positive and infinitely caring nature. She is a shining example to others, as she has developed strong relationships with Halff's employees and brings a tender heart for people to work every day.
"Cristi is the epitome of the Halff culture," a colleague described. "She truly cares about every employee." As a benefits analyst, she coaches others through benefits options and questions while offering smart solutions. Capable, fun, helpful and tender-hearted are just a few words that others use to describe Cristi.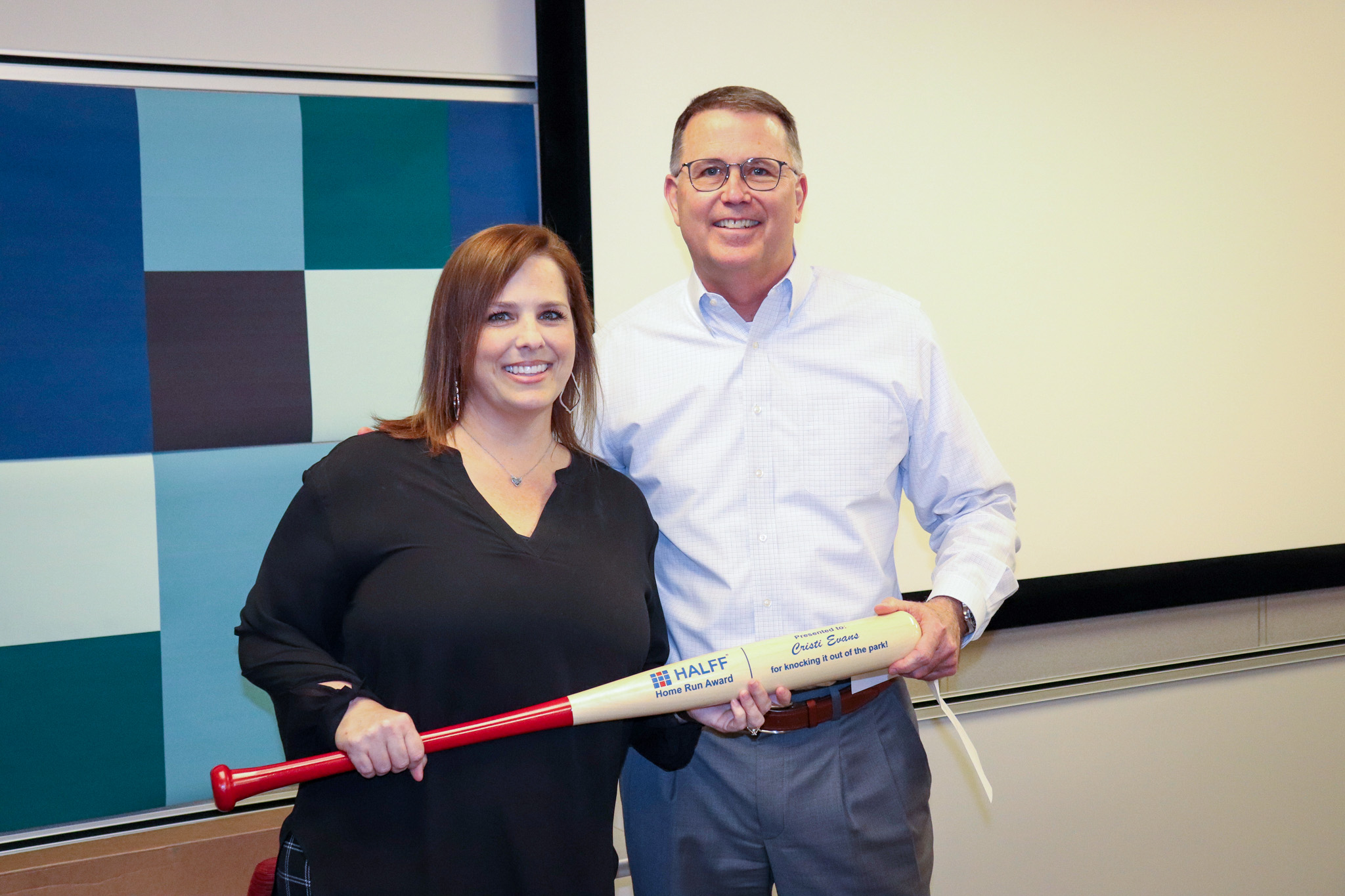 Halff President/CEO Mark Edwards (right) presents the Home Run Award to Cristi Evans.
Previous Home Run Award winners include:
Kyle Thornton, Director of Land Development
Audrey Giesler, Graduate Civil Engineer
Keith Courson, Editorial Manager
Vasileios Kalogirou, Survey Practice Leader
James Barr, Transportation Team Leader
Russell Killen, Executive Vice President
Leigh Hollis, Frisco Operations Manager
Erik Verduzco, Houston Production Manager
RJ Endsley, Public Works Team Leader
Jacob Hays, Public Works Team Leader
---
Want to join our exceptional team of people-first professionals? Visit our Join Our Team page to learn more about what it's like to work at Halff and apply.