How Broadband Connects Our Communities


Image source: asharkyu/Shutterstock
Broadband has become an essential part of our daily lives. It enables us to work remotely, collaborate seamlessly and access a wide range of online services, including education, healthcare and e-commerce.
The term broadband is commonly used to describe an internet connection; however, the concept is much more "broad." Broadband has become a daily digital necessity for everyone—it is now being viewed as a utility instead of a luxury.
Why Is Broadband Important?
Broadband is key to enabling fast internet access, driving economic growth and reducing the digital divide to ensure everyone has equal access to opportunities in this digital age.
Regardless of delivery method, the Federal Communication Commission (FCC) currently defines high speed internet as an "always on" connection with the capability to achieve download speeds of at least 25 Mbps and upload speeds of at least 3 Mbps. Many in the industry, including the FCC, feel this standard is out of date and are proposing raising it to 100 Mbps download by 100 Mbps upload symmetrical access.
Fast and reliable internet connectivity is the cornerstone of production in today's world. It allows people, systems and infrastructure to connect, communicate and innovate for the future. That is why it is the main catalyst of economic development. The digital divide is a large initiative to provide broadband to underserved areas for better access to education, healthcare, e-commerce and much more.
Without better internet and broadband, growth is not possible.


Image source: ra2 studio/Shutterstock
How Broadband Connects Communities
Broadband is the gateway that bridges the digital divide in our communities. There are two main ways in which broadband is designed:
1. Wired technology
2. Wireless technology
Even though several technologies exist, fiber is by far the most prominent moving forward. Copper lines (DSL) were created early in the industry and only provided phone lines and limited internet access speed. These technologies are now becoming obsolete.
Cable lines were next introduced to the industry and allowed for video TV, higher internet speed and phones. This was a tremendous step in providing high levels of bandwidth that were needed to keep up with an ever-developing digital market.
While wired options are more reliable, it's not always a feasible solution. Wireless options such as 5G and satellite have made great strides in providing access to service where wired cannot.  Although wireless typically has further reach, it does have its own limitations. Terrain can block signals, speeds can vary based on signal strength, and there can be high latency which affects the user experience.
The technology that is emerging to the forefront is fiber. Fiber is the medium for the future. It is extremely scalable and can reach unparalleled speeds.
A picture is worth a thousand words—the diagram below helps visualize what broadband is.


This diagram demonstrates the use of copper, cable and fiber technologies within broadband. Image source: Texas BDO Office: Technology (texas.gov)
In one form or another, these technologies are the underlying infrastructure in your world today.
Whether you are watching TV, working on your computer, gaming online or listening to a podcast on your phone, broadband plays a part in making those things function. Medical and financial companies, as well as education systems, use tremendous amounts of broadband daily to conduct their business. It's a framework the world has become dependent on.
As you can see, broadband connects everything around us. From us individually, to the businesses we work with, it is made possible by this high-capacity technology.
Broadband combines thoughtful design with wired and wireless technologies, reaching never-before-serviced areas to connect our communities and meet today's digital needs.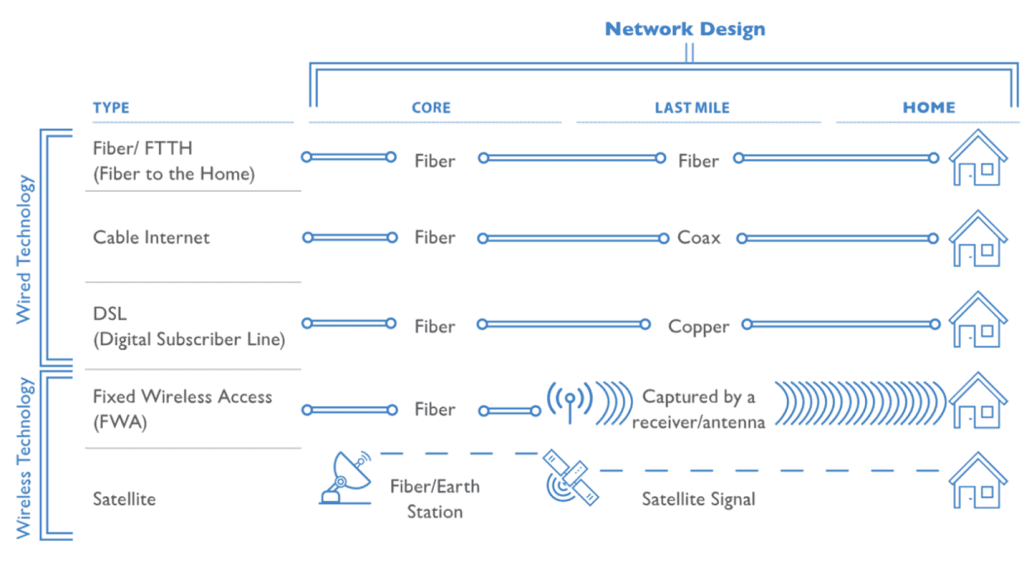 From wired to wireless technologies, broadband connects everything around us. Image source: Texas BDO Office: Technology (texas.gov)
How Halff Can Help Communities Get Broadband Access
Halff currently helps communities with this type of connectivity today. The term broadband may not always be used, but the same technology is designed and implemented for other applications. Halff has performed many projects that require fiber planning, fiber optic design and asset mapping.

Okaloosa County's fiber optic network is one example of Halff's broadband expertise. Halff has been providing fiber design continuing services for Okaloosa County in many ways since 2005.


Okaloosa County (red) is located in the northwestern panhandle of Florida. A few cities located here include Crestview, Destin and Fort Walton Beach.
Currently, Halff is partnering with the County by developing permitting plans to deliver fiber to additional schools and facilities, bringing them into the county-wide network. This collaboration from Halff's Intelligent Transportation Systems, Transportation and newly-established Broadband teams are equipping Okaloosa's community for a well-connected future.
See more Halff projects and services on our Broadband page.
Broadband has a process of cross-collaboration similar to other areas of Halff.
We start with a need or new idea to provide a better experience for users.
We then budget or raise funds for the project.
Once funded, we begin the design process to outline the details.
After design completion, the project can finally be constructed and made available to users.
Halff has a wide array of services available to our clients. We can plan and design fiber systems, locate existing field assets and even provide funding assistance for pre-positioning or application development. These services involve and overlap with Halff's services such as geospatial, GIS, SUE/utility coordination, ROW permitting and construction QC.
See our Broadband brochure for more details.
---
Have a need for broadband expertise? With our proficiency in broadband technologies and diverse background of experience, Halff can help clients achieve their broadband goals to unlock new opportunities for economic growth and social development. Contact Broadband Practice Leader Sean Droptini (sDroptini@halff.com) to get started today.