Enhancing Buildings and Sites Through Information and Communication Technology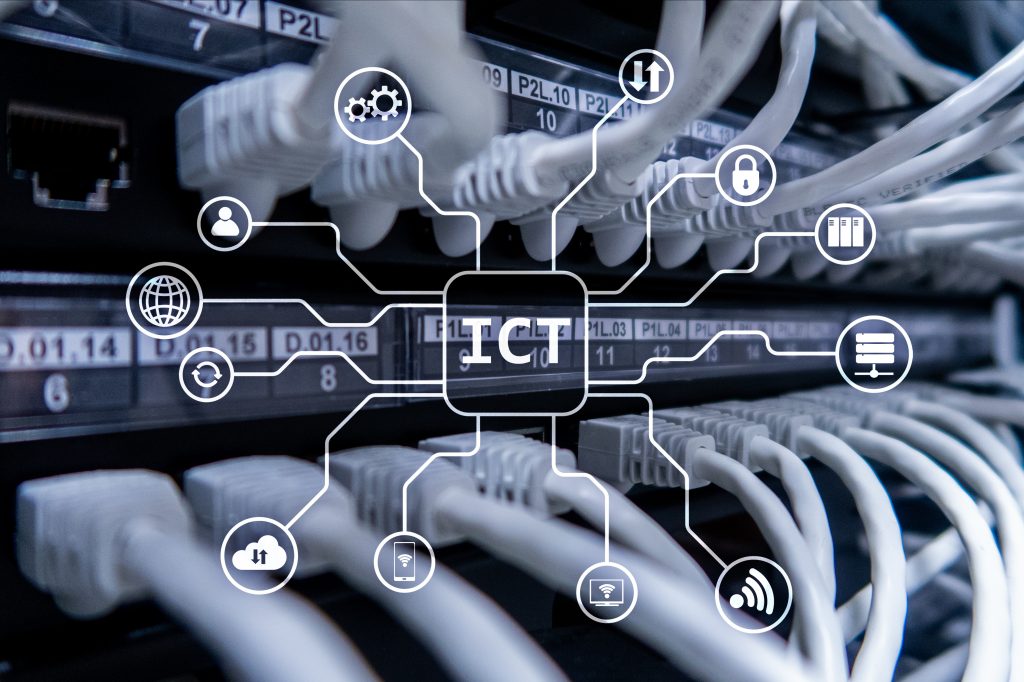 Image source: Shutterstock
Traditional MEP (mechanical, electrical and plumbing) services have been an integral part of the architecture, engineering and consulting (AEC) industry for many decades. Did you know the exact origins of MEP can be traced back to the early 20th century, when mechanical and electrical systems began to play a significant role in building design and construction?
As buildings became more complex and the need for specialized expertise in mechanical and electrical systems arose, MEP services evolved to address the growing demands of the industry. Over time, MEP services have become a standard component in the design, installation and maintenance of building systems, ensuring efficient and safe operation of essential utilities.
Today, MEP services are evolving as our buildings, sites and cities become more intelligent and sustainable. Traditional MEP services are being transformed through the enhanced use of Information and Communication Technology (ICT).
Table of Contents
What Is Information and Communication Technology (ICT)
Information and Communication Technology (ICT) refers to the tools, systems and methods the AEC industry uses to communicate, store and process information digitally. In essence, it uses intelligent infrastructure to enhance operations in buildings and on sites using computers, mobile devices, the internet, software applications and networks. These enhancements result in improved operational efficiency, enhanced occupant comfort and safety, and optimized management through ICT technologies like smart sensors and data-driven analytics.
How Is ICT Different From MEP and Green Building Services?
Isn't MEP and ICT the same thing? Traditional MEP services primarily focus on the design, installation and maintenance of mechanical, electrical and plumbing systems within a building or infrastructure project. This oftentimes includes HVAC (heating, ventilation and air conditioning), electrical power distribution, lighting, plumbing and fire suppression systems. The emphasis is on providing essential utilities and ensuring the efficient functioning of building services.
In contrast, innovative ICT services extend beyond MEP and encompass a broader range of technology-related solutions. ICT services involve the integration of information technology (IT), telecommunications and audiovisual systems within the built environment. This includes data centers, wireless connectivity, structured cabling, safety and security systems, audiovisual systems, digital signage, broadcasting systems, water/wastewater instrumentation and controls, and other intelligent technologies that could connect to the Internet of Things (IOT). The focus is on enhancing connectivity, data management, collaboration and the overall user experience within the built environment.
A third related service is the use of green building technologies. Green building technologies prioritize sustainability and environmental impact reduction. These technologies and practices aim to minimize the use of natural resources, enhance energy efficiency, improve indoor air quality and reduce the carbon footprint. Green building technologies can include energy-efficient HVAC systems, renewable energy integration, sustainable materials, water conservation measures and waste management strategies. The focus is on designing and constructing buildings that have minimal impact on the environment while promoting occupant health and well-being.
The illustration below highlights examples of these services and how they interact as part of an overall building design and development.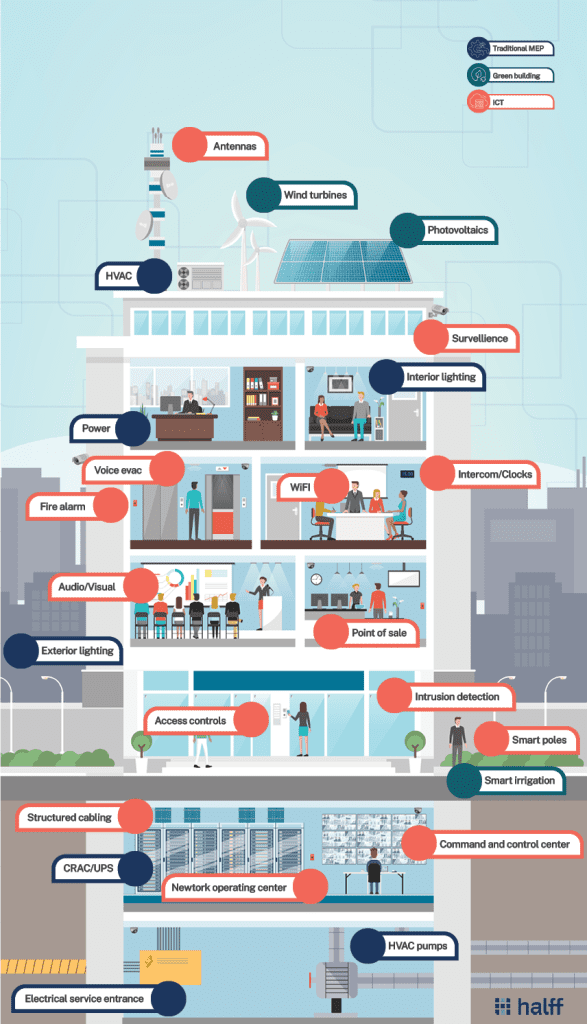 While each of these services address the installation and maintenance of mechanical, electrical and plumbing systems, innovative ICT services leverage technology to enhance connectivity, data management and facility performance. Today, ICT enhancements are used to improve buildings and connect entire sites. By combining these different aspects, the AEC industry can create buildings that are not only efficient in their operations but also sustainable, comfortable and technologically advanced.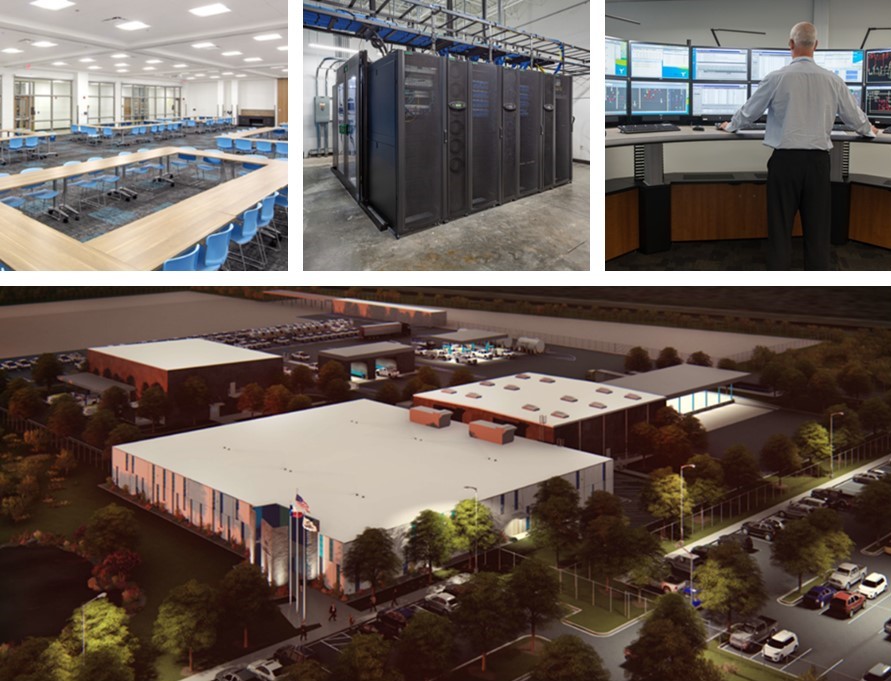 ICT in Action—Brownsville Public Utilities Board, Brownsville, TX
Halff currently helps clients with a wide variety of ICT services. One client, the Brownsville Public Utility Board (BPUB), in Brownsville, TX, needed to build a new annex building to serve its clients and house BPUB's energy control center, network operation center, SCADA center and pump station management facilities.
Halff worked with the client to design and build a 63,167 sf, three-story modern office building. The building creates office spaces for customer services, utility engineering, financial management and executive office spaces. It was also designed to meet the criteria of a Risk Category IV Essential Facility, since it housed critical facilities. This means it had redundant electrical, mechanical and communication systems to support the daily operations of BPUB and accommodate the critical service needs required during an emergency event. For example, the board room was sufficiently designed to be flexible to function as an emergency command and control center, and provide employees with overnight facilities if needed.
Relevant Standards for ICT
The installation of ICT equipment and infrastructure requires meeting the relevant standards set out in industry best practices—many of which are embodied within the standards set out by Building Industry Consulting Services International (BICSI®). In particular, many federal and state projects require adherence to these standards.
Overall, Halff's ICT services expanded the existing enterprise electronic safety and security system to include video surveillance and access control systems. Halff also designed installation of 100 new Power of Ethernet (POE) network-based cameras; POE access control card readers; redundant power supplied switches; an in-row cooling rack system; CAT6a structured cabling and redundant single mode fiber optic systems; and a data center uninterruptible power supply (UPS). In addition, the project included two fully redundant network operating centers (NOC), one for the business enterprise, and one for the SCADA network for all the electrical and water/wastewater networks across the city where BPUB is the provider. Lastly, the project included a state-of-the-art command and control center room with a video wall and SCADA console stations to monitor live feeds of the electrical and water/wastewater systems across the city. Specialized connectivity included hybrid fiber/copper cable for exterior POE cameras, eliminating the need for 120v power at the camera poles.
To ensure Halff's design met industry standards, Halff prepared design and construction plans which adhered to the ICT specifications set out by Building Industry Consulting Services BICSI®—the professional association who supports standards and credentialing for the advancement of ICT. The project was led by Halff's Jose Delgado, a certified Registered Communications Distribution Designer (RCDD®) certified by the ICT Certification Institute.
How Can Halff Help You With Your ICT Needs?
Through experience gained on traditional design-bid-build and design-build projects, Halff understands the complexities of delivering ICT projects, such as backbone and horizontal distributions of the structured cabling systems, telecommunication spaces, SCADA networks, security systems, and automation and controls for water and wastewater facilities. A complete list of Halff's ICT services includes:

As a firm, Halff has designed and reviewed ICT plans and specifications for educational, municipal, government and commercial facilities. These services can be designed independently or integrated into a larger team to ensure successful project delivery.
About Halff
Halff is a leading engineering and architecture firm with more than 70 years of experience in delivering innovative solutions to communities. Our purpose is to improve lives and communities by turning ideas into reality. Our goal is to improve the quality of life for people by providing exceptional design and planning services that create livable and sustainable environments.
As experts in intelligent infrastructure, Halff helps cities create the infrastructure and systems needed to support the demands of a growing population while minimizing their impact on the environment. From urban planning and transportation to energy management and sustainability, Halff has the expertise to help cities thrive. Our interdisciplinary team of planners, designers, engineers and technology specialists offers expertise in the full life cycle of an intelligent infrastructure or technology-related project—from initial planning and funding through design and installation on the ground. At Halff, intelligent infrastructure starts with people, not technology.
---
This is the second article in Halff's Intelligent Infrastructure Series. To learn more about Halff's technology solutions, please check out our brochure. Halff's innovative technology leaders can help you better integrate people-centered technology solutions into your next project. Reach out to Halff's ICT Leader, Jose Delgado, PE, RCDD, LEED AP, JoseDelgado@halff.com, or Intelligent Infrastructure Leader, Matt Bucchin, AICP, LEED Green Associate, mBucchin@halff.com.

Read more articles in Halff's Intelligent Infrastructure Series: