The Future of Intelligent Infrastructure is Here. Halff is Ready – Are You?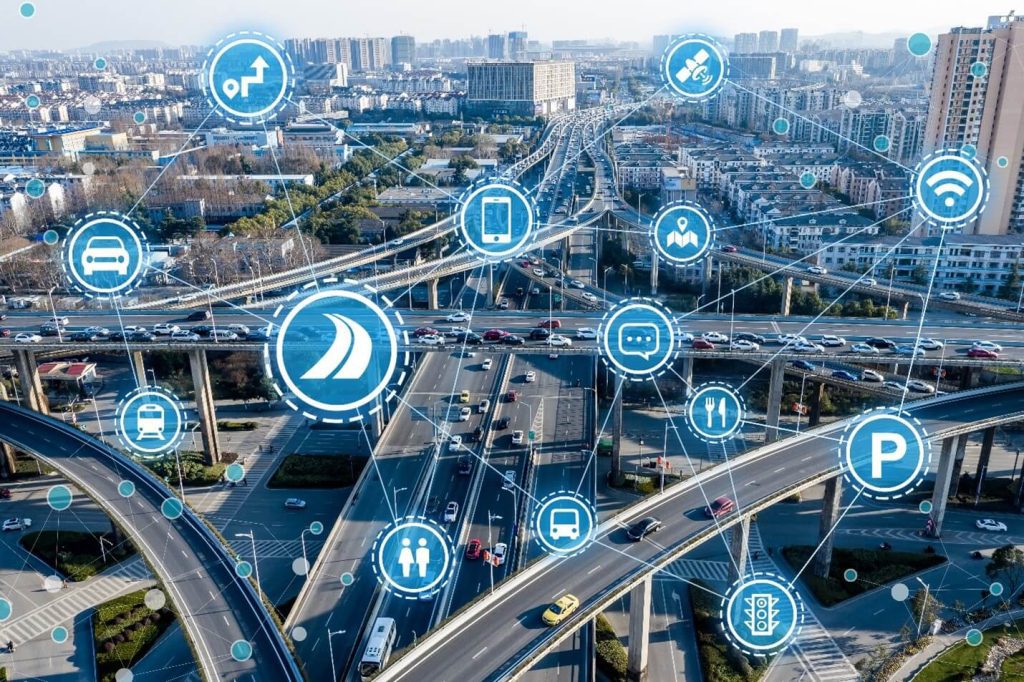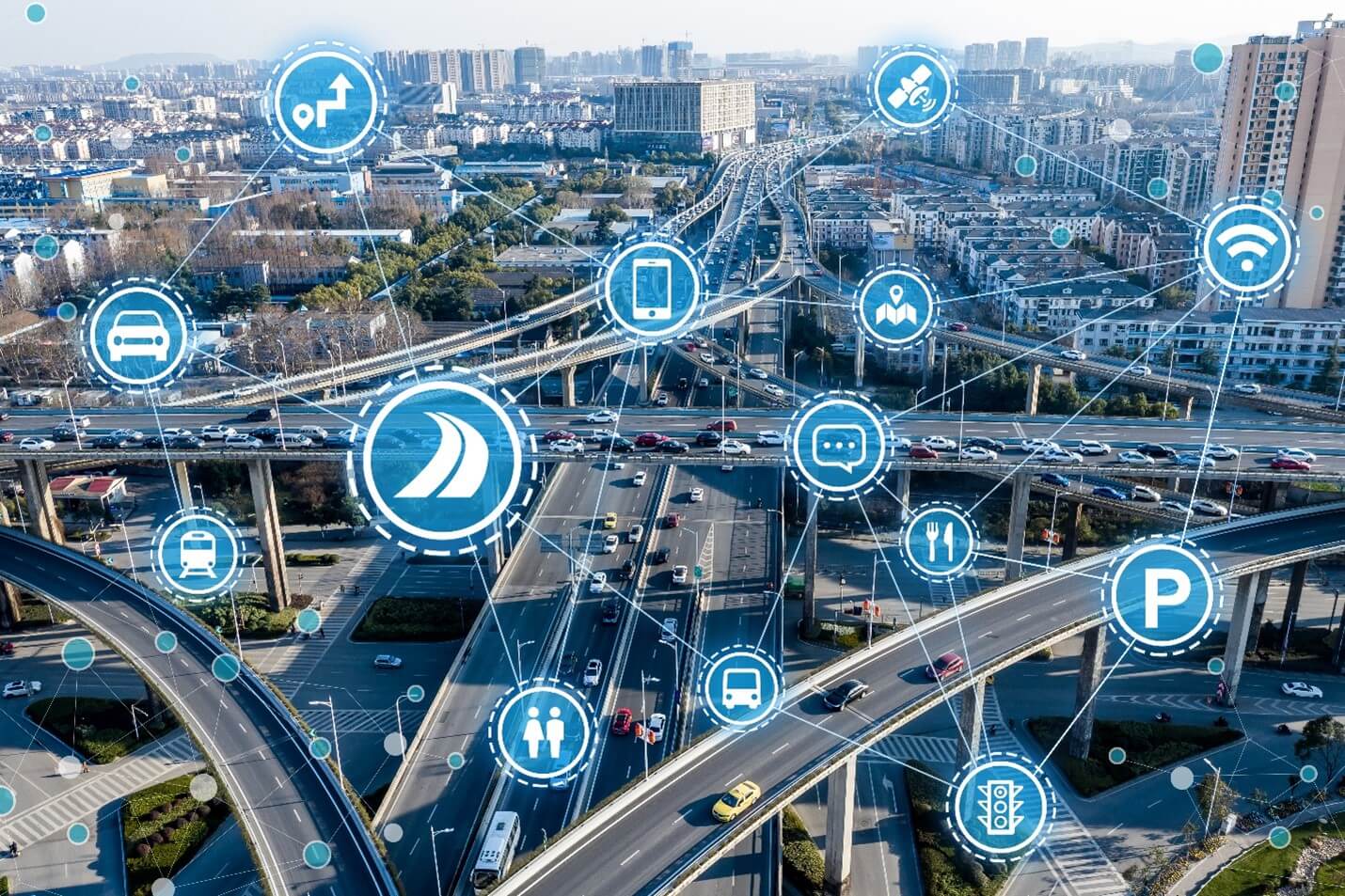 Our cities and communities are changing faster than ever before.
Many are struggling to respond to concurrent disruptions — increases in cost of development and inflation, fast or negative growth, aging infrastructure, labor force issues, a changing climate, the digitalization of everything and continued transformations stemming from the COVID-19 pandemic. These fundamental changes impact where people live, work and play.
Significant changes in urban mobility are also right around the corner, bringing disruption to our built environment that will be as significant as the rise of the automobile itself.
Table of Contents:
How Technology Is Changing Our Lives and Cities
Intelligent cities are cities that apply advanced technology and data analysis to manage assets, infrastructure and resources effectively; improve sustainability and quality of life for citizens; and enhance urban services. It doesn't mean that the city is smart or intelligent; rather, it signifies a city's choice to use smarter solutions and innovative technologies to create places and spaces that are more livable, efficient and responsive to the needs of the community. Intelligent cities comprise multiple layers:
1. Traditional physical and social infrastructure
2. Technology-based devices and sensors connected through the Internet of Things (IoT)
3.

Intelligent

applications being used by p

eople and machines

4. People-centered solutions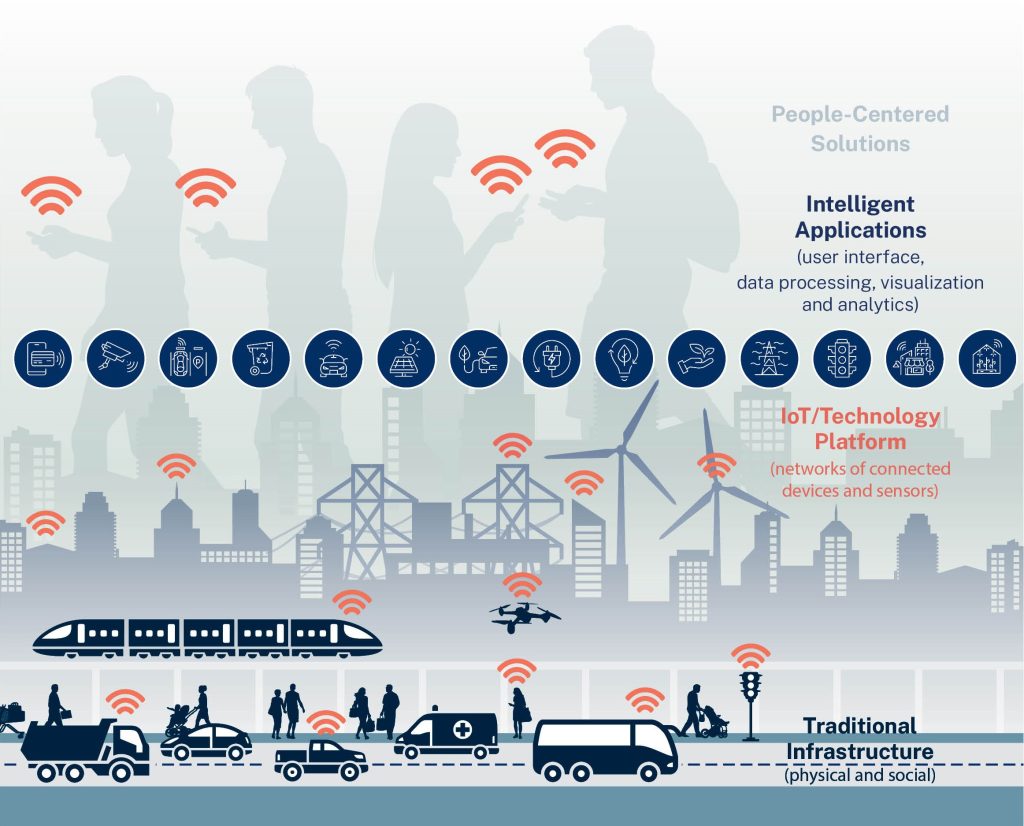 Each of us uses and plays a role in intelligent city technologies daily. Whether you're using your phone's map application to determine the best route for your drive or browsing Netflix for show recommendations, you are using the same technologies that are also changing how we plan and design the future of our cities.

The AEC Industry's Crucial Role in Developing Intelligent Cities
The AEC industry plays a crucial role in developing and implementing intelligent city technologies. Industry professionals are responsible for designing and building the physical infrastructure, such as intelligent buildings and transportation systems, that support these initiatives.
In the future, AEC companies will likely play an even larger role as demand for intelligent, sustainable infrastructure increases. Digital and technological infrastructure, such as smart grid systems, intelligent transportation systems and connected public spaces, will become just as critical as physical infrastructure.
Intelligent city technologies will also drive innovation in the AEC industry as companies work to find new, more efficient and effective ways to design and build infrastructure that supports the goals of intelligent cities. The increased use of technology in construction, such as building information modeling (BIM) and autonomous construction equipment, will continue to play a major role in the industry's future.
Are We Ready for the Future?
When we think of the future, we know we can be assured of one thing — the speed and scale of change will be rapid. As pointed out in the beginning of this article, the issues our cities are facing demand nothing less. Some cities will be more proactive and excel in making changes. Others will be less successful. But change is coming. And quickly.
As outlined in Building a Future-Ready City by ThoughtLab, "Cities are in the throes of unprecedented change. Still reeling from the pandemic, and now facing economic, social and climate disruptions, cities must quickly come to grips with the rising expectations of citizens."
ThoughtLab teamed with Hatch Urban Solutions and a coalition of business, government and academic leaders to benchmark 200 worldwide cities and better understand what future-ready cities do differently. They came up with six distinguishing factors:
Extract greater value from data
Nurture citizen engagement
Partner more with business and government
Invest more in digital technology
Focus more on cybersecurity
Make decisions more autonomously
"A future-ready city in a post-pandemic world is one that embraces stakeholder and community engagement, innovation and technology to cultivate a thriving and enduring community. "

– Chris Castro, former director of the Office of Sustainability and Resilience for the City of Orlando
How Can Halff Help You Be Future-Ready?
Halff offers a range of services to help cities prepare for the future. Clients who partner with Halff receive customized solutions that are created to address their specific needs.
One of our key services is urban planning, where we help cities create sustainable, livable communities. We also provide transportation planning and design services, including the development of intelligent transportation systems (ITS) and smart urban mobility solutions. Halff's expertise in building system automation, and energy management and sustainability help cities reduce their carbon footprint, lower energy costs and improve the overall efficiency of their systems.
Overall, Halff provides a full range of technology solutions to our client communities through five intelligent city domains: intelligent mobility, intelligent infrastructure, intelligent buildings, intelligent operations/governance and intelligent environment.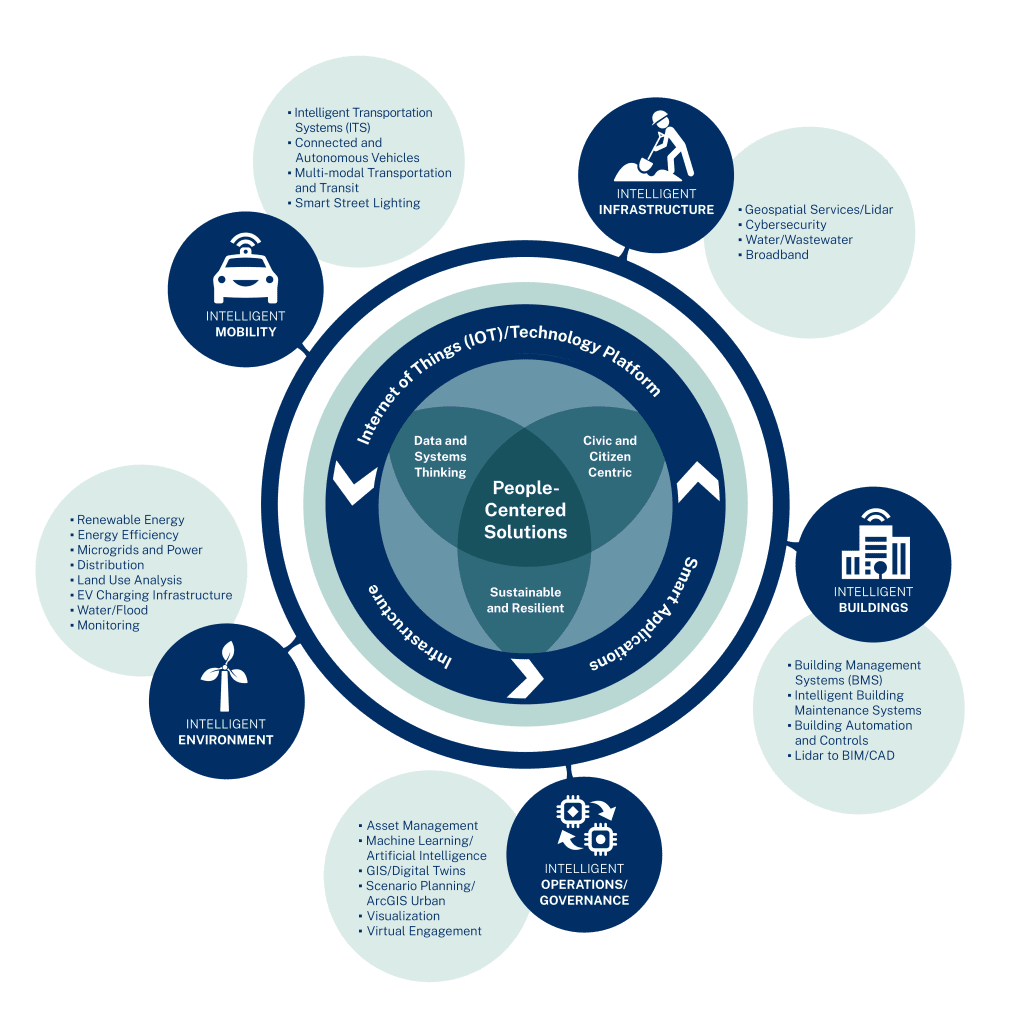 .
About Halff
Halff is a leading full-service engineering and architecture firm with more than 70 years of experience in delivering innovative solutions to communities. Our purpose is to improve lives and communities by turning ideas into reality. Our goal is to improve the quality of life for people by providing exceptional design and planning services that create livable and sustainable environments.
As experts in intelligent infrastructure, Halff helps cities create the infrastructure and systems needed to support the demands of a growing population while minimizing their impact on the environment. From urban planning and transportation to energy management and sustainability, Halff has the expertise to help cities thrive. Our interdisciplinary team of planners, designers, engineers and technology specialists offers expertise in the full life cycle of an intelligent infrastructure or technology-related project — from initial planning and funding through design and installation on the ground. At Halff, intelligent infrastructure starts with people, not technology.
---
This is the first article in Halff's Intelligent Infrastructure Series. To learn more about Halff's technology solutions, please check out our brochure. Halff's innovative technology leaders can help you better integrate people-centered technology solutions into your next project. Reach out to Halff's Intelligent Infrastructure Leader, Matt Bucchin, AICP, LEED Green Associate, mBucchin@halff.com.